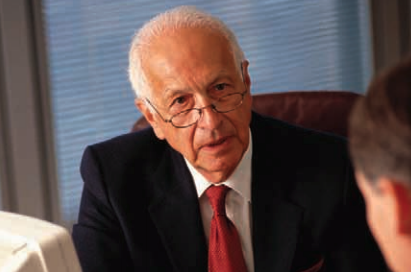 Training your successor
Kathryn Furtaw Keuneke, CAE
A mentoring relationship can train your successor and build your practice's value in the process.
First published in the May/June 2009 issue of Round the Table
You've worked hard to build your practice. You prospected for clients, earned their trust and spent years building lasting relationships with them. Now, you're ready to take a step back from your business. You still want to take care of your clients — even to continue personally servicing the top tier — but you also want more time with your family, your golf clubs, your passport. What is an advisor to do?
An advisor has a number of options for either slowing down or retiring from their practice. Each method requires some type of succession plan, whether it is finding a buyer or training another producer to step in and take over a book of business. Both can be difficult tasks, and they require planning and time invested.
Michael R. White, CLU, ChFC, a 16-year MDRT member from Midlothian, Virginia, said the biggest issue successful insurance producers face is getting to the point when they want to either get out or phase out of the business, and they can't find a willing and able buyer for their practice. White is a firm believer that creating a mentoring relationship is the best way to ensure your clients are taken care of as you phase out of the business. He and his partners used mentoring to build the scratch agency they opened in 1986 into a business today of 75 associates. "Mentoring is the most predictable and dependable way to begin a succession plan," White said.
Advantages of mentoring
Even if you're lucky enough to find a buyer for your practice when you're ready to leave the business, you need to be sure it's someone you can trust with your clients. This helps you keep your promise of service to your clients as well as guarantees your own retirement income. If you sell your book of business (based on a percentage of ongoing income stream) to someone who doesn't treat your clients right, the income you receive from renewals could be jeopardized. With poor service, clients might not continue their business with the new advisor. "The business just falls off the books," White warned.
Mentoring allows you to hand-pick the buyer of your practice while ensuring the value and service. White identified four significant advantages of mentoring:
Create value in your practice. Adding a producer to your practice will increase its value. As you're beginning to phase out of the business, the producer you're mentoring will be bringing in some of their own clients and prospecting for new ones. As they help you service some of your lower-tier clients, you are freed up to focus more on your top-tier clients, allowing you to enjoy the most satisfying part of your job, doing less work with more financial impact.
Guarantee good service. By choosing someone who can step in and take over in a way you're comfortable with, you're completing your promise of good service to your clients. Create a succession team by bringing in a new producer and — during the course of several years — introducing them to your clients and slowly increasing their responsibility within your practice. This builds your clients' comfort with the successor and helps ensure client retention during and after the transition.
Stay engaged — if you choose. A mentoring relationship allows you to slowly phase out of the business, turning over some of your clients to your successor, while collecting renewals and a percentage of new sales. If you change your mind about continuing to be involved, then you already have a back-up plan in place.
Test-drive your buyer. Creating a long-term partnership with another producer that slowly transitions your practice gives you the time to be sure you have the right person in place. It also ensures the producer will be able to build up enough revenue in the practice to be able to transfer it. "You're creating a proven, tested buyer for your practice," White said.
Selecting your successor
White encourages advisors to select a younger producer to mentor five to 10 years before they plan to exit the business. Advisors in their 40s and 50s find themselves within the perfect time frame to mentor someone, White said. That allows them several years to create a partnership with another producer before they reach their ideal retirement age.
Don't rush the process of finding someone to mentor who will eventually be your successor. White encourages advisors to meet with multiple candidates to find the right fit, and thoroughly interview each of them. Be sure to consider the following points:
Age. Your intended successor should be younger enough than you that they will not be ready to phase out of the business at the same time you are.
Interest. It is important to select someone who is interested in the entire process of joining your practice and slowly taking on more of your clients until you're ready for them to fully take over.
Market. To succeed within your practice, your successor should have experience in the same market.
Characteristics. You have to clearly identify the characteristics you're looking for in a successor before you begin meeting with individuals. This could include the level of experience your successor needs to have to successfully work with your clients.
Join the program
If you want to begin a mentoring relationship for the purpose of finding a successor, consider getting involved in the MDRT Mentoring Program. Participating in a formal program offers advantages to going at it alone. The program holds each mentor-aspirant team accountable for regular reporting and offers resources for working together. Participating in the program gives the mentee targets to hit — such as earning MDRT qualification — that can help you ensure your future successor is progressing. It also offers your successor the opportunity, a few years after they reach MDRT status, to begin mentoring another younger producer to begin building their succession team. For more information on the MDRT Mentoring Program, visit this page.