Business travel up in the air
Sarah Steimer
Will advisors eschew business travel as the world reopens?
Jason J. Dudum, LUTCF, is in better shape, spending more time with his family and focusing more on himself as a whole person than ever before. The 16-year MDRT member from Lafayette, California, USA, owes it all to reducing his business travel schedule.
"You don't have to be in front of people all the time to still be efficient and profitable," Dudum said. "Last year was the best year we've ever had as far as our business, and we didn't really see clients at all."
As the world begins to reopen, advisors and other business travelers are deciding how much they want to return to pre-pandemic levels of travel. Many have become accustomed to meeting with clients over phone or video calls, allowing for a bit of extra flexibility to their schedule that would otherwise be spent driving, in airports or checking into hotels.
In Dudum's experience, he's been just as effective doing virtual meetings with clients as he has with in-person meetups. He acknowledged that his business is currently focused on maintaining relationships with clients, and that advisors may find it more difficult to build new relationships or gain referrals in a virtual environment. But for his own business, he plans to limit his travel moving forward.
Dudum and many others contend that they're working just as hard without the travel but can now build in more personal time to their schedules to allow for hobbies, family activities and personal development.
"You can take control of your time versus letting your time control you," Dudum said. "That's the biggest differentiating factor: You can take control and do what you want and be as effective as you want to be."
How each advisor plans to move forward with business travel will be based on their individual needs: what type of clients they have, what their business focus is and what their personal needs are. But after the business status quo was shaken up and new communication tactics developed, it's likely that not everything will return to its pre-pandemic state .
As of June 2021, respondents to a Global Business Travel Association survey indicated:
40%
resumed nonessential
domestic business travel
in the country where
they are based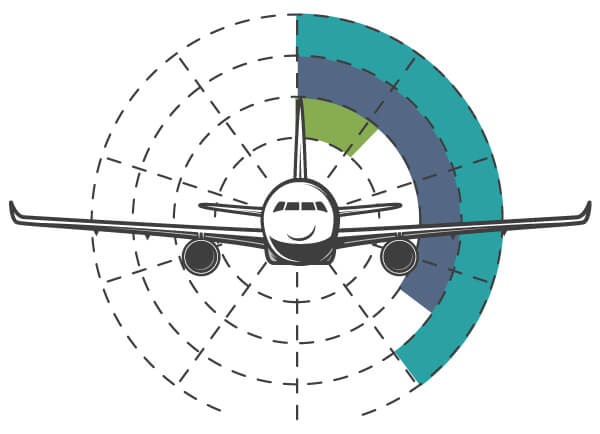 An additional

33%
say their company has
finalized a date or is
working to finalize a date
to resume domestic
business travel. One-quarter
are "waiting to see
what happens" or
are "not sure."
12%
resumed nonessential
international
business travel
As for when white-collar business trips would return to pre-pandemic levels, the survey found:

Before the pandemic, business travelers accounted for about 30% of airline trips but an estimated 40% to 50% of passenger revenue, according to Airlines for America.
Concur's annual global business travel survey, conducted by Wakefield Research, found 96% of respondents willing to travel during the next year. 72% said flexibility is a top priority for business travel, outpacing policies to ensure that themselves, colleagues and clients are vaccinated.
A business travel analysis from the Wall Street Journal in December 2020 found about 25% of such travel can be classified as sales and securing clients, and another 20% for conventions and trade shows. About 20% of business travel is for intra-company meetings and training, which could be replaced by online sessions. The analysis suggested an estimated loss from sales trips of between zero and 20%. Conventions and trade shows are likely to return to pre-pandemic levels because they are seen as efficient ways to meet clients, recruit business and keep track of competitors.