10 steps to take when creating an app
Matt Pais
Alexander explains how he launched a product that has benefited his clients and business.
Chris Renton
Like many highly impactful endeavors, the mission started small.
Gareth Alexander, Dip PFS, BSc(Hons), simply needed to expose clients to a new branded portal where they could schedule appointments and view savings, investments and coverages.
What the three-year MDRT member from Harpenden, England, wound up with is an app that has massively increased the number of annual client touchpoints. The app has also become so popular (and public) that its number of downloads is nearly twice the business' client roster, as non-clients/prospects can get access to newsletters, help with financial planning and more.
Efficiency and profitability are up, and clients have easy access to information that doesn't require mailing physical copies, helping the environment and improving the likelihood they remember why particular recommendations were made.
If you'd like to create an app for your practice, Alexander, who specializes in family trust-based financial planning, recommends following these steps:
1. Learn from those who have done it before. During the 2015 Annual Meeting in Vancouver, Tracey Karen Diana Devonport, a 25-year MDRT member from Houghton, South Africa, spoke about what her company had done to launch its own app. After the presentation, Alexander sought out Devonport for further advice, which guided his next steps in development.
2. Find a company that can help you. With Devonport's insight, Alexander searched for a local operation that specialized in apps for wealth managers. No one had that specific skill set, so Alexander looked for a company to help develop an original, customizable app. That meant targeting an established technology partner, evaluating the company's financial strength and the service they could provide.
3. Be patient. Launched in 2017, the app took six months to develop, going through multiple drafts and being assessed weekly with the developer. They created a platform so Alexander's team could make some changes themselves (and get help from the development team if coding was involved). It involved working late nights and weekends, but Alexander knew the long-term payoff was worth it.
4. Remain open. From draft to draft, Alexander expanded the app's functionality, adding video content to explain the portal, how clients can communicate with advisors, information on local regulations and much more. Establishing push notifications has been hugely successful as well, with 90% of these messages sent to clients' phones read within three minutes of being received.
5. Expand your collaborations. "We realized there's no one firm that can do everything," Alexander said. Using referrals, Alexander found a partner who could produce video and other social media content, advancing his network of technology partners that help in different ways.
6. Stay focused and accountable. The more tasks being done, the harder it can be to stay on the same page about what needs to be finished when. Alexander followed up with emails as needed when work wasn't done and made sure to clarify expected deliverables with each step.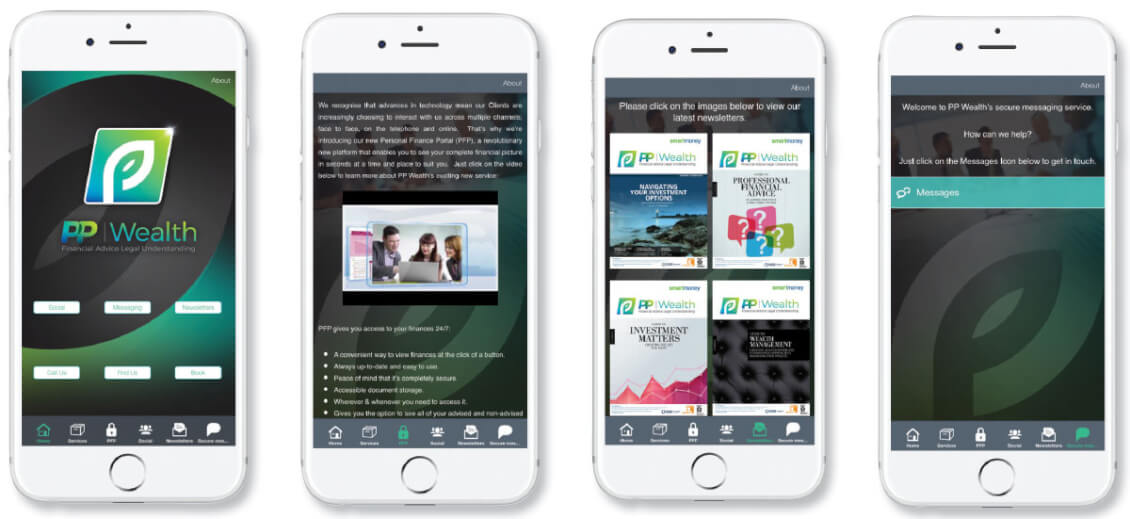 7. Get client input. To find out what clients wanted to engage with on the app, Alexander asked. Thanks to communication with about 30 close clients, he added a client survey that could provide constructive feedback. Alexander also provided access to various investment platforms and the ability to complete risk profile questionnaires (an annual requirement in the United Kingdom).
8. Don't forget to market. Creating a fantastic product accomplishes nothing if people don't know about it. Alexander uploaded a 20-second video to YouTube about the app and posted a banner on the company website to serve as an easy place to find and download the app.
9. Monitor the response. At first, Alexander thought many clients might not use this technology. "Actually it's the silver surfers, the over-60s, who spend more time using iPads and technology than anyone else," Alexander said. "They see the app as a great differentiator and that we're investing in service. It's another justification for the fees that we charge."
10. Keep growing. Alexander developed a separate app (with another technology partner) that can send clients SMS messages, updating them about review timelines, information uploads and more. "It's amazing," he said, noting the SMS's 98% read rate. "If you want to get a piece of information back from a client and you send them an SMS, you get an immediate response." The SMS messaging began as a way to wish clients happy birthday but turned into much more.
Ultimately, Alexander said, it's a learning process. "You have to be specific in terms of what you're trying to achieve, but you also have to be flexible to let the project evolve," he said. "And the technology cannot replace the personal relationship we have with the client. It enhances the relationship."