Persistence paves the way
Kathryn Furtaw Keuneke, CAE
Tsai's focus and passion for helping families have led her to success in business, life and MDRT.
Stories about families and businesses suffering financially speak volumes when making the case for planning. In financial services, storytelling helps make the sale.
Peggy Tsai, RFP, CCFP, relishes opportunities to share stories of clients she has helped and successful financial plans implemented. But the first stories she told were different — they were developed from a journalist's perspective. As an editor for a local newspaper, Tsai described families' unfortunate incidents and financial failures.
Through research, she realized if these families had owned insurance, they would have survived these situations financially intact. While it was important to share their stories, Tsai wanted a proactive role in helping others. In financial services, Tsai found her calling — one that would reward her with heartfelt relationships and financial success.
As she joins the MDRT Executive Committee as Nominee, the 18-year MDRT member from Taipei, Taiwan, brings passion, focus and the perspective of a successful producer living and working in a large Asian market — a region that has seen significant membership growth in recent years.
Many producers talk about the difficulty of entering this profession, the long hours and months or years of rejection they endured. For Tsai, the loudest objections in her early months weren't from prospects — they were from her family.
"My parents were strongly opposed," Tsai explained. "Back in those days, insurance agents had a bad reputation, and that would be the last choice for people to do as a profession."
Tsai's drive to pursue this profession persisted. Her first step was working in 1993 in the claims department of Shin Kong Life Insurance Co. She got an in-depth education about insurance with a part-time sales role for six years before she became a claimant herself.
Tsai developed thyroid cancer and was unable to work during extensive treatment to put her disease in remission and restore her voice. The medical and cancer insurance she held covered all of the costs, and allowed her to take six months' leave from work without financial worries. This experience fueled her feeling that insurance was a solution she needed to share with more people, and it pushed her to apply for a full-time role as an insurance agent.
Making cold calls
Tsai walked up and down the streets of Taipei, knocking on doors of small businesses and approaching strangers. She quickly refined her approach to target public-sector businesses, such as government buildings and courthouses.
Once in the door, Tsai would ask to speak to the HR department in the hopes she could sell group insurance. If she was successful, she would later convert the employees to individual clients.
Once her client base began to grow, Tsai categorized them A through F by considering their profession, family size and net worth. She asked her top clients for referrals. Tsai set a goal to achieve MDRT. In 2000, she met with 600 prospects and closed 100 small cases. The math was disheartening. It required so much effort to put those policies in force, but it wasn't enough to meet her goal.
"I put in my full effort, and in the following year of 2001, I reached the MDRT performance standard," Tsai said. "So I applied for 2002 membership."
I have had lots of frustrations and setbacks, but I am the type of person who puts those easily behind.
Tsai's dedication to her new career was making an impression on her father, unbeknownst to her. Her dad bought a whole life policy and, just two years later, became Tsai's first death claim.
As she was processing the claim, she found a letter. In it, her dad admitted he had wanted to surrender the policy, but he kept it in force so he wouldn't undercut her confidence. He had watched his daughter work hard to find success in her new career, and he admired her commitment and determination.
Tsai's mother, the beneficiary of the policy, began introducing her daughter to her friends, suggesting they work with her to protect their finances.
Setting new goals
Tsai's new goal was achieving Court of the Table — and building a plan to do it consistently. She calculated what she was currently doing to achieve her production and determined what changes would put her on pace for meeting the new goal.
She changed the way she categorized her prospects and clients, now factoring in their awareness of insurance and whether they were seeking inheritance planning. Tsai had to invest time to change direction, and her sales came to a halt. Four months went by before she closed another case.
Some of the prospects required a significant investment of time. She estimates one prospect rejected her 80 times before doing business together, and she pursued another for seven years before they became one of her biggest clients. "If you plant a seed, one day you can harvest where you sow," Tsai said.
"I have had lots of frustration and setbacks," she continued, "but I am the type of person who puts those things easily behind. I just focus on doing what I do well. I forget those bad experiences because that's the nature of this business. You just move on to your next goal."
Tsai today
Today, Tsai leads a team of 19 producers within Shin Kong Life. The team services more than 2,000 clients, but Tsai personally meets with about 50 business owners. Many of her clients meet with her in her office, though it's not common practice in Taiwan. She also has several clients in China — Taiwanese businessmen who've gone to mainland China to build factories — taking her there about once per month.
While many producers on her team are focused on selling risk products, Tsai is a credentialed financial planner. She earns commissions only — no fees are charged — to look holistically at her clients' finances and determine the right balance of products to fund their retirement income and plan for passing wealth to the next generation.
The level of commitment Tsai provides her clients wins them over for life. One wealthy family befriended Tsai over the course of four years before they became clients; they've since purchased 40 policies and referred her 41 new families. Tsai has fulfilled the final wishes of a client's 29-year-old son to reunite him with his estranged parents. She has become an honorary member of many of these families, and her practice is rewarded with multi-generational client loyalty.
Balancing act
With so much time invested in pursuing high-net-worth prospects and servicing clients, Tsai's career was taking a toll on her family life. MDRT's Whole Person concept helped her see that she could be a successful producer and maintain her personal life. "The Whole Person philosophy helped me to be a good mom, a good colleague, a good friend and a good wife."
To accomplish this, Tsai schedules out her upcoming year in December, filling in two week-long vacations with her family and a separate trip with her husband. From there, she calculates the time she will spend prospecting (a third of her time) and servicing clients to meet her production goal for the year.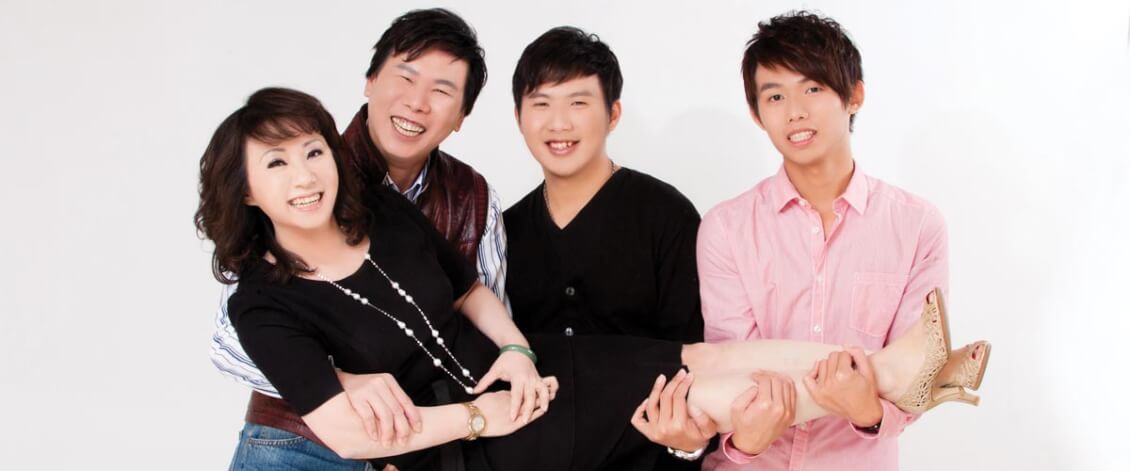 Tsai with (from left) husband Terry and two sons, Louis and Wade. Terry is the fourth-generation owner of a family construction business. Louis, 28, is an engineer for a tech firm, and Wade, 25, is studying risk management and serving in the Taiwan military.
She also plans each month's activities on the 25th of the prior month, identifying which clients have experienced life changes to determine who to meet with. She spends 15 days on client meetings and the remaining days preparing paperwork and closing cases.
Her process has led her to seven consecutive years of recognition as top producer in her company, and eight Court of the Table and three Top of the Table qualifications.
Supporting MDRT
With many leadership positions in the Membership Communications Committee, culminating with the role of Divisional Vice President in 2018, and roles planning MDRT's meetings, including this year's position as Chair of the Global Conference ConneXion Zone Committee, Tsai has implemented ideas from other producers around the world.
Joining this organization actually helped me change my working DNA, and that changed my life.
Her mission on the Executive Committee is to help other members around the globe identify relevant techniques and apply them locally. She wants to uncover more transferable ideas from MDRT members worldwide.
"We have a lot of people who are so good at doing what they do; it's just that we haven't discovered these talents," she said. "Joining this organization actually helped me to change my working DNA, and that changed my life, helped my work. That would be the true value we can bring to other people."