It's more than donating money
Matt Pais
For 60 years, the MDRT Foundation has united MDRT members to help people around the world.
It would be easy to commemorate the 60th anniversary of the MDRT Foundation through numbers. We could look at how the Foundation gave $7 million in grants in its first 39 years and nearly $30 million in its last 21 years. How in 2018 the Foundation awarded a whopping 273 grants, totaling nearly $1.5 million. How an organization founded with modest beginnings has now had two years of the online-only MDRT Gives Day fundraiser, raising $130,000 from 18 countries in its first year and $165,000 from 37 countries in its second year.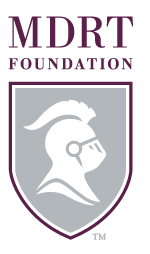 But the MDRT Foundation is so much more than numbers — it's the people involved, giving and receiving those grants.
"It's quite phenomenal to think that this group of financial services professionals has been able to impact the lives of hundreds of thousands — if not millions — of people around the world through their generosity and service," said 2019 MDRT Foundation President Ted Rusinoff, an 11-year MDRT member from Stow, Ohio.
You can say that again. The global reach of the MDRT Foundation is astonishing, including the support of The Exodus Road at the 2018 Annual Meeting. There, the co-founders of the organization, which fights human trafficking around the world, were anticipating receiving a check for $126,000. The look on their faces when actually presented with $252,000 — twice the expected amount — was amazing, said Rusinoff, who puts the moment of delivering the check in the same unforgettable category as getting married and having children.
"We are members of an industry that takes an uncomfortable topic — your untimely death — and changes the narrative so it can be a topic of conversation moving forward," said Rusinoff, noting that he now talks about the issue of human trafficking every week. "With The Exodus Road, we took a topic that was difficult to talk about and helped people become more aware of the problem that's out there."
We are members of an industry that takes an uncomfortable topic — your untimely death — and changes the narrative so it can be a topic of conversation moving forward.
— Ted Rusinoff
That unifying mission is what the MDRT Foundation is all about. Adelia C. Chung, CLU, ChFC, a 36-year MDRT member from Honolulu, Hawaii, who was the 1999 Foundation President and 2005 MDRT President, points to how friendships formed at previous MDRT Foundation Phonathons endure to this day, and how vividly she remembers participating in her first playground build in the Watts neighborhood of Los Angeles, California, in 2003. "As we were building, children gathered around, and they couldn't believe it was for them," she said. "They couldn't believe we were leaving it there for their enjoyment."
It reinforces the idea that the Foundation is much more than just collecting money from members; it's involvement and community, bringing together MDRT members for a common purpose. "The Foundation has so many ways that you can serve," she said. "You think you are giving back, but you receive so much more. Gratitude and joy result from your involvement."
YOU CAN HELP A CHARITY RECEIVE FUNDING: Apply for an MDRT Foundation grant by September 1.
The MDRT Foundation funds charitable programs that are meaningful to MDRT members. In fact, charities are only eligible for a grant through the Worldwide or Quality of Life grant programs with a written endorsement from a member.
For the member, the grant application process is straightforward:
First: Identify which program is the best fit based on your relationship with the charity.

Quality of Life grants: for members who are actively involved as a volunteer with the charity
Worldwide grants: for members who may not be a volunteer with the charity but are familiar with the issue or program and wish to endorse their application for funding

Next: Write a letter of endorsement stating why you think the MDRT Foundation should award a grant to the charity.
Then: Contact the charity and point them to the Foundation's website mdrtfoundation.org to complete a grant application via the online process. The charity representative will need your name, MDRT member ID number and letter of endorsement.
September 1 is the annual deadline for applications to be considered for funding in the next year's grant cycle.
More details can be found at mdrtfoundation.org/grant.