Creating a path to partnership for millennials
Liz DeCarlo
Paterson develops opportunities for younger advisors to become invested in the business.
JEN DAINER/INDUSTRIAL ARC PHOTOGRAPHY
When Susan Catherine Paterson, FChFP, offered young advisors working for her a chance to buy into the business, she quickly found they could only afford 1 or 2 percent because the value of the practice was so high.
"That doesn't create a sense of engagement and ownership for younger staff," said Paterson, a 15-year MDRT member from Loganholme, Queensland, Australia. "Millennials like to have something they feel they have a stake in."
Then she hired two university students, Billy Lowdell, B Com, now a two-year MDRT member, who was then just completing a financial planning degree, and Morgan Jones, a full-time law school student, to work part-time for Business Insurance Group (BIG), where Paterson is director. Both went on to complete their studies, and came to work for BIG full-time.
Paterson wanted to foster a sense of engagement for these young advisors. So instead of offering them a small percentage of the larger practice, Paterson set up side businesses with the books they worked on. This allowed them to become partners, with increased ownership and responsibilities.
These practices remain under the umbrella of BIG, and still work closely with the rest of the organization. "This has not lessened the team feel or culture of the businesses," Paterson said. "In fact, it has introduced an executive level that allows for increased idea sharing and support."
A few years later, Paterson had the opportunity to purchase a business, so she partnered with another of her young employees.
When Paterson described this arrangement to others outside her organization, they often reacted negatively. They assumed the young advisors would be invested in their business only and eventually cut the organization out of the process. The opposite has proven true.
"They're great team players and they bring an amazing skill set," Paterson said. "Because they have such a stake in it, they're not going to just walk away. And, because the businesses are so intertwined, they're very much involved with helping others in the business grow.
"There is some work involved in creating strategically separate parts of the business," Paterson said. "But the main focus is on making sure we start off on the right foot and have clarity and agreement on how the models work going forward."
Attracting millennials
To find these younger advisors, Paterson advertised for university students who were interested in financial services. They began by working with her on a part-time basis.
"The university teaches knowledge, but it doesn't really teach skill sets. When they're with us they're learning our skills, for instance in client engagement," she said. "I think for them, it helps what they're learning at university make more sense as well."
For Jones, working at the business while in school helped him realize he loved insurance more than law. And, while his business is focused on insurance, he also specializes in contract work, claim entitlement and other areas where his legal knowledge is a direct asset.
"Having a business that allows us to build a legacy of staff development is in many ways what it is all about," Paterson said. "It provides a strong path for our clients in the future. Staff development is truly a gift we can pass on."
The employee Paterson purchased a separate business with has been with BIG since she was in school. She has now been with Paterson for 12 years.
"They felt so involved because they were able to take ownership," Paterson said. "Importantly, there is a strong reward and the ability to build their own assets."
Understanding millennials
Millennials have such an appetite for change and growth, Paterson said. "They want their career to happen. They want rewards faster." Which works as long as they're clear on one thing: "There's the opportunity to give rewards at faster levels, as long as they understand they have to make growth happen at a faster level. If you're clear on that, they'll run with it, and that's a good thing."
Millennials also bring substantial skills for change when they come into the business. "They have a strong characteristic of wanting to see an outcome very quickly," she said. "We live in a world of great change, and they're better at coping with that and bringing in new ideas and initiatives. They're good at looking at things and saying, 'Here's how you can do it better.'"
They have a strong characteristic of wanting to see an outcome very quickly.
Paterson has found younger advisors attract younger clients, often the children of current clients. "I believe you attract clients 10 years older or younger than yourself, so my advisors in their 20s are perfect for the multi-generational clients," she said. "They might not be higher-income-producing clients, but they're certainly the future of the business."
Having millennials who are so invested in the business has also created a natural succession plan for Paterson. "If I want to cut back, they have the possibility to buy out my 50 percent, and I can stay on as a consultant or mentor if needed," she said. "They could also expand by buying up my other books of business. They are certainly part of my succession plan."
6 ways Paterson encourages growth and collaboration
1. Sabbaticals. All staff members are allowed to take a sabbatical of up to 12 months. While no employee has taken off that long, several have taken three or four months, often to travel. When a person takes a sabbatical, Paterson works with the rest of the staff to reallocate workloads.
2. Idea sharing. On Mondays, the 16 staff members meet for "10 of 10," where they stand around for 10 minutes at 10 a.m. to talk about what's going on and share ideas. "If a couple of people come up with the same idea, we realize we should talk about it and put the others down to talk about later. We decide that as a group. They're very engaged." They also share one good thing that has happened at work or home. "That's always an interesting way to start a Monday," Paterson said.
3. Self-directed team rewards. On Fridays, each team meets to talk about where everyone is with their work. Often a couple of people on the team are able to leave early that day. The team decides among themselves who's eligible to start their weekend early.
4. White space. Paterson has an office dog, and staff is encouraged to take the dog out for a walk when they need a break. "People need some white space like taking the dog or just going for a walk themselves," she said. "Even just petting him helps take your mind off. I think white space is super healthy."
5. Doing good. Paterson also encourages and helps facilitate charitable giving and events. "One thing this generation has brought in is a generous appetite for good. They love to know they're helping somebody." The group has done everything from food drives to multiple sclerosis fundraising walks in support of a team member with MS.
6. Wailing wall. The team works interactively on the business vision, and many of the thoughts and ideas are inherited from the wailing wall, which is a flip chart that allows staff to list any issues or job roles they don't like. Writing this up allows others to find an opportunity to improve how the team does things or decide if they need to do it at all, Paterson said.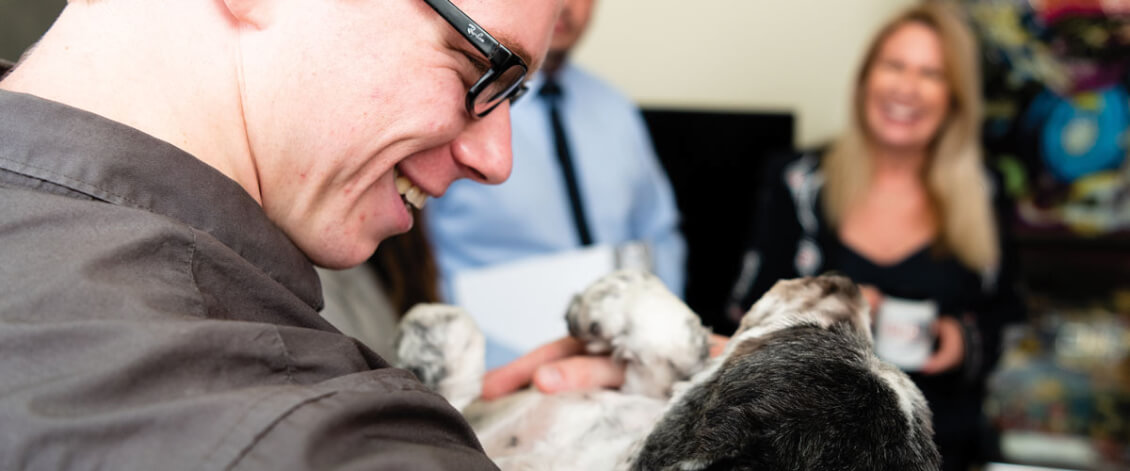 Petting the office dog relieves stress.