Weathering the storm
Matt Pais
Waddell helps Hurricane Harvey victims through the Coastal Bend Food Bank.
After Hurricane Harvey prevented him from leaving his house in Houston, Texas, for nearly a week in August 2017, Robert W. Waddell, RICP, did not emerge back into society and go golfing. The 26-year MDRT member got to work helping out.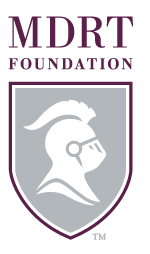 He helped load items from his wife's cousin's house into vehicles to move to another location, then he helped friends and others in need in his neighborhood, including a stranger who posted an SOS note on Facebook. "I got very good at taking out carpet and removing drywall down to the studs," Waddell said, noting that the closest thing he had to relevant previous experience was participating in an MDRT Foundation project in New Orleans, working on houses 10 years after Hurricane Katrina. "We didn't wait for anybody to come help; we went to do what we needed to do for friends, relatives and neighbors," he said.
But he didn't stop there. Working with the MDRT Foundation, Waddell secured a $10,000 grant for the Coastal Bend Food Bank in Corpus Christi — supporting victims in an area more than 200 miles from Houston who received less media coverage of the storm's impact.
"Because of the storm surge, some of the beach communities there were wiped down to a concrete slab," he said.
With so many people in need, the $10,000 grant was vital, said Beatriz Hanson, executive director of Coastal Bend Food Bank. The funds helped more than 12,000 people as the food bank dealt with challenges of its own, with many local food distribution centers completely destroyed.
"Some of the volunteers that run the agencies were distributing right out of the trunk of their cars," Hanson said. "If it hadn't been for the donations we received, we would have been short of food."
Securing this funding was an extension of Waddell's previous work with the MDRT Foundation. Each of the three years he served as a trustee on the MDRT Foundation Board (2012-2015), he secured a $1,000 grant for the Houston Food Bank (which also received $50,000 from the MDRT Foundation after Hurricane Harvey). In addition, Waddell, an Excalibur Knight, served as Chair for the 2017 MDRT Global Gives Day and helped build picnic tables for the MDRT Foundation service project in Vancouver in 2016.
During Hurricane Harvey, Waddell knows he was lucky the water stopped 10 feet from his house, especially in an area where thousands of residences received several feet of water inside. (Many people had to evacuate their first floor entirely, some for the roof.) Even still, he had MDRT friends from around the world checking in on him, and he certainly returned the kindness in spades to those in his neighborhood and beyond.
"I hope to not ever go through that again," he said. "The good news is that if I do, I have the skill to be able to help."