The power of positive thinking
Liz DeCarlo
Vanderwolf looks for opportunities when challenges come his way.
Ross Vanderwolf, CFP, is a glass-half-full kind of person. Although facing continued regulatory change in Australia, he sees opportunities that could come as a result of the upheaval.
As Vanderwolf assumes the role of MDRT President, he is challenged to oversee a global organization comprising more than 66,000 members in 72 countries. Rather than feeling overwhelmed, Vanderwolf is excited about finding ways to keep MDRT relevant and meaningful no matter where a member lives and works.
Even with 37 years as an advisor, he continues to feel a sense of purpose every time he sits down with clients to help plan their future.
"It's not uncommon to see advisors who have lost their enthusiasm because of the changes we have endured," said Vanderwolf, a 31-year MDRT member from Brisbane, Queensland, Australia.
"People lose sight of the positives in our profession and become so focused on the ramifications of compliance, regulations and reporting that they forget about the good things they do for their clients."
Vanderwolf prefers to focus on the positives. He recently sat down with a couple who have been his personal clients for more than 30 years.
When they met, Vanderwolf was single and they were newly married. Now, Vanderwolf and his wife have adult children and his clients have welcomed grandchildren into their family.
"I've grown up with them, initially giving risk advice on protecting their family, progressing to investment and retirement savings advice, and now that they are on the verge of retiring, doing retirement planning.
"It makes you sit back and say, 'I've been doing this a long while,'" he said. "You feel they're more friends than clients. It's wonderful."
Vanderwolf acknowledges the role of financial advisor is a perfect complement to his desire to get to know people in a deep and meaningful way. "My passion is talking to people about their passions. In that regard, it's a wonderful business to talk to people about their families, their goals and commitments, and what their future plans are," he said. "The best part is sitting across the table and learning about them, learning about their life."
When Vanderwolf started out, it wasn't as easy as sitting across from clients to talk. It took him several years to find clients who weren't family or friends.
Vanderwolf started as a tied agent selling permanent and universal life insurance. He received basic training and then was left to his own devices. The sink-or-swim mentality of insurance agencies at the time left Vanderwolf sinking, until he met an MDRT member who became his mentor.
Four years later, he qualified for MDRT, where he began volunteering, taking on roles initially with the Membership Communication Committee before being involved with the Annual Meeting Program Development, Membership and Finance committees.
Now, as senior partner of a multispeciality financial services business, Rothgard Financial Partners, Vanderwolf prefers to guide new advisors. "We get them involved at an early stage in our advisory and paraplanning areas," he said. "We train them up, and they get the chance to have more client interaction than other advisory firms might offer by having them in our client meetings."
While junior advisors work on a broad spectrum of financial services, the objective is that each individual will become a specialist in one or more specific areas such as business insurance, retirement planning, self-managed superannuation funds, investment portfolios, aged care or social security.
"We train them in broad coverage, and they figure out what they want to specialize in," Vanderwolf said. With the constant increases in regulations and compliance, it's virtually impossible for one advisor to maintain expertise in all areas of financial advising.
"The industry is under constant change. In Australia, it's almost a revolution," he said. "There is a major focus on the financial services sector at present."
As regulators continue their overhaul of the industry, one of the major changes is education requirements, which is scheduled to go into effect by 2024. These will affect not only those entering the profession, but also existing advisors.
"That's a big change coming, even for people doing this as long as me," Vanderwolf said. "They are looking at what study we have to complete to enable us to continue to advise. The fear is that previous completed studies will not be recognized.
"We are waiting for the government to ratify and clarify what this could mean. A recent survey indicates about 68 percent of advisors with 20-plus years of experience will retire or move to non-advisory roles, rather than undertake the level of study currently being discussed."
As always, Vanderwolf sees the opportunity that may come with the challenges. "We understand there will be more compliance, regulations and higher education standards, but the net result is, if you are prepared to commit to the study to enable you to continue your advice career, there will be opportunity," he said.
Even if the 68 percent figure reduces to 30 to 40 percent, that is an enormous amount of experience to leave the sector and a significant advice gap for consumers, Vanderwolf said.
As a member of MDRT's Executive Committee for the past four years, Vanderwolf has seen members in many countries face change. "In Australia, the U.K., Canada, the U.S. and mature Asian markets, it's more about legislative change," he said. "In emerging countries of Asia, the biggest challenge is in delivering quality advice in an area that's growing exponentially. Different challenges, but they all tie back into the way we deliver advice."
Vanderwolf's experience has taught him that the days of transactional business are fast disappearing, as financial service professionals move toward advisory roles. "When I'm asked to speak in Asia, it's more about building long-term relationships with clients, more advisor than salesperson."
Vanderwolf emphasizes relationships in his own practice, focusing on working with clients' lawyers, accountants and estate planners. "It's not just retirement planning or insurance advice any more."
Vanderwolf works closely with his business partner, Gino Saggiomo, CFP, an 11-year MDRT member. In addition, Rothgard has a strong association with two similar businesses in Australia. Plus, he connects frequently with other MDRT members in Australia and abroad.
"This industry can be very lonely. If you battle it yourself, it's tough," he said. "It's easier if you're part of a larger group like MDRT.
"I have a lot of conversations with like-minded people in the industry," he said. "We're all a bit daunted by the changes but enthusiastic about the opportunities being presented."
Seeing a plan become action
Vanderwolf's last four years as a member of MDRT's Executive Committee have been focused on implementing the organization's strategic plan. After careful planning and research, most of the plan's major initiatives have either been implemented or are underway. From new meetings to in-language content, the organization has pushed the boundaries to find ways to deliver value to its members.
It would be easy to sit back and just coast on those successes, Vanderwolf said. "We could say, 'We've done a lot of hard work; we can just go on cruise control,' but complacency is not part of MDRT's mindset. We're always trying to deliver more member value."
Vanderwolf speaks with pride of the upcoming MDRT EDGE meeting for members from the U.S. and Canada, the MDRT Global Conference, which takes place for the first time in September 2019, and the U.S. beta test rollout of the MDRT Academy, a new, free-standing association MDRT has created to assist aspiring members attain MDRT-level production. But he's equally enthusiastic about smaller member initiatives that are beginning to occur in places such as Hong Kong, the Philippines, Thailand and the U.S.
"The challenge is in the demographics, which change almost on a yearly basis," Vanderwolf said. "So it becomes about acting locally but thinking globally. How can we get more involved and have more local connection and content?"
MDRT is using consultancy firms to help with the global perspective. "It's important for someone to take the helicopter view, to take a broader view of how businesses work and give us some input," he said. "Gino and I do the same in our business. We can get tunnel vision. Having an outside perspective helps us think a bit more unilaterally."
Through it all, Vanderwolf is focused on maintaining positivity while moving forward. "MDRT is doing its utmost to meet all members' needs and to make sure we stay relevant," he said. "Similar to how we are with our clients, MDRT has to remain relevant, otherwise there's no place for us in their lives."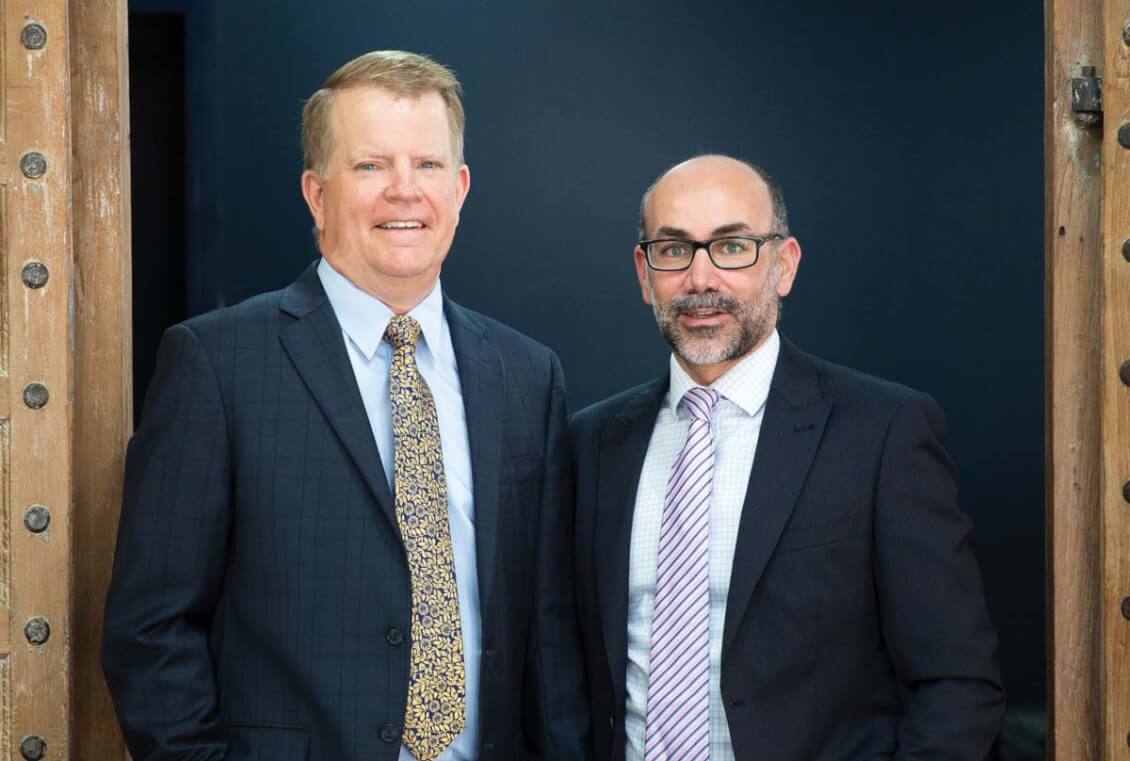 Vanderwolf and his partner, Gino Saggiomo.