The benefits of your MDRT membership
Michael DePilla
From promoting your membership to finding resources, we'll tell you how to make the most of MDRT.
Earning membership in MDRT is just the beginning. Your membership unlocks myriad benefits that include a global network of some of the best minds in the financial services profession, as well as online access to ideas to boost productivity and build your business. Take a look at some of the tools at your disposal.
Resources online MDRT offers you exclusive content in a variety of formats. If you have a question, chances are MDRT has an answer. As an organization with a 90-year history of crowdsourcing best practice tips, a lot of detailed information is at your fingertips. Here is a little about each of the content channels MDRT offers.

The Resource Zone on mdrt.org. Like MDRT's version of Google, the members-only Resource Zone houses all the organization's educational content, videos, podcasts, presentations from past meetings and much more, sorted by topics and searchable by keywords. Find worksheets, how-to's, case studies, checklists, and tips for increasing sales and streamlining your business.

Round the Table. MDRT's members-only magazine zeroes in on trends and opportunities specific to the financial services profession, creating an in-depth look at how MDRT members are over- coming challenges to optimize their success. Each issue includes transferable ideas, member profiles and feature articles about specific markets. Delivered to your door every two months, archives of past issues are always available online at roundthetable.org.

MDRT Podcast. This podcast series showcases MDRT members' tips for increasing business eficiency, appreciating clients, adding value to your practice and more. Episodes typically clock in between 10 and 15 minutes long and are perfect to listen to on-the-go or in the office. Released monthly, each episode can be streamed or downloaded at mdrt.org/podcast.

MDRT Blog. With two to three new posts every week, the MDRT Blog provides quick-hit takeaways on the latest industry trends and topics distilled from a variety of MDRT sources. Subscribe at mdrt.org/blog.

MDRT E-newsletters. In addition to providing members with the latest news from MDRT headquarters, MDRT's twice-monthly e-newsletter is full of curated sales and practice management material from the MDRT archives, as well as highlights of what's new and what's relevant in MDRT media. You will receive these in your email inbox twice per month.

Annual Meeting presentations. Enjoy the wealth of information shared at the MDRT Annual Meeting, even if you are unable to attend. The meeting's presentations — lessons presented by world-renowned speakers — are available in a variety of formats, including manuscript, audio and video.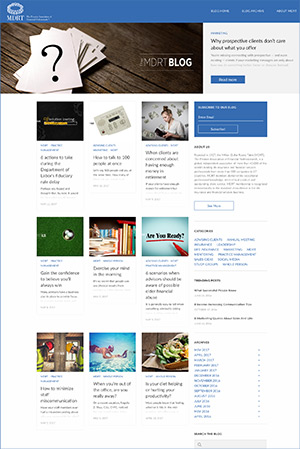 Meetings, big and small MDRT Annual Meeting. Each summer, MDRT holds a four-day Annual Meeting known for its inspirational Main Platform, educational Focus Sessions, entertaining social events and networking opportunities for members. It is recognized indus- try-wide to be the best of its kind, allowing MDRT members from around the globe to exchange experiences and ideas. The 2017 Annual Meeting takes place in Orlando, Florida, from June 4 to 7.

Top of the Table Annual Meeting. This more intimate meeting is open only to MDRT members who have quali ed at the top level of production. During this meeting, members have the chance to learn speci c strategies, exchange advanced sales ideas and network with other top producers. The next Top of the Table Annual Meeting is October 18 to 21, 2017, in Rancho Palos Verdes, California.

Localized networking opportunities. MDRT creates opportunities for members to connect with each other on a local scale. These informal local gatherings give members around the U.S. the chance to network with one anoth- er, share ideas and make new MDRT friends in a relaxed setting. Keep an eye open for a networking event in your area!