Strong engagement
Liz DeCarlo
Kaelberer emphasizes connection with staff and among Top of the Table members
W
hen
Sarah J. Kaelberer, CFP, ChFC,
wanted to move from the operations side of the financial services business where she was working to the advising side, her mentor expressed qualms. "We don't even know if you can sell," he told her.
"As soon as he laid down that gauntlet, I said, 'Let's go.' If you ever want me to do something, tell me I can't do it," said Kaelberer, a 17-year MDRT member from Wayzata, Minnesota.
Not only could Kaelberer sell, but she went on to qualify for Top of the Table, and is now ready to take on the role of MDRT's Top of the Table Divisional Vice President. Simultaneously, she has also just taken over as sole owner of Business and Estate Advisers (B&E), where she has spent the past 21 years.
It's a time of tremendous transition for Kaelberer, who admits she thrives on moving outside her comfort zone. "People tend to stay where they're comfortable," she said, "but I like pushing myself."
At the beginning
Kaelberer didn't start out in financial services. She studied business in college and went to work as a process improvement consultant. One of her clients was B&E, a holistic financial services operation, owned by MDRT member
E. Dennis Zahrbock, CLU, CFP.
"He had great revenue and clients, but couldn't turn a profit," Kaelberer said. "So I came here to systematize the process. Together we built comprehensive processes for financial planning, retirement plans and business succession planning." The consulting job led to a full-time position running the business' operations.
"When you're working in operations, you're looking at how the internal processing works," she said. "But the more I'd touch things, I'd start wondering why and wanted to learn more about the advisor aspect of the business.
"I found in this profession you have to be constantly learning, constantly changing, and it is about making a difference in people's lives," she said. "I realized this job in financial services met everything I wanted."
Now as the business owner, Kaelberer is the one bringing on new advisors and guiding them to success. She uses the system that was in place when she and Zahrbock were co-owners, something they call the "advisor track," a system another Top of the Table member shared that worked in their office.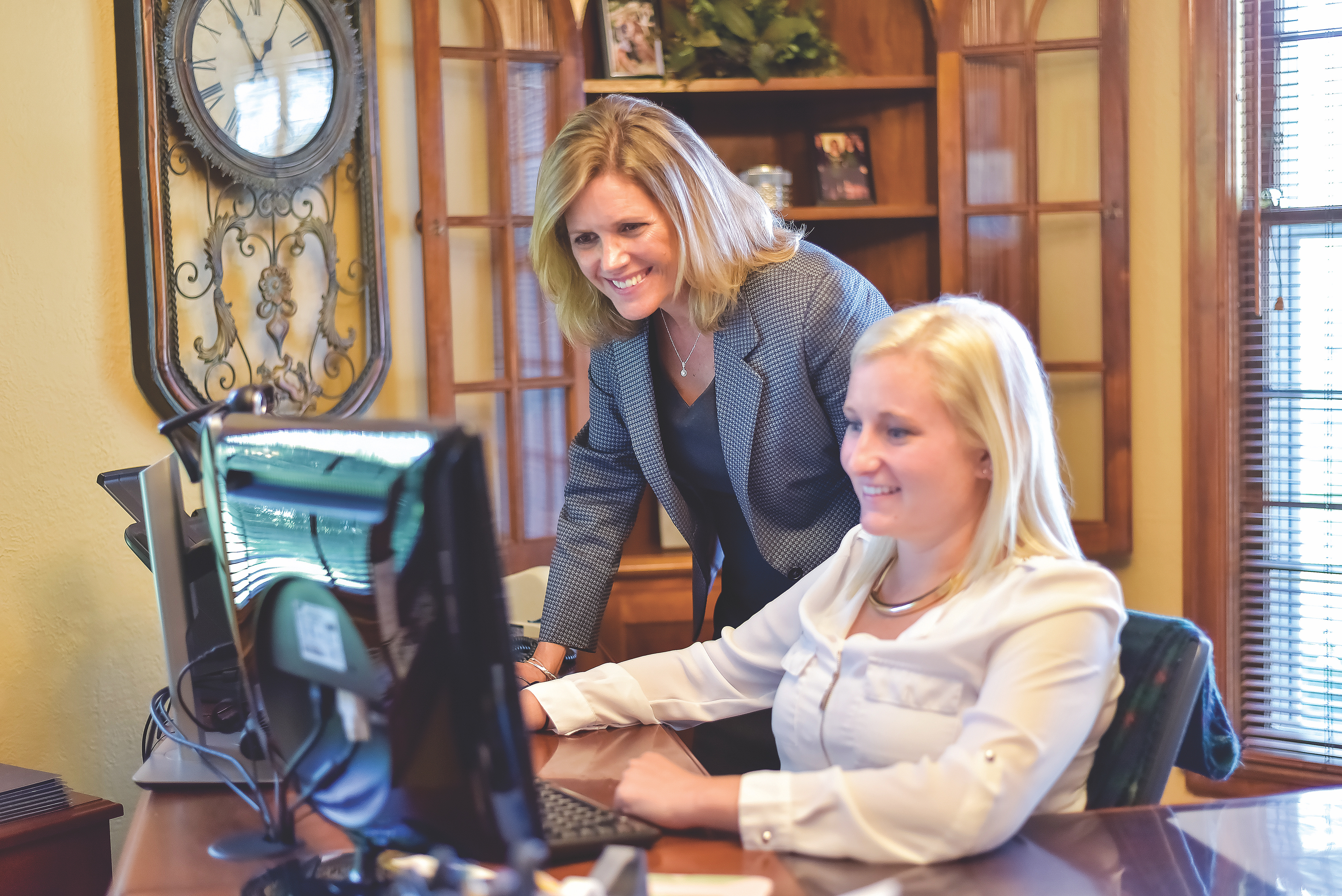 Training program
"Most people will hire a salesperson and have them hit the ground running, making cold calls from day one," Kaelberer said. "But that will blur my brand and destroy what we've built faster than anything."
Zahrbock believed if you have a beautiful environment, employ a smart staff, and make every client — no matter how big or small — feel they are the only person who matters to you, people will be attracted to and want to do business with you. Kaelberer has followed Zahrbock's example.
"We market, but we don't cold call or prospect. Our business is built on referrals," she said. "I don't have to ask for those referrals because it's so solid here."
When advisors start at B&E, they begin by working in operations, learning how to service and care for clients. New advisors spend anywhere from three months to one year in operations, then three months to one year sitting in on client appointments, just listening.
"After that, they can participate in client meetings," Kaelberer said. "They'll be ingrained with how we do things before we let them loose."
The process can be challenging for advisors who are ready to jump into working with clients. "It's tough to put a salesperson at a desk filling out forms, but if they don't have the ability to do this, they won't have respect in dealing with clients or for the operations staff they'll be working with when they're advisors."
In addition to an advisor track, Kaelberer uses a team approach with her support staff. She has nine support staff for three advisors.
"It allows us to take care of more clients, because the client will contact the support staff when they have basic transactions like depositing or withdrawing money, or doing a change of address," she said. "We've built a good system, where the support staff and paraplanners are really engaged with the clients, so they develop a relationship as well.
"That's hard for advisors, because they want the client to only want them, and a lot think no one can do it better than them," she said. "But if you don't trust your staff, they're not going to grow. And if I don't trust people enough to give them some of my most important things — my bigger clients — I'm not allowing myself time to do something new. It's really difficult, but it's important."
CONTACT:
Sarah Kaelberer
sarahk@business-estate.com
"I believe the best value Top of the Table offers members is bringing other like-minded members together," Kaelberer said. "The Top of the Table Annual Meeting is unique from most industry meetings, because it's about connectivity and celebrating achievement."

Kaelberer sees opportunities to grow those connections beyond just the meeting. "I don't believe the meeting is the only deliverable to Top of the Table members," she said. "In this virtual world, there's connectivity that happens electronically. We need to think about how we can encourage that, and what other ways can we bring them together and create value?"

Kaelberer is also focusing on connecting with millennial members. "They don't get jazzed about a ribbon. They're jazzed about social media, so how do we do that?"

And, with MDRT developing a new app, "I look at my job for the next two years to be that voice at the table, asking 'How will we elevate that for Top of the Table?'" she said. "How do we take what MDRT is doing one step further for Top of the Table?"