All in the family
Antoinette Tuscano
Yeo's passion inspires others to a career in financial services.
W
hen it comes to being a financial advisor, 14-year MDRT member
Jovin Yeo
from Singapore has made it a family affair. Yeo's passion for her work is so contagious, that in the past few years, two of her family members decided to follow in her footsteps.
Her brother, two-year MDRT member
Jerry Jin Chong Yeo, AWP,
of Singapore, has been a financial advisor for about five years. "I spent a lot of time mentoring and coaching him on the basics," Jovin Yeo said. "It's important he gets the foundation right. It's not just about closing a case. It's not just about earning a commission. It's about doing the right thing.
"One of the other things I encouraged him to do was join MDRT's Membership Communications Committee (MCC). This helps him share with other members and accelerate his professional growth."
Her brother isn't the only person in the family who became interested in being an advisor. When Yeo's husband, Daniel Ong Han Ping, no longer wanted to be away from his family so much for his career in IT regional sales, he decided to make a change. "I was calling him a weekend dad," Yeo said.
For the last three years, Yeo has been mentoring and training him. The career change gives him the freedom to manage his own time, which includes seeing his family more as well as fitting in a few rounds of golf.
Developing a work-life balance is a challenge for many professionals in Singapore, not just Yeo's husband. "In Singapore, a lot of us are rushing every day," she said. "Sometimes, it's just good to give a bit of yourself to others instead of being so focused on work."
Work-life balance plays a role in how Yeo manages her employees as well. Yeo allows flex time, which isn't typical in Singapore. Her staff, which consists of two assistants who schedule appointments, can take time during the day to go to the gym or take family members to medical appointments. It's not possible to check on staff every minute of the day, so there needs to be mutual respect for this to work, Yeo said.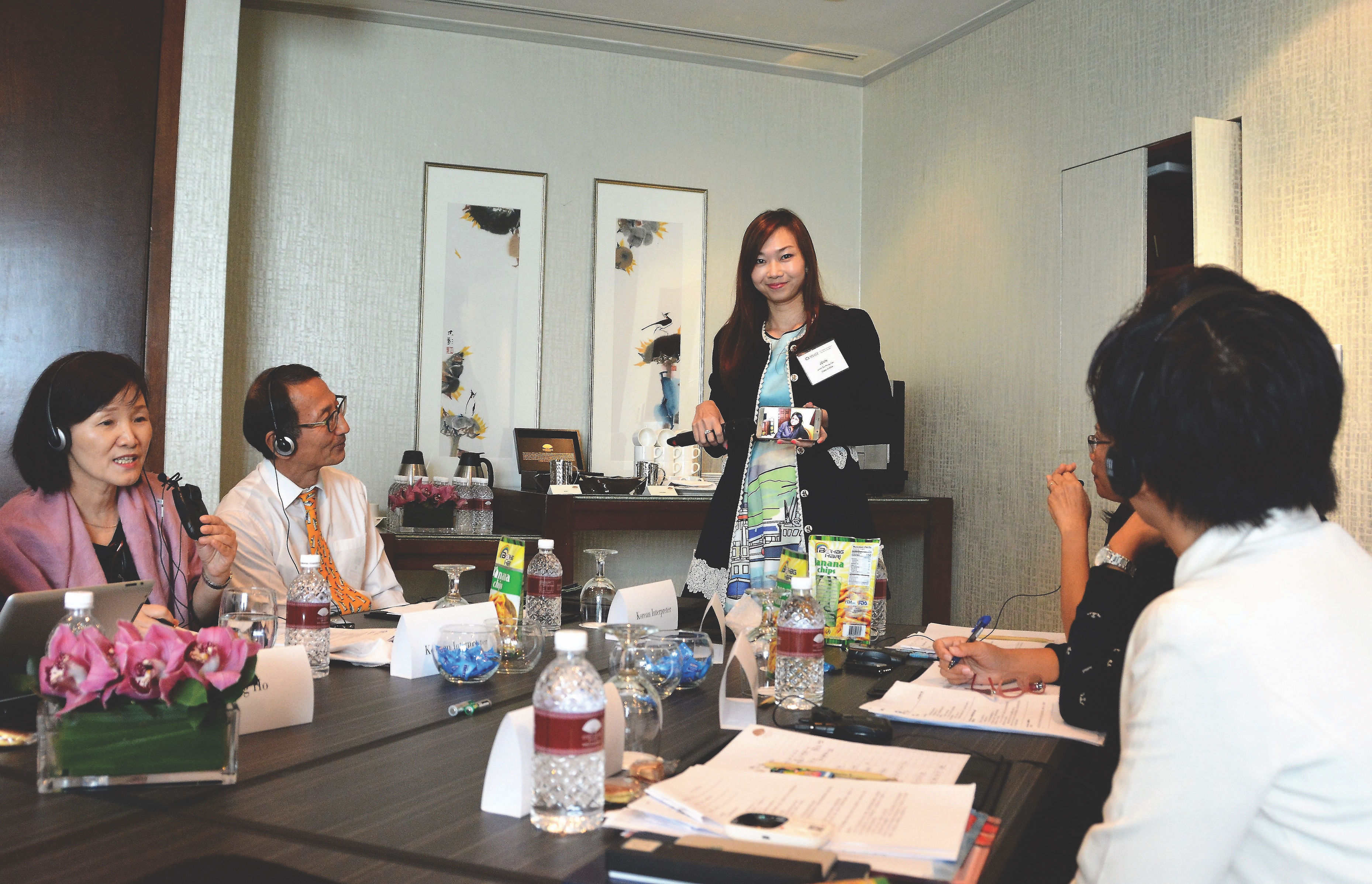 A lesson in efficiency
But developing an emphasis on work-life balance wasn't possible until Yeo developed a new approach to her career.
"When I first started, my cases were really very small," she said. "You can't imagine how many cases I had to do to actually reach MDRT! Someone I met at my first Annual Meeting shared with me that if you think big, you should be able to achieve something bigger and reduce the number of cases."
Yeo took the advice to heart, and began to pursue higher-net-worth clients, versus the hundreds of smaller clients she had previously worked with. After a few years, she was able to go from 250 small cases a year to about 80 larger cases.
Creating processes
Because financial services in Singapore are tightly regulated, each client requires more paperwork. Having fewer clients but bigger cases also provides more work efficiencies.
Yeo has developed a system called FLAIR to ensure she complies with Singapore's regulations. These are all the components of a financial advising plan that must be outlined under current regulations. FLAIR stands for:
F
— Financial objectives of the client (for example, retirement planning).
L
— Liquidity. Do clients have the assets for what they need?
A
— Affordability. "I need to declare a client's cash flow and net worth. I must show the client has a positive cash flow."
I
— Investment horizon. This is based on the client's age and how long the client plans to invest. The product must match the client's age.
R
— Reasonable. What level of risk is the client comfortable with? This addresses the time horizon and is a part of a scoring system that's used in Singapore.
"Because there's so much paperwork, the first meeting is the fact-find, then the analysis. The second and third meetings are designed to get clients to agree on what they want to do," Yeo said. "After this, I send the client an Excel spreadsheet with all the information I'll need. When I meet with them, I just ask them to confirm it's correct and then we can sign."
Jovin Yeo
gardenhearts@gmail.com
AN UNFORGETTABLE CLIENT
One of Yeo's clients was a divorced mother with two sons who were finishing their university studies. Because her sons were well on their way to self-sufficiency, the woman thought she could cancel her critical illness policy. Yeo persuaded her to keep the coverage as income to support herself if something happened.

The woman kept her policy and later was diagnosed with breast cancer. "I visited her frequently and gave her a headscarf when she was going through chemotherapy," Yeo said.

Unfortunately, the cancer eventually spread to the woman's brain and spine and she passed away. The family recognized how Yeo helped the woman — in both small and big ways — and were thankful. In fact, the woman's sons and other family members became Yeo's clients.

Protecting a client's income is an advisor's job. For Yeo, though, the small kindnesses of visiting the client when she was sick and bringing her a gift are what both elevates the profession for clients and brings her so much job satisfaction. "These are the details that make a difference for clients," Yeo said.