Membership's many benefits
Michael DePilla
From promoting your membership to finding resources, we'll tell you how to make the most of MDRT.
Earning membership in MDRT is just the beginning. Your membership unlocks myriad benefits that include a global network of some of the best minds in the financial services profession, as well as online access to ideas to boost productivity and build your business. Take a look at some of the tools at your disposal.
Resources online
MDRT offers you exclusive content in a variety of formats. If you have a question, chances are MDRT has an answer. As an organization with a 90-year history of crowdsourcing best-practice tips, a lot of detailed information is at your fingertips. Here is a little about each of the content channels MDRT offers.
The Resource Zone on mdrt.org. The members-only Resource Zone houses all the organization's educational content, videos, podcasts, presentations from past meetings and much more, sorted by topics and searchable by keywords. Find worksheets, how-to's, case studies, checklists, and tips for increasing sales and streamlining your business.
Round the Table. MDRT's members-only magazine zeroes in on trends and opportunities specific to the financial services profession, creating an in-depth look at how MDRT members are overcoming challenges to optimize their success. Each issue, which is delivered to your door every two months, includes transferable ideas, member profiles and feature articles about specific markets. Archives of past issues are always available online at roundthetable.org.
MDRT Podcast. This podcast series showcases MDRT members' tips for increasing business efficiency, appreciating clients, adding value to your practice and more. Episodes typically clock in between 10 and 15 minutes long and are perfect to listen to on-the-go or in the office. Released monthly, each episode can be streamed or downloaded at mdrt.org/podcast.
MDRT Presents. Every year, MDRT members offer a wide variety of helpful insights in presentations at the MDRT Annual Meeting. Hear tips on topics including communication techniques, prospecting and making it to Top of the Table at mdrt.org/presents.
MDRT Blog. With three to four new posts every week, the MDRT Blog provides quick-hit takeaways on the latest industry trends and topics distilled from a variety of MDRT sources. Subscribe at mdrt.org/blog.
MDRT Connect. In addition to providing members with the latest news from MDRT headquarters, this twice-monthly e-newsletter is full of curated sales and practice management material from the MDRT archives, as well as highlights of what's new in MDRT content offerings. You will receive these in your email inbox twice per month.
Annual Meeting presentations. Enjoy the wealth of information shared at the MDRT Annual Meeting, even if you are unable to attend. The meeting's presentations — lessons presented by world-renowned speakers — are available in a variety of formats, including text, audio and video.
10 tips to career success
Treat it like a business.
Get up at the same time.
Work regular hours (don't take time off because you had a big case).
Set goals and objectives.
Try to specialize early.
Learn how to delegate (hire staff before you think you need them).
Work with other advisors on joint cases until you know what you are doing.
Make sure that you have credentials of some type.
Work on your craft, not just your credentials.
Continue to learn.
Meetings, big and small
MDRT Annual Meeting. Each summer, MDRT holds a four-day Annual Meeting known for its inspirational Main Platform, educational Focus Sessions, entertaining social events and networking opportunities for members. It is recognized industry-wide to be the best of its kind, allowing MDRT members from around the globe to exchange experiences and ideas. The 2018 Annual Meeting takes place in Los Angeles, California, June 24 to 27.
Top of the Table Annual Meeting. This more intimate meeting is open only to MDRT members who have qualified at the top level of production. During this meeting, members have the chance to learn specific strategies, exchange advanced sales ideas and network with other top producers. The next Top of the Table Annual Meeting is October 3–7, 2018, in Kohala Coast, Hawaii.
Ready to go shopping?
MDRT has an online store filled with items to celebrate your membership, and resources to educate and inspire you. The Insignia Collection features MDRT-branded items such as plaques, desk accessories, jewelry and apparel.
The resources include member-authored books and multimedia on everything from prospecting to succession planning. Visit mdrtstore.org to see what's available. For more information, contact orders@mdrt.org.
MDRT EDGE. The MDRT EDGE offers a hands-on experience for members from the U.S. and Canada to learn about industry topics and trends and join in-depth workshops. Members can discover new skills to be more efficient in running and growing their practice, more effective at finding solutions for clients and more prepared to get in front of industry changes. This meeting will be held November 7–9 in Boston, Massachusetts, and is open to all U.S. and Canadian members. Registration begins in July. Check for updated information at mdrt.org/2018edge.
Local area networking. Coming together with other professionals is a big part of MDRT, and the U.S. Growth Team is creating new ways to connect locally. These casual get-togethers will help you grow personally and professionally. Learn more and connect with a U.S. Growth team in your area by contacting growthteam@mdrt.org.
MDRT Academy. The MDRT Academy is a new professional association for financial professionals striving to reach MDRT-level production, and for new MDRT members to help maintain and grow their production. This technology-enabled system delivers innovative ideas from MDRT experts, access to a community of peers and original content to transform your practice. MDRT is offering 2018 membership in a test phase of the Academy to first-year members and MDRT Mentoring Program aspirants in the United States. Sign up at aboutmdrtacademy.org.
The MyMDRT section of mdrt.org is home to exclusive tools and data to promote your membership, engage with clients, optimize client meetings and monitor your progress toward requalifying for next year. Be sure to check out the following:
Member Toolkit
Your MDRT membership is valuable — but not just to you. The Member Toolkit provides tools to help you market your achievements and communicate the value of your membership to your clients. This includes customizable news release templates, social media posts, advertisements, PowerPoint presentations, infographics and logos. Tips for public speaking and media interviews will help you represent yourself and your business well in the public eye. MDRT has also conducted financial surveys and culled results to give you insights into consumers' financial concerns. Find all this and more at mdrt.org/member-toolkit.
Members-only tools
Among the tools available for you is the personal Production Tracker, a month-by-month calendar that charts your earnings against your goals, allowing you to analyze your production regularly. Ensure your monthly goals are met to stay on the path to maintaining your membership. In addition, MDRT has collected dozens of financial calculators covering retirement, investments, home finance and more, so you can crunch a variety of numbers for your clients in one place. You can find these in the MyMDRT section of mdrt.org.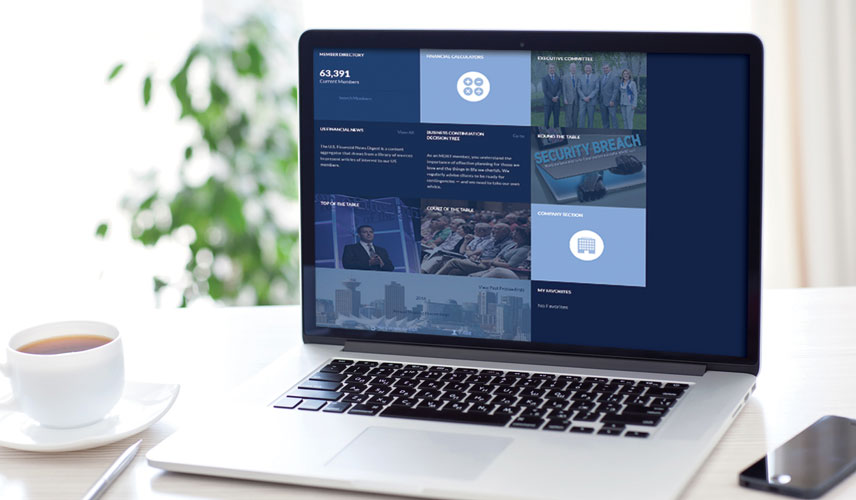 How to log in to the website and create your customized profile
Go to mdrt.org and click the login button in the upper-right corner. If you already have an account, enter your username and password. If you're a new user, use your member ID number as your username and your eight-digit birth date for your password. Once logged in, you can adjust your login information to anything you'll remember.
Once you have your account set up, if you forget your password, click "Forgot User ID or Password?" to have a temporary one sent to you. Copy and paste the new password, as retyping the special characters can get tricky. Try to only use the reset password once. If you try it repeatedly, you may get locked out of the system. Should this occur, wait 24 hours and try again.