Menjual dengan bertanya
Rao K. Garuda, CLU, ChFC
Garuda memaparkan kata-kata penting yang akan membantu Anda menjalin komunikasi yang lebih efektif dengan nasabah.
Bertahun-tahun yang lalu, di acara Pertemuan Tahunan saya mendengar bahwa cara terbaik untuk berinteraksi dengan nasabah adalah dengan mengajukan pertanyaan yang tepat dan menyimak jawaban mereka.
Ingat baik-baik enam kata ini: Anda bertanya. Mereka menjawab. Anda menjual.
Jadi, persiapkan pertanyaan Anda:
Apa pentingnya uang bagi Anda?
Apa yang paling Anda takutkan soal uang?
Apa yang membuat Anda terjaga di malam hari?
Sudahkah Anda mengasuransikan penghasilan semisal Anda hidup terlalu lama, mati terlalu cepat, atau jatuh sakit?
Kelak setelah meninggal, seperti apa Anda ingin dikenang?
Kita menyebut ini "proses menggali informasi".
Seorang miliuner memberi tahu saya ada tiga angka penting yang perlu diingat saat menjual: 17, 3, dan 30.
Tujuh belas detik adalah rentang perhatian rata-rata mayoritas orang. Kalau gagal menarik perhatian mereka dalam 17 detik, Anda akan diabaikan.
Kalau berhasil di 17 detik pertama, ada kesempatan kedua. Mereka akan berikan tiga menit.
Dalam tiga menit, Anda harus meyakinkan mereka, dengan alasan yang kuat, untuk memberi Anda janji-temu selama 30 menit.
Proses ini memampukan saya meraih Top of the Table 25 kali.
Anda butuh "TIME" untuk berhasil:
T: training (pelatihan)
I: innovation (inovasi)
M: mentoring (bimbingan)
E: education (pendidikan)
Sampai bertemu di Top of the Table.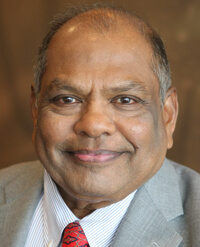 Rao K. Garuda, CLU, ChFC, adalah anggota MDRT 36 tahun dengan kualifikasi 25 Top of the Table dan pendiri Associated Concepts Agency Inc. pada 1977. Ia kepala New First Financial Resources, anggota International Forum, dan anggota serta mantan direktur Forum 400. Baru-baru ini, ia mendirikan Financial Services Network, sebuah program pelatihan dan bimbingan finansial tingkat lanjut bagi para penasihat keuangan di Amerika Serikat.