Tactics for peak performance
Lisa Bentley
Talent is a small part of world-class living. An 11-time ironman champion, Bentley will educate and inspire you to find your path to fulfillment. You will redefine winning, take away action items to prepare to win, and learn mental training tools and mindset adjustments to achieve your win. Ultimately, peak performance is the perfect balance between being competitive and compassionate to yourself, to others and to your craft.
This is my office. [visual] I am in there — an athlete literally jumping into that melee of confusion and uncertainty, risking my dreams, vulnerable to expectation and pressure, trusting that my preparation and my mind will get me to where I want to go in spite of the 2,000 people in my way. But I am completely in control, ready to turn that frenzy into success one swim stroke at a time. I wholeheartedly believe that I will find a path to personal excellence. I have rehearsed this, lived this, visualized this, and now I get to actually do it. This is the calmest I have felt all day!
I have stood on hundreds of start lines around the world — on every continent. I have raced the best athletes in the world in races as short as one hour and as long as 10 hours. My favorite distance is the hardest and longest of them all — Ironman, a 3.8-kilometer swim, a 180-kilometer bike ride, and a 42-kilometer run. I have raced 33 Ironman races and won 11. Any of us on the start line can win, yet some athletes will never win an Ironman. What sets us apart? My high school track coach told me I had no talent. Can you be a champion on hard work alone? A champion in sport, business and life is driven by an inner fire to be the best, to turn a "no" into a "yes," to find a way where there is no way.
A champion tells his or her track coach, "Yes I can — I will use my heart and my mind."
My mind is the strongest part of my body. My mind drives me when my muscles fail; my mind turns adversity into success.
And it all begins on that start line with a simple yet strict mantra: "Finish what you start; race with heart."
Peak performance in life is a combination of competitiveness — you have to want it and get after it — and compassion — compassion for self and love of what you are doing. And when you have both, then you can finish everything you start, and that brings success.
I want to share my tactics for winning — it used to be in sport as a professional athlete. But now, as I have transitioned from full-time athlete to coach, author, entrepreneur speaker and age group athlete, those tactics are more relevant than ever.
And a good place to start is on that start line, confidently commit to finish what you start and do it with heart.
The first step is to truly understand that when you set your sights on a task, you must finish it. A champion may not always cross the finish line first, but a champion always finishes. You cannot abandon the task just because things are not going well or because your ego is being tested or because you are afraid to fail. Pursuing a goal is risky. You have put time, energy and talent into the project. And it is frightening to be raw and exposed as you try to fulfill it. But there cannot be success without risk. I have taken that risk hundreds of times in my career. I've wanted to quit many times. That is a natural human inclination. When things get difficult and when it looks as if success may not happen, we want to escape the pain — the pain of failure, the pain of working through the difficulty, the pain of picking up the pieces. But, in fact, the only escape from the pain is to finish what you start. To finish, regardless of the outcome, is success every time.
When it feels impossible to take another step in the last 10 kilometers of a marathon or to sit through the last meeting for a critical project, you have to convince yourself that it is better to push through another 60 minutes of discomfort than to endure weeks of regret. It is exhausting to play and replay all the possible "what if" scenarios after the fact. Once I am finished with a race, I do not want to give my performance another thought. I always want to finish knowing that I did everything in my power to win. When I know that is true, I will have no regrets — regardless of the position in which I finish. We cannot control our competitors. We can only control our own attitude and our own effort, and if that effort is your full effort and comes from your heart, it is enough to win.
How many of us give in to temptation, whether that means walking the closing kilometers of a marathon or pushing the snooze button on the alarm clock and missing a morning workout or meeting, only to regret it afterward? Forward thinking will help to minimize these moments. When you hit any obstacle, ask yourself, Can I endure a little bit more pain now so that I don't have to live with regret later? And that can be any kind of pain — physical exertion, stress, mental effort or emotional upset.
I have had those races where I was "expected" to win. I had beaten Belinda Granger five consecutive years at Ironman Australia, and she came to Ironman Canada — a race I had won a few times. I got off the bike after 20 minutes. I wanted to hide/quit, but I raced and finished second. I continuously asked myself if I was doing my best — could I do anything differently? And my answer was no. The fans, my family were in shock — some were in tears — but I was fine because I finished, and I never gave up and never took my foot off the gas pedal all race long. I was proud of myself. No regrets at all.
Look inward at a goal or task that you want to do but that is easier left undone. Rather than avoiding the task and thereby avoiding possible failure, ask yourself how you would feel if you don't do it at all. Ask yourself how you would feel if you do do it. Which of the two scenarios is more satisfying? Forward thinking is helpful in making the best choice. Inward thinking requires heart. Finishing requires both the head and the heart. As author and speaker Robin Sharma said at his Titan Summit 2016, "A bad day for your ego is a good day for your soul."
Finish what you start. Do it with heart.
Attitude is more important than fact.
No matter what fact may be facing you — whether that be a health scare, change of career, your teenage daughter being bullied — nothing is more important than your attitude about that fact. Sometimes we can feel defeated and deflated by a fact before we even take the time to create an action plan. We never want a doctor to just diagnose based on an MRI or a cholesterol test. We want a doctor to spend time with us, learn about our lifestyle and then formulate an action plan.
For me as an athlete, and for you as a high achiever, attitude always trumps fact.
Every January, I used to race the Ironman 70.3 in Pucón, Chile. In 2006, just before leaving for Chile, my husband was reading through the start list. My main competitors would be a 2:39 marathoner from Hungary, Erika Csomor; the Olympic bronze medalist, American Susan Williams; and three-time Ironman champion Heather Gollnick. Yes, I was the four-time defending champion, but I was neither a 2:39 marathoner nor an Olympian. And my appendix had burst at the Ironman World Championship in October 2005, and I had just returned to training two months previously.
But rather than focus on the negative, I instead thought about how these women were going to elevate my game. They were going to push me to an amazing swim, bike and run combination that ultimately would elevate my early-season fitness. It was a win-win situation. I got to do what I love — swim, bike and run in Pucón with amazing competitors — and I would be fitter, faster and stronger for my 2006 season. Of course, I wanted to win, but I found peace by focusing on my internal goals. And I had my list of assets, which included course knowledge, experience and a belief that my heart and desire could outrun any Olympic medalist or elite marathoner.
Unfortunately, my plan to stay ahead of Erika, the elite marathoner, and minimize the gaps to the Olympian didn't work. I finished the 90-kilometer bike ride in fourth place, 10 minutes behind Susan, two minutes behind Erika and less than a minute behind Heather. Again, I focused not on them but on keeping positive and reminding myself why I would be successful. I didn't feel pressure at all. I did not evaluate. I just ran as hard as I could.
I reminded myself of my best workouts. I told myself that I was the best runner in the field (whether that was true or not). I ran as hard as possible so that I would finish with no regrets. At 17 kilometers, I moved into second place and had whittled Erika's lead to about 30 seconds. I repeated to myself over and over, "If I can see you, I can catch you." I wholeheartedly believed that I would win.
After a 1.9-kilometer swim, a 90-kilometer bike ride and a 19.5-kilometer run, I was in a full sprint. With about 1,500 meters to go, I caught Erika. But like any good runner, Erika stuck right to my shoulder. She responded immediately to my pass by attaching herself to me with the intention of sprinting by me at the end. I had been sprinting for 20 kilometers, whereas she had not had to use that gear yet. I thought about sitting back and letting her take it out, and then I realized that my finishing sprint is about the same speed as my 10-kilometer race pace, which is the same pace as my 21-kilometer race pace. I had no choice but to run as hard as I could. I did not look back. There was no point. All of my energy went into moving forward.
As I ran shoulder to shoulder with Erika, I remembered that the last 200 meters of the race is on deep sand. I told myself that she would likely be caught off guard both mentally and physically by the change of terrain from asphalt to sand, just as I had been in my first attempt on this course a few years ago. With every ounce of heart, I surged on the uneven surface. I broke the tape just two seconds ahead of Erika, earning my fifth consecutive victory.
The takeaway from this race was that I did not give power to the résumés of my great competitors. I respected their accomplishments, but I would not be subservient to them. I refused to want to be any different from the athlete that I was. I wholeheartedly believed that I would find success.
We have all been in situations where we wish we were someone else. Maybe we want a higher-profile career or a position of power. Maybe we wish to be younger, with more energy, and a freer spirit. Parents may wish for the freedom enjoyed by those without children. As athletes, we may wish we had the speed and strength of the high-performing stars.
The reality is that, in spite of our flaws and shortcomings, we are each unique, incredible beings. Naturally, we all have areas that need improvement. Life is a continuum of growth. We strive to make tomorrow better than today. But even with all of this personal "cleanup," ultimately, we need to accept ourselves and maximize our best elements to be the best we can be each day. We need to have the courage to change the things we can change. We need the serenity to accept the things we can't change and the wisdom to know the difference. Yes, that's the near universally known Serenity Prayer, but it's famous because it makes a good point.
Never has the need to accept ourselves been more important than in the time of social media. We are bombarded by everyone else's perfect life on Facebook, Instagram and Twitter. It is easy to believe that we are not smart enough, good-looking enough, glamorous enough, rich enough or adventurous enough.
And that is why we need to count our blessings daily and to create an asset list.
We do not often think about selling ourselves to ourselves, but that is precisely what we need before undertaking a major task. For some, that task is going to school. Sadly, thanks to social media, students — even young children — have become public figures within their peer groups and beyond, subject to scrutiny, bullying and defamation.
Before each race, I used to create or review lists of my assets and my best workouts. I called these my "memory box." Essentially, I was compiling a list of reasons I should be successful. I would revisit the lists in my mind during the race to remind myself why I would be successful. This is not meant to be an ego-driven task but rather an affirmation, when the race is unfolding, that there are many reasons I can do this and reasons I am a champion. These lists do not change regardless of the outcome. They represent me at my core, and neither a win nor a last-place finish can change the true me. My lists are more powerful than any award or job promotion or compliment from another person. My lists change a 10-minute deficit off the bike into "I can catch you, regardless of the time gap, for these reasons." They change "I am not good enough and I want to quit" to "I remember running 30 kilometers in two hours three weeks ago, and I can do that today."
Here is the list of assets I made in preparation for the Ironman World Championship in 2004:
I am loved and give love back.
I have my husband, Dave.
I have my family, my friends and my dogs.
I am educated.
I never give up — I never quit a race.
I am a good problem-solver. I can deal with any obstacle during a race.
I always find a way to get the job done.
I never miss a workout.
I can see the good in people.
I am a good listener.
I have good support — my coach, my physiotherapist, my chiropractor and my sports doctor.
I have integrity and will never cheat.
I am not injured.
Make your lists. Read them, reread them and believe them. Choose a few of your key assets, and put them on a business card in your wallet or on your mirror for daily review.
Anyone can do good when the going is good.
A true champion finds success despite adversity.
On those seemingly simple, perfect days, we can all be heroic, whether in sport, business or day-to-day living. Think of those days when you wake up without an alarm. Your children are playing happily at breakfast. You catch all the green lights on the way to the office. You complete your to-do list. Everyone returns your calls. You get everything done and leave work early before the traffic gets bad. Dinner is fast and easy, and the weather is perfect when you walk the dog.
It is easy to be a great parent, stellar employee and supportive spouse on those days. But our true character is defined on the difficult days. We cringe at those days, but we usually celebrate them in hindsight because they deliver the biggest rewards. A true champion finds success despite adversity.
This picture is from the 2006 Ironman World Championship. [visual] I am sprinting the last 1 mile of the marathon. This is at the end of nine hours of racing. But 7 miles before this picture, I was falling apart.
There is a pivotal part of the marathon at the Ironman World Championship in Hawaii called the Energy Lab. It is a 4-mile section that occurs between miles 15 and 19. Two miles into the Energy Lab there is a slight downhill and a headwind off the ocean, which is a welcome relief from the heat. I was running into the Energy Lab, and I felt amazing — of course, it was downhill, and I felt relatively cool. I was in sixth place, and I was formulating my victory speech and planning all the ways I would spend my prize money. And then 4 miles later, at mile 19, I was in third place, literally sandwiched between second and fourth with an Olympic gold medalist and six-time World Champion running behind me. I felt horrible. I had cracked. I was within seven minutes of the first-place female with 7 miles to go. So I was clearly in the game. But I was so tired, and it was so hard, and I just wanted to stop. I literally told myself that I would be fine quitting right now, and I would celebrate the amazing race I had had until this point. I was clearly running out of energy and calories. And I stopped — I went to the port-a-potty, and if someone had delivered me The Wall Street Journal, I would have stayed there all day.
I did get myself moving again about one minute later. I was deflated and defeated. I was not being a champion. But then I fought back. I reminded myself of the year prior when I raced with a burst appendix and how badly I had wanted to finish back then. I reminded myself of my mother-in-law, who had cancer, and how this race wasn't cancer — it was sport and it was play. And so I ran. I grabbed a Coke, and I ran as fast and as hard as I could. I caught the women who had passed me, and I finished third in the world in that Ironman World Championship. Anyone can do good when the going is good, but a true champion finds success in spite of adversity.
We all have that in us.
Throw your heart over the hill, and your body will follow.
Ironman Australia was a race I should have lost, but instead I got to test whether I could really be a champion. I had won the race three times in a row, and I was returning back as the defending champion for No. 4. Everyone speaks about pressure, but I never looked at pressure as a negative (attitude versus fact). You see, I had pressure because I had won races, so if I did not want pressure, then was I really wishing that I had not won those races? Of course not. So I reframed pressure into good wishes. Fans, spectators and family just wished me well, and so I took those wishes as energy.
This was my curveball race in every way.
After my usual race-day warm-up, I went to the swim start. En route, I brushed up against a wooden fence and ripped the leg of my racing suit. Then I stepped on a thumbtack. I picked the tack out of my heel, stuck it in the offending fence, and brushed these events off. There was no way I would let either ruin this race. Attitude is more important than fact.
I lined up with the professional women most likely to challenge for the podium. Within 30 seconds of the start, I was elbowed hard in the eye — so hard that I was left with a black eye. I saw stars; my goggles filled with water. I debated: Do I fix my goggles and risk losing the pack, or do I swim on with blurred vision? As I collected myself, a powerful Australian swimmer who was behind me swam right over the top of me, and I lost the lead pack.
I chose to keep swimming. The elbowing incident was over. I did not dwell on it. I accepted it as being part of a bigger plan yet to unfold. It was a test of my tenacity to see if I really was going to be good to myself today. So I just swam as hard as I could to minimize my gap to the swimmers ahead. It was freeing to live in the moment and not overthink. All of my energy went into swimming hard. I was not thrilled about losing the pack after the elbowing incident, but I was determined to be a champion, whatever was thrown at me on race day. Anyone can do good when the going is good, but a true champion does well in spite of adversity.
I got out of the swim in about 55 minutes. I celebrated overcoming the first few curveballs of the day.
On the bike, I pedaled hard to catch back the three-minute swim deficit I had encountered. At 45 kilometers, my bottle of special electrolyte solution popped out of the water bottle holder on my back on a bumpy section of road. I drink my own customized solution rather than the drink provided on the course in order to minimize the variables. There is no guarantee that the electrolyte drink provided by the organizers will agree with my stomach, especially when my body is racing at full effort. When diluted with water in my front bottle, my own concentrate bottle contains enough servings to fuel my entire ride. Well, it was gone, and I still had 135 kilometers to ride and a marathon to run!
I believe there is a reason for every moment that we face even if it is a moment that we don't really want to have. I certainly did not want to lose my nutrition bottle, but I quickly shifted into problem-solving mode. I had two servings of my own electrolyte drink at the special needs aid station at 80 kilometers. My attention turned to retrieving those bottles up the road. Unfortunately, when I arrived at the special needs station, the volunteers there did not retrieve my bottles fast enough, and I did not slow down to get them. That was my responsibility. If I had really wanted those bottles, I could have stopped and found them. I chose not to.
The torn swimsuit, the thumbtack in my foot, the elbow in the face, the lost concentrate bottle and missing the special needs nutrition each could have ended my race. Any of these events would have provided a great excuse to quit. But I framed each as a test of my character. I had been called a champion, and I was the three-time defending Ironman Australia champion and a seven-time Ironman champion. I thought that if I am truly a champion, I must be able to "champion" these curveballs. I repeated one of my mantras: "Anyone can be a hero on the best day, but a true champion shines in the face of adversity." Today was a day of adversity. Today I was going to prove that I could be a champion on all levels. Crossing the finish line would put an exclamation point on "champion."
It was time for Plan C. The three keys to nutrition in any Ironman event are sugar, salt and water. This latest hurdle was a test of my nutrition skills. I would improvise and make up for my lost concentrate bottle. Drinking what was available at the aid stations was not an option for me. I had never used the product being provided, and I did not want to take a chance.
I compensated for my lost bottle by taking in an extra salt pill (300 mg of sodium chloride) and an extra PowerGel (a 100-calorie carbohydrate mixture similar to cake icing) per hour plus water to transport both into my system. That was in addition to my current intake of PowerBars (energy/nutrition bars) and salt pills. In hindsight, I probably needed about 1.5 extra PowerGels per hour, but my math skills were a bit sketchy with my heart rate at 160 beats per minute! And so began the nutrition challenge — another test, but not a roadblock. There was no dwelling on it. I was too busy dodging curveballs while cycling 35 kilometers per hour. Mentally, I was free as a bird. I wasn't trapped in a loop of self-pity despite the things that had happened to me. Emotionally, I was happy, on task and living in the moment. Physically, the bike ride was intense because the pace was fast, but that's what the training is for.
I got off the bike about 5 1/2 minutes behind the three leaders. This was a dream. I was totally prepared for a double-digit deficit, and I celebrated the short gap. I was proud of my ride given the setbacks, and I was proud of my emotional state. I was content, calm and at peace. I had turned negative performance limiters into opportunities to succeed. They were just part of a day that I was determined to make great. I controlled what I could control, and I problem-solved the rest. I did not worry about how my lost concentrate bottle might affect my run. I focused on catching the leaders.
I was running well, but my legs were sore.
By 12 kilometers, I moved into third. Then at 21 kilometers, I was second. At 23 kilometers, I took the lead. I was so happy. Normally, I would have then worried about losing the lead or any number of other "what ifs." But this race was different. I had dodged bullets all day. Finally, I could just run and finish the job.
I won my fourth straight Ironman Australia and achieved my eighth Ironman victory. This was special. This was a journey. I had found a way to win.
But to be truthful, winning could have been just finishing — this was fulfillment because I had employed those tactics of being world-class.
Write down a day or time in your life where it seemed that everything went wrong. We often talk about it as "Things happen in threes, and that was No. 3, so I should be good now." What was your "things happen in threes," and how did you rise above it?
Did the adversity change you for the better? How?
Here is a picture of me with an IV. [visual] But this picture is also me. [visual] I have cystic fibrosis. Cystic fibrosis is a genetic disease that affects the lungs and pancreas by clogging them with thick, sticky mucus. In the lungs, this can cause shortness of breath, a chronic cough and repeated infections. Ultimately, it leads to lung disease and decreased lung function. It may result in the need for a lung transplant.
From 2009 to 2010, my lung function went from 100 percent to 70 percent to 55 percent, and that was when the doctors put me on IV for five weeks.
On paper, I should never have been able to race in 33 Ironman events, countless Ironman 70.3 (half-distance) events and Olympic-distance events around the world for 20 years. I should never have been able to swim 30 kilometers per week, bike 400 kilometers per week and run 80 to 100 kilometers per week. I should never have been able to win 11 Ironman and 16 Ironman 70.3 events. I should never have qualified for World Championship events or raced for Canada at the Pan American Games.
I am not even supposed to be alive right now: According to a 2014 report published on the Cystic Fibrosis News Today website, in the 1980s, the median survival age for someone with CF in the United States was just 12 years; in Canada, it was 20. By 2014, in Canada, median survival had stretched to 50.9 years.
I fought CF every day — I never wanted anyone to know that I had CF. In the early days, my coach didn't even know, and I refused any media that wanted to discuss my CF or highlight my accomplishments in spite of CF.
I didn't want an asterisk beside my name. I didn't ever want to see "Lisa Bentley wins triathlon! She has CF!" I wanted to be a winner without anything in parentheses. I did not want people to feel sorry for me, and I did not want an excuse should I ever race poorly. I was determined that my story would be as a champion triathlete, not a CF patient.
Looking back, I was selfish. It was all about me rather than we, the CF community.
Fast-forward to 2001. I had been racing Ironman events for four years and had won my first Ironman in 2000. I returned to Ironman New Zealand in 2001 to successfully defend my title, but my win felt empty. Why?
I didn't understand. My goal had always been to win an Ironman. Now I had done that twice. What was the point of continuing to race? I remember seeing a T-shirt that said, "OK, so you won. Now what are you going to do with it?" Triathlon was my life, and if it was my life, it must have a higher purpose than winning races and delivering a paycheck.
My mother and father were blessed with four children. Three of us have CF. One of us, me, is a successful professional athlete. I realized my career was a platform I could use to raise awareness of CF and to provide hope for CF families.
Hope is an interesting concept. If you have cancer — say, lung cancer — and you know of one single person who survived lung cancer, you have hope. It doesn't matter their age or circumstances. They survived, and so we can have hope that you can survive.
That is my purpose. That is why I have CF.
I was blessed with two tremendous gifts — the gift of sport and the gift of CF. I know that we do not often associate the two, and we often do not see a disease as a gift. After all, if you wanted to excel at sports, you would not want a genetic lung disease. And if you have CF, chances are you are not going to be a professional athlete.
Sport helped me develop a strong sense of self. It made me independent and confident. It taught me that with preparation and perseverance, I could achieve any goal. It kept my lungs healthy and strong. Sport was my life force.
But equally important was my gift of CF. It gave me purpose. Once I understood this, every race, regardless of finishing place or time, showed how beneficial exercise was for CF patients. Physical activity would open up a whole new world, build their self-esteem, their confidence and their world outside of the daily therapies and antibiotic routines. And, crucially, exercise would keep their lungs free from mucus, which would ultimately keep them healthier.
God grant me the serenity to accept the things I cannot change,
Courage to change the things I can,
And the wisdom to know the difference.
Reinhold Niebuhr
I finally had the serenity to accept that I had CF, and I would be the best I could be with CF.
I had the courage to change my attitude, to minimize the effects of CF with diet and exercise.
And I had the wisdom at last to know the difference.
What is your "CF" — what is your limiter, but also your gift? And if you haven't thought about this before, can you now see your limiter as a potential gift? In what way is it a gift?
In 2002, at Ironman New Zealand, I met Tracey, who is the mother of two children with CF who were both quite ill. She wanted them to meet someone like me who was thriving in spite of CF. And Tracey needed hope. As a mother, she felt helpless and powerless watching her children suffer.
After that meeting, Tracey decided that she would race Ironman New Zealand to raise money so that children with CF would have funds to participate in sports. You see, CF is a costly disease. For example, when I was sick in 2010, I took one antibiotic that cost $3,500 per month. I had to be on that drug for only 10 months, but some people are on it for a lifetime. The cost of medications can leave families with nothing left to pay for organized sports. Tracey wanted to create a fund to provide financial support for children with CF to get involved in sports. She knew that physical activity moves the lungs, leads to better lung function, and ultimately can increase the life span of people with CF — I was an example of that.
So, in conjunction with Cystic Fibrosis New Zealand, Tracey began the Breath4CF campaign. She raced in Ironman New Zealand and raised $120,000.
Then she was invited to race at the Ironman World Championship in 2004 to continue her fundraising.
The 2004 Ironman World Championship was my eighth time racing this epic event. I had finally put myself in a position to be a contender, with previous finishes in fifth, sixth (twice) and ninth place. I had experience on my side and several years of endurance in the tank. I had a fairy tale vision of the event: Tracey — mother of Cameron and Makena, two children with CF — racing for her kids, and me — a professional athlete with CF — trying to win the race. I actively visualized myself winning the race and putting a great big stamp of "HOPE" on CF. My training had been perfect, and my mind and heart were ready for a peak performance.
But all that readiness also made me ready for a chest infection. Five days before the race, I was officially sick. I had shortness of breath, thick mucus and a deep, painful cough. It felt as if an elephant was standing on my chest. I was put on strong antibiotics, as per CF protocol. I was feeling very sorry for myself that, after all my training, I would not be competing with my full deck of cards. My lungs would be compromised, and I would be sluggish from the side effects of antibiotics.
This picture is from three days before the race. [visual] Tracey and I met for some TV interviews to highlight the Breath4CF campaign. I remember locking eyes with her. I started to cry. I said to myself, Shame on you, Lisa Bentley. You are sad because you may not win the Ironman World Championship. Meanwhile Tracey's children fight for every breath they take every single day. They will likely be candidates for lung transplants one day. Shame on you!
Instantly, my perspective changed. I felt incredibly lucky to be able to race in the Ironman World Championship. I got to race the best women in the world and have CF. I was probably the only person on the start line with CF! I promised myself that I would be the best person on that start line with CF. I would do the best I could with a chest infection — those were the cards I held that day. I promised myself that I would smile with gratitude all day. I would use this triathlon platform to prove that CF was not a death sentence. I would prove that I could thrive in spite of CF and that CF patients everywhere can live full lives. I would race with CF, and I would win with CF. I would do the best I could with my deck of cards.
Attitude is more important than fact. My attitude transformed from "CF is a curse" to "CF is a gift that enables me to do great things." And that attitude provided greater power than anything.
When I raced in the 2004 Ironman World Championship, I was on serious antibiotics. It did not matter. I was lucky I got to race. I savored every minute. I loved the heat. I loved the wind. I loved my competitors. I didn't cough all day long. I finished fourth — my best World Championship finish to that point. I finished fourth in the world in spite of CF. For those nine hours, I thrived. I beat CF! Anyone can do good when the going is good, but a true champion finds success even in adversity.
Tracey finished the race as well. She won too. She was finally not a helpless mother of two children with CF. She was a thriving mother of two children with CF. The Breath4CF campaign raised $800,000.
This is Carter. [visual] Carter has CF.
Carter's mom, Beth, would often write to me about her six-year-old and tell me stories about his active, full life.
It was 2007. I had an Achilles injury for a few months. I basically willed myself to race just one more Ironman before taking an extended break to get healthy. I chose Ironman Canada, and I even squeaked out a win. But when I crossed the line, I told my husband that that would be my last Ironman.
A few days later, I got an email from Beth. She had asked her son what he wished for. Carter made four wishes. His first was to cross the finish line with me at the Ironman World Championship in Hawaii. So she hoped that I wasn't too injured because the Make-A-Wish Foundation had granted his wish, and the whole family was being flown to Hawaii!
I had to find one more race in my body, and I would put my whole heart into it and honor every minute of it. I was racing for something greater than any medal.
In the six weeks between finishing Subaru Ironman Canada and racing the 2007 Ironman World Championship in Hawaii, my PT and sports doctor made me as healthy as possible.
Physically, race day was a struggle; the marathon included much walking. But my heart was full. I wholeheartedly wanted to finish with Carter. I had purpose in every stride. Victory was not a podium finish. Victory was that final 100-meter run with a six-year-old boy named Carter.
I remember staring down the finishing stretch and wondering where Carter was. I was physically and mentally exhausted from racing for nine hours. And then I saw his wide smile. All fatigue left my body. I sprinted. The real race was just beginning.
I don't remember crossing the line, but someone captured a picture of Carter and me. I am looking at Carter and I have his face in my hands. We call it "The Touch" because Carter had never touched or been touched by anyone with CF for fear of spreading infection. Infection can kill. But on this day, we were invincible. CF won! This was a true career highlight and true fulfillment.
And at the finish line, Carter told me that I can cross the finish line with him when he does his first Ironman. That is hope!
Let's all go to our personal start lines with an inner energy to be humble yet confident leaders, accepting who we are but wise enough to make the changes to become our best selves. Adversity leads to greatness. Be your biggest fan and become a life hero; find a way where there is no way; finish what you start and do everything with heart.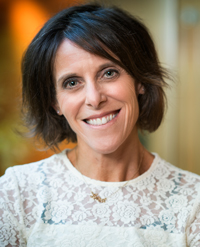 Lisa Bentley raced for 20 years as a top-ranked professional triathlete, won dozens of Ironman races and represented Canada on multiple national teams despite having cystic fibrosis. But her most important accolade is as a beacon of hope for families with CF. Since retiring from professional sports, Bentley authored her first book, "An Unlikely Champion," and has delivered motivational speeches across North America. She teaches audiences how to turn adversity into mastery and fires them up to be their best self every day.