Success is rented and rent is due daily
Ross G. Hultgren, CFP, DFP
Hultgren provides ideas collected over 20 MDRT Annual Meetings that you can use as soon as you get home, including how to:
Calculate insurance sums and use simple diagrams so your clients relate
Understand and implement the fail-proof "success formula"
Prepare for your appointments and ask the right questions to build trust and differentiate yourself from the competition
Charge fees for advice and illustrate value to clients for the fees they have paid
Straight up, I want to answer the first question you are asking yourself as I was introduced: What am I going to learn from this tall, gray-haired guy from Geelong? Is he going to be more interesting than my phone for the next 30 minutes?
Good questions, and I am glad you asked!
I am going to give you me and what I have learned from attending many of these meetings over the last 30 years. I am going to share some stories, and I am going to provide you with some ideas, concepts and questions you can take back to your practice and start using. These ideas will help change the way you engage with your clients and the experience they have with you during your conversations.
I want to make sure that my stories and concepts can be used by every advisor regardless of age, experience and your client base.
As an advisor, I love going to sessions where I can learn from fellow advisors, so that's why you should listen for the next 30 minutes.
I am also going to ask for some involvement from you as I want to hear your thoughts on some questions.
I am lucky enough to have just been on the trip of a lifetime with eight mates of mine from Geelong. We spent over 18 months planning and saving for the trip. We had regular beer and pizza planning meetings to discuss the itinerary, and they were always good fun.
We spent two weeks in the States playing golf, watching NCAA Final Four basketball and attending professional golf events in Houston and Augusta.
During breakfast one morning, on about day three, a question was asked of me regarding our profession (and this was before the Royal Commission had started): "Why do we still need advisors when every product we deal with is now available online?"
It's a fair question — how would you answer that?
As I was preparing for this presentation before the trip, I had already started thinking about that same question, and isn't it funny that when you ask the right questions, the answers somehow appear?
Brian Heckert, during an event in February this year, spoke to us about the opportunity to work in the "wisdom" space rather than the "product" space, and about how people will seek out wisdom and experience, but they can buy product anywhere.
The quicker we can get ourselves and our businesses into the advice/wisdom space, the better we will be.
It's never about the product; it is all about the experience and care you can provide to your clients.
Then I saw a Baz Gardner video, where he spoke about the reason why people need advisors, whether they be financial, tax, real estate agents, or fitness or golf coaches.
The reason we all need advisors is for the 10 percent we don't know about or are unwilling to do on our own — the 10 percent the professional can add via advice to improve our current position.
It is true. Think about the times when one idea or strategy you have recommended to a client has provided a great outcome for him or her.
We don't get paid or build long-term trusted relationships with our clients for how long it takes us to provide strategies. We get paid for the value we can provide to our clients via our wisdom, our experience and our stories.
We just need to make contact with enough people who see value in the 10 percent we can provide for them, and that formula has never changed.
Become a storyteller, and make sure you tell your stories.
I have a client whom I had a progress, or review, meeting with prior to Christmas. It was with both him and his wife.
This client earns in excess of $500,000 per annum as CEO of a large business. He has a business degree from the University of Oxford, along with an MBA, and has numerous other letters after his name.
I love meeting with this client because of the way his mind works and the way he thinks about business. He loves figures and forecasting.
During the meeting in December, I said to him and his wife, "I want you to let me know if you feel you are getting value from our ongoing fee-for-service relationship because if you aren't, then I am happy to have the discussion regarding whether you need me as your advisor anymore."
He looked at me and asked me why I had raised that question with him.
I told him that, although I enjoy our conversations and the meetings we have, I do get intimidated by his intelligence and knowledge, and I was concerned that he did not really need me.
He then thanked me for asking the question, and he said that he and his wife had also discussed that question before our meeting, and their answer was that they wished they had met me earlier in their lives. They had earned a lot of money over the last 10 years working all over the world, but they had wasted it.
He knows what they should have been doing financially, but he didn't have the time or willpower to implement a financial plan, and as he was now 55, they needed me to help them save enough money to implement their lifestyle plan post age 65.
He said, "I remember the question you asked me in one of our earliest meetings. You asked me if we would be happy saving as much in the next five years as we had in the last five years."
He said, "My wife and I looked at each other, and we both had the same thought — that we are in trouble if we cannot start some savings soon!"
He then said, "You asked me one more question, and this was the kicker! You asked if I got paid monthly or fortnightly. I answered monthly, and you said, 'Well, based on your 10-year goal to retire, you have 120 pays left, and you need to make every one of them count!' We went home that night, completed the budget that you told us we needed to complete and, for the first time in a long time, started to feel good about our financial situation. Does that answer your question regarding whether we need you or not?"
Both of those questions I learned to ask by attending MDRT meetings like today's, and I just started to use them in my meetings. They have made so much difference to the relationships I have with my clients in every review meeting. Could you start using those questions tomorrow? How would those questions make you feel if you were asked them?
The TMR (trust, money, repeat) success formula
Competency: The client has to believe you know what you are doing. (This business is 95 percent people skills and 5 percent product knowledge, but you had better know 100 percent of the 5 percent, per Russell Collins.)
Clarity: This is the ability to take the complex and make it simple to understand.
Constant communication: What happens if we don't communicate regularly?
Money/value: Once you have trust, you can then ask for money (or to be paid for your advice), but the clients must see value from your advice/processes.
Once you have trust and value in place, you will then get the third part of the equation, and that is repeat business and referrals. But you will not get the "R" part unless your systems and processes have built trust and provided value.
So in all of our offices, when we sit down and try to work out what we should be doing to improve our businesses, we must always focus on the "trust" piece (because the other two parts of the formula should just follow if we get trust right).
So, we must be asking the questions of our businesses regarding competency, clarity and constant communication and how we can all improve in those areas.
What works for us
In our business, we have a repeatable process for every client meeting in the office, whether it be a first appointment or a review/progress meeting.
We have a discussion with clarity of fees, and then we provide constant communication via follow-up calls, newsletters and regular review meetings set up and scheduled (always trying to maintain the trust piece).
Right now the Royal Commission is putting huge dents in our clients' trust, and we must be proactive to restore and reassure our clients. They need us right now, and they need our constant communication.
Here are some insurance concepts and questions you can start using tomorrow.
The slab concept: I believe that if as part of your financial planning process you lay the insurance slab first, you can then add structures to stand on that slab (like superannuation, wealth creation concepts and mortgages). By getting the slab process right, if an ill wind blows for the client, such as sickness, accident, disability or death, then the investment structures will stay standing and not fall over. We need to review the size of the slab every year to ensure it is still suitable to the client's current situation (the importance of the review meeting).
We ask the question, "What is your current Plan B?"
Mr./Mrs. Prospect, what is your current Plan B to replace your income if you could not work due to sickness or an accident? You are doing a great job working on your Plan A, so I want to provide the backup option. I want to make sure that all the work you have done to advance your career and provide a lifestyle for your family has a fence around it to protect all you have built.
I also use the Plan B approach when clients contact me and say they no longer need their current insurances. So I ensure that the clients remember why we put the covers in place and discuss the Plan B concept with them again. If they still say they don't need the covers anymore, I ask them this question, "So what is your new Plan B? I need to write it in my records to ensure I can explain your new Plan B to you and your family if you ever get sick or injured and can no longer fund your Plan A." (Sit with pen poised and be quiet and await the client's response.)
I then deal with whatever response the client provides, but quite often we simply reorganize the insurances as it was a cost issue, not a lack of need issue.
Ask the right questions!
The three checks concept: I have been using this for 20 years at least once a week.
Check 1: Final costs (funeral and final costs)
Check 2: Pay the bank (No debt should last longer than the person who created it.)
Check 3: Lifestyle (the last check you will leave your family)
Income protection — ask these questions:
How much are you currently contributing to superannuation to provide an income in retirement?
How much are you currently investing to protect your current income?
Which income is more important to you and your family today? Your current income or your retirement income?
Then say, "Let me show you some ideas where we can protect your current income and still fund for your retirement income as well."
The income protection concept, fruits of your labor tree: What part of your lifestyle assets would you want to protect if you could not work due to illness or accident? Our lifestyle fruit sits on our lifestyle tree, and the tree is nurtured by income.
The business/debt protection concept: This is the size of the debt that you would like cleared if either partner died. [visual] This is the size of the solution; 1 to 2 percent will fix the problem for you and your business partner's estate. [visual]
Do you want to use your business or family money to fix the problem, or the insurance company's money? The insurance costs cents on the dollar compared to any other alternative.
Draw a service matrix for reviewing with clients and building an agenda with all the areas of advice you can provide, such as insurances, superannuation, wealth creation, mortgages and estate planning, across the top of the page. Then, down the left side, write your Top 20 clients, and tick the boxes for the advice opportunities that exist.
The family tree concept: Ask questions regarding their current family.
Family contribution to the insurance premium concept: I have used this concept a few times successfully. It's great for the client's family (not so great for the insurance company) if you have an older client with a life insurance policy, and he comes to you and says he wants to cancel it because it is getting too expensive. Explain to him the possibility of his children paying the premiums to ensure that they get a guaranteed return on their investment. Three kids each contribute equally, and if you do the sums, it normally works out as a great return for the kids once the life insured actually passes away. Leave the insurance in place, and spend everything else, knowing the kids are sure they have an inheritance. It also gets you in front of the children/next generation, and that is also very beneficial.
Wealth creation, superannuation concepts and questions to ask, such as, "What is your current plan to replace the income you currently generate from work?" Then sit and listen. This question works really well for any prospect or client aged 40 and above.
TTR concept: Four boxes to explain how TTR can work.
Water tank concept: Explains the difference between superannuation/accumulation and how you then transition to the income stage with a tap that drips money into your bank account.
12-inch ruler concept: "What are your bucket list goals?" A retirement planning concept that I use every week in my practice is the 12-inch ruler concept to discuss where they are in their life cycle and the importance of getting things ticked off their bucket list now and not waiting "for the economy to get better." The power of this discussion changes the meeting dynamic. It is not about money or strategy (which are obviously very important), but the discussions change, and you show you are different from the financial planner who only wants to discuss money and strategy.
I have numerous client stories that I could provide here, but the latest one happened during a review meeting with long-term clients in their mid-70s. They had more money now than when they retired 15 years ago, and Susan had decided to go on a trip to Europe and take a river cruise on her own because "Boring Bob," her husband, had decided he couldn't be bothered with travel anymore. I asked Susan what airline she was flying. She responded, "Emirates, and I am dreading the 24-hour flight!" I said, "Tell me you are not flying economy?" She looked at me and said, "I am." I grabbed the 12-inch ruler and had this discussion with her again about her stage of life and the importance of enjoying this huge pile of money they had accumulated over 75 years; otherwise, what is the point? She said, "Do you think I should upgrade?" I said, "I want you to do it this afternoon, and I want to see a copy of the new ticket this afternoon!" She looked at me and smiled and said, "I am going to do it, and I am so glad we came to see you today!" She sent me the copy of the new business class ticket, and I promised her that when we next sat down in six months' time she would not remember the dollar increase from economy to business, but she would remember the Emirates business-class experience.
I always talk about my experience of losing my parents, and how, as the child, you just want your parents to enjoy themselves as they get older. And the size of the pile of money they leave behind is what it is! Encourage your retirees to have goals and bucket list moments, and challenge them to tick them off now. I also have many stories of one person in a couple getting sick or injured, and then neither of them can do anything, and the size of the pile is now totally irrelevant. In my review meetings, I always finish with their homework, which is to tick off a goal as I will be asking them about it the next time we meet. If not you, then who?
When was the last time you truly listened to anyone in your life and not just your clients? We all need to get better at this, and fast.
MDRT membership and what it has done for me
I was lucky enough approximately 20 years ago to be invited to a meeting, just like today's, in Melbourne by Sam Siragusa, and we had lunch and listened to some speakers. Peter Hartwell, Bob Nixon, Gus McQueen and Mat Fogarty were some of the faces I remember from those times.
I attended those meetings for two years, and the spark had been lit. I wanted to attend an Annual Meeting in the States, and I made it my goal. In early 2000, my personal circumstances changed due to the breakdown of my marriage, and I made the decision to attend the Annual Meeting in New Orleans. I knew very few people attending, and I did all of the travel arrangements myself, including hotel reservations.
That meeting, the lessons I learned and the people I met changed my life.
MDRT provides you with a global perspective, and you are learning from the best advisors in the world and have access to them as a constant resource. You also have access to the MDRT content library, including videos and podcasts.
Learn your craft and practice regularly. "Success is never owned; it is only rented, and the rent is due every day!"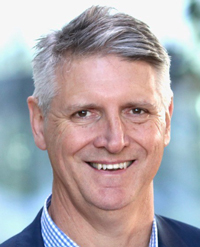 Ross G. Hultgren, CFP, DFP, is a 21-year MDRT member with 11 Court of the Table and two Top of the Table qualifications. A current Global Council Member for MDRT, Hultgren is CEO of an advice business in Australia with his two sons as business partners.