Becoming a published author, using Facebook advertising to fill seminar rooms and having a multi-stream marketing approach allowed Reading to attract more than 270 leads last year and be viewed as "The Retirement Expert." When you are seen as the expert, you have your ideal clients bashing down your door. Reading will explore strategies to make this happen for you and your practice.
Would you like to have more new client introductions than you know what to do with? And do you not only want more new clients but also want them all to be your ideal clients?
Maybe, at the moment, you are worried that you are never quite sure where the next client is coming from. Perhaps, you are concerned that the new clients you find are a bit of a mixed bag — some great ones, but many who aren't really your ideal fit. Could it also be that you have to generate every new client yourself, maybe through networking, which takes too much time?
So, if this is where you are at the moment, where would you like to be?
Imagine a time when you have a constant stream of new clients charging down your door. These aren't just any clients either; these are your ideal clients, with good amounts of money to invest, if that's what you do. Finally, imagine that these people are desperate to deal with you rather than any of your competitors.
If this is where you are at the moment, and this is where you want to be, would you agree that you might need a new strategy to get there, yes or no?
That is why I wanted to talk to you today about marketing yourself as The Expert. When you are seen as the expert, people want to deal only with you. Your competitors fall by the wayside as people actively seek you out. Not only will they seek you out, but they will pay a premium for your services over others because you are the person they want to see. If you are seen as just another financial advisor, they will be more worried about driving down your fees in a beauty parade.
It has never been easier to achieve than it is today with the technology that we have at our fingertips. If you're not doing it, your competitors soon will be. Either your ideal clients can see you as the expert, or you are going to have to fight harder and harder just to stand still as other people in your area adopt these methods. As a result, there has never been a more important time to adopt this type of marketing.
This stuff doesn't just affect your income either; it affects the value of your business. If you can generate mechanisms that consistently deliver new clients, without your time, the value of your business is far greater because those leads will continue into your business long after you are involved.
But you may be asking, "Who is Charlie Reading? Why should I listen to him?" So, before I go on, I'd like to tell you where I have come from. Have you ever had a time when you were lost and didn't know where your future was taking you?
If you had been with me in February 1999, you'd have seen me sitting on the veranda of an amazing house packed full of artifacts from around the world, overlooking a bay in Perth, Western Australia. The sun was setting, and it was nearly as special as the glass of Margaret River cabernet sauvignon that I held in my hand.
This was the house of my Uncle Bill, a big guy and fitness fanatic, a wannabe David Hasselhoff, I suppose. "Hey, Charlie, how's your first day in Oz been?"
"Well, Bill, it been pretty amazing. Those houses and castles that you developed that you showed me on our tour were pretty incredible, and it is so different from what I have seen when I've been traveling through South Africa, and it's certainly a far cry from the farm back home in Rutland. What I am struggling to grasp, though, is all these amazing artifacts that you own. You obviously spend a lot of time running your successful business, so where have all these come from?"
"Well, Charlie, I take three months of each year off to travel around Australia and the world."
"Three months, Bill? Isn't there a law against that? I thought we were restricted to 25 days' holiday once we started working!"
"Well, Charlie, if you work for someone else, they set the rules. If you work for yourself, you set the rules!"
As I traveled through Australia, New Zealand and Southeast Asia, those words were like a seed that was growing in the background.
Fast-forward to a Friday afternoon in July 2000. I am in Russell Square House in Central London. It's a huge, open plan office, tired looking, and the smell of burnt coffee and stale cigarette smoke filled the air. This wasn't, however, a calm office. It was more like a scene from "The Wolf of Wall Street." Have you all seen the film "The Wolf of Wall Street"? I am surrounded by guys in pinstripe suits and white shirts, phones glued to their ears, with stretched phone cords tethering them to their respective desks.
Friday afternoon meant Biggsy's sales meeting. He's a big Ron Atkinson look-alike with a bald head, overweight and, again, a pinstripe suit and white shirt. "Next week, you lot will sell more. I don't care whether it's to your mum, your mates or to a complete stranger; if you guys don't sell more, you're out of here!"
I turned to Matt, my best mate in the industry. He's a very trendy guy, always following the latest David Beckham fashion, and the only one in the office with orange stripes in his suit. I said, "Matt, we've been giving financial advice now for, what, about a year, and in that time I've really enjoyed helping people save for their future, protect their family and get their money working that bit harder. But why is it that all we ever hear about is Biggsy's targets and shoveling products down people's throats? Isn't there a better way?"
Four years later, I was again with Matt, this time in the Chukka Bar of the Langham Hilton, a beautiful, smoky, colonial bar with polo sticks on the walls. I said, "Hey, Matt, it's been four years since we left Biggsy, and OK, we are now giving independent advice rather than selling one company's products, but has anything else really changed? Aren't we still just flogging products to people?" He said, "I agree with you, Charlie; I've had it with this industry. I've been reading this crazy book by a guy called Tony Robbins. You might want to check it out. I'm outta here!"
Great, so I found a job I love in an industry I hate, and my best mate has just quit. Have you ever had a time where you knew you needed to make some big decisions, but you really had no idea where they would take you?
So, fast-forward now to April 2011, and I'm in the ExCeL London in London Docklands. I'm surrounded by 6,000 people, but the lights are dark, and they are screaming, shouting and crying because I am at an event called "Unleash the Power Within," the most famous event of Tony Robbins, the author of that book that Matt had given me all those years before. This event is made most famous for the fire walk, so yes, over the course of those four days, I walked across burning hot coals. But it wasn't that that changed my life that weekend; it was in among the darkness and screams, in what gets called the Dickens Process.
I am not sure if you know what Tony Robbins looks like, but he is a huge, 6 foot 7 inch American, with teeth bigger than I am. Out of the darkness comes "I want you to imagine what your life will look like 20 years from now. Look back over the last five years. What decisions have you been making that will influence that life 20 years from now? What is no longer in your life 20 years from now because of the decisions you are making today? Because it's in our moments of decision that our destiny is shaped!"
After getting over the question, Have I joined a cult, I started to think back: Charlie, five years ago, you set up Efficient Portfolio with the aim to create the best financial planning practice possible, and this has been going really well. We are going from strength to strength and are delivering great financial planning, but at what cost? You have a wife and two beautiful girls, but you work every hour God sends, and so you never see them. And look at yourself — you're 3 stone overweight and in the worst shape of your life. Here is a vision of what 20 years from now will look like if you keep going like this: You're sitting in a one-bedroom flat, weighing 20 stone, gut hanging over the side of your seat, surrounded by pizza boxes. Caryl and the girls will have long since left you, and Efficient Portfolio will have long since folded. That's not the future you want! You need to make some serious changes.
Tony said something interesting over the course of those four days. He said that if you make the same decisions today as you made yesterday, you'll get the same results tomorrow as you got today. What decisions are you making today but expecting a different result from? What decisions could you make at MDRT that could transform your life 20 years from now?
So I realized that I needed to make some big changes in my life, and I left UPW bursting with enthusiasm to do so. It wasn't easy, but I went from being hopelessly unfit to completing a Half Ironman triathlon, with a full one set for September this year. I worked through programs like Strategic Coach, Enlightened Warrior Training Camps, George Kinder's life planning courses and Tony's Business Mastery, to name but a few, to improve my own life balance and ensure that I could aspire to Uncle Bill's three months off a year. I used tools that I learned on these events to make Efficient Portfolio even better, but there was still one thing that was missing. I want to fast-forward one final time.
I was sitting in my Rutland office, which until recently was a converted barn on a farm. We looked out of the meeting room window to see rolling fields with red kites swooping in the sky and hares playing on the ground. On this September morning, I was with a long-standing client of mine named David, a flat cap, welly-wearing farmer who is shorter than I am.
He said, "Charlie, the time has come for me to retire, and thanks to the help that you have given me over the years, particularly with the lifetime cash flow forecasting you have done, I am now comfortable that I do have enough money to live off of for the rest of my life. The problem is, that isn't what worries me the most. What worries me is what I am going to do with my time when I stop farming. Am I going to be bored hanging around home all of the time? And how am I going to stay fit? Am I going to have to start going to the gym for spinning classes clad in Lycra?"
I said, "David, I understand your concerns because I have heard them many times before. They are also not far from the battles of my own that I worked through in recent years. I do, however, have some news for you. This morning, a huge box arrived at our office, which is from my publisher. Within that box are the first copies of my book, 'The Dream Retirement: How to Secure Your Money and Retire Happy,' and I'd like you to have the first copy. While the first half is about the money — you'll know a lot about that as that's what we've been doing for you for many years — I'd like you to pay closer attention to the second half because that is about how you spend your time and improve your well-being. And I'd like you to have the first copy. I'll even sign it for you!"
Now, David is a very special client to me, not just because he's been a client since right back in the Biggsy days, but also because he's my dad. So, my dad got the first copy of my book, just as he was retiring.
"The Dream Retirement" led to a bit of a roller coaster of success for us as a firm. I started being featured on national radio, in the national newspapers and being asked to share the stage with some internationally renowned speakers. Efficient Portfolio is now known as one of the top financial planning practices in the U.K. You don't need to take my word for it; that's what The Sunday Telegraph has said, what our top industry magazine "New Model Adviser" has said, and we are a chartered firm, which puts us in the top 7 percent of practices in the U.K. We have also grown our new business levels by 50 percent in each of five of the last six years.
There is nothing special about me. What is special is that we help our clients at a much deeper level than we have ever been able to before, and it is paying off for them and us.
On my journey through the financial services industry, I realized that if you want to attract lots of the right clients, you have got to be seen as the expert. Having read countless books, attended courses and even walked across fire in the name of improving our business, I believe now that there are four steps to becoming the expert in your ideal client's eyes, and that is what I want to talk to you about today. These four steps spell out the word "WISE," because that's what you need to be seen as in your client's eyes: The wise old expert! Maybe less of the old though!
W = Why
I = Ideal client
S = Spotlight
E = Expert
Why
If you get the first step of this right, your marketing will be 10 times more effective. If you don't, you'll have to spend more time and get less effective results. I am referring to the "W" in WISE, which stands for "why."
Let's look at an example.
"Bremont is an award-winning British company producing beautifully engineered chronometers at our headquarters in Henley on Thames, England."
That's what their website says. It continues with:
Life for Nick & Giles English changed significantly one clear day in March 1995. Nick was practicing for an air display with their father, Euan. But the 1942 WWII Harvard aircraft they were flying was involved in an accident. Giles, waiting to take off for the next sortie, was told that his father had been killed. His brother had broken over 30 bones and probably wouldn't make it.

Six months later, however, Nick was back in the air and being flown by Giles. But things would never be the same again. Life was too short to waste. The two brothers decided to pursue what they enjoyed most: a life crafting beautifully engineered mechanical devices.

When they weren't flying old aircraft, Nick & Giles had spent most of their childhood making things in the workshop of their gifted father, an ex-RAF pilot with a Ph.D. in Aeronautical Engineering. They even helped him to build an aircraft they still fly to this day. Euan was also passionate about mechanical timepieces. He would often bring home an old clock from an auction for the brothers to try to get going again. The passion lives on in the classic curve of a Bremont timepiece.
What's this got to do with making more money you might be wondering? Simon Sinek, in his brilliant book, "Start with Why," highlighted the importance of beginning everything with "why" you do what you do. Whether it is your marketing, your recruiting or improving your teamwork, one of the most powerful aspects to promoting and improving your business is to ensure everyone knows why you do what you do. And this is what Bremont has done.
Bremont is probably the most successful non-Swiss company in the high-end timepiece sector. They have had huge success since launching, and a large reason behind that is their story. And not just their initial story; every watch has its very own story. For example, the Bremont MB1 was sold only to people who had ejected out of a plane using a Martin-Baker ejector seat. Niche market or what? That watch has sold secondhand on eBay for $120,000, so they certainly created demand. It's a nice-looking watch, but not a $120,000 watch, if such a thing even exists. So why are people willing to spend this sort of money on a watch? Because it looks nice or because of the story behind it?
The first step, of course, is that you need to know your own story. Why do you do what you do? I told you mine just now. Yes, I started with "why," and you need to know why you do what you do. At Efficient Portfolio, we had a brief video made about our "why," our story, so I thought I would share it with you. [video]
I would like you to have a clear understanding of what your "why" is. For some people, that will be obvious because it is running through their veins, the very reason they get out of bed every morning. But for others, much less so, and I want to help you understand what is your "why."
Not only do you need to know your "why," you need to be able to share it in an expert positioning story like mine. That way, every time you get the chance to speak, no matter where, you can roll out a well-constructed and interesting story that tells people why they should deal with you, and only you! The story that makes you the expert.
One of the ways you can share this with people regularly is to have a "why" statement. It takes time to refine your "why" statement, so that sounds like a project to work through on the way home from MDRT, but this should appear everywhere — your email signature, your adverts, including job adverts, and your literature. Ours, if you are interested, is "Creating a better future through inspirational financial planning."
Expert
OK, so if you want your marketing to hit the spot, you need to start with "why," but what is the next step toward attracting your ideal clients?
If you get this next step right, when people need your service, they will come to you and no one else. If you don't, you'll constantly be competing on price. I am referring to the "E" in WISE, which stands for "expert."
When I was traveling around the world, I played a lot of pool. As a kid, I loved playing snooker, occasionally heading to a snooker club with my dad and my Uncle John. The smoky, dark and dingy atmosphere was like stepping into another world as a young man, even if I could only just reach the full-size snooker table.
As a result of this misspent youth, I was pretty handy around a pool table. Pool served a great purpose when I was traveling on my own. It was my ticket to meet new people easily. I would head over to the table and plonk down some money to play the winner of the next match. As long as I could win a few games, which I usually could, then by that point I was in with a new group of friends. Whether in a surfer's bar in Bali or an Aussie backpacker's, a pool table was usually there for the taking.
When I was back in Queenstown, New Zealand, with Chris, my best mate from school and later my best man, we carried on that principle. Chris and I had played a lot of pool together over the years, so at some point on most evenings during a two-week trip to New Zealand, we squeezed some pool in somewhere, and in New Zealand, they play to different rules. As you may know, in the U.K., you generally get two shots if your opponent fouls. This is a sufficient penalty to not foul on purpose because two shots can allow a reasonable pool player to clear the table and not allow you back into the game. That is not the case in New Zealand, however.
In New Zealand, they do not give two shots in the event of a foul; instead they have a rule that prohibits deliberate fouls. This sounds logical; however, given it is a question of someone's word, it is not always clear. Whether someone has played a foul shot intentionally or not is, of course, open to interpretation, and I was about to find that out.
Chris and I were drinking in Harry's bar in Queenstown, and we saw that there was a pool competition that evening. That sounds like fun, we thought, a good way to meet a few of the locals and to spice up the evening. We certainly got both. Chris got knocked out fairly early, but I made my way through to the final, so I was eager to find out whom I was up against. I headed over to chat with the skydiver-by-day organizer of the competition. Clad in his baggy trousers and hair dreadlocked, I was slightly concerned by his response. In a strong Kiwi accent, he said, "Dude, you'll be playing The Chief!"
I headed over to the pool table where my battle with The Chief was to take place. I was confronted by this huge, 6 foot 4 inch Maori man machine wearing a sleeveless shirt to show off rippling muscles and Maori tattoos. With his long hair and stone cold face, he wouldn't have looked out of place in an All Blacks shirt performing the haka in front of the quivering opponents expecting their next pummeling. This wasn't someone you wanted to mess with, and his name, The Chief, couldn't have been a more fitting description of him.
I actually got off to a pretty strong start in the game, despite the added nerves of it being (a) a final and (b) against The Chief. I potted several balls with my first visit to the table and was in a good position, but it was all about to change. The Chief had other ideas. Two deliberate fouls in quick succession and suddenly my back was against the wall. Chris, my wingman, grabbed me and insisted I challenge him on those. After all, they were not in the spirit of the New Zealand game, and potentially it should now be my game. But that involved confrontation. I had to call him on a deliberate foul, and that was clearly going to spark unrest. It was very easy for Chris to encourage my outburst, but he was not going to be on the other end of The Chief's wrath!
Despite my pride telling me to speak up and challenge The Chief, the self-preservation genes in my body were ensuring my lips stayed tightly shut. Not just because he was so intimidating, but because, as a local, these were his rules and not mine. In the end, I lost the game and the tournament solely because of his underhanded tactics. He walked out of Harry's that evening with the prize money, but at least I walked out with all my teeth.
Now, you may be wondering why I am telling you about playing pool against The Chief in Queenstown. Am I telling you because I want you to learn to speak up more? No. I am also not telling you because I want you to go to the gym more and wear a sleeveless shirt with Maori tattoo-covered arms. The reason I am telling you is because I want you to become The Expert. The reason I didn't challenge The Chief was because he was The Expert. While I did not want to cross The Chief, had I wanted advice on how to win a pool tournament in New Zealand, he is exactly the person I would have gone to. While his name didn't say it, his name to me was The Expert.
In whatever it is you do, you need to become the expert too. By becoming the expert, you will have people seek you out, and they will only want to deal with you. They will be knocking down a path to your door instead of you having to try to find them. If I wanted to learn how to take the best free kicks in the world, I'd be seeking out David Beckham to teach me, as he is the expert in that field. If I wanted to play fly-half for England and kick them to World Cup glory, I'd be seeking out Jonny Wilkinson's advice. If you can become the expert in your field, then you will have people seek you out to work with you.
Now that we know why we need to be seen as the expert, we need to know how. There are lots of ways that you can become the expert in the eyes of your ideal clients, and what works best for you may be different for the next person. However, there are some obvious routes to this, regardless of your expertise.
The first, and in my eyes probably the best, is to become an author. Once I had "The Dream Retirement: How to Secure Your Money and Retire Happy" published, I noticed a massive change in the way people perceived me. Let me give you an example.
At Efficient Portfolio, we have a system whereby, when potential new clients approach us, whether they are a referral, they found us online or they came to one of our workshops or dinners, we give them the 15-minute free finance call. We will do this with anyone. This is done by one of the Efficient Portfolio financial planners and makes sure that the potential clients understand how we work and can make sure that we are going to be able to help them. To us, the main benefit of this call is to make sure that we are not wasting their time, but also to identify the best financial planner at Efficient Portfolio to help them.
One such example had come in as a client referral. They were wealthy clients with some complicated financial planning, so ordinarily they would have been booked in to see me as the lead financial planner. My diary was extremely busy, and on this particular occasion, so was theirs. And after numerous to-ing and fro-ing, we concluded that it was going to be extremely difficult for me to be able to look after them, so we booked the exploration meeting, the next step in our process, with Tom, one of my other advisors. He is extremely capable and a more technical advisor than I am. They were in safe hands, but with more years' experience under my belt, ordinarily it would have been me doing this particular meeting.
These clients came to us having already read my book. Tom was going to be guiding them through the Efficient Wealth Management process, but I wanted to ensure they knew I would be there if they needed me, so I sat in on the first 15 minutes of their exploration meeting. I felt guilty about only being able to spend 15 minutes with them instead of their being with me for the whole process; however, their perception was completely the opposite. They were extremely grateful that they got me for 15 minutes, and that caught me by surprise. In their eyes, I was the expert, the published author on the subject, and they were grateful to have my input on any level and were delighted to have one of my team then look after them. In their eyes, I was the expert, and they didn't necessarily expect to then have direct access to me at all.
It was a landmark moment for me. I realized that the clients knew they were getting my expertise through Tom. I could make the same amount of money for our business but spend a fraction of the time, not just in those initial meetings, but in every meeting thereafter with clients.
Therefore, if you want to become the expert in your field, one of the best ways you can achieve this is to write your own book. It is a game changer. People see you on a whole new level. Not only do you stand out as "the expert," but you also stand out as an achiever because most people won't take the time to do this.
There are other ways to become an expert, and most involve producing content. Write a blog or a newsletter. Make videos or podcasts and share the content with people. If people are regularly seeing you, write commentary on your specialist field. Over time, they will again start to see you as the expert. This is a huge area for us moving forward. We are working by the principles that I found in Marcus Sheridan's brilliant book, "They Ask You Answer." Answer the questions that you are being asked by your clients. If you do that, other like-minded people will find them, and, because you are answering those questions, you'll immediately become the expert.
Another way to become the expert on your subject is to be speaking about it on stage. Because if you are being asked to speak at events, you again will be seen as an authority. Hence, why I am here.
Finally, the other way you can become the expert is to be featured in the media. Whether that be newspapers, the radio or on TV, being featured in the media will massively raise people's perception of you, and you will rapidly become the expert in their eyes. That's why I told you about my media features earlier. The problem is that this isn't an easy thing to do. Unless you can identify your very own niche, it is difficult to get through the gatekeepers, and depending on your sector, even paying PR specialists to get you featured can be an expensive waste of time and money.
One of the best ways to get asked to speak on other people's stages, and to be featured in the media, is to write your own book. Not only does this make you the expert in the eyes of your potential clients, but it also has the same effect on people in the media. Since having "The Dream Retirement" published, I have been invited to be on LBC radio on several occasions, I have been asked to speak at a variety of events, and I have been the cover star of our leading industry magazine. It makes everyone see you differently. I encourage you to write your own book. Become the expert to your ideal clients.
As someone who is dyslexic, writing did not come naturally to me; however, I found it incredibly rewarding. If you are thinking about what book you want to write, it needs to be meeting your target's primary need. It may be that the best book for ideal clients doesn't go into a lot of detail on what you do. It may be that you are only best to cover what you do in one chapter of your book and talk about other areas in the rest. Give them what they want first, and only then give them what they need.
For example, I have just finished writing another book, one that is aiming to give business owners a route to more money, time and fun in their business life. This is not a book about financial planning; although in one chapter I cover some of what we do for our business-owning clients. I give them what they want most, and within that give them a little of what they need. So, if you specialize in selling life insurance, don't write a book about finding the best life insurance. Write it about leaving a legacy, and don't just make it about money. Cover other ways that they can leave a legacy too. That is why "The Dream Retirement" attracted much more interest than a book on pensions. No one wants a pension; they want their dream retirement. Sell the hole, not the drill!
You may be thinking, What on earth would I write a book about? One way to know this is to start asking your clients a question that we were taught at Dan Sullivan's Strategic Coach program, something that had a massive impact on my business life over the seven years I was attending.
The question is: If we were sitting here, back at MDRT, one year from now, what has to have happened for you to be pleased with the progress you have made? Specifically, think about what concerns you currently have that you want to overcome and what opportunities you have that you want to have seized.
This question is so powerful, for many reasons. If you know the answer to this question for many of your clients, you can then build your model, process and marketing — like a book — to meet those specific concerns.
Once you see a trend of what your ideal client's worries and opportunities are, therein lies the subject of your book. I saw that retirement worried people, so I wrote a book on how to create a dream retirement. Specifically, I noticed that it was how they spent their time and how they kept themselves fit and healthy in their later life that was as much of a worry as the money side of retirement. That is why my book focused on those three areas and not just pensions.
I see business owners struggling with making enough money, working too long hours and not enjoying what they do at work anymore, so I wrote a book on that too. A book needs to be compelling for people to read, and if it answers a person's greatest worries, then compelling it will be. Let me tell you the risk of not asking questions like this.
I recently read "Leading" by Sir Alex Ferguson and Michael Moritz. In it, Sir Alex tells the story of him trying to sign Gazza for Manchester United. Playing for his hometown club, Newcastle United, at the time, Gazza was the young rising star in English football, and Sir Alex wanted him at Manchester United. He went into his meeting with Gazza with a well-oiled and polished pitch to get him to join Manchester United. He started by talking about the other successful Geordies who had played for Manchester United and that he would be walking in the steps of Bobby Charlton. Then he focused on the wonderful history of the top players at Manchester United going on to becoming the top players for England. Well-versed at signing the guys he wanted, Sir Alex was confident that he would get his man.
Do you remember Gazza going on to become a star at Manchester United? You don't? Oh, yes, that's because Gazza never played for Manchester United. Instead of being lured by Sir Alex and the Red Devils, he signed for Tottenham Hotspur instead. What could the Spurs have offered him that Sir Alex couldn't? It turns out that it was a house in Sunderland for his mum! Had Sir Alex Ferguson asked the question above to Gazza before he went steamrolling into his perfectly polished pitch, do you think that Gazza may have signed for Sir Alex instead? Given the size of the club at the time, I reckon if a house in Sunderland was what Gazza wanted, that's what he would have gotten, and perhaps his and England's footballing history would have been very different.
Ask all of your potential clients this question, and the insights you will get will help you transform your business into the one of your client's dreams, because you can then build it with these concerns and opportunities in mind. It can be the subject of your book and much, much more.
Another great thing about a book is that the content you write for it can also be used in a blog, newsletter and brochure. You could even turn it into other products like podcasts or an audiobook with little or no extra work from you. It allows you to kill several birds with one stone.
There are several ways you can write and publish a book. You can go to a traditional publisher, and, if successful, they will market your book for you. In exchange for control of the mainstream distribution channels, you will give them 90 percent of the revenue and 90 percent of the control over the book's look and direction. While it may sound appealing to see your book on the shelf of Waterstones so that you can take what I call a "shelfie," in actual fact, it probably isn't the best route to take as a business owner. You can also self-publish, but in my experience, this means you have to learn an awful lot to get a product you can be happy with. While this is easier now than it has ever been, knowing what is involved, I believe that you will spend a lot of time navigating your way through the process and will end up making mistakes that you could have avoided. These can prove to be expensive mistakes.
At one end of the scale you have the traditional publisher, and at the other end you have self-publish, but there is a middle ground, and I have tried two of them. The first is Black Card Books. These guys published "The Dream Retirement" for me, and while the writing of the book is all up to you, once you have the finished manuscript, they will take over with regard to the design, layout and marketing, as well as help guide you on the writing, marketing and title. They helped me a lot and ensured that I created a product I could be really proud of. But, in hindsight, they were quite an expensive option. If you have the money to throw at it, this is worth considering, and you can learn a lot from their three-day seminar called "Publish a Book and Grow Rich."
While Black Card Books helped me a lot, I believe I have now found a better option, which I used for my second book "SMART Money: How to Create Financial Freedom." This is a shorter book than "The Dream Retirement" and is aimed at people who are at the start of their financial planning journey. It contains the secrets and systems you need to reach financial freedom as quickly as possible.
Around the time I was having "The Dream Retirement" published, a friend of mine, Georgia Kirke, was setting up a business called Write Business Results. Georgia and her team will perform the same role as Black Card Books performed for me with "The Dream Retirement" for a fraction of the cost. In addition, they will also write the book for you too if time is at too much of a premium for you.
For a business book, almost always you should appear on the cover. After all, this is about making you the expert. I didn't want to do this, and most people don't. However, I was persuaded that I needed to since becoming the expert was the most important role for my book. Swallow your pride, ignore your trendy media friends who try to persuade you otherwise, and allow yourself to maximize this opportunity. If you are going to do this, though, make sure you get the photos done professionally. It is worth every penny, and you can use them in so many other places in addition to your book cover.
So, if you want people to seek you out, you've got to become The Expert!
Spotlight
The next way to get more business that I want to discuss is to put yourself into the spotlight, and so that is what the "S" in WISE stands for. Traditionally, that would have meant paying for an advert in a newspaper, on TV or radio. While these are still viable options, they are expensive and less effective than they have ever been. If you are going to pursue these routes, I suggest that you head toward advertorial rather than a traditional advert. The more opportunity for you to add value to people, the better. Again, think of "They Ask You Answer."
At Efficient Portfolio, we don't do much traditional advertising, but where we have, we see a much better response from sharing valuable content, each time with a call to action. For example, telling people about how they can save tax as we approach the end of the tax year, and giving them a clear option as to how we can help them. Or explaining a key principal, like the power of compound growth, and then inviting them to book a place for free at our event called the Wealth Workshop so that they can learn more. Give them value, and then make them an offer; that directs them into your sales funnel.
This is another reason why a book is such a valuable tool. It is what we call an "attraction marketing device." It is something we can give away for free that then directs people into our sales funnel. I can offer them a free download of my book, and in exchange we will send them a series of follow-up emails that, while adding value to them by sharing ways they can improve their money, ultimately aim to get them to contact Efficient Portfolio for their free financial planning call. If we pre-qualify them, we'll even send them a free copy of the physical book. "The Dream Retirement" is a substantial book, so it never ceases to impress them when it turns up in the mail.
You need to have a number of attraction marketing devices out there though. These can be a book, a white paper, a blog, a newsletter or a podcast — anything that you can give away for free to as many people as possible. Once people see the value you are creating, and thus build a level of trust with you, you can then ask them to make a slightly bigger step that either involves a little more commitment or a cost. So, for example, they may decide that once they have downloaded the digital version of your book for free, they are willing to trust you enough to give up their time to see you.
Your attraction marketing devices need to point at your sales process. You can then use your attraction marketing devices in your advertising to draw people in. You are giving them stuff for free, and that makes the whole process far more effective. But are these traditional routes for advertising really the way to go nowadays? They are less effective than ever before because there are better, more modern alternatives.
I'll give you one example of a new client who came to me recently. Let's call him Mr. Jones. I was on LBC radio, and a caller phoned in to ask me a question about his pension. During that session, Clive Bull, the presenter, kindly introduced me as Chartered Financial Planner and author of "The Dream Retirement" to give me credibility. During the show, he then mentioned that his listeners could download a copy of my book for free from our website. Mr. Jones did just that, but in that process, we asked him to answer a few more questions if he'd prefer a physical copy of the book. He did that. He qualified as one of our ideal clients, and we sent him the physical copy. In the follow-up sequence to him downloading the book, we invited him to one of our events. When he attended, he'd already read a copy of the book, and so his trust in us as a firm, and me as the expert, was already very high. He has 3 million pounds in his pension and some other investments to, so he isn't a bad client. If I hadn't had an attraction marketing device, though, I'd have never met him. What can you produce that you can give away for free?
The way we need to market is changing. If historically you would have advertised on TV, in today's digital age, why would you not move to YouTube? YouTube is the second most used search engine after Google. While historically you had to pay a fortune per second to advertise on TV, now you can have your own channel for free. Historically you had to pay to advertise to the whole world in the hope that some viewers were your ideal clients, which meant that you were wasting huge amounts of money. With YouTube you can specifically target your ideal clients, like a laser beam. So the question then becomes, who is your ideal client? If you know this, you can focus your marketing much more smartly.
Maybe TV and video aren't your thing. Perhaps it would have been a radio advert. In today's digital age, you can have your own radio show or even station for free. It's called a podcast. Rather than getting 30 seconds of airtime to sell your wares to the general public, you can create an hour-long show that specifically targets your ideal clients and allows you to give them far more value so that they can really see how brilliant you are at what you do. Our podcast is called the Fit Finance Sessions if you'd like to listen to future editions.
If the written word is more your thing, then instead of paying a magazine or a newspaper a small fortune to push your company to the masses, why not fire a laser beam straight at your ideal clients? Advertising on Facebook or LinkedIn gives you the opportunity to target the exact people who fit your business model. Facebook in particular is incredibly powerful at this. If, for example, you are a divorce expert, maybe you should be marketing to people who have changed their status from "married" to "single." Perhaps you specialize in high-net-worth male clients, so maybe you narrow your search to people who like brands such as Range Rover, Titleist, or Bremont watches, for that matter, who are within 20 miles of your office. Maybe you have a further niche, like looking after nonresidents in the U.K. or dentists or whatever it is, but LinkedIn and particularly Facebook allow you to focus in on them like a laser beam and ensure that you are marketing to the right people all of the time.
If you want to be seen as the expert by your ideal client, you've got to get yourself into the spotlight.
Ideal client
This brings us to my next question: Who is your ideal client? This is the "I" in WISE. You need to be absolutely clear on that before you start advertising; otherwise, you are wasting money marketing to the wrong people.
My ideal client lives in my county, Rutland. He drives a Range Rover or a Porsche. He plays golf at Luffenham Heath or is a member of the sailing club. He reads The Telegraph or The Times. He has 2 million pounds or more of investable assets and is aged between 50 and 70. We've nicknamed him Alistair.
It may be that you feel you are narrowing this too much and creating too small of a niche. The more focused your advertising can be at your perfect clients, the less you will spend per click, and thus your marketing costs will fall. That said, you may not want to use all of the above criteria every time, but knowing them will allow you to think differently about how and where you advertise.
Think about how you can advertise your business in the modern age. Create your own content that gives amazing value to your ideal clients, and share it through today's marketing channels. It may be that you want to pay to advertise through Facebook, but by sharing engaging content though Facebook or LinkedIn, you can also achieve this for free. Maybe a combination of the two would work even better. For example, we have helped a number of farming clients who have sold land. I wrote a blog article on this subject that we put out there for free. In addition to that, I then promoted this article to farmers on Facebook between a particular age range and in our geographical area. This was a very limited number of people, but it is my belief that if and when one of them decides to sell up, I may well already be seen as the expert in their eyes.
Who are your ideal clients? Where do they live, what do they do, what do they like, what's their age, and where do they hang out?
I hope you have found some value in what I have taught you today. I'd like to leave you with one final thought. Just remember, if you make the same decisions today as you did yesterday, you'll get the same results tomorrow as you got today. So what can you change in your business to make sure you are seen as the expert in front of your ideal client?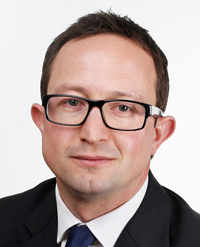 Charlie David Reading, APFS, is a one-year MDRT member from Rutland, England, and the founder of Efficient Portfolio, one of the top financial planning practices in the U.K. Reading founded Efficient Portfolio in 2006 and, through their innovative marketing strategies, the firm has achieved 50 percent growth in five of the last six years. Reading is the author of "The Dream Retirement," which he published in 2015.