It's your business and your life – set yourself up for your success
Jamie McIntyre, CFP
Do you have the right balance in your life? Is your business coming first all the time or are you prioritizing your family? McIntyre shares how to get a better balance between family and business and how technology is going to help this. This session will get you thinking about how you can set yourself up for your success in your practice. Leave with ideas to implement that will improve your team's performance by equipping them with the right technology for your business.
"You are the average of the five people you spend the most time with." — Jim Rohn
"Get the right people on the bus … in the right seats." — Jim Collins, "Good to Great"
What does success look like for you?
Is it more money?
Is it more time to do the things you like to do?
Is it a combination of the two?
I look forward to sharing my definition of "success" with you, how I have set myself up for success in my life and how this translates into better practice management for me. I am going to talk about three key themes that I use to define my success. They are family, team and technology.
My success journey is ongoing, and I hope that by sharing with you what I have done, you will leave the MDRT Annual Meeting with a clearer definition of your success criteria and take action to improve yourselves and your businesses. You are likely to compare your life to mine as we go through my presentation, and this is quite normal. I have sat on your side of the room and compared my life with those presentations I have listened to. Today is not about comparing; it is about taking action to improve yourself, and if something I have done inspires this, I will be very pleased.
I am going to spend some time sharing my journey as a financial advisor and my goal to have a balanced family and business life. I will share with you some key learnings that I have had over my journey, and I will talk about the mistakes I have made too, because we all make mistakes, right?
As I work through my presentation you will find there are three key themes.
One is "family." For me, family is my beautiful and talented wife, Susan, and my four children. These five people are the most important people in my life; they are my priority. For you in the audience with a significant partner and/or kids, I'm sure this will resonate deeply with you. For those without children, I want you to think about who the most important people in your lives are and how much time you are going to devote to them in the future.
Two is "team." For me, my team consists of many people, primarily my two staff who work with me in my office and then the subcontracting staff who work for me when required. Other members of my team are my MDRT colleagues and my personal friends. I spend my time with people who give me energy, and I choose to reduce the time spent with those who take away my energy. I want you to think about who is on your team and whom you need to remove from your team. In the words of Jim Collins, author of "Good to Great," you need the right people on the bus.
Three is "technology." I will then talk about technology and how technology brings a balanced life together and how it works for me. I will give you some thoughts and takeaways on how tech is your friend and not your foe.
I will then wrap up our session with a summary of my three key success criteria, and then you can all leave here focused on your own future success.
Theme 1 — Family
About my journey: Forty-two years ago, my journey in life began, and like many of you, my formative years were spent learning in school how "success" is defined by others. In Australia, like many parts of the world, the expectation is that you attend school and then progress to university life and get yourself a degree and progress into a job that suits your studies. For me, this was not the path I wanted. I wanted to help people make better decisions for themselves, and this university path and being told what to do for people did not appeal to me. At the end of school, I attended university for one semester as this is what I thought I was supposed to do; however, the first liberating moment in my life came when I chose to quit uni and forge my own path. Like many of you today, I was attracted to financial advice so that I could make a difference in other people's lives helping them prepare for their best future. I was in my early 20s; the freedom to work for myself and the ability to control my own income was important to me.
I commenced my financial planning career at age 23, and the key theme for me then was how I could help people make better decisions and how this would help me build my own financial plan. I had lots of spare time to dedicate to seeing people and building an income for myself. I would regularly see new prospects at night as this worked for me at the time. I was single and wanting to set myself up financially. For the first 10 years of my financial advice career, I would meet with anyone who would say yes to me for a meeting. I would juggle nighttime meetings with my need for socializing on the weekends and meet sales targets that were put in front of me by a sales manager. This 10-year period was hard for me as the business I worked for had sales target expectations for a number of products sold; however, my expectations of myself were to help as many people as I possibly could. This would often be in conflict for me as not every prospect I met with needed the products I offered; however, my sales manager was of the view that "everyone needs life insurance."
I then made the decision to establish my own financial planning practice in July 2008, and 12 months later, I married my beautiful wife, Susan. Two years later, we welcomed our first son, Harry, and over the following six years we welcomed Jack, Sophie and Maggie. Our first son, Harry, certainly wasn't the best sleeper, with his best effort over the first two years of his life being four hours straight. This meant that I was forced to change my work habits and support my son, Harry, and my wife, Susan; this was a tough period for us. By necessity, we had to change. This included a new commitment to my family to always be home for dinner, to always support Susan and Harry and any future kids in our home. This meant no more nighttime appointments for me, and I had to tell my existing clients, and also any new prospects, of the hours that I would be available to meet with them. This was 2010, and technology was starting to develop; however, we were still at the point of clients requiring face-to-face meetings. I was very nervous being introduced to people and telling them that I could not see them at night anymore as I had always offered this. What I found was that this change and my being nervous was only in my head, and when I explained to clients the change, they fully understood. A couple didn't, and they are no longer clients, but this has turned out to be a blessing in disguise.
I want you all to stop and think now about your clients and the boundaries you put around your time. Are you protecting your time the way you want, or are you giving your time away to clients who don't value it the way you do? Are you available 24/7 for new prospects, and, if so, are you then becoming available for the wrong prospects? Are you meeting prospects/clients in their choice of location, i.e., their home or their office?
In 2014, with the impending arrival of our third child, Jack, we made the decision to move from our first home to another home to be closer to the schools that we planned our children to attend. We also made the decision to relocate our office to be close to our home and school. These two decisions have been very significant in my family life as everything we need is within a 500-meter radius. With this decision, I also decided that all client meetings would be held in my office. To do this, we invested significantly in our office to fit it out to make it a place where our clients would want to be and meet with us. We knew also that technology would help us to continue to meet with clients who did not want to come to our office. The key driver of this decision, again, was family. I could manage my diary, so I could take them to school and pick them up when they wanted Dad to do it. I could walk up to the school for little things like the day the chickens hatched in class. All of these things I have been able to do and only require 10 to 15 minutes out of my day. They mean so much to my kids, and I could not have done them if I was in a location greater than 500 meters from their school.
So, to finish up our first theme of family — my decisions in life are focused on my family first. By putting my family first, my clients, particularly those who have stayed with me, are all on board with my decision-making. They appreciate that I focus on my family first, and this resonates with them as they put their families first in all of their decisions as well. We can be constrained by fear of change and how this will impact other areas of our lives. By being true to myself, everything else comes together.
Theme 2 — Team
I want you all to think now about who is on your team, specifically the team that supports your business and works with you toward shared business goals. I want you to now move from thinking and into feeling. How do you feel about each team member? Does it feel right when you think about them? What I mean by "feel right" is, use your intuition and not your brain. Your brain will justify things that your intuition won't.
OK, now let's talk about my team. I have two full-time staff in my office who perform specific roles for me. Isabella is our administration guru. She really knows how to get stuff done. Isabella makes me feel great as she is the one who will make sure everything gets completed. This is critical for our business because I know my strengths, and administration is not one of them. Gabby builds systems in my office. She is the one who builds the systems to keep us all accountable and on task. Gabby is the person who is ensuring that all future team members will be successful. She is building systems and bringing together all key tech in our office so that it all comes together. I also have three other members of my team who are subcontracted to perform tasks. I have Tennille, who is a superstar paraplanner and who prepares the financial plans for our clients. Tennille is focused only on preparing financial plans and delivers these to us accurately and on time. We have Bianca, who helps us put together lending options for our clients to help them make better decisions. Finally (but not least important), my wife, Susan, works one day a week in my office and also performs tasks at home. Susan does all our accounts and bookkeeping, and this is her focus.
I want to take time now to reflect on my team. I have explained to you that all of our team members have specific tasks. This was not always the case in my business. When I first started out and took on my first employees, I asked a lot of them to do tasks that sit outside of their skill set. I asked them to be the admin, paraplanner, bookkeeper, and, while you're at it, please build us great systems. This did not work. I was always attracting the right people but asking them to sit in every seat in the office. Are you familiar with the term "gig economy"? This change in people's habits and desires to work for themselves has led to great outcomes for our business. Tennille works in the gig economy, and so does Bianca. They work when they want to suit their lifestyles and deliver on time to what they commit to. This resonated with me and should with you too. Having people who want to work within their time parameters and, at the same time, have a strong commitment to delivering on time when they say they will is so important to me.
Other key members of my team are my fellow MDRT members in Australia. In my home state, I have sat on our state committee for six years and also chaired this committee. Not only do I volunteer my time, I get so much more back. MDRT members have achieved a financial benchmark to become members; however, while this is the measurement that we use, it is the personal relationships and the willingness to give that is most important. This willingness to give has been critical in my ability to continuously improve my practice and my practice management. My MDRT friends are the ones who are cheering me on, and their only vested interest is in my success. My MDRT team is building businesses just like I am. They are testing new things to grow their businesses and can share with me their successes and also their mistakes. They are trusted members of my team who always look out for me.
Now let's take the time again to think about your team at work. Who is currently on your team? Who should stay on your team? And who should join another team that is not yours? How do you feel about your team members? Do they bring you energy, or do they take it? Do they want to grow with you and support your success and, in turn, become more successful themselves, or are they taking away from your success? Who is staying on the bus, and who is getting off?
Theme 3 — Technology and your success
Who here is overwhelmed by the amount of technology available to them each day? When you use technology in your life, how does it make you feel?
Let me start by saying I have tried a lot of technology in my life and in my business, like many of you have. I have been frustrated by tech and by being sold tech that did not suit me. I have also enjoyed tech that suits me. Let's go back to the Jim Rohn quote again with a slightly different spin on it: You and your business are the average of the five technologies that you use every day. So, let's think about that. What technology are you using in your personal life each day, and what technology are you and your team using in your business? Are these technologies providing benefits or frustrations? Are these technologies adding value to your life or subtracting value?
Let's now talk about my business and the technology that I use and love and why. I think you have picked up a sense of my personal "why," and that is family and family time. So, what tech do I use and why?
From a systems point of view, we use an off-the-shelf technology to manage our customer relationship management (CRM), called Worksorted. We have used other CRMs that are mass produced, like many of you are probably experiencing in your practices now. We have trialed many other CRMs, and Worksorted is perfect for us. Now, I am standing here today telling you that my business is different from yours, and my business has different needs than yours. But, for us, we have found the right CRM after many frustrations with others. My key message to you for CRM is that if you have a CRM that is frustrating you and your team, you need to explore and trial a new one. You need to get your CRM system to work for you and your business the way you want it.
For advice production, we use XPLAN IRESS. Why? Because the tool within IRESS, called CALM, produces the forecasting that I am passionate about to open our clients' eyes to their financial future. We have a full XPLAN license that we pay for; however, we only use one tool in the XPLAN suite. We use approximately 5 percent of the software's capability. Sounds pretty silly, right, to only use 5 percent of the software's capability and pay 100 percent of the cost of it. Using financial logic, that really doesn't make sense. Now let's discuss our old logic in our business. Buy some software and use 100 percent of the software so you get your money's worth. With XPLAN, up until recently, we also used it for our CRM. XPLAN CRM does not work well for our business model, and we kept persisting with it for the past three years (so we could get our money's worth). By doing this, we were using it for the wrong reasons for our business. All this did was cause frustration and lower productivity in our business and our team members. By making the change to our new CRM, which is focused on being a CRM only, our productivity and client experience has improved.
We use a few tools to help with client experience. Tool No. 1 is Zoom Video, which allows us, with a click of the button, to hold a video meeting with our clients but also our suppliers and licensee. The main benefit for Zoom Video is that we can record these video meetings. From a client meeting perspective, we can then review the meetings and improve and train future planners in our business. From a supplier meeting perspective, we can record these video meetings and store them to train future staff members who join us. What I have learned is that, over my 10 years in my business, I have had to regularly train staff myself. With the storage of these videos, staff will be able to train themselves with less support required from me. They get to watch the videos over and over again if required.
Tool No. 2 for client experience is My Prosperity, an Australian tool. We have all struggled at client review to get all of their financial information that is current and up to date. We introduced this tool to our clients, and the response has been great. This tool allows clients to connect their bank and financial information by a secure link that feeds all of their information straight into their own personalized webpage. This financial information is updated daily via the direct feeds from their financial institutions. This has been a game changer for clients and our business. We have moved from chasing clients for bank statements, etc. to having all this information in one place. The site has the ability for the client to upload documents (wills, etc.), and we can view these at our end as well. We have moved from chasing clients to clients chasing us to see if we have been reviewing their information that they added to their page. This has brought great efficiency to our business and has given us a major change in the client experience.
So those are some of the technologies that I am using, and, trust me, I have tried a lot to get to these successful ones. We are trialing other technologies in our office now, so we can continue to use tech to make life easier for my staff, my clients and everyone. We have recently trialed and declined some new tech and will continue to do so.
Who is going to try some new tech when they get home? Who is going to stop using some tech when they get home?
We have talked today about family, team and tech. You have heard about my journey. My journey to success is ongoing, and when I reflect, I am pleased with my success to date. My success is measured differently from yours, and my success is reflected in my family. I am focused on continuing to have a balanced life, and I hope from today's presentation you have all given consideration to the best balance for your lives.
It is your life, your family, your business, so please go home and make the changes you need for your success.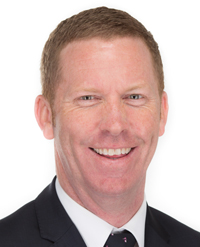 Jamie McIntyre, CFP, is a seven-year MDRT member with three Court of the Table qualifications who has served on and chaired multiple MDRT committees. He is the director and senior financial planner of MAC Financial, which he established in 2009 to deliver comprehensive financial advice to his clients with advice and planning being the focus, not products. He has been a licensed advisor since 1999.