Hiring the right staff to fit your needs is essential
Philip A. Rousseaux, ChFC, RICP
Hiring the right staff to fit your needs is essential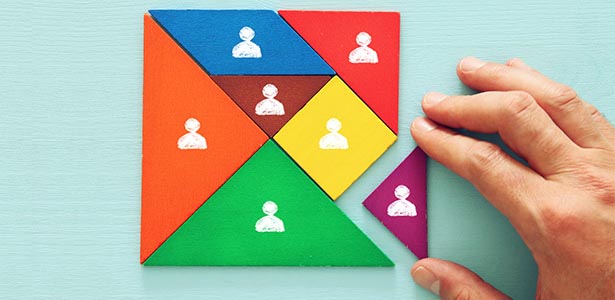 This article is part of a larger collection titled
The MDRT Hiring Guide.

Download the PDF (1.9mb)
Section 1: Hiring and retaining talent
Hiring the right staff to fit your needs is essential
Section 2: Employee compensation and motivation
Section 3: Employee processes/managing employees
Hiring the right staff to fit your needs is essential
Owning your own business can be daunting, but it doesn't have to be. Before becoming a business owner, I spent five years as a lone practitioner. In my first year as a new owner, I did the same amount of business as I did in those previous five years. For the last two years, I've actually doubled my production, and now I only work a third of the time to accomplish what I previously did.

Being a business owner brings with it a unique set of challenges. The most pressing issue is time. How do you maximize your business and your time?

Since you can't create more time, there are three logical steps you can take to maximize your production. One is to simply keep doing what you're doing. If you keep doing what you're doing, you're going to have to accept the reality that your growth will be limited because there's only so much time in the day and only so much you can do.

The second thing you can do is say you're only going to market to the affluent. You want to market to those top 2 percent who are paying the highest taxes. If you've got the market where you can meet with people who have $3 million, $5 million or $10 million a year, then that's great, you can grow your business and your revenue that way. I, however, didn't have that.

The last option, and the one that worked for me, is building a team and leveraging myself. Successfully staffing my office has built my brand and helped me grow.

Attract the right people
To build a successful team, you've got to attract the right people. You have to have people you can trust, who trust you, and who can meet with and talk to your clients. You need people you can teach your business to. For me, it works best to take someone inexperienced and mold them.

The individuals I've had the most difficult time with are people who come to me with all their licenses and have already worked somewhere else. It's really difficult to get them to forget the bad habits they learned at other places. So I love giving internships. I've had interns almost every year.

My No. 2 guy, who's been with me for nine years now, started out as an intern from a local university. Interns are great. They're free. They get college credit. They want to learn the business. You can teach them the business, and if they're interested, it's kind of like dating. You get to try out the person without a commitment.

Building a team
Keep in mind that you need to build a staff that suits your needs. I've always had one office manager who did all of my applications, transfers and customer service. He's also what I call an internal sales rep, so when somebody contacts us, his job is to give them enough information to get them to come in to meet with a salesperson.

He's in charge, so if something goes wrong, he handles it. He has the power to spend money, sign checks and do whatever he needs to do. If he's not comfortable making a decision, he can contact me.

Two salespeople work under him. They are there every workday, even if they don't have appointments, from 9:30 a.m. to 4 p.m. They're on commission, and their job is just to meet with people, whether it be quarterly meetings of their own, doing reviews or meeting with prospective clients. Eighty percent of what they do is bring new business. They'll do everything from the first meeting, putting together the plan and doing the application. Then, once they're done, they hand it off to our new business client retention person.

I have one staff member who comes in, introduces herself to the client, and then goes through the transfer process, telling them what to expect and how things are going to work out. She keeps in touch with the client during the transfer process. Once the transfer process is done, she brings the client back in, with or without the advisor, depending on the situation. She goes over everything, sets them up for logging into our system and all that good stuff.

And then we have one other employee — she's the face of the firm. If you saw her, you would think she was a secretary, but she does more than that. She helps out with all the phone calls that come in on the weekend. She helps out with all the marketing. She's in charge of our website and our Facebook account. She also handles the people coming into the building and answers calls.

Enticing them
Remember that if you want the right talent, you have to pay for it. It's like anything else in life. If you want cheap work, pay cheap. If you want to keep your people there, you've got to pay them well. You cannot pay minimum wages and expect your employees to give you maximum return; it's just not going to work.

So let's say you want to hire somebody, and you know you want to pay them $60,000. You might tell the candidate, "Your base salary is going to be $40,000, and I'm going to give you a quarterly bonus that's going to give you another $20,000. That bonus will be based on things we can measure, performance wise."

The next thing is benefits. If you want to compete with the leading investment and insurance firms — or whoever you're competing with — you've got to be able to offer the benefits they have. We have a Roth 401(k), and it was really easy to set up. I match 6 percent, dollar for dollar of what they put in, and they're vested right away. People love that. We also offer health care coverage. I pay half of the cost, and they pay half.

Again, it goes back to your willingness to invest in the people who work for you. I think it's really important and essential to building a successful business.