Write your book to inspire others and generate sales
Jae Sunny Lee
There is no magic formula for publishing a book, but it's no secret that a smart approach is to write what you know. For Lee, that has meant converting her experience with her own twin boys into the book "Is Your Child a Money Master or a Money Monster?" and using her work with Korean expats to address their concerns. Lee discusses how she turned her life into marketing material for her financial planning practice, understanding how every idea and event she has encountered can generate compelling material. Attendees will learn to identify topics they are passionate about and gain both the motivation and the steps to turn that passion into their own book.


---
Click here to find more from the 2018 Annual Meeting
---
Have you ever had the experience of publishing a book? To all of you who have already published a book or many books, my big congratulations to you.
Publishing can help you elevate your image and marketability. Do you want to generate a lot of leads and sales through your books?
I believe that many of you are here because of the strong desire to publish your own book one day, but you may not know how to do it or even where to begin.
I totally understand because I was in the same place about a little over a decade ago, but, fortunately, I discovered how to convert my ideas into a book, and ever since then, I have published six books. Two were published in Korea and four here in the United States. My best-selling book is called Is Your Child a Money Master or a Money Monster? and it was featured on CBS News along with several other local media. I also had the wonderful opportunities to speak from the Main Platform during the 2017 MDRT Speaks in Orlando, Florida, and the 2018 MDRT Day in Thessaloniki, Greece. Recently, I wrote two more books, called Dear My Baby and From Ideas into Realties, which I will talk more about later. And I have more than five books that I am in the process of gathering data for with publication in the near future.
Some of you might be thinking, How did she do that? Some of you might be asking, "Does she have nothing else to do but to write books all day?" or wondering if I have some kind of magic wand to create books one after another! I wish! I am a financial planner just like you, juggling work and family every day. My days go by super fast! Take it from me. There is no magic formula, no gimmicks, no cutting corners, no shortcut, but there is lots of genuine effort and dedication.
I'd like to share with you the six most useful and practical steps you can put into practice right away. I believe that they will revolutionize your business and personal life. So, are you ready? Let's jump straight into Step #1.
Step #1: Understand why it is important to publish your own book.
Do you believe that your own personal story has the power to influence the reader, and maybe even change the world? You may find this hard to believe, but I believe it. Every idea, every event, and every story you experience and encounter has great potential to be turned into a compelling book that will move the hearts of many men and women worldwide. You have no idea how your story will impact others and help you generate a lot of sales during the process.
Let me share with you about my first book and how I came to write it. I grew up in a small city in South Korea as the youngest of four. After graduating from college, I worked as a journalist/reporter for a couple of newspaper companies in Seoul and then came to the United States as a married woman with two little children. I wasn't born here nor did I go to school in this country, so I didn't know anybody but my husband's immediate family. I didn't have any idea how to integrate into such a large population and diverse culture. I got my insurance license right away, but nobody knew who I was or what I was doing for a living. I was constantly worried about how to make ends meet and to support my kids in a foreign country.
Then, one day, I became inspired to write a book about personal finance for Korean people. There are more than 1.7 million Koreans living in the United States. However, it was a big risk because I didn't know much about finance at that time. Despite the fact that I was a complete novice in this field, I decided to go for it. The title of my book was Mr. & Mrs. Millionaire. It was a guidebook for Korean immigrants to help them prepare for a successful life in the US. I was actually writing for myself. I was a new immigrant, and I was learning about America every day. I began researching all the information I could find, looking for tips and advice, suggestions and ideas, mixed in with my personal stories and the stories I learned from others.
Soon I had written my first chapter, and then the second chapter, and so on until I completed the entire book. Several months later, I found myself holding in my hands my first book published in the United States! I was nervous and excited at the same time. I printed about 100 copies and gave most of them as gifts to prospective clients. I wasn't sure how things would turn out.
But shortly after that, the CEO of a local newspaper company noticed my book and gave me the opportunity to write a column for a business section as a financial expert. What? I couldn't believe my ears! Of course, I accepted the offer right away and soon found myself a first-year insurance agent positioned as an industry expert giving advice to people about insurance and retirement. Many people called me to make an appointment with me, and I had to study the materials really hard before the meetings so that I wouldn't disappoint them.
My first book helped me become a columnist for an economics newspaper, which generated a lot of leads that helped me qualify for MDRT my first year and every year ever since then. I used my book as my business card, my resume, my gift, and, most importantly, my best marketing tool, and it was good.
Now take a moment to write down your three most compelling reasons why you should write your own book.
Step #2: Make sure you have a burning desire about the particular topic(s).
Some of you might think, OK, I want to write a book too, but what shall I write about, and how do I begin? Obviously, if you don't know what to write about, it will be hard to begin. The bottom line is, you can't write about something that you don't care about. You must be passionate about your idea. Do you know why? It's because if you aren't, it won't have enough power to motivate you to commit that much time and energy to complete your book. Without passion, neither you nor your reader will not get anything out of it. So, the key is that you must find a topic you feel absolutely passionate about.
Now let me share with you another story as an example to demonstrate how passion ignites action. My second book, which I briefly mentioned earlier, is called Is Your Child a Money Master or a Money Monster? Why did I write it? As soon as I was told I was expecting twin boys, I had a burning desire to teach them financial responsibility as early as possible. I had rough years growing up in a very poor family. Neither of my parents taught me anything about this important topic, so I went through a lot of difficult times. Therefore, I wanted my children to do well in this area from a very young age. But when they were born, I couldn't make my newborn babies get up and go to work, so I waited two more years before I began their money education.
Finally, when they were two years old, I began to teach my boys the value of working hard, and I gave them some chores to do at home. Ever since then, I taught them about earning, saving, investing, and sharing with others. By default, I ended up developing many reward systems and incentive programs to encourage them to keep pushing and to keep aiming higher. I was very passionate about this. I had many sleepless nights in my attempt to create new, advanced programs for their benefit. It soon occurred to me that these same lessons could help other parents. I could turn all of these efforts into another book. Finally, after 10 years, I was able to put all the pieces together to publish this book. All my efforts have paid off wonderfully. Thankfully, my boys have grown to be financially responsible young men. The book sells well and has helped many parents and grandparents teach the younger generation to be more financially responsible and to make this world a better place by transforming one child at a time.
Do you have a burning desire? Write down three ideas that you are absolutely passionate about writing. Come up with a title and a cover design concept, if you can.
Step #3: Be real and authentic about your feelings and experiences.
As you begin writing, it's crucial you stay real and true to yourself. This is your story, so be authentic and honest about your feelings and experiences.
Again, let me share with you about my third book. I never really planned this book, but it evolved. Thirteen years ago, on the day when I found out I was pregnant, I was so thrilled that I wanted to write something beautiful to my baby right away as I was experiencing pregnancy for the first time. Dear My Baby was a series of love letters to my child. I wanted to journal my feelings and experiences. That way I could create a strong bond with my unborn child from day one. Three months later, I found out that I had twin babies, so I changed the title to Dear My Babies. They are actually my answered prayers. I prayed for multiple kids, one pregnancy!
During each trimester of my pregnancy, I wrote about how I felt, what kind of foods I liked or disliked, what my daily activities were like, any symptoms I felt, and so on. As I wrote more truthfully and authentically, I felt a much deeper connection with my babies, and my love for them grew so much stronger.
However, throughout my pregnancy, I was always afraid of dying during delivery. I heard a lot about the tragic news of a mom dying giving birth to her child. So the night before their birth, I wrote a final love letter to my boys, which sounded more like a eulogy. I remember crying like a baby all night, and my letter was all wet. What a drama queen! But the next day, everything went well, and I survived, and my boys were healthy and happy!
But those real and authentic feelings, emotions, and memories that I was able to encapsulate in my journal gave me the idea to create this book, Dear My Baby. It is a loving, inspiring pregnancy journal book for expectant moms. It took about 13 years to publish this book, but it was worthwhile. Look at this beautiful book! [visual] It has become one of the most powerful and inspiring books that I have written so far. My clients love this book and proudly give it to their pregnant daughters or their daughters-in law. What does that mean? More sales? Therefore, more business? And more loving and empowering connections between moms and their babies.
Now write down some special feelings or memories in association with those three topics you are most passionate about writing.
Step #4: Capture the moments and collect the data.
So what's next? It's all about the mechanics of gathering data and information. It all boils down to how thoroughly you want to prepare for your book. That's why it is very important to capture, gather, and store all the related ideas, thoughts, images, visions, and even timely dialogues.
At this stage, a lot of these tangible or intangible materials may not make any sense to you, but it is OK. Just keep gathering, because one day it will all make sense. Every creation starts with a thought, so don't let your thoughts pass by without taking immediate actions.
As for me, what worked best was to write down any ideas or images passing through my mind on a piece of paper or in my journal or to record them on my cell phone. I capture them quickly. Even when I am in the middle of taking a shower, I do something. Do you know what I do? I sing that idea and repeat it over and over until I am done. It works. Do whatever works for you!
As I was preparing for this Focus Session, I began to write another book. Book number four is called From Ideas into Realities, and it's just for the guys. It's an idea-capturing journal book, specifically designed for you to gather all of your fantastic ideas and thoughts after this session. It took about three months to get this book ready for printing. Is it getting faster and quicker? Yes. The more you write, the faster you can complete a book. Ideas are the source of everything. It's the domain of creation, and your ideas may be fading away even as I speak. So capture them now, and turn them into your best marketing tool, which will generate a lot of sales and inspire many people around the world.
Now think about the three most important events or situations that you want to incorporate in your book, and share them with someone.
Step #5: Keep going until published.
Do you want to know how to capture your ideas effectively?
There are many ways to accomplish this goal—different strokes for different folks. And here is a very useful suggestion from one of our dearest MDRT members, an author of many books. He introduced to me this three-ring binder system. [visual]
He suggested that once you make an outline of your book idea, create a tab in your binder for each chapter and put the title of the chapter at the top of each section. So, if you have six chapters, then you will have eight sections—Intro, Chapters 1 through 6, and Conclusion. Then, when you get an idea, you don't have to look all over the place but can find the right chapter here in the binder and write the idea down. That way you can save a lot of time and effort. Whatever system works best for you, the important thing is that you keep writing until you are finished. And then the next step is editing and polishing. Bring it all together. Get a professional editor and find a book interior and cover designer who can turn your book into a masterpiece. Once that is accomplished, you are ready to print. You can print as few as one or as many as thousands of copies in today's publishing world. We have only one more step to go.
Step #6: Celebrate your success and do it again!
Now, here is the moment of truth. Let me see how much you really want this to happen in your life. Close your eyes and imagine the day you are holding your first published book in your hands. Can you see the title of the book? Can you see the beautiful cover design and interior design? Can you smell how nice it is? Can you see many people gathering together clapping, cheering, and celebrating your success? Do you see your book generating a lot of sales? Do you see your book impacting other people's lives and making a positive difference? Can you see all of this in your mind now? Someone said, "If you can go there in your mind, you will go there in your body." So go there in your mind, right now, and visualize your success and enjoy! With your eyes closed and mind open, I want you to see yourself taking the first step that we talked about and then the next step all the way to the final step, which is the publication of your book and changing people's lives.
Do you know that your book is your baby? Let's get busy with the pregnancy process. Gentlemen, here is your opportunity to get pregnant with your book. Your baby is waiting for you. It may take months or even years. Some of you might become best-selling authors, and some of you might not, but so what? I believe that you will experience one of the most beautiful journeys that you can have in your life that can change your future and the lives of many around you forever.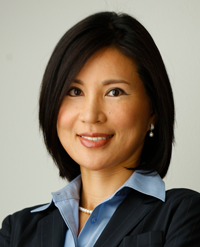 Jae Sunny Lee is a seven-year MDRT member with one Court of the Table qualification. She is the founder and CEO of Good Life Advisors and a financial literacy instructor for Operation Hope. Lee has authored six books including "Is Your Child a Money Master or a Money Monster?", "Dear My Baby" and "From Ideas into Realities".