Thrive vs. survive
John J. Demboski, CFP
For a business to thrive, it should have an organizing set of guiding principles and values. Demboski explains the responsibilities and priorities that he has put in place to help make his practice succeed.


---
Click here to find more from the 2018 Annual Meeting
---
Today, I'll be sharing the core values that make our firm Extra-Ordinary, and the first of these is that we live the Golden Rule.
Doing unto others as I would have done unto me is how our entire business is run!
So, first off, if I were the employee or client, I'd want to work with a company that cares enough to have and then display its core values. This is exactly what my team and clients see when they walk through our front door.
And "I" worked for "me"—I'd want my boss to be awesome, and so in doing unto others, I've worked hard to create a culture of awesomeness.
But it's my life too, so it's a win-win!
We high-five each other in the hallway for no reason. We go on fun trips like skiing together. We share cakes the size of whole tables. We'll surprise employees by redecorating their office—with dolla-dolla bills!
And, of course, there's a whiteboard for everyone to share their ideas on how to make our office even more awesome!
The entire office experience is as awesome as I'd want it to be if I were the client.
Clients enter as a guest, are greeted with a hug, and are presented with a leather-bound menu of refreshments that would be our pleasure to provide them with.
There are five kinds of sparkling water alone. We literally set the bar for our clients' expectations in all areas of their lives.
Our entire office experience is Extra-Ordinary (by design!).
Do your employees and clients love working with you? Would they say it's Extra-Ordinary?
Our second core value is to proactively take responsibility for our time management. Both old-school planners and cutting-edge mobile apps are used to maximize the value of every single day.
A simple day planner is used by the entire team to plan out and track each day's investment of time. Each and every day is clearly deemed a quantifiable success or failure. Personally, for Top of the Table, I have to delegate any task worth less than $500 an hour.
Leveraging technology also plays a key role in time management. Any action or habit I want to repeat is programmed into an app on my phone and watch. I don't trust that I'm going to remember to do anything. I'm literally prompted to do all the things that I want to do.
I have one set of health apps that helps me set habits around physical exercise and track what I eat, and others for my mental and spiritual health.
Another set of apps is focused on wealth. These help me stay on top of my finances. The key is to find the apps that work for you and program them to beep or buzz when you need to take action.
And last, but certainty not least, is our culture of becoming the best version of ourselves. To tackle the larger challenges ahead, we cannot just do our best—we must become our best!
To become our best, we focus on building both confidence and capabilities. One without the other is not so awesome. But, when combined together, we can become Extra-Ordinary.
There's a magical equation that I've discovered, and I am sharing it with you here today. A daily strenuous exercise routine, plus a daily calming gratitude routine, helps me focus on the blessings, which equals massive confidence.
With limitless confidence, we can believe in ourselves enough to radically increase our capabilities. But we have to first have the right mind-set.
So I'll share a second secret formula to building limitless capabilities. It's using a vision board to have a mindset that I'm the victor of my past, hero of the present, and I'll be a blessing to the future!
With limitless confidence and limitless capabilities, we can literally become the very best version of ourselves.
We become Extra-Ordinary.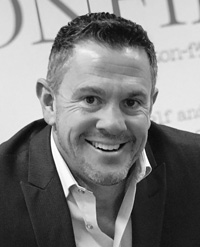 John J. Demboski, CFP, is a 13-year MDRT member with two Court of the Table and five Top of the Table honors. His coaching practice in Santa Barbara, California, invests in small-business entrepreneurs. His team of financial professionals are equipped to rip through investment and insurance distractions people face as they aspire to reach their life potential.