The power of a deadline
Aurora L. Tancock, CFP, FLMI
Has there ever been a simple idea that changed your life? Tancock shares the sales idea that had a huge impact on her business and personal life. By setting a deadline for her goals, she took action in new and significant ways.


---
Click here to find more from the 2018 Annual Meeting
---
We travel yearly to the MDRT Annual Meeting in the hopes of hearing that one sales idea that may have a huge impact on our business. Sometimes it is an unexpected simple phrase spoken by a fellow MDRT member or a Main Platform speaker.
I sat in the 2004 Annual Meeting in Anaheim taking notes of different sales ideas when one of the speakers made the following statement: "The difference between a dream and a hallucination is a deadline." I jotted down the phrase, and it jumped out at me from the paper. Something about it really struck me. I had no idea the impact that phrase would have on my business and my personal life.
As I sat on the plane heading back from California on a five-hour flight back to Canada, I started going over my notes, and that phrase jumped out at me again: "The difference between a dream and a hallucination is a deadline." What it brought to mind was a personal goal that I had been thinking about for a long time but was nowhere near achieving. That goal was to take a family vacation to Italy. What is important about that goal is that I was born in a little village in the southern part of Italy, I married a Canadian, and we have raised two boys who, at the time, were teenagers. I really wanted them to see where I was born, walk the streets I had walked as a little girl, and then spend three weeks just touring the country. I had shared this dream with my husband, and we had talked about it, but we were nowhere near achieving it. As I sat on the plane and thought about that phrase again, I took a blank piece of paper, and on it I wrote, "Family Trip to Italy." And for the first time, I placed a deadline beside it.
August 2005 was an aggressive deadline as it was only one year away, and as I saw it on paper, I realized that I had taken the first of three steps in achieving a goal: I had set a deadline.
The next step was to identify what obstacles stood in the way to bring it to fruition, and there were mainly two. The first obstacle was funding the trip because, at that time, all our savings were going toward major home renovations. The second obstacle was taking time away from my business. The trip would require us to be in Italy for three weeks, and I was worried that my service standards to my clients and my production would suffer.
By the time I landed, I had taken the third step, and I had eliminated the obstacles.
I decided that we could put some of the renovations on hold for a year and that I needed to hire additional staff to make sure that my clients would be well served in my absence.
My husband met me at the airport, and I shared with him that I had planned our family vacation to Italy. He was surprised but on my side with putting the renovations on hold as he knew how much this trip meant to me. Later, he also told me that he knows me well enough to know that if I set a goal for myself, the best thing he could do is to get out of my way.
Once I put that goal on paper and set a deadline to it, every plan and every action I took led me toward that goal, and on August 3, 2005, we landed in Italy.
We spent the next three weeks making family memories that will last us a lifetime, including sitting on the steps of the house that I was born in.
A simple phrase spoken at an MDRT meeting created many positive changes as I realized that if attaching a deadline to a dream worked for me, it would also work for my clients.
By adopting goal-based financial planning and placing a deadline to each client's goals, I have had the pleasure and satisfaction to see my clients achieve them. In turn, they have shown their appreciation by providing a steady stream of referrals.
By hiring another staff member, not only were my clients taken care of in my absence, but my yearly production also increased as it allowed me to spend more time where I am most effective, and that is in front of my clients.
It had a huge impact both personally and professionally.
So, what ideas or concepts will you take back to your country that will change your business and/or your life? What are you open to receive? I believe the ideas come to us when we are ready for them. Therefore, what we take back from this LA meeting will be different from past or future meetings, and this is why it is important to keep on coming back. So, let me ask you, what is the one goal that you would like to see come to fruition?
I urge you to set a date beside your goal, and, whether it is a small or a big goal, watch the power of setting a deadline turn it into reality.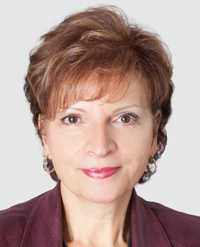 Aurora L. Tancock, FLMI, CFP, is a 17-year MDRT member with seven Court of the Table honors. She is the president and owner of Aurora Tancock Financial Services. She has served on various committees, including as Divisional Vice President of PGA for the Annual Meeting in 2015, and is currently a member of the Finance Committee.