The emotional roller coaster
Carlyle Fletcher, CLU
The financial services profession involves a lot of highs and lows, potentially within the same day. This can include canceled meetings and revoked purchases. Fletcher says you should stay on this emotional roller coaster and never give up.


---
Click here to find more from the 2018 Annual Meeting
---
This business of ours is an emotional roller coaster. It can take us to the pinnacle of ecstasy and then plunge us into the pits of depression, sometimes in a single day.
Let me explain by example.
You wake up early because today is your Big Day. You have a businessman to see. When you make this sale, it will propel you to the Top of the Table. As you are about to leave home, you get a call from his secretary telling you he will not be able to see you today, and he will call you if and when necessary.
Your enthusiasm drops by 40 percent.
You go to the office to submit the application you wrote last night. When you get there, there is a message to call the client. Excitedly, you call, only to be told that her husband said this is not the right time for this and to return the check she gave you last night.
Your enthusiasm drops another 40 percent.
You go on your only selling appointment today.
When you ring the doorbell, a voice from behind the curtain says, "She is not at home." But you know that voice. In your mind, you are certain it is the voice of your prospect saying this.
At this juncture, the weak and fainthearted pack up.
They go back to the office to join the other members of the AA club—the agents who are Always Available to join their pity party.
But for those who continue, look what happens.
You go to your client to deliver his policy, and he says to you, "Carl, my company has just made a decision to enhance the retirement package of us middle managers. Does your company do that type of business?" I reply, "Sure." He says, "There are 30 of us. Would you mind helping them?"
So what was threatening to be the worst day of your life suddenly turns out to be the best day of your career simply because you persisted.
My advice to you is don't ever jump off the roller coaster before the ride is finished.
Never, never, never give up, because great things might be waiting for you at the end of each day.
Enjoy each ride.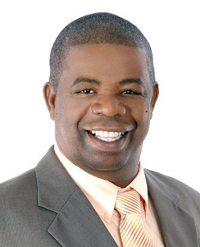 Carlyle Fletcher, CLU, is a 16-year MDRT member who was inducted into his company's convention hall of fame and Trinidad and Tobago Association of Insurance and Financial Advisors (TTAIFA) South Chapter's hall of fame. Fletcher is a Toastmaster and has earned the Competent Communicator and Competent Leader designations.