The digital system
Remigiusz Stanislawek
Imagine qualifying for Top of the Table without making any sales calls or even calling your clients at all. Stanislawek explains how automated online system that utilizes mailing lists and a free membership site to consistently deliver value to clients. Twenty percent of his clients have never even spoken to him!


---
Click here to find more from the 2018 Annual Meeting
---
I would like to share ideas that are unconventional but may become the practice of the future. However, please check if these practices are aligned with the regulations of your country before implementing them.
I wonder what would have happened if I named my presentation "Why my customers don't want to talk to me?" Would you have attended? But here you are.
So, I will share the concept of The Digital System that took me to the Top of the Table, four times, without making even a single sales phone call. Actually, I never call my clients unless they ask me to!
Raise your hand if you want to hear how I made it.
I never liked countless meetings, endless phone calls, and traffic jams. Eight years ago, I thought, There must be a better way, some way, to give me three months' holiday every year, make clients buy on their own, and only if they want to, with no selling at all. So, I came up with the idea of an automated online system.
To begin, people need to know you. How do you do it? Run a blog, write articles, and produce webinars. Set up portals dedicated to products that you offer. Publish books or eBooks. This way, potential clients get to know you through your content. They become comfortable, interested, and educated.
I ask clients to sign up on my mailing lists—not one, not two, I have over 20 different mailing lists on different topics to educate them more. If my prospects need a product or service, they know they can get it from me, from their trusted expert. They can join my free membership site, which gives them even more information and live webinars providing that personal touch.
On average, I sign 100 contracts a month without doing much personal work.
Then comes service and support, which I give not by calling, but, of course, via my membership site.
The system wouldn't work if it wasn't automated. People complete internet forms, get automatic replies, and it generates business.
The key to loyalty is the question and answer page. I ensure that it has answers to all the questions that have ever been asked by any of my clients about any insurance or investment products. Now others can read it and don't have to ask me those questions.
Twenty percent of my customers have never spoken with me, even on the phone. It's all done via the internet.
Once I sent an email about a great investment opportunity. After three days, I had about 200 contracts signed. I received only 80 phone calls asking about some details. The other 100 didn't call or e-mail me. Why would they? They already knew everything.
The fifth element is professional video marketing. Invest in copywriting and making professional videos.
The sixth element is to be an authentic person. Show your customers a personal side, such as what your hobbies are. Mine is riding a bike—uphill. Nobody wants to do it with me, so this is why I am always alone in these pictures. [visual]
The after effects are media and conference appearances, and after some time, you are known as the best expert in the business.
Now you know why my clients don't want to talk to me. They don't have to. They already know everything!
I want to share one tip with you. Because of this method, I can easily get referrals. This is the way I do it.
So Mr. Prospect, there has been a study on how people give referrals. It showed that 20 percent give referrals on their own because they love to share good services. Another 20 percent never give referrals because this is the way they live. But 60 percent will happily give referrals if they are asked. So, Mr. Prospect, which group are you in?
You can see here on the slide the tools that I use for blogging: CRM, spam protection, communication, marketing. [visual] I would be happy to know that you are successful in the digital space with these tools.
If I can, you can! See you online!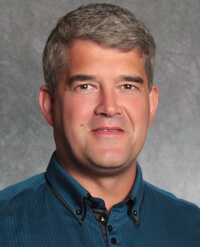 Remigiusz Stanislawek, of Poznan, Poland, is a six-year MDRT member with one Court of the Table and five Top of the Table honors. He is an experienced speaker on ethics for financial advisors and tax-efficient retirement solutions. He specializes in both insurance and investments and serves as a lecturer at the University of Economics and Business.