Singing in unison
Eric Whitacre
What kind of power can be achieved through uniting others? Do you embrace new opportunities to bring people together, no matter what their seeming limitations might be? In this session, Whitacre explains how he became a composer and what led him to create virtual choirs featuring thousands of people from dozens of countries. No auditions required (unless you want a solo).


---
Click here to find more from the 2018 Annual Meeting
---
At the age of 18 years old, I wanted to be a rock star. That's all I dreamed of. This was the late 1980s, so actually this is pop music we're talking about. I wanted to be the lead singer of Depeche Mode. I still want to be the lead singer of Depeche Mode. Having never sung in a choir before, I joined only to meet girls, and it turned out to be one of the great decisions of my life.
The very first day in choir, the conductor asked us to open our scores to the "Kyrie" from the Requiem by Mozart. I had no idea what a "Kyrie" was. I didn't know who Mozart was. I opened up the music in front of me. The conductor stood in front of us, took a breath, boom! And 100 people started making noise in the room. It was unlike anything I had ever heard before. It was this cosmic Swiss watch—a level of complexity and sophistication and humanity that, until that moment, I didn't know was possible.
Looking back now, I realize that it wasn't just the music itself. But, for the first time in my life, I felt that I was part of something larger than myself. And so I joined every choir I could, and I began writing music, composing music. By the time I graduated with my master's from the Juilliard School, I was a professional composer and a conductor. I still am today.
Composing music is a very strange profession. You spend most of your time alone in a room, in your underwear, if I'm honest, trying to put two notes together, trying to steal fire from the gods—and, ultimately, you write a piece. You go to the big splash premiere. It's performed, and the piece goes into publication, which means that choirs and orchestras around the world can purchase the sheet music and perform it.
But until the advent of social media, it was very rare that composers would ever know the impact that their music was having on the people out there. So back in 2009, when YouTube was just becoming a phenomenon, someone sent me a link to a video and said, "You have got to see this." It was a video of a young woman named Britlin Losee, only 17 at the time, from Long Island. Britlin wanted to share with me a fan video that she'd made. She'd uploaded it to YouTube like an electronic message in a bottle, somehow hoping that it would find me, and it did. Here's a little bit of Britlin's video. [video]
I thought Britlin was the most beautiful thing I'd ever seen. I thought her video was so pure and intimate, and the medium itself suggested some other way of looking at making music together. And I thought in that moment that if I could somehow get 25 people to all do what Britlin was doing, that is, sing their part soprano, alto, tenor, or bass, and as long as they were all singing at the same speed, the same tempo, and in the same key, and if they just uploaded their videos to YouTube and we literally started them all at the same time, it would have to make a choir, this virtual choir.
So the first big challenge was, how do we get everybody singing together at the same time? This is a video that I uploaded of myself conducting a piece that I'd written called "Lux Aurumque," which in Latin simply means "light and gold." [video] You can see that there's no sound in the video because as yet there's no choir. I'm just imagining the music in my head. I can tell you that this was a very strange day in the studio. They all thought I was insane. So I uploaded that video free for people to download. I offered the sheet music free for people to download. And I had no idea if people would actually join. Lo and behold, people began to upload their videos. [video]
This is Cheryl Ang, from Singapore. [video]
This is Evangelina Etienne, from Louisiana. [video]
This is Chris Hanson, from Sweden. [video]
And this is Jamal Walker, from Texas. [video]
All told, we had 185 singers from 12 different countries upload their videos. I knew nothing about video production, and suddenly I was left with all these video assets. A young man named Scott Haines emerged from the crowd and said, "This is the project that I'd like to be a part of," and I said, "Thank God you found me, Scott." Scott took about three months to integrate all the videos, aggregate them, and, most importantly, clean up the sound. You can hear in the sounds on these files that some of them had band noise in the background, and he cleaned all of that up. In some of the videos we had, you can hear crickets in the back or ambulances. There's even one video where you can hear a young man's mother yelling up at him in the background. But he cleaned all of that up, and we got all of the videos. In March 2010, eight years ago, we released to YouTube "Virtual Choir 1.0 Light and Gold." [video]
I honestly thought the video would just be seen by my small group of friends, fellow choir geeks, but instead the video went viral. In the first week, we had a couple million views, and it got picked up by the International News Media. Suddenly, singers were writing in from all over the world saying, "When is the next virtual choir? How can I be part of this?" So the following year, we released "Virtual Choir 2.0 Sleep." [video]
This time, it involved more than 2,000 people from 58 different countries. The singers were from Iran, Iraq, Libya, Syria, and Israel. The singers were from seven countries from the African continent, as far south as New Zealand, and as far north as the Great Alaskan Bush. Almost overnight, our little experiment had become a global choir. So the following year, in 2012, we released "Virtual Choir 3.0 Water Night." [video]
There were 3,746 videos from 73 different countries. Singers began connecting with each other virtually. We could see this online; people would meet up in real life only because they had met online or their squares had been near one another. One couple, whose squares happened to be near each other, ended up dating and are engaged now to be married, so we are expecting our first virtual baby soon.
We also began collecting testimonials from the singers. What was it like? What was their experience like, and how had they come to the virtual choir? We heard these extraordinary stories. There was a man who had sung in choirs as a child but then had gone legally blind in his late teens, and for the past 30 years, he had been unable to sing in a choir because he couldn't see the conductor. Now, for the first time, he could get close enough to my conductor screen to see it, and he joined the choir.
There was a young woman who had been singing in choirs her entire life with her mother as something they did together. Her mother was dying of cancer, so she recorded her video in hospice holding her mother's hand just off screen as a tribute to her.
There was a man from Cuba who desperately wanted to join the virtual choir, but because of government regulations, he was unable to send a file larger than one megabyte. So, we got him together with our tech team, and we taught him how to break his file into 26 one-megabyte files. They sent it to us stitched together. Cuba became part of the virtual choir.
We continued to push the envelope. In 2013, Chris Anderson, the curator of TED, asked if it was possible for him to make a live virtual choir—singers beaming in live from all over the world in real time. I told him on the phone, "Of course, it's completely possible. We'd love to do it." Turns out, it's not possible at all. There's a natural latency that happens just because of the size of Earth, which is a few milliseconds. This doesn't seem like a lot of time, but in music, a few milliseconds can be a lifetime. And so there was this inherent issue with singers being late or early. We couldn't get everybody singing together, so what I decided as a composer, then, was to turn the bug into a feature. I wrote a piece so that singers didn't have to be singing exactly at the same tempo. They can be simulating the sound of rain, and they can be snapping their fingers and singing their own part over and over, creating this kind of wash of sound. So here's a video of that performance from the 2013 TED Conference. [video]
We even made a virtual youth choir only for singers under the age of 18, all to be performed at the beginning of the Commonwealth Games in Glasgow's Celtic Park off 100-meter screens. More than 3,000 young people joined and helped us raise nearly £3 million for UNICEF. [video]
Then, finally, throughout the virtual choir projects, we have kept one credo: Everyone gets in. There are no auditions unless it's a solo. If you're a seasoned professional singer, or you've never sung before, you're welcome. Singers are as young as 2 and as old as 99 years old. We've had deaf singers who sign instead of singing out loud. We're working more and more on advocacy and reaching other groups of people who might never be able to sing in a traditional choir. One of the beautiful things about choirs is that they scale nicely—60,000 singers singing in a giant football stadium sounds beautiful, and it just gets smoothed over.
Part of our goal with virtual choirs was to erase the confines of a traditional concert hall, and part of the goal was to push the boundaries of technology and art, but the largest part of the goal by far was to bridge over social and political boundaries and to give people the opportunity to be part of something larger than themselves.
I'm thrilled to welcome to the stage this afternoon one of the best choirs in America, the Riverside City College choir, led by John Byun. Together we will perform for you our latest virtual choir "Fly to Paradise," the piece I wrote for Virtual Choir 4. We will be joined onstage by 8,420 singers from 101 countries, and then we'll play that final video with everybody singing. [video]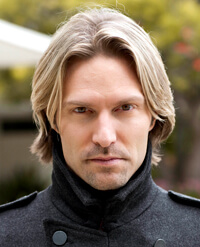 Eric Whitacre is a Grammy-winning choral composer and conductor who is known for working at the nexus of art and technology. He is best known for creating technologically innovative musical arrangements and groundbreaking virtual choirs. Whitacre has written for many of the world's most prestigious orchestras and artists, has performed on five continents and was a composer in residence at Cambridge University's Sidney Sussex College.