Scheduling effectiveness
Gina Pellegrini
When an advisor starts their business, they need to do everything, from scheduling meetings to filling out paperwork to answering the phone. However, as their practice gets bigger, advisors need to spend their time more selectively and effectively. Pellegrini explains how to delegate and train staff to keep your calendar consistently full. She also shares the top six telephoning tips anyone can use to turn their client base into a gold mine. Learn how to let go of scheduling, eliminate cherry-picking and embrace other time management strategies. Most importantly, you will leave with the tools you need to keep your calendar consistently full.


---
Click here to find more from the 2018 Annual Meeting
---
Imagine walking into your office, the phones are ringing, calls are being handled, your calendar is full with appointments, and you're prepared for the day. How would you feel?
So, let me take you back in time. In 1975, when I was a secretary to a financial producer (that's what we were called back then), that's what he experienced. At that time Al Granum was the general agent and he told Tom, "If you want to grow your business, you need to hire someone to make your appointments." Tom was only in the business for a year and a half and wasn't sure he could afford to hire someone or even how to do it. Fortunately for me, he decided to take the plunge. In a five-minute interview, he asked me if I knew how to type, file, and answer the phone. My response was yes, and he hired me on the spot. He looked at me as a huge expense and was fearful as to how he was going to pay me. He wasn't earning much at the time, and he also had a wife and new baby to support. For me, I wanted a paycheck. Neither of us had any idea what we were getting ourselves into.
Well, that changed quickly for both of us.
On my first day, I had no idea what to expect, and through Tom's eyes, he wasn't sure what to do with me. So he delegated by giving me a stack of files this high. He said, "Call these people and make appointments," and then he walked out the door. I sat there stunned for a second. There wasn't a script to refer to or even a calendar to use, just this big stack of files. Having a competitive edge, I picked up the phone and began calling. This was my job, and I wanted a paycheck. At that time, a receptionist would answer the phone. This was before cell phones or voicemail. When I did get someone on the phone, my knees would be shaking, and I would say, "Hello, this is Gina with Tom Jones. I'm calling to schedule a time for you to meet. What works for you?" Most said, "What does he want to see me about?" And I responded with, "I have no idea. This is my first day, and I really need you to make an appointment with me." Fortunately, the majority of people made an appointment with me. I truly think they felt sorry for me.
When Tom returned, I was excited to share my results. I think he was shocked. His response was, "That's great, and you're hired!" Yes, I already had the job, but he made it abundantly clear that day that scheduling was an important part of my job. Remember, my interview was five minutes with no mention of making calls. But I must admit, once I got the hang of it, I truly enjoyed the challenge.
Over the next month, I continued to call his existing clients, which weren't many because he hadn't been in the business that long, and he was calling the referrals. Because we were both on the phone making appointments, his calendar stayed full. As he continued to ask for referrals, they began piling up. One day I asked, "Should I call the referrals?" He responded, "No way. These are my bread and butter, and if you lose them, I won't grow the business." That made sense. However, they continued to pile up. One day, I just decided to give it a try. How different could they be? On my first call, the person said, "I'm not interested." I had no idea what to say, so I turned it around and said, "What is it your not interested in?" and he hung up. OK, that didn't go as I expected, yet I didn't give up. As with existing clients, the referral objections are usually the same, so I created a script to overcome the objections. From that point forward, about three months into my employment, I made every scheduling call. I share this story to give you the backdrop as to why I think scheduling effectiveness comes from delegation, as well as some of my key tips that get results.
When advisors start their business, they need to do everything: scheduling, appointment preparation, paperwork, client service, and answering the phone. At some point, their appointments begin to ebb and flow because they don't have enough time to get it all done. When the calendar is not full week after week, the business doesn't grow. It's a proven fact that the calendar is the most important tool in every financial office. Whether an advisor wants 5 or 25 appointments, calls need to be made on a daily basis, and someone needs to be available to answer the phone when calls are returned.
Is this how you, the advisor, should be spending your time? Absolutely not! You need to be in front of opportunities, not trying to get them scheduled.
If you're doing some or all of the scheduling, I challenge you to shift your mind-set. You need someone to schedule your appointments, protect your time, filter all interruptions, and intercept all incoming phone calls. And speaking of incoming calls, how many of you have voicemail? Why? Once you have others on the team, they become your voicemail. They answer the phone, so why not let them take care of it? I'm truly surprised when I call an advisor as to how quickly I go into voicemail without someone questioning as to why I'm calling. Your team is there to assist you by taking care of the client. If for some reason they don't know the answer or can't handle the service issue because they are not licensed, they can schedule a time for you to speak with the client. This will maximize your time and eliminate phone tag.
With that said, letting go of scheduling is one of the hardest things for an advisor to delegate, and I'm not sure why. When you call the dentist or the doctor, are they scheduling your appointment? Think of surgeons; they show up and do the surgery. Someone else handles all logistics, including the scheduling of the surgery. Bottom line: You need to be in front of people.
When scheduling becomes a top priority, and the calendar is consistently full, advisors could double their business revenue in one year. I've been in the financial industry for over 40 years; I started at the age of seven. And as I work with advisors across the country, I hear them say:
My clients are used to hearing from me.
Nobody can get the results I can.
The referrer would expect me to call the referrals.
I get it, yet those are just assumptions. Phoning is an art. Yes, you're good at it, but do you have the time to make the calls, the patience to play phone tag, and will you make outbound calls daily? Probably not!
Let me give you an example. I was trying to convince a client of mine to delegate all scheduling. At that time, he gave his assistant a few people to schedule, but the majority of the calls were done by him. He said, "What would my clients think?" I responded with, "You now have a team to support you, to give you more time to spend with them." He finally let go, and his assistant did an amazing job scheduling his appointments. What feedback did he get from his clients? "It's about time you have someone else schedule your appointments."
I have a similar story of an advisor who wouldn't let go of the referrals. He didn't get as many as Tom, but they weren't being called. When I challenged him about letting go, he said, "I'll give her 20 and see what happens." Again, he was amazed at the results, and he didn't hear any negative feedback.
Let go! Get someone in your office trained to make the calls. Outsource the scheduling or hire a marketing coordinator. You want someone who is personable, energetic, capable of overcoming objections, and knows that scheduling is the top priority to keep your calendar full. If you were going to hire someone, I would recommend role-playing as part of the hiring process. Role-playing helps him or her understand how the calls need to be handled. Some will get the script and decide the position is not the right fit. Others will take the challenge. If they do, they have some initiative, and over time, they will become great on the phone.
Again, just so we're clear, when delegating the calls, I'm suggesting all scheduling: second meetings, referrals, prospects, existing clients, etc. Why? When others are making the calls for you, they have the time and an advantage. Because they are not the salesperson, when they get someone on the phone, they are focused on selling the appointment, not a product or service. That's crucial! Your part is to be sure they have enough people, and a variety of people, to call so they can keep you in front of opportunities. When this is happening, your calendar will be consistent, revenue will increase, and the expense you started with will become one that pays for itself.
How many of you have someone in your office making all the calls? Bravo! How many of you are ready to make that happen? Great!
Before I get into some scheduling tips and tricks, I'd like to share some thoughts on working the database. This is clients and prospects. Most of you are sitting on a gold mine. It doesn't matter if you have 1, 3, or 800 people in your system, they all need to be called and nurtured on a regular basis. Yet, most offices cherry-pick. What is cherry-picking? It's when you're only calling the low-hanging fruit or those you know want to do business with you.
Cherry-picking happens for two reasons: You don't have the "time" to make the calls, or you don't feel they will make any changes. As I mentioned in the beginning of my presentation, I grew up in the Granum agency, so we followed the One Card System. The system was to call everyone—clients and prospects—at least two times a year. One call was to schedule an appointment, and the other was to touch base and check in. The year I left Tom, we had 800 people in the system, and they were all called twice a year. How much time did it take each day? One and a half hours. I was prepared with my list and focused on scheduling. By doing so, we turned prospects into clients and clients into referrers. This was the golden nugget that grew the business year after year!
I made a call to schedule an appointment or to check in. Most calls were on their birthdays, and then I called again six months later. Of course, it's easy to understand why we scheduled appointments. However, the magic came from the check-in calls. With a simple "Hello, John, this is Gina with Tom Jones. We just wanted to touch base to see if there were any changes or anything we could do for you at this time." Most said, "Everything is good." But every once in a while, I would speak with a person who said, "There's been some changes, so I'd like to get together." Again, this is a client or prospect that Tom didn't think he needed an appointment with. The breakthrough for me was when a prospect would say, "Gina, you call me more than the advisor I'm working with, and you sure are persistent." My response, "Just think of what it would be like if you were our client." Again, this is how prospects turn into clients. Those check-in calls also helped me build a unique relationship with them, and because I called often, they called me back!
To turn prospects into clients, they need to be cultivated. To keep the clients engaged, they need to be reviewed on a yearly basis. If you're not doing that, why are they in the system?
With a great marketing coordinator and a routine system to work the client base, we now have to maximize your time. There are two decisions you need to make: how many appointments do you want and what type of appointments—second meeting, referral, existing client, COI, etc.? Most advisors are clear about the number of appointments but not the type. I think the type of appointment is more important than the number of appointments.
When I'm helping people maximize their time, I have them create an Ideal Week. In my example, this advisor would like twelve appointments, two second meetings, two referrals, two prospects, five existing clients, and one COI. [visual] You can also see the appointment time slot is defined within the week. In other words, the day and time of day is what he wants in a perfect world. That does not mean it will always work, but if you have someone scheduling your appointments, he or she needs to be clear about your preferences to make that happen.
As a side note, you can also see the additional time planned out for key things the advisor needs to do: team meetings, appointment prep review, time for staff questions, email, and even some time to delegate after a meeting. Is this possible? Absolutely! It takes an average of eight weeks to be in control of your time and master the Ideal Week one week at a time. I know it works!
So, how do we get that calendar consistently filled? I have some ideas relating to the scheduling process for you and/or your marketing coordinator. If you follow the system on a routine basis, these small tips have a huge impact. As I'm sharing this, I'm going to assume you have a marketing coordinator. There are six key steps within the process:
One: Develop a routine calling system. Again, most advisors cherry-pick their CRM system, and that's where opportunities get lost. If they are all in one place and you code them as A, B, or C, you can then determine how often you want to connect. Some advisors will connect with the As quarterly, the Bs semiannually, and the Cs yearly. How often you connect is up to you, but having a system is the key. Because I called everyone—prospects and clients—every six months, here's what I learned. Because we were actively connecting by phone, we had business growth every year without any marketing expenses. We worked the database, Tom continued to get referrals, and we did not let the prospects fall through the cracks.
Two: Once you identify how often you want to keep in touch, the next step is printing a list. I like to suggest that the marketing coordinator do so around the 22nd of each month to be prepared for the following month. Once the list is printed, the marketing coordinator must schedule a time to review the list with his or her advisor to determine the outcome—an appointment, a check-in call, or to send an annual review letter. If the marketing coordinator hands the list to the advisor, it may sit on his or her desk. The coordinator needs to be ready for the following month with fresh names, and by reviewing the list together, cherry-picking doesn't happen. As a scheduler for 17 years, I know the value and outcome from making those routine calls. The consistency paid off.
Three: The marketing coordinator will confirm appointments before making the outbound scheduling calls. Therefore, if someone needs to cancel, the marketing coordinator might be able to schedule someone else in, if a lot of prep isn't needed. Also, when confirming, the language should be more of an assumption. Example: "We look forward to seeing you tomorrow at 10:00 a.m." I've trained many marketing coordinators over the years, and they usually said, "We have you down for tomorrow at 10:00 a.m. Does that still work for you?" When you're asking a question, it gives them an out versus the assumption that it's going to keep.
Voicemail needs to be handled a little differently. I would suggest: "Hello Sally, this is Gina with Tom Jones's office. We look forward to seeing you tomorrow at 10:00 a.m. in our office. Again, the address is 123 Free Street, Suite 201. Please call me at 555-5555 to be sure you received my message." This voicemail message is especially important with referrals or prospects.
Two additional thoughts: If someone were a no show for an appointment, I would call his or her office five minutes after the time of the appointment. If you get voicemail: "Hello Sam, this is Gina with Tom Jones. I'll assume you're on your way for your appointment. If not, please call me at 555-5555." If he or she answers: "Hello Sam, this is Gina with Tom Jones. We have you down for 3:00 p.m. today. Did you forget about us?" Either way, people wait too long before they reach out again, and we need to keep that sense of urgency.
Four: Prioritize the calls before calling. It's easy to get existing clients on the schedule, so focusing on the second meetings, referrals, prospects, seminar leads, etc. before calling existing clients will help build the balance you want in your Ideal Week.
The check-in calls I referred to can be done in the afternoon. Again, these calls are very valuable, and the objective is to connect with them, not leave a message. In other words, when calling to check in, the marketing coordinator would still leave a brief message to get a return call. If the marketing coordinator left a message stating he or she wanted to touch base to see if there were any changes, maybe 10 percent of them would call back. However, when you get them on the phone, the coordinator will continue to build rapport, ask the questions, and, who knows, there may be an opportunity.
Of course, making outbound calls brings objections, regardless of who is being called, so language is important. I've seen advisors give their marketing coordinators language that is a paragraph long. This makes the coordinators uncomfortable and unprepared for questions asked of them. I like to keep it simple. The key to the call is engagement, overcoming three objections, and asking open-ended questions. I refer to a call as a "fun game of verbal ping-pong." The call needs to be quick, and, when overcoming an objection, you want to get the ball in their court as quickly as possible with an open-ended question, such as, "How does your schedule look?" "What time of day is best for you?" or "What day of the week works for you?"
Here's an example:
Me: "Hello, Sam, this is Gina with Tom Jones. How's your day going? I'd like to schedule a time for the two of you to review. How does your schedule look?"
Sam: "I don't want to make changes."
Me: "We didn't assume you did. However, Tom would like to have an overall review and bring things up to date. What day of the week works best for you?"
Sam: "Everything is up-to-date."
Me: "I understand. However, it's been awhile, and Tom wants to reconnect. When might be a good time?"
Sam: "I'll get back to you."
Me: "Great, if I don't hear from you, when should I reach out again? Again, it's important that we review."
Open-ended questions invite conversation. If it's a closed question—Can you meet on Tuesday at 10:00 a.m.?—the answer could be no, which is hard to rebound from. Of course, once they are open to a meeting, the marketing coordinator will then pinpoint the day and time based on your week.
Five: Make calls by 9 a.m. daily. This is critical to ensure the calls get done. It's so easy to earmark time and then get sidetracked with interruptions that eat away time. By calling in the morning, people also have more time to return the call within the day. The average advisor wants 15 appointments per week. To make that many appointments, the marketing coordinator needs to make about 17 dials per day. Again, the list is reviewed for the scheduler to be ready to make fresh calls the following month with the clients and prospects. Additional names will be your referrals, second meetings, COIs, etc.
Six: I have two ideas regarding messages. The first is to leave brief messages. Most people leave a long-winded message. In fact, they talk so long, the person on the other end deletes the message before getting to the punch line. Or, another message is more like this, "Hi, Sally, it's Gina with Tom Jones. I'd like to schedule a time for the two of you to review. Please call me at 555-5555." When she hears this message, she may not return the call because she doesn't want a review or she is too busy to meet at that time. Either way, most don't call back, which is the biggest obstacle we all face—getting returned calls.
The second is to leave a message every three days to create a sense of urgency. The average marketing coordinator leaves a message on a Monday and then waits for seven to nine days later to try again. That's too far out, and, surely, to the end recipient, it doesn't seem important if he or she even remembers the first message from a week ago. By leaving consistent messages, you will get more reaches, which again turn into appointments.
I have suggested this to many, and when they follow the plan, they are amazed as to how many people return their calls. In my early days of scheduling, I left several messages because I didn't know any better. However, as time went on, and because I was persistent, when I made my calls semiannually, I didn't need to leave more than two messages; they knew I wasn't going to give up.
Here are some examples for a three-message sequence for an existing client.
First message:
"Hello, Sam, this is Gina with Tom Jones @ XYZ Financial. Please call me at 555-5555. I look forward to speaking with you."
Second message, three days later:
"Hello, Sam, this is Gina with Tom Jones. I know you're really busy; however, I just need a couple of minutes of your time. Please call me at 555-5555. Have a great day."
Third message, three days later:
"Hello, Sam, it's Gina again with Tom Jones office. I've left you a couple of messages and haven't heard back from you. Are you receiving them? Please call me at 555-5555, so we can connect."
To summarize, the system flows like this: Let's say it's the first Monday of the month and the marketing coordinator has 60 names on the list of prospects and clients. He or she would start by calling 17 people from the list that day and then do the same on Tuesday and Wednesday. So a total of 51 names have been called in a three-day period. On Thursday, the marketing coordinator would reach out to anyone who didn't return his or her call and leave a second message. This will continue until a person has been called three times. If the person doesn't call back, the marketing coordinator will review the names with the advisor to determine the next step. When that happened with me, I would send a handwritten note to the clients—we didn't have computers then—and say, "Hello, Sally, I've left you a couple of messages and didn't hear back from you. Is everything OK?" I signed my name, with Tom Jones and my phone number. Surprisingly, for every ten notes I sent, at least eight would call me back apologizing for not returning my call. Consistency builds results, and results increase revenue.
I know I've shared a lot with you today, yet my ideas are simple steps to implement. I strongly encourage you to take the time to tweak your existing scheduling process, believe in the value of truly working your client base, build an Ideal Week to have a consistent variety of appointments, and delegate all scheduling to someone else. I guarantee your business will grow.
If you'd like to rate your current scheduling effectiveness, you can complete our scorecard online at knowyourscore.coach/scorecards/ba4746ec9742d9c5a6fb2fb599f25dd3/surveys.
We'd love to see your score!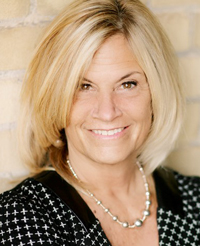 Gina Pellegrini has been in the industry for more than 40 years. She started as an assistant to a producer out of Chicago, where she developed systems and language to effectively schedule all of his appointments. After 17 years, she saw a niche to start her own business to help advisors and their team. Today, the business focuses on training individuals to become rock star schedulers, and consulting around teamwork and office efficiencies. Pellegrini is also the author of six books about hiring, communication, scheduling and teamwork.