Relevant, essential, meaningful
Randy L. Scritchfield, CFP, LUTCF
Looking ahead to joining the MDRT Executive Committee, Scritchfield expresses why he feels humbled and honored to represent MDRT membership. He assesses the many ways the organization has been essential and meaningful to members and their clients and his eagerness to help MDRT remain relevant into the future.


---
Click here to find more from the 2018 Annual Meeting
---
I appear before you today both humbled and honored.
I am humbled to stand on this stage and accept this opportunity, especially as I reflect on the men and women who have preceded me.
I am honored to have the opportunity to represent all of you—the members—over the next five years and continue to work for you in this—my latest MDRT volunteer assignment. Thank you for allowing me this opportunity.
You—all of you—MDRT members here and around the world are leaders. You are leaders in your communities, in your businesses, in your companies, and in anything you become a part of.
How does one lead a group of leaders?
It has been said that you don't. The best that one can do is to represent them well. I hope to represent you well in the coming years.
For many years, if asked to describe MDRT as an organization, I have done so using three words: relevant, essential, and meaningful.
MDRT is relevant as an organization, essential to us as businesspeople, and meaningful to us as individuals.
Our organization has always remained relevant in an ever-changing world. While insurance and investment products and everything else around us has changed, we, as an organization, have changed and adapted as necessary. It is certainly true that the founding members could never have envisioned our world today. Indeed, the leaders of our organization, just 20 years ago, could not anticipate what we are dealing with today, but the important thing is that, as an organization, we have changed and adapted, staying relevant while staying true to our principles.
And there are no better examples of remaining relevant than the recently developed strategic plan that is being implemented. Just as our predecessors in leadership, we do not know what the future holds, but, with the "Northstar" guidance that the strategic plan provides, we are better prepared to adapt to the future, and we must continue to have the organizational courage to make the necessary changes when needed.
I recently read that a great leadership group consists of people of different opinions but similar principles. That can be said about not only our leadership over the years but MDRT's entire membership.
Different styles—shared principles.
For almost 100 years, MDRT has remained relevant in an ever-changing world.
Because we are and will remain a relevant global organization, this is a very important time to be a part of MDRT.
MDRT is essential to us as businesspeople, whether we are first learning about sales techniques to help us help more clients or hearing the principles of time management and the value of a business plan to transform from a salesperson to a businessperson. What we hear from this stage every year, in the Focus Sessions, ConneXion Zone, and, perhaps most importantly, over a cup of coffee or at dinner with other members, has helped each one of us become better in helping our clients address the competition: dying too soon, living too long, or becoming sick or disabled.
For almost 100 years, MDRT has remained essential to anyone in the world serving clients in their insurance and financial needs and helping members transform from salesperson to businessperson.
Because we are essential to advisors around the world, this is a very important time to be a part of MDRT.
And MDRT is meaningful to us as individuals. Through the Whole Person concept, we have been introduced to the importance of a balanced life. We have learned and experienced that we make a living by what we get, but we make a life by what we give. It is often through the work of the Foundation that we have brought more meaning to our lives but—more importantly—to the lives of others in need.
Look at the lives we've touched.
Perhaps the most meaningful experiences have come when working side by side with fellow members. While helping to pack a million meals or working a shift here at Registration or at a Committee Meeting, we all have built relationships with our fellow members.
Lifelong relationships. Study groups have formed. We visit each other in our hometowns, across the state and around the world. We have all grown together.
Shared experiences with a common goal and shared principles.
That is the most meaningful aspect of MDRT for many of us.
My first volunteer assignment for MDRT was in 1986. The meeting was in Orlando. My partner and I volunteered at the MDRT Video Club table. This was a library that allowed members to watch videos of prior Main Platform presentations. You would watch it, perhaps show it at an agency meeting, then return it and get another one.
I don't remember how many memberships we sold, but I do remember fondly my partner who worked it with me. You see, it was a guest meeting in 1986, and working with me was my partner in business and my life—my wife, Kathy.
Sweetheart, thank you for being part of this MDRT experience since the beginning, and thank you for being by my side for this next chapter of our journey.
For over 30 years, I have had the opportunity to serve on many MDRT committees. I can never repay what I have learned and gained from you in those experiences, but I welcome the opportunity to try to repay you by accepting this—my latest committee assignment—to serve on the Executive Committee of MDRT.
I promise that I will do all that I can do to help MDRT remain relevant as an organization, essential to us as businesspeople, and meaningful to us as individuals.
There has never been a more exciting or more meaningful time to be a member of MDRT.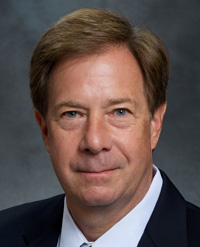 Randy L. Scritchfield, CFP, LUTCF, is a 34-year MDRT member with three Court of the Table and 18 Top of the Table honors and the 2018 Nominee to the MDRT Executive Committee. He is founder and president of Montgomery Financial Group, a retirement planning firm in Damascus, Maryland. Scritchfield currently serves as Divisional Vice President of the Guided Development Division. His extensive MDRT volunteer history is highlighted by service on MDRT's Management Council six times.