Overcoming difficult times
Márta Borbala Király
How did Király transition from considering leaving the financial services profession to success in just 18 months? She shares five lessons that helped her focus on making positive changes in the future and how she benefited from these adjustments.


---
Click here to find more from the 2018 Annual Meeting
---
Have you ever had a bad day? I have.
Did you have a good childhood? I didn't.
I was a child of an alcoholic father with all the challenges that go along with that.
Have you ever felt like quitting altogether? I have. March of 2016.
Having spent many successful years in the business, I reached a low point. I was facing a crisis in my private life and in my business life. It was so bad that I was seriously considering leaving the financial services profession and starting a new career.
Stay with me; there is hope!
It took me just 18 months to raise myself from failure to success, but it was my indirect association with MDRT at the time that changed the course of my life. Along the path to success, I learned five very important lessons that I will share with you today.
The first lesson is to make a decision.
You can't go in two directions at the same time. Either you want it or you don't. You need to make up your mind and decide to stand up from the terrible situation you are in. However, you need to decide it not only in your mind but also in your heart. You need to want it with all your thoughts and all your emotions, because that is the start of the journey.
The second lesson is to have a mentor.
There is an African proverb, "If you want to go fast, go alone. If you want to go far, go together."
I made my decision to go far.
In 2016, I was facing personal and professional difficulties. I was burned out and even struggled to meet the minimum production requirements. That was the moment when I wrote an email to Sandro Forte about my challenges, and Sandro offered to become my mentor. By implementing his ideas day by day, in eight months' time I managed to qualify for MDRT, and my first MDRT Annual Meeting was a life-changing moment for me.
It is fantastic that MDRT members and aspirants have the chance to have a mentor. Sandro was incredibly inspirational for me. Everything he advised me to do always worked. I learned to have a business that I run instead of a business that runs me. I learned about special prospecting; how to have a better, unique client service; how to work with very wealthy clients. My business is totally changed now. It was a very successful journey with Sandro, and I'm so grateful. Thank you, Sandro!
My third lesson is to be committed.
Without commitment, I wouldn't have come so far. It is very important not only to set our goals but also to be committed to them. When you start implementing new ideas, the results will not come immediately. You need to repeat the process again and again. I was in an environment where my colleagues kept doing the activities that I had been doing before. Sometimes it was very difficult because I heard about my past activities from my colleagues all day long, but I was the only one doing something absolutely new, and I needed time for the results to show up. If you are committed to the process, the results will always come (just be patient . . .).
My fourth lesson is to focus on your strengths.
In my experience, when you are in hard times, it's important to assess the situation that you are in and, of course, to discover what needs to be changed, but it is also important to find the things you are incredibly good at. When you are having a rough time, take an inventory of those positives, and here comes the important part: Write them down.
My fifth lesson is a mental activity.
I am a great believer in the importance of how our mental state is when we sit in front of a client and, of course, in our personal life as well. So let me share one practice I do. Once a week or even once a month, please write down the answer to this question: If I am the most important person in my life, what do I need to feel OK? You can cover different areas, such as family, health, spirituality, and finances. This will help you to think as a Whole Person as well.
And there is one bonus idea, and it is the most important.
It is this: Do it from your heart! We have one of the noblest professions. We save families, we help children get educations, and we help people create the retirement of their dreams. The only way to do it is to do it from deep inside your heart, because what comes from here, always works. I guarantee it.
For me, it was March of 2016. What's your March? You don't even have to wait for March to show up.
Make a decision. Find a mentor. Commit to your goals. Focus on your strengths. Be in the right mental state. And if you do all that and do it from your heart, you will make a difference.
Bad days, bad childhoods can either be an excuse or a motivator. Choose well!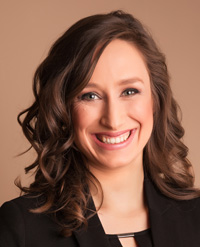 Márta Borbala Király is a two-year MDRT member who has been in the financial services profession for a decade. She is a senior key account manager at Aegon Hungary Investment Fund Management, working primarily with business owners and corporate executives with a focus on wealth management and preservation, saving plans and retirement planning.