Our future is so bright we gotta wear shades
James D. Pittman, CLU, CFP
After a year as MDRT President, Pittman has a lot of reason to both look back and look ahead to the organizations next initiatives. Here he offers a look into his presidential year and many of the reasons the future looks so bright for MDRT.


---
Click here to find more from the 2018 Annual Meeting
---
I'm happy to be here, and I'm so excited about our future in this industry. Here we are in Los Angeles, LA, where we have an abundance of movie stars, sports cars, and sunglasses. And every person in this room right now better put on their sunglasses, because as the old rock song by Timbuk3 says, "The future's so bright, I gotta wear shades!"
We are all here to grow our business, help our clients, and increase our success. Whether this is your very first Annual Meeting or your 30th, we can all learn new information and strategies. I'm proud to say this is my 44th Annual Meeting, and it has been an honor to serve as your President this past year.
Mark Hanna told me how gracious, warm, and welcoming our members are as we travel the globe. But the royal treatment we received was way beyond my expectations. We experienced the best MDRT tour guides showing us the best of their countries. Our MDRT members are some of the most gracious and tireless people I have ever met. Our lovely hosts in Seoul spent a week with us in meetings and showing us their beautiful city. The palaces and temples were exquisite. At the end of the week, they even wanted to spend Sunday with us. We had to remind them of the Whole Person concept and said we thought it would be nice to spend Sunday with family. They finally agreed.
I am briefly going to tell you about all of the exciting initiatives the leadership is working on. Then let's take a look at MDRT's bright future and what's coming up in our industry all over the globe. I'd like to end by sharing a few of the lessons and highlights I've experienced as President this past year.
State of MDRT
When it comes to MDRT, our primary goal is to continue to be the Premier Association of Financial Professionals in the world.
Let's start with where we are today and what we have accomplished in the past year. What an amazing year this has been so far. We have a record number of members at over 66,000 representing 72 countries. We also have a record number of Annual Meeting attendees at 15,318, making this a sellout year. We appreciate all of those who are here, but remember, if you are ever unable to make it, MDRT Membership offers year-round value that offers innovative ideas that empower your growth.
First, let's talk about your mdrt.org member profile. We have streamlined our website to make it easier for you to access even more content and offerings than ever. MDRT membership is all about development. And what we have learned is that sometimes, to do your best, you need a little guidance or coaching.
We will begin to gather much more information about you, so you can obtain content that is relevant and timely. We are working on creating resources in one place on mdrt.org that can guide your development with offerings to help you join a study group, find a member guide, or get some coaching. The first step is to log in to mdrt.org and fill in as much detail as you can in your member profile so that everyone in this room will know what you bring to this Round Table. I would like all of you to click on the "my MDRT" tab and try this, either before you leave this meeting or as soon as you get home.
Next let's talk about content. What makes MDRT such a rich organization? The content and ideas developed and shared by all of you. This award-winning content is delivered to you in a variety of mediums convenient for you.
First there is the Round the Table magazine, which is delivered to you bimonthly in nine different languages, filled with articles, tips, and tools.
The Resource Zone is full of searchable archives of past meeting videos, original video series showcasing members' secrets to success, as well as audio presentations and articles. It's a generous mix of meeting content, unique content, and language-specific offerings.
The MDRT Blog showcases MDRT members and experts from around the world sharing how they step up their productivity, find inspiration, and discover work-life balance.
You can also subscribe to MDRT's podcast to get how-tos and thoughtful discussions on the go, right from the members who use these ideas to thrive.
A Peek Around the Corner
So now let's take a peek into the future of MDRT and talk about some upcoming initiatives.
MDRT is building a total association app that you can use on a mobile device to access all of your year-round MDRT member benefits while on the go.
We are beta testing the MDRT Academy. This app-based association is for those aspiring to reach MDRT membership and go further, faster, and better. It will help people achieve more, earlier in their career, through best practices. This app will also offer an opportunity for MDRT members, who may not qualify one year, a way to keep connected with MDRT-caliber content and get back to MDRT qualification.
Now, let's talk about meetings. MDRT will continue to provide world-class meetings where members can network, learn, share, grow, and celebrate achievement in an organization that has a strict code of ethics and promotes balance through the Whole Person philosophy and helps you strive for excellence.
We know that it can be difficult for some of you to make it to the MDRT Annual Meeting every year. So as discussed last year, MDRT will now offer the MDRT Global Conference in 2019, which will be held in beautiful Sydney, Australia, on October 3–6. It's open to all members from around the world and offers an experience similar to this Annual Meeting.
There is also the 2018 MDRT EDGE meeting, conducted in English for members from the United States and Canada, in Boston on November 7–9. The content will be locally focused and offered in new and different hands-on and highly participatory ways.
And lastly, through constant strategic planning, we are working to develop new channels for volunteerism and local experiences so that you can meet up with a member in your area and contribute to this elite community of professionals. We will create expanded volunteer opportunities for members to gain leadership skills and accumulate experience, to advance through MDRT's leadership structure, ultimately driving toward more global representations and opportunities for engagement at the local level.
A Personal Glimpse into My Year as President
So, as you can see, we have so many wonderful initiatives coming up, and the future of MDRT is very bright. The last four years serving on the Executive Committee have helped me grow and see my future as one that is so bright that "I gotta wear shades."
Frankly, before joining ExCom, I was on cruise control, comfortably making Court of the Table each year, without much effort. I was thinking of working fewer days and traveling more to see our grandchildren. When I told people I was thinking about volunteering for an organization that would require 25 to 40 percent of my time, without pay, they asked why I would do that at my age.
One reason is that I wanted to give back to an organization that had done so much for me, to repay the gift that all of you, and those who preceded you, have shared. When we give away our best ideas and others use them, those ideas live forever; if we keep them to ourselves, they die with us.
What I didn't count on was how fulfilling and enjoyable this journey would be. The last four years have afforded me the opportunity to meet the most amazing people all over the globe who work tirelessly to help create financial security for their clients. I am no longer thinking about slowly fading out of this business. On the contrary, I have never been more excited about the future of our industry and my place in it!
What a wonderful year of meeting incredible MDRT members from all over the globe. I was struck by how warm, welcoming, and gracious my hosts were, no matter where I was. I was honored to be with them and touched by how deeply proud they were of their state, city, or country.
In Mumbai, a long-time Top of the Table member and faithful MDRT volunteer took us all over the city, including to local soap factories and the farmers' market. My wife, Karon, was in heaven at the market with all the exotic food, aromas, and music. Our hosts had so much fun explaining all of the different kinds of spices and cooking methods.
And through all of my travels and meeting hundreds of MDRT members, there are two main concepts that were reinforced for me over the course of this past year. I realized as I traveled the world that even though people speak different languages and have different customs, inside they're basically all the same. They are all basically good at heart, and they do the best they can. They all want to take care of their clients and their families and contribute to the world. It's a simple yet poignant concept that we sometimes forget.
The other concept that struck me was that what we do really matters. Insurance products are similar all over the world because we all deal with the same human condition. Unfortunately, people get sick and people die no matter where you live or who you are. It reminds me of the quote "Hope is not a strategy." It's important to have a plan, and part of that plan includes life insurance and financial planning, whether you are in Dubai or Des Moines.
And now, there are so many people I would like to thank. I would like to thank all of the staff members based in Park Ridge, Illinois, who work tirelessly so that we can have this incredible organization.
I'd like to thank the Executive Committee who is like a family to me. It has been a wonderful journey being with them. I would like to thank the Past Presidents. Two Past Presidents who are especially important to me are Gene Mahn and Guy Baker. I wouldn't be here now if it were not for them. I joined their study group years ago, and they urged me to get involved and volunteer in MDRT, and here I am today.
Which brings me to the volunteers whom I would like to thank. There are 800 to 1,000 member volunteers who are crucial to making these meetings memorable. So, I urge all of you to attend as many meetings as possible. MDRT is based on high-achieving folks helping others through their knowledge, skills, and experience.
I would like to thank Abby and John Mather, whom I met through MDRT and are crucially important to my business. And lastly, I would like to thank my family because no one does this alone. I appreciate your support throughout this past exciting and busy year.
And now, I'd like to share one final snapshot I have in my heart from my year as President. One night in Hong Kong stands out in my memory. Our gracious MDRT hosts took us to a fish market that only locals knew about. I remember picking out fish from this huge tank that was filled with many different types of exotic fish. We dined on the freshly caught fish as we looked out over the sparkling waterfront. The conversation and hospitality were as incredible as the fish. We talked about our passion to take care of our clients and how we feel such joy in knowing how we contribute to their lives. We shared funny stories about our families. And we discussed MDRT and how incredibly meaningful this organization has been in our lives and in our careers. And as the sun was setting over this beautiful city, I thought, This is what MDRT is really about: Being with incredible people who accomplish amazing things and constantly help and enlighten others.
Sharing wisdom and camaraderie with MDRT members from around the world this past year has been one of the highlights of my life. My professional and personal life have been better for the past 44 years because of this incredible organization. I was honored to serve as your President, and I thank you from the bottom of my heart.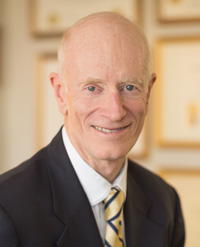 James D. Pittman, CLU, CFP, of Portland, Oregon, is the President of MDRT. He is a 43-year MDRT member with 16 Court of the Table and five Top of the Table qualifications. A Platinum Knight of the MDRT Foundation, he is also a member of its Inner Circle Society and has served on its Board of Trustees. Pittman is founder and president of Insurance Consulting Services Inc., an affiliate firm of M Benefit Solutions.