Life is not just what happens to you but how you react to those events. Okwuchi shares four lessons she has learned over the course of recovering from being one of only two survivors in a plane crash that left her with third-degree burns covering 65 percent of her body.


---
Click here to find more from the 2018 Annual Meeting
---
My name is Kechi Okwuchi, I am a 28-year-old MBA student at the University of St. Thomas-Houston, and a burn survivor/patient ambassador for Shriners Hospitals for Children. I believe that God put amazing human beings at key points in my life and worked through these people to allow me to be who I am today.
Now, I want to share with you four very important truths I try to live my life by since December 10, 2005. Why that date? Because that is the date that life as I knew it changed completely. I hope that as I share these truths, my truths, with you all, that at least one person among you will benefit from them in some way.
My story started in Nigeria on October 29, 1989, when I was born into a joyful home to my wonderful parents.
I had a very happy childhood and a pretty normal Nigerian high-school experience. I was a typical teenage girl, as self-involved as any other. I liked to talk about boys and music and fashion, and I loved hanging out with friends. I was no different from other kids my age.
Then came December 10, 2005. I was 16.
I was heading home for Christmas aboard a local flight with 108 other passengers, 60 of whom were fellow students from my high school. Everything about the flight was normal until about 20 minutes before landing when the plane malfunctioned during its descent into the airport and crashed. It took 107 of the 109 lives on board, including all of the students from my school.
Only two people survived, myself and another young woman named Bunmi, whom I didn't know prior to the accident. I suffered third-degree burns over 65 percent of my body and was immediately flown to South Africa, where they had the equipment necessary to care for the level of burns that I had.
This was how I looked when I was in a hospital-induced coma in the hospital in South Africa. [visual]
From the moment the accident happened, I had very little control over the events that took place in my life, good or bad. The one thing I had absolute control over, however, was my reaction to these events, and that was entirely based on the four lessons I learned over the course of my recovery—lessons about faith and identity, moving forward, taking risks, and one other.
My faith and my identity sort of go hand in hand, really. After the accident happened, I developed a sort of remote relationship with God, mostly through my mother. I got to a point, however, where I was forced to realize that if I wanted any type of healing that went beyond the physical, I might have to develop a more direct relationship with him.
As I began to learn more and more about God, I got curious about my appearance post-accident. I wanted to know how my face looked. I knew my mom was worried about my reaction, and honestly, so was I, but not for the reasons one might think. I wasn't necessarily worried about my features themselves; I was more worried about my reaction to them. How would my new face affect my personality, my self-esteem, and my confidence? How much were those qualities determined by my appearance?
It turned out, not even a little bit! When my mom raised a mirror to my face, and I saw my reflection for the first time since the accident, I saw the scars and the disfiguration, but I could still see Kechi in there. I can't explain the amount of relief I felt in that moment because this meant that I could still be me and act like me even though I looked so radically different.
I realized then that there are internal and eternal virtues that I believe God put inside each one of us that are way more important than our physical forms. And so, I was able to define my identity by these virtues because, since I knew that the physical did not matter to God, it did not matter to me either.
So this was my very first truth: My scars and my physical form do not define me. They do not represent my entire identity. Not all scars are obvious like mine; some people have invisible scars that hurt the heart and the soul. But the strongest people I know are those who have allowed their scars to become part of their story, part of their process of becoming better versions of themselves.
My second lesson came as I recovered from the depression of losing so many friends in that plane crash. I asked myself, Will I be able to move forward from this crippling pain, and if so, how?
I learned the truth of the accident four months into my treatment in South Africa—that only two people survived, and all 60 students from my school were gone. I cried for two days straight. I cried myself to exhaustion. Then I'd wake up and cry some more. It was a horrible, helpless feeling of deep grief knowing that I had lost so many close friends. My mom and grandmother prayed for me and comforted me, and they told me that no one knows why these things happen, and I thought to myself, That is so true. Why ask why? As far as I was concerned, no reason would ever justify the loss of so many lives. Instead of spiraling into "whys" and "if onlys," it would serve me better to try to draw strength from the memories of the departed, to live my life in a way that would make them and the loved ones they left behind proud. This was how I decided to face life henceforth, how I decided to move forward.
This was my second truth: For me, moving forward means acknowledging the existence of a hardship in my life, whatever form it might take, and making the choice to let it strengthen me rather than stunt me. It is definitely a choice for me. I tell myself, Yes, Kechi, it's very OK to grieve and to mourn and to cry and feel pain over a difficult situation, but also understand that at a point, you have to decide whether or not you want to stay there.
Treatments continued in America, and as I lived my life, I tried to remind myself of my two truths, and I had the best support system to help me.
I eventually restarted high school and got into college on an academic scholarship, and oh my God, academic excellence was so important to me. I'll tell you why.
Part of it was that I wanted to prove to myself and to others that my faculties were fine. I didn't want any handouts or shortcuts. Becoming a burn care patient at Shriners Hospitals for Children in Galveston had shown me that there were people, kids, toddlers even, who were much worse off than me, so I had no right to use my injuries as a crutch or a reason to not work just as hard for that A as any other student. This calls to mind something that acclaimed Nigerian music producer Cobhams Asuquo said during a recent talk that really struck me: "Merit will take you much further than pity ever will." Wise words, indeed. I did not want anything I did not earn.
My second reason for striving so hard for academic excellence was because, to me, my degree was not just for me. It was for the 60 children who lost their lives in that plane crash, who didn't get the second chance I got to grow up and pursue their dreams. I wanted to make their parents proud of this life that was spared that day. I knew they were watching me, always reaching out to me to encourage me and pray for me. I wanted to represent something positive in a situation that had been so horribly negative and full of pain for them.
I was so happy and humbled when I was able to graduate in the top 10 percent of my class summa cum laude with a degree in economics in 2015. It was my ultimate tribute to the 60 angels.
Fast-forward to 2016, when I started my MBA program at my alma mater. This was around the time I learned my third truth, which is about taking risks.
I realized that if we wait for the fear that comes with taking risks to go away before we do something new, we would never do the new thing. Since there is fear one way or the other, you have to choose your fear.
For me, I'd much rather be afraid while doing the thing, than be afraid of doing the thing. Choosing your fear is a great way to avoid "what ifs" and "if onlys."
Take my experience last year; I was a contestant on the TV show America's Got Talent. AGT was the purest form of risk I have ever faced in my life, and this is coming from someone who has had over 100 surgeries! It was something I would never have done if my friend didn't push me into it. She signed me up without telling me because she knew I would never do it myself. Next thing I knew, I was getting a phone call from an AGT scouting agent, and then a few months later, I was on national TV!
I still can't believe it. If my friend hadn't done what she did, and if I hadn't taken the risk to follow through, I would still be convinced that my talent isn't competitive enough. Truthfully, I still have trouble believing that it is, and I fight voices in my head telling me that I only got so far because of my story. This ties back to me not wanting anything that I haven't earned, and it was a serious personal concern while I was on the show. But I ended up becoming one of the top 10 finalists on that show because a friend saw something in me that I struggled to see in myself.
The truth is that we, as individuals, hold ourselves back more than anyone else ever can. We are our own worst critics, and we talk ourselves out of taking risks and exploring opportunities better than anyone else can.
For me, this meant that I needed to get out of my head and realize there was a bigger plan at work here. I believe God turned that AGT stage into a platform for me to share not only my gift but also my story, with a global audience, in a way that would hopefully impact people positively.
I would be lying if I claimed that this was the trajectory I saw my life heading toward, but I can tell you that when you take risks and choose your fear, amazing things can happen. This leads me to share my fourth and final truth: The best things in life happen outside your comfort zone.
My talent on America's Got Talent was singing. To conclude, I'd like to share one of my favorite songs with you all. It's called "Conqueror" by Estelle, and it was actually my finale performance on AGT. I hope you enjoy it.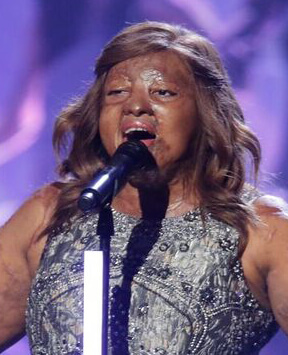 Kechi Okwuchi is a Nigerian singer and motivational speaker. She was one of the two survivors in the Sosoliso Airlines Flight 1145 crash in 2005. She overcame her physical, mental and emotional obstacles to graduate summa cum laude with a bachelor's degree in economics and marketing in 2015. In 2017, she successfully auditioned to participate in the television show "America's Got Talent" and eventually was the second place winner.