Marketing magnetism! Clarifying your unique value to drive new business
Maribeth Kuzmeski, Ph.D.
Even if clients are happy with you as an advisor, they may not know all the things you do in exchange for the fees you charge. What are the best ways to communicate your value to clients and prospects and make yourself memorable to everyone you help? Kuzmeski shares cost-effective strategies that can be implemented immediately to get people talking and generate new and continuing business for your practice. She will explain how the words you use are the most important part of business development, from what you say to the presentation of your website to the effectiveness of your marketing.


---
Click here to find more from the 2018 Annual Meeting
---
What's the most powerful way to bring in new business in the financial services industry? It is, and it always has been, referrals or introductions from other people.
How many of you believe that your clients can describe what you do with precision? How many of you can describe your value proposition with precision?
By the way, if we do not have a powerful value proposition, how can we expect our clients, who are out talking about us, to have a great way to discuss what we do with others? And, in financial services, due to the nature of the business, we still primarily get new business from referrals. There is a disconnect.
Today, it is critically important to have a strong, powerful, and memorable conversation about what you do. Think about it. There are a lot of conversations going on about the financial services profession today. And these conversations are going on without us. In the United States, for instance, the government feels like it needs to regulate our ability to be in the clients' best interest—but your clients already believed that you were acting in their best interest. It's very confusing. And then, J.D. Powers came out with a study that found that investors who have more than $1 million invested do not want to pay fees. Well, it is not that they don't want to pay fees—they don't know what they are paying for! If I'm getting a lot of value, I am likely OK with paying. If I don't think I'm getting value, I certainly don't want to pay. It's like if you're going to buy a Mercedes-Benz, and you go down to the dealership and they offer you a Mercedes-Benz for $65,000, but they don't tell you anything that is going to be inside of the car, nor do they let you look inside of the car or take a test drive, how many of you would buy that car? I want to get in the car and see the value for myself. I want to drive it, listen to the sound system, and check out the air-conditioned seats and all the bells and whistles in the car, and then I will decide if I want to exchange my money for this car.
Perhaps we don't define our value because it's hard to differentiate the products that we are selling. But it's so much more than just the products. It's the advice, the years of experience, and the intellectual capital that we bring to the table. I believe that today we need to change the conversation about our industry and what we do ourselves. We can't do anything about what the government is doing, and we can't control what the media are saying. The only thing we can control is what we say about what we do. Today, we need to really focus on changing the conversation and having an improved conversation for our sake . . . for all of our sakes.
Let's take an example of another industry. Let's look at sports. Are you a sports fan? Think of your teams.
Some of those teams are losers. Why would you like a team if it wasn't a winner? I think this goes to what it means to be a fan. If you are a true fan of a team, it can lose, it can win, and you will stand by it. That's what fans do. So how can we get more fans of our business? What can we learn from sports?
I am a Green Bay Packers fan. But I'm not a fan of the Green Bay Packers because of this guy, Aaron Rodgers, who plays football. He's a pretty good player, but I'm a fan for a much deeper reason. I'm a fan of this team because of this woman, my red-haired grandmother. [visual]
I was her first-born grandchild. What do you get as a first-born grandchild? That's right—you get everything! That's what I got from my grandmother—all of her time, attention, and focus. When I was with Grandma, it was all about me! I don't know how many relationships you have that are all about you, but since Grandma was one of my very first relationships in my life, I naturally thought that I'd have lots of relationships that were about me. But, in fact, Grandma was my first, and now that I'm getting older, I realize that she will probably be my only relationship truly all about me. It was a unique and special relationship.
My earliest memory is sitting on my grandma's lap watching the Green Bay Packers play football. My grandma was a huge Green Bay Packers fan! She would school me on the rules, the positions, the players, and the calls the referees were making. At halftime of every game that we watched together, she would hand me a piece of paper and a pen and say, "It's pop quiz time." She would literally make me break down the offense and the defense from the first half of the game . . . and I thought it was normal. I had no idea that other little girls weren't breaking down the offense and the defense with their grandmas! But you know what I never said to my grandma? I never said no. If she wanted me to watch football with her, I was going to do it because of the relationship that we had. Today, when I get the opportunity to go up to Lambeau Field in Green Bay, Wisconsin, to watch the Green Bay Packers play football, who is it I'm thinking about as I walk into that stadium? It's all about my grandma. You see, it's not about the winning or the losing. Being a fan is about the way you feel—not the tangible. It's not about the products or tactical strategies. If we want more fans of our business, we need to help them feel differently about us.
This is what creates the marketing magnetism that is at the core of a great financial services business. They attract people to them. So let's talk about how we all can get just a little better at doing this—creating marketing magnetism in our businesses, helping people to feel differently about us, and changing the conversation they may be having about us.
Let's discuss four absolutes for creating marketing magnetism in your business.
The first absolute is to exploit your uniqueness. When I walk into a financial professional's office to discuss his or her marketing, I typically start by asking, "What is your competitive advantage?" and "What is unique about you?"
Oftentimes, I receive in return a blank stare that says, "I don't know." Truthfully, it is a hard question to answer. We all sell similar products and services, so it's hard to say that we're doing something totally unique. But the fact is, we think that the products that we're selling are what defines our uniqueness. But it can't be in most cases.
How do most financial professionals differentiate themselves? If I asked, "Why should I do business with you as opposed to the firm across the street?" you may respond, "Because we are better." A little bit better, significantly better. But even if you don't use the word better, you may be insinuating that you will be better. And the problem with that is, people don't actually believe that you will be better. We've all been burned by the promise of "better" before.
Think about it—you are at the grocery store, you walk down the laundry detergent aisle, you look up, and there's a jug of Tide detergent. You see on that jug of Tide detergent a star, and inside the star it says, "New and Improved." Do you say to yourself, Well, finally! Finally, they have fixed the Tide detergent! And do you quickly grab the detergent, buy it, and rush home to wash all of your laundry because you are so sure that this detergent will be better? No. You don't even glance at the Tide detergent for a second because you don't believe it's actually going to be any better. We've all been burned by the "better" marketing tactic before.
We can't allow our biggest argument to be a "better" statement. What we need to be is different. Now, I don't know how you were raised, but I was raised to not be different. Don't stand out. Do what everyone else is doing. Get good grades. Don't go outside the lines. But the problem with this in financial services—and, by the way, I'm not talking about going outside of compliance—is that we become a gray suit against a gray wall where no one can see us, and they can't find us when they actually need us. And that's a big problem in this industry. We have to find a way to stand out and be memorable.
I did research on this topic of differentiation. I wanted to find a business that is considered to be a commodity. Because if a commodity-level business can differentiate itself, then it's likely a financial professional—who is not a commodity—can do it!
I found a chain of gas stations in Texas called Buc-ee's. And I imagine that for those of you who have not been to a Buc-ee's, you have likely never been to an extraordinary gas station. Because, beyond Buc-ee's, I'm not sure extraordinary gas stations exist.
Buc-ee's has actually created a cult following around its gas station chain. I asked the CEO, "How did you create this type of popularity and following around your chain of gas stations?" He told me that a few years ago Buc-ee's asked its customers what they like least about gas stations. What do you think people like least about gas stations? Right! The restrooms!
Now, the thing about this is, Buc-ee's doesn't sell restroom service. It is not a core offering. It sells gasoline, candy bars, and coffee. But when Buc-ee's found out that what people really want is for the gas station to clean up its restroom, that is exactly what it did. It renovated all of its locations across the state of Texas, more than 40, and it put in these wonderful huge restrooms. They are nicer than the restrooms at the Ritz-Carlton or the Four Seasons!
The very first time I went to a Buc-ee's, I remember going through the gas station to get to the back where the restrooms are when I opened the door to the women's restroom and stopped cold. In front of me there were couches and a fireplace and women sitting around reading! I thought to myself—for those of you who are a little older like me, Did I open the door to the Twilight Zone? Women don't sit around in gas station restrooms. We hold our breath or breathe out of our mouths, but we don't hang out.
The CEO of Buc-ee's told me that he knew they had what people wanted, but he didn't want to wait around until word got around slowly. He shared that Buc-ee's decided to exploit its uniqueness. So it put up billboards across the state of Texas that say things like this: "Only 262 miles to Buc-ee's . . . you can hold it." And if you think about it, if you're driving along the long roads of Texas and you glance up and you see this billboard, you might think to yourself, What? And then you get it. This is actually what you want; it is not what you need.
Oftentimes in financial services, we sell the need. You need life insurance, or you share with people that they need long-term care insurance. The problem is—they don't want it. And the best way to have someone buy something is when they want to do it. So, what do they want?
There is probably one thing they actually want, and it's also what is unique and compelling. It is you! They want someone who's going to take care of them, someone who is going to help them, someone who's going to help protect them. They want someone like you. But how do they know that's who you will be? Did you know that 80 percent of the reason that someone chooses to do business with you is because of . . . you? So do we talk about ourselves for 80 percent of the time? No. But people need to know more about what it will be like to do business with you and who you will be.
And there is one way that we can start to explain what is unique about you. Answer the question "Why are you in this business?" Because the answer to that question leads to "Why you?" Tell them why you are in this business and what the meaning of this business is to you. That will help you explain your true uniqueness. No one has your story.
My story is something I share on my business card. It is a football business card. As I mentioned, I was raised in part by a grandmother who loved football. So when I named my company, I called it Red Zone Marketing in the spirit of my grandmother. I figured that if I was going to be successful at all in this business, I needed her with me. I also realized that, as I shared my story about my grandma, it was the one thing that people remembered about me. It's also why I wear red. Well, when the name of your company is Red Zone Marketing, you really have to wear red. But people would never remember my last name, Kuzmeski. They can't spell it or ever be able to Google search it. In fact, when I share my story and wear red, we find that the most searched term for my firm is actually Red Zone Lady. I really don't care how people remember me, just that they do. And it is the same for you. It is not what you do that is memorable. It is your story. By the way, if you have your own football business card, you have to put your height and weight on the card. After weight it says, "Without the pads," which is a football thing. My husband, after 24 years of marriage, says that it should say, "This week," after my weight. Now, that's not very nice, but hey, I told him that no one ever put me on the scale before I got my own football business cards printed up. I put whatever weight I wanted on my card, and that, by the way, is not the real weight!
The second absolute is to brag on your benefits. How do we talk about what it is that we do in a way that is powerful and meaningful? Do you know what the biggest mistake is in marketing? It actually is not what you may think it is. It isn't that you aren't attending enough networking events or running enough seminars. The biggest mistake that we make in marketing is that we don't communicate our value properly to the other person. I'll give you a case in point. If you go to a networking function and people say, "Oh, what do you do?" and you say that you're a financial professional or an insurance agent, do you think that makes them want to speak with you more or less? The answer is less, and it is less every time. And it's not because of anything that you've done; it's because they think that you're going to sell them something. Think about the logic of this—you are going to the business function to attract people to you, and the only thing you do by the power of your own words is to repel them from you! We have a messaging problem. And it is not your fault, but the solution has to be yours.
Many times, financial professionals speak in features. We talk about all the things that we do. But what we really may need to do is talk in benefits. For instance, if someone were to ask you, "Why should I do business with you as opposed to the person across the street?" and you say, "Well, I've been in this business for 20 years," is that a feature or a benefit? It's a feature. But you may assume that people would know that if you've been in this business for 20 years, you must be very successful. But instead they may think, Twenty years, maybe she's too old? Maybe she doesn't know how to use the computer. Or, Maybe she's getting ready to retire. We can't assume that people will come to the benefit on their own—or maybe they don't come to a benefit at all. We have to give ourselves the right to give people the benefit, or they may never know it! So, for instance, here's a connector statement that you can use between the feature and the benefit to easily get to the benefit. In the same scenario, if you want to show your experience, you can say, "Well, I've been in this business for 20 years. Let me tell you why that may be important to you. In 20 years, I've been through 13 major downturns of the market. I have a lot of experience protecting client assets. That's what I specialize in."
People don't buy features; they buy the benefits of what those features will do for them.
So, how do you answer the question "What do you do?" in a way that doesn't repel them from you? I believe it is through using a Simple, Repeatable Statement of Value—an SRSV. It is like an elevator statement, but not as gimmicky. It is something that is real and authentic, and you would never be embarrassed to use it.
For instance, we have a client in Chicago who says this when he's asked "What do you do?": "I'm a financial advisor at XYZ Company. We specialize in working with corporate executives getting ready to retire from Abbott Labs." The first time I heard it I thought it was too specific. But the financial advisor told me that it was exactly how he wanted it. He wanted to be put in a box. And he then asked me what I thought the most memorable part of that statement was. What do you think it is? Right! It is blah, blah, blah . . . Abbott Labs! In a short statement, it is much more memorable when you talk about who you work with rather than what you do.
This works for him, but a best practice is to have a pocket full of Simple, Repeatable Statements of Value so that you can make the connection with the person you are talking with. For instance, we have an advisor who says when he is at a business function where there are many business owners in attendance, "I'm a financial advisor, and we work with a lot of business owners. In fact, to date we have helped more than 60 business owners successfully sell their businesses and move on to the next phase of their lives." And, by the way, there are usually two things that business owners are very interested in: making sales or revenue now, and eventually being able to sell or transfer their business. When we talk to them about insurance or 401(k)s, they are not motivated because it is not something they typically want. Talk to them about the things you have done that they truly want.
Again, it is important to have a pocket full of Simple, Repeatable Statements of Value. If you are talking to a teacher or a physician, you can draw on what you do for people who are just like them. General statements like "typical value proposition" go in one ear and out the other. They aren't interesting. For instance, I could look at 20 websites right now and find a value proposition like this: "We work with individuals and families and businesses helping them with financial planning and investment management." It is not specific, is not compelling, and may have the opposite effect, because although you could work with everyone, the people you are talking with may not actually believe that you can work with everyone in the entire world. They only care about themselves, frankly, and listen much more intently when you are talking about something that has meaning or interest to them.
The third absolute is to have a model to clarify your value. Do you have a method for communicating the details of the value you bring?
As an aside, I was walking down the streets of New York not too long ago—it was a Wednesday at 12:00 noon in Manhattan. I was walking fast to get to a meeting, and I passed this placard on the sidewalk. I did a double take and walked backward to see if what I saw was real. I grabbed my phone out of my bag, and I snapped a picture of the sign (you can see my shadow in the background). [visual] What kind of a value proposition states, "Buy one beer at twice the price and your second beer is free"? As I took the picture, I glanced inside the restaurant, and guess what I saw? The bar, at noon on a Wednesday, was standing room only. And there was a waiting line to get in to sit down to eat lunch! Is it because of the value proposition? Well, yes, but probably not what you think. If you saw this sign, what would you think? Probably that if you went inside, you would have fun and a few laughs. That culture is their differentiator, not the food or the cheap drinks. Oftentimes, in financial services, what your clients love the most is your culture and how they are treated. But how possibly would they ever know that before they did business with you? We can't keep our best stuff a secret.
What if we could create a value proposition so that people can hear it, see it, and remember it? Here's is a way of describing your value proposition when you're sitting down with prospects or clients. In this particular case, this is an advisor who does significant amounts of insurance and investments in his business. He is a Top of the Table level producer, and also his firm manages more than $1 billion of assets under management. When he's explaining what he does, he doesn't give a general laundry list of all the things they do and do well. He writes down at the top of a whiteboard or a piece of paper, "Financial Services Redefined." He says, "We help our clients plan for life-changing outcomes." And then he shares with them what that means. "There are three main things that we do for our clients." And he draws three circles like a Venn diagram. On the top of the first circle he writes, "Risk Management and Planning." And then, inside the circle, he writes a few words that describe more of the specifics that he does in that area: "goal setting, integration of your financial life, planning for the future, legacy." He explains why they do these things and why they may or should be important to the prospects or clients.
On the top of the second circle he writes, "Investment Management," and inside of the circle he writes several words as he is discussing their process: "institutional-level investment research, asset allocation, triggers to alert them to make changes in portfolios, and how many times they meet with clients to go over performance and outcomes."
On the top of the third circle he writes, "Intellectual Capital," and he says, "It's really what we bring to the table. Let me share with you a little bit about our team and the experience we bring. I personally have been in this business for 20 years and specialize in protecting client assets. I have a lot of experience with this as I've been in the business during 13 major downturns of the market." Then he talks specifically about the other team members in the same way, sharing their expertise specifically.
And then he talks about the Vanguard study, which, if you haven't seen it, talks about the value of an advisor. The study proves out that an advisor is worth about 3 percent of assets under care, because the advisor helps you avoid mistakes and helps you do things that are in your best interest and helps you proactively manage your financial life.
We do all of these things because our goal is always to deliver far more in value than we ever charge in a fee.
And then he asks a key question. He says, "Do you have any questions about our value?" And the answer he gets is always no, because when you explain it like this, both verbally and with a visual, retention goes up to nearly 70 percent. If you just talk about what you do, retention is closer to 30 percent. And he is doing it authentically in front of clients by using only three things that he does, not 1,050 things. People remember things in threes. Also, he is not handing them a preprinted brochure that people think exists to sell them something. People don't want to be sold. They want to come to their own conclusion. This presentation is real, authentic, and done just for the one client. That's why it works.
In fact, this is one of the best referral tools I have ever seen besides asking for referrals, which most financial professionals don't actually like doing. Why? Because he goes through this visual model every time he meets with current clients. He starts by saying, "Let me remind you of the three things we do," and then he goes through the three circles, reminding them of all the value he and his team bring to the table, just so they don't forget. It allows current clients to really remember your value, and then they are armed with exactly what it is that you do so that they then can intelligently share what you do when they refer you to others.
You can also present your value in an interactive presentation in the form of a Capabilities Deck. It may be four or five slides that share visually your purpose, your differentiation, your solutions, your intellectual capital, and the outcomes that your clients can receive. It's like a new-school pitch deck—without the sales pitch so directly.
It's important to have a visual along with your words because people don't really pay attention. The average attention span in the United States is about eight seconds. That means that no one is really paying attention to anybody. If you want people to pay attention and remember what you are saying, you need to do it differently.
And the final absolute is to go viral. How do we make sure that the reputation that you've worked for your entire career to build matches your online reputation? Why? Because when your clients refer others to you, the first thing that the potential prospects will do before they come in to see you is google you. In fact, nine out of ten people will google you before they come in to see you. Why? They want to see who you are. They are actually looking for reasons not to come in and meet with a financial professional. It is like going to the dentist. Sometimes people just want to avoid it!
If I told you that a lifetime of reputation can be superseded in a matter of seconds by your online reputation, would you change it? Because it actually, and unfortunately, is true. And it is not about bad things people may find about you online, and it is not about posting daily on social media or becoming some sort of a digital marketing expert. It's really about just making sure that you have a presence online that is as good as you actually are. Give them reasons to come in and see you!
And the simple way to do this is by just making sure that you have an online profile that describes who you are—on your website, in your bio, and in the place that people can most easily find you, your LinkedIn profile. The easiest way to improve your LinkedIn profile is simply by answering the question I mentioned before: "Why are you in this business?" Tell your story in the summary section of your LinkedIn profile. It will be the first thing they see, right below your picture and headline.
We have a client whom I asked this question to—"Why are you in this business?"—and he said that he always knew he would be doing something like what he is doing today. He then said that his father and uncle were renowned surgeons in Pittsburgh. He grew up very wealthy, going to a private school and living in a beautiful house. But then his father and uncle invested all of the family money into one steel stock in Pittsburgh, and they lost everything. They lost their house and had to move away from friends and the school, and his parents got divorced. He said that the one thing he wanted to do since he was a kid was to help others avoid the problems that his father, uncle, and their family had. He didn't know it was to be a financial advisor, but it turned out that was exactly the career. Today, he works with many physicians, but did not tell this story because he felt it didn't make him a better financial advisor. And it doesn't. But when we put this up on the summary section of his LinkedIn profile, he found shortly after that he was getting more calls from physicians wanting to see him. He thought it was an anomaly, but actually, there is an explanation for this. He gets referrals from physicians, who are supposed to be the smartest people in the room about everything. Unfortunately, many physicians, although they make a lot of money, have perhaps made a few mistakes in their financial lives (who hasn't?). But when they see the profile of this advisor, which they are looking at when they are referred to him, they find someone who will not be likely to judge them—a real person with a real, authentic past.
The key is to not drop the ball when you have everything moving in your favor. You are doing a great job. Clients love you. They refer to you. The key is to give people a reason to say, "Yes—this is the right person for me." And it is by adjusting some simple messaging.
Overall, this business is all about the other person, not you. But like my grandma used to say, it is not about the outcome of the game; it is about how the game is played. Winners will usually be the ones with the strongest fundamentals. My grandma played the game of life with abundance and love. And she showed it by what she did every day. Show what you are giving with your prospects and your clients and in your marketing and online presence. Do it through the words you choose and the conversations you control about yourself and your business. Protect your value! Promote your value! Your new clients will be so happy that you did!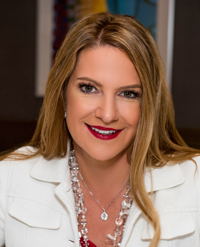 Maribeth Kuzmeski, Ph.D., is the president of Red Zone Marketing, which consults with some of the nation's top financial professionals managing from USD 300 million to more than USD 1 billion in client assets. Kuzmeski has written seven books and works as a marketing instructor at Columbia University. She also makes appearances on Fox News, USA Today, the Wall Street Journal and Forbes.