Find your niche
Janet N. Ng, FChFP, CEPP
Without specialization, advisors may find themselves spread too thin. Ng explains how she established her niche market and how she determined how to help this specific group.


---
Click here to find more from the 2018 Annual Meeting
---
Until about a year and a half ago, my everyday grind was to talk to anyone who would listen. It can be tiring and at many times frustrating.
My mentors, Joe Capaldi and Past President Brian Heckert, immediately saw this struggle within my practice and were adamant in their advice to focus my specialization on a specific market. It took me close to a year to gather enough courage, information, and resources to do exactly that. Today, two months short of my 10th year in the business, my practice is focused on assisting entrepreneurs, business owners, corporations, and institutions in the creation of customized programs that will serve as safety nets to cushion the impact of certain risks while they continue to grow and expand their businesses.
My wealth-building platform took several months of trial and error, countless days and nights of brainstorming, and numerous consultations with trusted friends and other professionals before it took a more concrete structure. Allow me to share with you a few valuable lessons I have picked up along the way.
What is niche marketing? It is concentrating all marketing efforts on a small but specific and well-defined segment of the population. Niches do not exist. You create them. The challenge here is to not stem your thoughts and actions from a scarcity mind-set. Advisors need not feel threatened with running out of prospects since they will be creating their own pool of potential clients.
A good marketing strategy is one of the pillars of a good business plan. And a professional branding consistent with your target market should be established at the onset.
In branding, you start with a product. What is your best product? You! You are your best product. Your clients buy into who you are first before they will purchase anything from you.
Now, to create your niche market, you might want to answer these four questions.
Number 1: Why this target market?
Perhaps, like me, you grew up in a family of businesspeople. And since you already have that background, it might be a lot easier for you to connect with business owners.
How about the people in your community? You can find a common denominator among them. You might also want to look into some personal interests—sports, book clubs, or PTA, for example.
Demographics can be defined based on age, location, occupation, and interests.
Number 2: Who are the people in your target market?
Learn the language they speak. Adapt to the culture.
For instance, medical professionals with erratic schedules have a culture unique only to them. Many times, stretched patience and a lot of flexibility will be required from you in just setting an appointment. However, because critical illness is a common language, they are most likely to appreciate critical illness benefits more than anyone else.
Number 3: What are the different roles they play in different areas of their lives?
Apart from the main role they play when you started working with the people in your niche market, find out their other areas of responsibilities. This information will create future business opportunities for you.
Number 4: How can you help them?
With the easy access to modern technology, you can share informative content on social media. Or perhaps you can hold group discussions to determine individual issues and promote solutions.
Your brand will provide for you a unique and differentiated presence in the market, and it should result in attracting and retaining loyal clients.
Niche marketing is aimed at being a big fish in a small pond. It is to be the specialist who caters to a specific and well-defined group in the community.
Articulate all these to yourself and to the public, and then you will discover that prospecting can be a light load and that there is no need to be in a constant, stressful chase with too many prospects.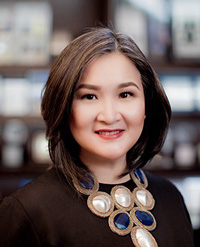 Janet N. Ng, FChFP, CEPP, is a nine-year MDRT member and an HMO specialist. She is a member of the Life Underwriters Association of the Philippines and the Association of Financial Advisors in Southeast Asia, a NAIFA-certified professional, and a certified wealth and estate planner in the Philippines.