Financial coaching for women
Helen A. Jenkins, Dip PFS
What do Bob Marley and Paris Hilton have in common? What does a package of Pringles have to do with estate planning? Jenkins answers these questions as part of an explanation of her approach to seminars that focus on women's financial needs, marriage and divorce. She begins with a "Financial Coaching for Women" seminar and continues to identify how to put together and market the presentation. This session also addresses the cost of holding a seminar and how Jenkins is able to do so at no cost to her practice — as well as how she ensures further contact with attendees after they leave.


---
Click here to find more from the 2018 Annual Meeting
---
Financial coaching for women—or as I once heard someone say, "A man is not a financial plan."
This does not mean we are anti–men; it merely recognizes there are differences and, whatever our gender, we can tap into this niche market. A good plan is to run not only seminars on the subject, but also to consider what we could include as topics, how we can present these in an interesting, thought-provoking way, and still be memorable and informative.
We live in interesting times—when family units, relationships, marriage, and children may have multiple changes. After all, research has shown, apparently, that any woman born after 1965 is likely to have more husbands than children.
How did my ideas and experience for this subject originate? When I was two years old, I received a postcard from my father, and he wrote, "This is the big ship your daddy sailed away on." Living in the UK and being so young, it did not register that my father was traveling to America and leaving behind, in the UK, my mother to bring up me and my older sister, on her own.
My mother was the most incredible woman, who wanted us to grow up as non-bitter, independent women. To appreciate what we have in life and make the most of it. To take all of our opportunities. She never said a bad or embittered word about my father, and when I met him many years later, I developed a great relationship with him and learned of my extended American family—half-brother and half-sisters. It's a close bond that continues to this day because of the encouragement of my mother.
Being independent came natural to me and, working in the business we do, I realized there are many women, whatever their educational background or status, who do not know, or want to know, their current situation or financial future.
Years ago, life was straightforward. We stayed married to the same person, who had the same job, and we lived in the same house for 25 years, then retired. Now life is so very different.
People enter relationships with much higher expectations than ever before.
Based on all of these experiences and knowledge, Financial Coaching for Women seminars evolved. My work in this area was recognized recently at the Women in Finance Awards in London when I was shortlisted for Financial Advisor of the Year.
I use the title "Financial Coaching for Women" for my seminars. This describes what the presentation is about, but could the title be a more appealing, imaginative, or creative one?
So the starting point here is to try to begin with something unusual, something unexpected, and something thought provoking. Just imagine we are at a seminar now. This is how I begin. By reading an extract from the novel The Other Family by Joanna Trollope.
The story is about Chrissie. "Chrissie always believed that Richie loved her, had loved her for all the twenty-three years they had been together, loved their three daughters and their home in Highgate and their happy, lively existence."
Then we read, "And then suddenly and shockingly, Richie is no longer there, and Chrissie and the girls have to learn to manage without him."
Fast-forward to Chrissie's meeting with her lawyer, Mark, after Richie's death. "'Mr. Rossiter wished to leave two items to his first family in Newcastle. But that is all,' Mark Leverton said. 'That's the only difference. There are no complications, I am delighted to say, and no inheritance tax is applicable, because a will was made and you are Mr. Rossiter's widow.'" Chrissie said, quite clearly, "But I am not." And so the book continues with all the problems arising from the fact no financial plans had been put in place, and Chrissie was blissfully unaware of everything.
Oh dear. The message is strong, and immediately we can tell from our seminar audience that this message is more than just a fictional story—it's very real life.
Because in life, we should never assume anything. There is a story about two men who were driving their car on a remote, country road. It was getting late and, sadly, their car broke down. In the distance, they could see the lights of a farmhouse. So they went there to look for help. When they knocked on the door, a very beautiful woman answered. She listened to the tale of how they had broken down and suggested that since it was late, they should stay and seek to repair the car in the morning. However, she explained she was a widow and it was not right they should stay in the farmhouse but to sleep in the outhouse, which they did.
They left the next morning, started the car, and went on their way. Then nine months later, one of the men got a letter from a lawyer. Quickly he called his friend who had broken down with him and said, "Do you remember nine months ago our car broke down?" "Yes," replied his friend. "And do you remember going to the farmhouse where the beautiful widow lived?" "Yes," replied his friend.
"Now, during the night when I was asleep. Did you cross the farmyard and go to spend some time with the beautiful lady?" "Well, yes," replied his friend.
"And afterward, did you give her my name and address and not your own?" "Yes I did. So why do you ask?" he questioned in a slightly awkward and embarrassed way.
"Well," replied the man. "That was nine months ago. I have had a letter from her lawyer. She has died and left the farm to me!"
Never assume anything!
While preparing for my seminar, I actually wrote to the author, Joanna Trollope, and thanked her for highlighting issues facing women and told how I used her book in my seminars. I invited her to come to one. She kindly got back and had to decline attending and suggested I write my own book. There's one for the bucket list. I guess I was secretly prospecting as well.
However, at the end of my seminars, I collect business cards and put them in a draw. The one pulled out of the hat wins the book. In this way, I have given something away and developed a contact, and the message continues.
Also at the seminars, and in order to illustrate how things are sometimes not what they seem or what we intended, I show pictures of these people. [photos of Princess Diana, Paris Hilton, and Bob Marley]
Who are these people, and what do they have in common? The fact is, it is all to do with wills—or the lack of them.
Princess of Wales: Her letter of wishes attached to her £21 million will was to divide a quarter of her possessions between her 17 godchildren. In the United Kingdom, letters of wishes are not usually binding, but are usually upheld. However, her executors chose to ignore this. Had they not done this, her godchildren would have had £300,000 each. Instead, they only had a token memento. There was a court case later because her butler was accused of taking some of Diana's belongings, and this omission came to light. The executor stated that she chose to ignore the wishes because "there were not many paupers there." It was said that it seems staggering that a very public person, who will have specifically set down her wishes, should not have been upheld, and the executors did the opposite of what she wanted.
Bob Marley: Well, he died in 1981. Some of his children did well out of his fortune while others remained on welfare. This was all because he never cared for money but loved his extended family (four children by wife Rita and seven other children by other women). It never occurred to him that they would end up squabbling over her estate.
Marley died intestate. He did not leave a will. Under Jamaican law, the first 10 percent of his estate should have gone to Rita plus 45 percent during her lifetime and the rest between the 11 children. Instead, 98 percent went to Rita because his accountant and lawyer provided documents saying that that is what he wanted three years before.
Five years later it was proved these documents were fake, and over $6 million was not accounted for. The advisors were guilty of fraud. However, a record producer bought his estate and set up a foundation to manage his assets. He handed this over to the family so all 11 children would benefit. The estate was now worth $65 million, and so they all became millionaires. But how long did this take and at what cost in emotional and relationships as well as financial?
Paris Hilton: Well, she is very much alive and well, so what is her connection? Billionaire Conrad Hilton was a self-made man and did not believe in inherited wealth. He left the bulk of his $1.5 billion fortune to charity, while his children barely featured. One of his sons, Barron, was given $500,000 and his only daughter Francesca (by his second marriage to Zsa Zsa Gabor) got even less. Originally, Francesca was supposed to have $65,000, but she made the mistake of contesting the will, triggering a clause that meant she ended up with only $1.
So how come his great granddaughter, Paris, is so wealthy? Largely thanks to her grandfather, Barron. Rather than dispute the legacy, he successfully argued that his family never intended that the 27 percent holding in Hilton Corporation should pass outside of the family.
So he and his family enjoy the fruits of good fortune. And Francesca? She is worth almost nothing. When Gabor's daughter rang her mother saying she was on the verge of suicide, Gabor told her to do her hair first.
So three very different stories with a common thread running through them, which is to set out our plans and make provisions clearly for those who matter to us.
I tell these stories during my seminars to illustrate the importance of making sure we know our situation and how to protect ourselves.
Also, in order to get the audience (of seminars) to remember things through humorous happenings, I explain a few more interesting anecdotes.
What does a Pringle packet have to do with life and estate planning? Well, Frederic J. Baur, who not only invented the Pringle snack but, as importantly, the protective container they are supplied in, was so proud of his invention that when he died at the age of 89, he wanted his ashes placed in the Pringle can.
So the next time you have a Pringle pack, think of what is or could be inside, and it will prompt you to think will.
There is another story of a lady who loved her cat so much that she left her entire estate to the cat, including her house. On the day of the funeral, the cat was sunning himself in the garden and, sadly, the hearse ran over him and killed him. That is so awful, but who inherited then?
Then there is the man who wrote in his will: "To my first wife, whom I always promised to mention in my will. 'Hello, Sue.'"
These are all amusing examples of pointing out the importance of planning.
We can return to this subject of what to say later on, but let's continue with another important question: How do we get started in the first place?
Whom to Target?
As this subject is financial coaching for women, I am involved in women's groups. So many organizations are looking for speakers when they are working out the program for the year. So find the organization, who decides on the program, and offer your services. I have worked with WI groups—women professors at the university and an organization in Wales called Chwarae Teg, which means "fair play" in Welsh. It offers courses on women in the workplace.
Costs
The aim ideally, especially if we are starting out on this, is to keep costs to a minimum but have maximum effect. By associating with the organizations mentioned, we can fit into their program. This way the venue, the refreshments, and the administration are all done at no cost to ourselves.
It is always good to have someone endorse us as opposed to self-promotion. So if we can piggyback on someone else's organization, it is a win-win situation for all.
In fact, it can be good to do a collaboration with another group. For example, we did a seminar in conjunction with two former police officers (whom I had met at a dinner) on self-defense and self-preservation. It was inspiration wealth management in collaboration with conflict solutions. It's called Safe and Sound—The Full Package.
Want to learn how to protect yourself financially and at the same time protect your personal safety and well-being?
Want to plan for your future, yet live safely and confidently today?
Want to learn some basic self-defense skills?
Want to relate to specific financial and safety issues facing women?
The whole aim of the seminars is to be informative in a non-jargoned, memorable, humorous way but still leave the attendees wanting to know more. What hits a chord with them will help them remember us for being different. Even if it is when they see a box of Pringles that prompts financial advice!
What groups do you know that you can combine with? How can you make the connection, and what is the most diverse connection to be remembered?
As well as the thought-provoking stories above, what other topics can we or should we include in our Financial Coaching for Women seminar? Here are some examples:
Protection and illness
Estate planning
Retirement
Rights
Living together
Next of kin
Guardian divorce children
Again, the best way to get the message across is not to talk about products but concepts. We are all storytellers, and stories are more memorable and have far more impact.
Meet Abby. [visual] When Dave collapsed in front of her, she thought that was the worst thing that could happen, but she was wrong. She ended up with nowhere to live.
She explained that they met through work. She loved his smile. His wife had died some time ago of cancer, and he had two grown-up daughters, Sarah and Natalie.
Abby and Dave eventually moved in together and had two children of their own, Jon and Danny. Then one evening, Dave collapsed and died.
Of course Abby stopped working when the children were born. They talked about making protection plans and making wills, but life was always too busy, and they never got around to it.
Because they were not married, and he had not made a will, everything was left to the four children. Abby had nothing.
Abby now had no money, nowhere to live, and, as administrators of the estate, even Sarah and Natalie—Dave's grown-up daughters—had control over Abbey's boys.
Could things get worse? One day, not long after Dave died, Abby had a note from her step-daughters. They had taken all of Dave's photos, the gifts Abby had given him, and they were arranging the funeral.
If only they had put proper plans and protection in place, things would have been very different.
These stories do hit home and do prompt people to take action, and through us, they know where to go to get the best and continuing advice.
Like Abby and Dave, they knew what they wanted for one another; they just hadn't gotten around to doing something about it.
When most people meet in these situations, at first, things are very straightforward. Then, as time goes on, the water's become muddied. Fact is much stranger than fiction.
Take the interesting story about pensions. Gertrude Janeway died in 2003 at age 93, but she was still getting a widow's pension—from her husband's service in the American Civil War, which ended in 1865.
Her husband, John, married her in 1927 when he was 81 and she was 18 making her entitled to $70 a month from the Veteran's Administration for the next 76 years in pension, which straddled three centuries!
At seminars, it is always interesting to question what people know, believe to be true, and what is true.
These are some questions to ask the attendees. They are presented in a way that clients would ask and believe to be true.
Question: I have lived with my partner for seven years. I pay toward the mortgage, but the house is in his name. He says there is no need to make a will as I am next of kin. True? What do you think?
Answer: Absolutely not. Plan and put things right.
Question: My partner has a good company pension. I have no pension. She thinks she is entitled to half. What do you think?
Answer: It may be true, but we need to check this.
Question: I am divorced and have two children. I used my money from a divorce settlement to pay off the mortgage. I have two children, and he has two children. What happens if I die? What do you think?
Answer: This is a tricky mess. Discussion and a solution are essential.
In fact, here are the top-10 money tips for women:
Don't rely on someone else.
Set goals.
Don't use money to make us feel good.
Spend less than we earn.
Educate ourselves about finances.
Build an emergency fund.
Be involved with the day-to-day management of family finances.
Don't take on our partner's debts when we marry.
Don't let fear stop us.
Learn from our mistakes.
Let's elaborate on these:
Don't rely on a husband or boyfriend for financial security. Educate ourselves about financial security. The mistake often made is not establishing our own credit.
Setting goals is the key to financial success. We can always move the goalposts, but at least it gives us a starting point to work toward.
Instead of spending to feel good, do things that promote self-respect and creativity, so we don't have to achieve this by spending money.
Spending less than we earn is the secret to creating wealth. Not setting a budget is the downside.
Educate ourselves about finance. Not so we can DIY, but so we can get professional help to guide us, thus freeing us for doing what we are best at.
Build an emergency fund. Not being prepared for life changes, such as losing a job, ill health, or unexpected bills that can force us into a hole, which is difficult to climb out of.
Talk money to someone trusted, such as our advisor or spouse/partner, and know the position. We may be handling thousands of dollars in business but ignoring the home front.
Not only not take our partner's debts but also don't spend a fortune on a wedding. Some couples in the UK going through divorce are still paying for the wedding.
Fear—of losing money, of failure, of the unknown. Waiting for the right time is seldom right. The misery of certainty is more satisfactory than the misery of uncertainty.
Learn from our mistakes. Don't let these bring us down. It is never a case of what has happened to us, but more a case of how we deal with things.
As well as financial advisors, there is a connected need for other professional connections.
Also, the spin-off from this is professional connections. Through storytelling, we have highlighted issues affecting women in finance. But, in reality, our advice is essential. And we have to demonstrate this, but we do need the help of other professionals, and this is a good way to connect with them.
Speak with professional connections, and ask them if they would mind being included on the list you are presenting at the seminar.
Professional connection list:
Our details
Lawyer—wills and divorce
Lawyer—trusts and estate planning
Lawyer—residential property sale and purchase
In order to have purpose and goals, include a start to a bucket list—something to aim for. Here are the top 10:
Great Barrier Reef
Cruise
Whale watching
Skydiving
Hot air ballooning
Safari
See Northern Lights
Walk Inca Trail
Escape to a paradise island
Drive an F1 car
What are your top 10? How and when will you achieve these? Any accomplished so far?
Of course, in order to achieve these, we need to set up a savings plan and our goals.
So far we have looked at the following:
What to say at seminars
Who to target and the logistics of costs with connections
Being interesting and memorable
Top tips and ambitions
How then do we turn attendees at seminars into potential clients? How do we continue the dialogue? One way we use is to have a feedback form.
Feedback form:
What did you enjoy?
What will you take away?
What will you follow up on?
What would you change or add?
What would you like us to follow up on?
Then put these comments on a sheet and use for other presentations. Again, it is the endorsement from others as opposed to self-promoting ourselves.
Make the following on-call relating to a query:
Tell the professional connections you have spoken about them.
Ask the person who won the book The Other Family if he or she enjoyed it.
Maybe set up a library service so it can be passed to other attendees to read.
Send similar interesting stories or anecdotes to attendees as you come across them. Maintain the contact.
A few nights ago, it was quite late, and my cats were skittish about a noise outside my house. I looked out to see the blue flashing lights of ambulances at my neighbor's house. Things seemed to be under control, so I went to bed wondering what had happened.
My neighbor, Steve, had been ill for some time, and his partner, Anne, of eight years had been caring for him. She and I often talked about general things, yet there is always the awkward conversation when we, as professionals, know we need to say more but do not want to be seen as pushy or interfering.
Sadly, Steve died that night. I spoke with Anne. The stories highlighted earlier became real. The house she lived in was his. He and his son had fallen out years ago, but he now wanted what he saw and thought was his. Steve only wanted to make sure Anne, whom he loved, was provided for but had done nothing about it. She would not marry him because she wanted to retain her independence. All of this, just hours after Steve's passing.
Sophie Tucker said, "From birth to age 18, a girl needs good parents. From 18 to 35, she needs good looks. From 35 to 55, she needs a good personality. From 55 on, she needs good cash."
No. For all of their lives, women need good, sound advice and to adapt in this changing world we live in.
Sounds good, but why do we need to differentiate? Women need all of these things all of the time and, of course, a liberal dose of Financial Coaching for Women.
As always, the more we get involved, the more we see the need stronger than ever.
And remember for all the women advisors there. Career woman's guide to success:
Look like a woman. Remember, clothes should be tight enough to show we are a woman and loose enough to show we are a lady.
Act like a man.
Work like a dog.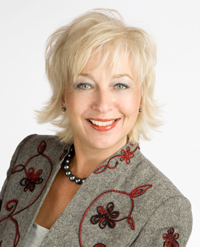 Helen A. Jenkins, Dip PFS, is a 29-year MDRT member with nine Court of the Table qualifications. The managing director of Inspiration Wealth Management, Jenkins was shortlisted for Women in Finance's Financial Advisor of the Year in 2017. Her knowledge of and passion for helping women look after themselves from an early age comes from Jenkins being raised by her mother and grandmother in Wales. She is also the U.K. chapter president of the Circumnavigators Club and assistant treasurer of Welsh Women Walking.