Don't do something; Just sit there
Randy L. Scritchfield, CFP, LUTCF
The newest addition to the MDRT Executive Committee says three principles helped him reach and maintain Top of the Table-level production: reflection, collaboration and specialization. Scritchfield discusses why it's so important to effectively manage your time and know not just what you're doing but why.


---
Click here to find more from the 2018 Annual Meeting
---
Many of us, as we were growing up, were told things by our parents or other adults. Perhaps you heard some of them, such as:
If you sit too close to the TV, you'll go blind.
Eat your vegetables and clean your plate—people are starving.
Don't put that in your mouth—you don't know where it's been.
Don't go out with a wet head—you'll catch a cold.
If Johnny would jump off a cliff, would you?
And how about this one:
Don't just sit there—do something!
You might have even been given that advice when starting out in the business.
Don't just sit there—do something.
Well, I want to respectfully challenge that. Sometimes it's better to not do something but rather just sit there—sit there and think about what you are doing, what you have done, and what you are about to do.
Let me explain.
In recent years, I have realized that much of the success in my business—and my achieving Top of the Table the first time and continuing to qualify for many years—was attributable to three main principles that I try to keep in mind: reflection, collaboration, and specialization.
It is very important to specialize—when appropriate—in your business. When we have surveyed Top of the Table members, asking what was one of the main reasons they first made Top of the Table, the answer that came back most of the time was when they started to specialize. At the appropriate time in your career.
And, as for collaboration, if you are specializing, you are working with other specialists, either in your agency, office, or community. Collaboration is also the use of support staff, a very important component of success.
You see, we are often naturally led to collaboration and specialization, but we, as individuals, must make a concerted and focused effort to reflect on what we do, in our lives and in our practices.
Time management is more about management than time. We too often fill our time without being thoughtful about what we are doing. At some point in your career, perhaps now, efficiency—staying busy—can be the enemy of effectiveness.
I encourage you to take the time to consider what you are doing before you do it. I have dedicated times on a daily, weekly, monthly, and quarterly basis. They involve specific systems, habits, and disciplines that have served me well over the years.
Perhaps the most important "frequency" is my quarterly assessment. Done ideally with a coach, sales manager, or business partner, a quarterly assessment is a critical review of not just what you are doing but why you are doing it.
Question everything in your business to lead to one conclusion: Either stop doing it, or reaffirm the reasons for doing it.
You will hear many concepts from this stage today—both big and small ones. As for the big ones, I recommend the following technique: Write down just three things that you are going to implement in your business—just three. And, perhaps more importantly, next to each one, write down what, specifically, you are going to do the week you return to implement them.
You see, sometimes it is our IQ that fails us—our Implementation Quotient.
Reflect on what you hear, and decide not to "try it" but to implement it, and only question it three months later, after giving it a legitimate chance to work.
It has been said that "an unexamined life is not worth living." I also think that "an unexamined business is not worth having."
Take time to examine what you are doing, and, yes, sometimes you should not just do something, but rather you should just sit there and reflect on what you have done and what you are about to do before you do it.
And remember—eat your vegetables and clean your plate!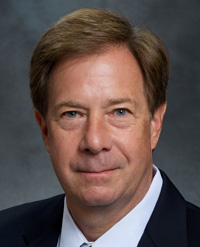 Randy L. Scritchfield, CFP, LUTCF, is a 34-year MDRT member with three Court of the Table and 18 Top of the Table honors and the 2018 Nominee to the MDRT Executive Committee. He is founder and president of Montgomery Financial Group, a retirement planning firm in Damascus, Maryland. Scritchfield currently serves as Divisional Vice President of the Guided Development Division. His extensive MDRT volunteer history is highlighted by service on MDRT's Management Council six times.