Deep conversations
Ross Vanderwolf, CFP
Imagine talking about your future when you think your present may end at any moment. This is how Vanderwolf felt as he and his wife discussed what they would do if they survived an armed robbery on while they were on a cruise down the Amazon. He recounts this terrifying experience and the perspective he gained from it.


---
Click here to find more from the 2018 Annual Meeting
---
What a wonderful privilege it is to be here in Los Angeles today with so many friends at this great meeting.
Yes, as you can hear from my accent, there is no doubt that I come from a land Down Under, a country better known as Australia.
Like many of your countries, Australia is a long way from here. A land of boundless beauty—wonderful beaches, rain forests, the outback, and, of course, some of the most dangerous animals in the world!
Because we are so far from the rest of the world, Australians love to travel, and I am no different.
It is hard to believe that it is almost 30 years since I attended my first MDRT Annual Meeting in Toronto in 1989. The meetings were a little smaller back then!
I am sure there are many of you here today whom I can congratulate for attending your first Annual Meeting.
Things were no different back then. Like you today, attending that meeting gave me the opportunity to surround myself with excellence, mixing with some of the most successful advisors in the world.
After my first meeting in 1989, I took the opportunity to travel around Canada, a country that I hadn't been to previously. What a great experience!
Like the vast majority of people who attend the Annual Meeting, I returned home energized and enthusiastic about putting all the ideas I had learned into practice and also knowing that I wanted to become part of this wonderful association: MDRT.
The next meeting I attended was with my new wife in 1991, and that meeting was in New Orleans.
We planned on starting a family later that year, and we decided, at the completion of the meeting, that we would have one last overseas vacation before starting a family, this time to South America.
Once again, the meeting was fantastic, and at the conclusion, my wife and I made our way to Lima, Peru, to start the first leg of our tour, a cruise on a small boat down the Amazon.
So imagine you are with us at the start of the cruise—drinks on the top deck of the boat watching the sunset over Lima, a wonderful setting, great people, and a sense of excitement! We were thinking, Things cannot get better than this!
After drinks, we went down into the main dining area for dinner for what we thought was going to be the perfect adventure vacation.
Within 20 minutes of us sitting down at our table, there was an eruption of sound, a commotion, and we saw a group of men in camouflage outfits carrying semiautomatic guns rushing into the dining area.
At first we thought that must have been part of the onboard entertainment, but when the first volley of shots was fired into the roof, and one of the ship's crew was hit by shrapnel, we knew that this was definitely not the case.
These men were bandits. They told us to get on the floor and demanded $20,000 from our group, stating that if this didn't happen, they would shoot one male every 10 minutes until they got the money.
You know, things take on a definite clarity in these situations.
When you are lying on the floor on the opposite side of the table from your wife, trying to reach out and hold hands to comfort each other, when there are six men with automatic weapons above you shouting demands, it certainly gives you perspective.
Just to be clear: You are unarmed; you are in the middle of the Amazon; and there is no way the police or anyone else is going to arrive to rescue you!
As you can imagine, it was pretty confronting, and I hope none of you ever have to face this situation in your lifetime.
As each couple was marched to their cabins with a gun at their back to search for money and items of value and returning with very little, it became apparent to the bandits that their demands were not going to be met.
More aggressive language signaled that in a very short period of time, the shooting was going to begin.
I can confirm that time seems to pass almost in slow motion in situations like this—time that felt like hours in reality was really only 30 minutes.
From our point of view, when you think your life is going to end in a short period of time, you take the opportunity to have some very deep conversations with your partner, and also yourself, conversations about the impact this would have on both of our families back home if it ended badly.
We also spoke about what we would do when it was my turn to be shot.
Chris, my wife, said that she would not let me die alone. She would die with me when my turn came. They would have to shoot both of us together. Now, that is commitment!
The deepest conversations I remember were more about the future, our future. What would we do if we got out of this?
We talked about our plans to have children, a family of our own, and what we would do as a family.
I certainly made some promises and commitments to myself that night, if we got out of the situation we were in.
There were things I would do differently in the future, but there were also things that I wouldn't change. There were things that I would embrace and other things that I would appreciate more.
Obviously, we were lucky to have a good outcome that night, and we were able to move on, but the conversations and commitments have stayed with me.
That was a long time ago. The experience has never been quite forgotten, mind you, but it is the only bad experience I have ever had while traveling, and I have done a lot of traveling since that time.
One of the most enjoyable privileges of being on the Executive Committee is traveling the world, meeting with our members, our aspiring members, and the companies they work with.
Gaining a better understanding of their culture, how they deliver advice to their clients, the products they market, and the conditions they work under provides us with invaluable insight into the world they live in.
On a global basis, it is apparent that we are living through one of the most disruptive and challenging periods our profession has ever experienced. In reality, it is a revolution.
Different countries have different challenges. The United Kingdom, Australia, Canada, and now the United States are all feeling the increased burden of regulation and compliance as authorities become more interested and involved in our profession.
In China, India, Vietnam, Thailand, and right across Asia and the emerging economies of the world, the challenge for advisors in these countries is one of providing quality financial advice where the demand is growing exponentially.
Many of our members are working under the pressure of modifying their businesses and practices in a changing environment, but the major challenge I see is our ability to continue to meet our clients' increased expectations.
Our clients are becoming better educated and are increasingly aware that there are options available to them, such as robo-advice, FinTech, and direct marketing.
I read a quote recently that I thought was very accurate: "If client ignorance is a profit center for your business, you are in real trouble."
We have to continually improve to meet our clients' and the public's expectations.
This, I believe, is the gun at our head.
Professional advisors, such as MDRT members, are continuing to improve, and they are continuing to have deep and meaningful conversations with their clients that no other advisors are having.
Finding out what is truly important to our clients—helping them fulfill the promises and commitments that they have made to themselves and their families, celebrating their successes, and being there for them in challenging times—is what we do.
The stated objectives of increased compliance, regulation, and education not only are to protect our clients but are also to make us more professional, and this will not hinder advisors who are focused on serving their clients.
As Winston Churchill once famously said, "A pessimist sees the difficulty in every opportunity; an optimist sees the opportunity in every difficulty." There is always something valuable that can be derived out of difficulty, adversity, or change. We just have to look for it with open minds.
While we continue to put our clients' needs ahead of our own, we will continue to move forward both personally and also as a profession.
Standing here today in front of you, my fellow MDRT members, is one of the most humbling moments of my life.
Personally, I have many people to thank—people who saw something in me that I didn't see in myself, people who believed in me when I didn't believe in myself—and no one more than my wife, Chris, and our two children whom we thought we may never have, Scott and Bridgette.
Thirty years ago, I had the dream of becoming part of MDRT, and I can now say that MDRT (that's you) has truly become part of me and my family. It has shaped and influenced not only my business life but also every aspect of my life.
I am incredibly proud to be your incoming President, and my commitment to each of you is that both myself and the entire Executive Committee will strive to engage with you through this wonderful association, this community of excellence, and how we can better serve your needs in a changing world in the coming years.
We will continue to have deep conversations, and we will continue to grow together into the future.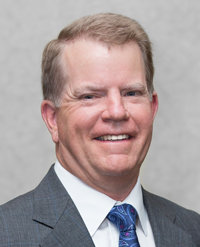 Ross Vanderwolf, CFP, of Fortitude Valley, Queensland, Australia, is the First Vice President of MDRT. He is a 30-year MDRT member with nine Court of the Table and seven Top of the Table qualifications and a Platinum Knight of the MDRT Foundation. In addition to extensive volunteer service to MDRT and the Australian financial services profession, Vanderwolf is the recipient of multiple awards for excellence in the industry.