Building trust by putting clients first
Stephen Kagawa, FSS, LUTCF
No matter where your client lives or what language they speak, it is crucial that they trust you. Kagawa shares techniques that he uses to cultivate cases, generate a steady flow of high-quality referrals and qualify for Top of the Table year after year. He will offer interview techniques and proven processes to establish these relationships with clients and promote comprehensive plan implementation. This comes from a series of pertinent questions which identify the client's values and guides the needs analysis and advisory process. The result is a simple, effective system for advisors with a clientele they look forward to serving.


---
Click here to find more from the 2018 Annual Meeting
---
Aloha! Congratulations!
It's amazing to be hanging out with so many stars willing to share and learn with and from the best. I'm honored and privileged to be sharing with all of you today. Secret told—I'm guessing that I was chosen because the stuff I do and plan to share with you is so easy to understand and do that even a guy like me who was raised in a little town called Kaneohe in Hawaii can do it!
Fantasy Island
Let's take a moment to imagine. Imagine people constantly being referred to you and your business. They can't wait to see you. You can't wait to see them. You stand confident knowing that just about every prospect you meet is an ideal prospect and that you're likely to enjoy them not only as clients but also as friends. You overhear your assistant confirming yet another appointment. She struggles to find an opening. The fact is that you're completely booked around planned quality time for yourself and for those you cherish and enjoy most of all. As you walk through your doors, you bump into people who smile at you as they enter your office. They smile as they leave, reminding you of the documents they will be sending, the health assessment they'll be completing, and offering well wishes as they confirm their next visit with you. It's a charmed life.
Welcome to Fantasy Island. I'm your host, Stephen Kagawa.
OK, snap out of it! Welcome back to Los Angeles!
In our time together, I intend to help guide you toward a charmed destination where people are constantly and consistently referring you to clients whom you enjoy working with. And I must tell you, it really exists, and I have a map to it. The map contains a few directions with it, which were inspired by the people I've had the honor and pleasure of learning from over the years—most of whom I've met at or through MDRT. And, of course, my personal experiences shaped these directions as well. They're a by-product of my life's struggles, which contain their share of bad decisions, bad mistakes, and bad results. It's all part of a path that truly reflects an evolving journey of perseverance toward precious moments of triumph.
In all, it's an incredibly powerful tapestry of wisdom, one that I believe you'll find, at least in concept, quite simple. Simple warning: Adopting it may not be as easy. And that's because you're already doing well, and you have your own ways of doing things. Regardless, my hope is that each of you finds a gem of an idea from my experiences that allows you to achieve even more.
My Practice Today
I'm a fourth-generation American, and I represent the third generation of Kagawas in this business. My grandfather, LT, was the first of us. He opened an insurance office in Hawaii in 1933. The foundation of that business was about opportunity and access. And because of that, he convinced AP Giannini, founder of Bank of America and a company that is now known as Transamerica, to abolish the racially discriminatory underwriting practices that were prevalent at the time.
LT built quite a business for himself, one that I learned more about when I started my career under my father at this same agency. Later, in 1992, I spun off and created new companies, which are now dedicated to helping families and companies financially navigate on an international platform between Asia and the United States.
At home in the US, our missions focus on helping first-generation families migrating from Asia into the United States financially acclimate to their newfound homes. We do it by connecting advisors across the areas of specialization in banking, insurance, investments, tax, and the law from and around the United States and Asia. For us, it's about celebrating the unique talents and value of specialists to motivate purposeful collaborations. The by-product of this collaboration delivered by this diverse collaborative of advisors is comprehensive wealth management plans for people and organizations facing complex financial concerns due to their multinational realities.
While we're passionately resolved to help first-generation Americans smoothly navigate from Asia to the United States, our specialty to date primarily involved efforts between the United States and Japan. We were the only company in Japan authorized to offer US life insurance products under Japanese law and taxation, and we did so from 1955 to 2007.
What we learned over the course of our engagement inspired our current business model and its deliverables. Today, we're feverishly expanding into other parts of Asia to shape best practices of sincere value in the world of international wealth management. I'm pleased to say that, thanks to the many advisors who've joined the journey, the model is working. Most of our clients are of high net worth, and a good percentage are the billionaires in the region, the ultrawealthy. For those of you involved in life insurance, you'll be pleased to know that our biggest life insurance case was for $266 million of death benefit, though our efforts focus on those with much less.
Our primary roles within the collaborative are to connect and engage advisors and to lead the consultative process. It's the consultative process and what happens within it that's of most importance here. You should know that whether I'm working with an international business, an average individual, or a billionaire icon, I apply the same basic principles in my consultative practice that I'll share with you.
Setting the Stage, the Best Close Is a Great Opening
Let's get to some of those principles and make them work for you.
I believe that the best close is a great opening. For me, that starts with setting the stage so people want to buy. This makes you stand out from other advisors and ends your days of selling to prospects.
You know your prospects already face a steady barrage of advisors attempting to sell them stuff. How many people ever tell you "I want to be sold to. Please sell me something"?
Are you interested in having your prospects feel that they want your advice by the end of your first visit with them? Of course. I am! Let's face it, you absolutely want them to buy from you and buy into doing long-term and meaningful business with you. You also want them to buy into going through your processes and the reasons for doing so. Hey, I'm not here to downplay the importance of salesmanship. Salesmanship is always vital, and the words you choose are always of utmost importance. As the late life insurance legend, John Savage of Toledo, Ohio, said, "Words are salesmen. The right words, at the right times for the right reasons become super salesmen." Choosing the right words to set the stage establishes proper positioning between your prospect and you. And when you need to make impact, you will.
Still, don't begin by selling products, bells and whistles, or companies. Don't even begin by trying to sell yourself to them. I hear that one much too often too. Those aren't the right words at the right time. Now is the time to make it all about your prospects. We want to help them break through the personal barriers that keep them from planning and entering into financial strategies that would help better their chances to meet the goals and aspirations they carry for those who depend on them. So, even when prospects throw their portfolio of investments, retirement plans, and the like at me, I take a few steps back, and I tell them, "Until I hear more from you and what's important to you, I have no right to even begin to tell you what might be best for you to consider. It's also important and wise for you to first understand and agree with my basic philosophical approach and what I believe to be the fundamentals of financial planning. You should be certain that what I do and how I do it makes sense to you before engaging with me, or any financial advisor for that matter."
I want to build trust, and I want to build it on purpose with purpose. And that process begins now. To build trust, you must focus on them—those you're serving—and what's important to them. As Past MDRT President Adelia Chung preaches from the stage and in her book, "It's not about you."
I start building that trust at the beginning of the interview, which is when I ask them what's important to them about investing their time to visit with me. Whatever their answer, I'll repeat their comment and add something like, "Noted, and we'll be sure to address that to your satisfaction. I believe it is important and wise for you to first understand and agree with my basic philosophical approach and what I believe to be the fundamentals of financial planning. You should be certain that what I do and how I do it makes sense to you before engaging with me, or any financial advisor for that matter." What did you notice about the comment I just made? Yes, it is the same statement I made earlier to the person who shoved their stuff at me. I want everyone to experience the process, and I quickly steer my prospects into mine.
Guiding my prospects into this process allows me to effectively set the stage. This allows me to ask the questions that will help me understand their intentions and gather the facts I need in order to develop alternatives that will meet their goals better than their current plan. And I want them to eagerly want to implement my recommendations since, ultimately, it's up to them. And when they do implement, my prospects become my clients, and both the clients and I, as their advisor, win. That all starts with what I do now, at the onset of this hopeful relationship. So, the bottom line is that it is, in fact, true that the best close is indeed a great opening.
Our Relationship and My Financial Planning Practice in a Nutshell
After my opening, I immediately shift to present what I call my Fundamental Philosophies of Financial Planning. This is where I share both my philosophical overview of financial planning as well as what they can expect when working with me. I refer to it as my funnel, not to be confused with a funnel talk. It's simple and purposeful, and I deliver it to prepare my prospects for our relationship ahead. This method also begins the trust-building process with clients as well as ensures that I'm working with potentially like-minded clients.
Who loves to waste time with prospects who'll never become your clients? Do you find yourself wasting time on prospects who end up never choosing to be your clients?
I want clients to know early on in our relationship what I do and how I do it and give them the chance to agree or disagree with it. This gives them the opportunity to reject me if it's not the right fit. It saves both the prospects and me from wasting time, and I'm much more worried about wasting my own precious time. I let prospects know that their relationship with financial planning is a lasting journey. It's not a fix-it, one-time deal. It's their lives and those of their loved ones that are in the balance. They are the ones who must identify what they want and embrace and implement change, if that's the recommendation behind their hopeful outcomes. The financial planning fundamentals funnel I use helps them understand this.
The funnel is not about selling, presenting products, or providing solutions. It simply explains my process and how I believe it's best to establish plans of action. Their response at the end of my explanation usually signifies the chances of their becoming my client, and that's priceless for me as an advisor who earns income from clients. It's probably much the same for you.
To start this part of the process, I'll tell the prospects, "Unless you have a specific transaction you wish for me to make for you, I'd like to first share my financial planning philosophies with you. I want you to understand what I do and how I do it. If you're comfortable with what I do and how I do it and even why I do so, perhaps we can move forward. Now, let's have a look." I then share my Financial Planning Fundamentals Funnel.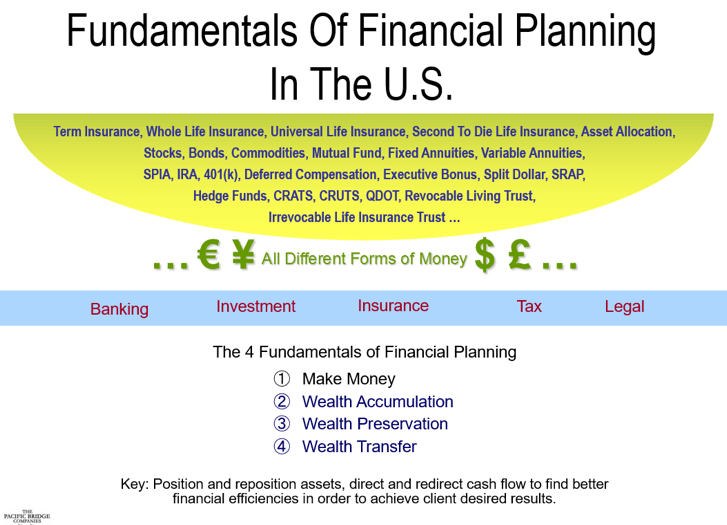 I begin from the top of the chart, at the semicircle, probably the shape that led me to call my philosophies the "funnel." I might say something like, "Jill, our financial world is literally represented by thousands of products and services affected by as many legal structures, tax laws, and their varied interpretations—products, such as IRAs, money markets, stocks and bonds, hedge funds, indexed universal life insurance, and so forth. It's convoluting, confusing, daunting, a mess. Please don't worry about this. It's for me and my staff to sort through. Just know that, for the most part, these are nothing more than different forms of money. For example, fire insurance—at the risk of oversimplifying, that's cash at the ready for you should your house burn down. Car insurance is cash to help replace your car in case of an accident. Deferred compensation is a plan to receive income later. The kind of products and services, legal structure, and tax assessment needed by you is personal to you.
"Jill, the key point here is that there are many forms of money. If I begin by trying to sell you on a specific product, structured plan, or service without knowing you, my sincere recommendation is for you to walk away. How in the world could I possibly know what form of money is best suited for you? That could only be derived by understanding and appreciating your future goals as they relate to your current situation, of which I have no knowledge, at least not just yet. I still have much to learn from you."
I then show Jill how all these forms of money fall into these five main areas:
Banking
Investments
Insurance
Tax
Law
Pointing to this center, outlined section, I go on to say, "All of these endless products and services simply funnel down into these five basic areas of the financial world.
"Banking is about helping you with your activities of daily living through your deposits. It's also about loans you may want for making larger purchases, such as cars or homes.
"Investments are about growing your money or providing income and cash flow.
"Insurance is all about the proverbial golden eggs and the goose that lays them. Our golden eggs are the bank accounts, investments, and other assets we enjoy. The goose is us, and it's our incomes that allow us those golden eggs—what we buy and what we provide for ourselves and for those who depend on us.
Then, there's the legal advice needed to provide proper structure to find better tax and other related efficiencies that ultimately lead to better overall results."
I move to the "The 4 Fundamentals of Financial Planning" section of the chart and continue. "What we'll be working on together is in this area, Jill. The good news is that there's really only three parts to it. We're going to look at your plans and strategies for building wealth, preserving it, and then transferring your assets to those you wish for them to go, in the manner in which you wish for it to go to them, and whenever it is that you want it to go to them. Yes, you're always in control. As for making money, well, that's usually up to you and what you currently do to earn yourself an income."
Pointing to "Key," I look into Jill's eyes and tell her, "The key is to position and reposition your assets and direct and redirect cash flow to help you find better efficiencies for creating the reality you really desire."
From there, I move on to this graphic.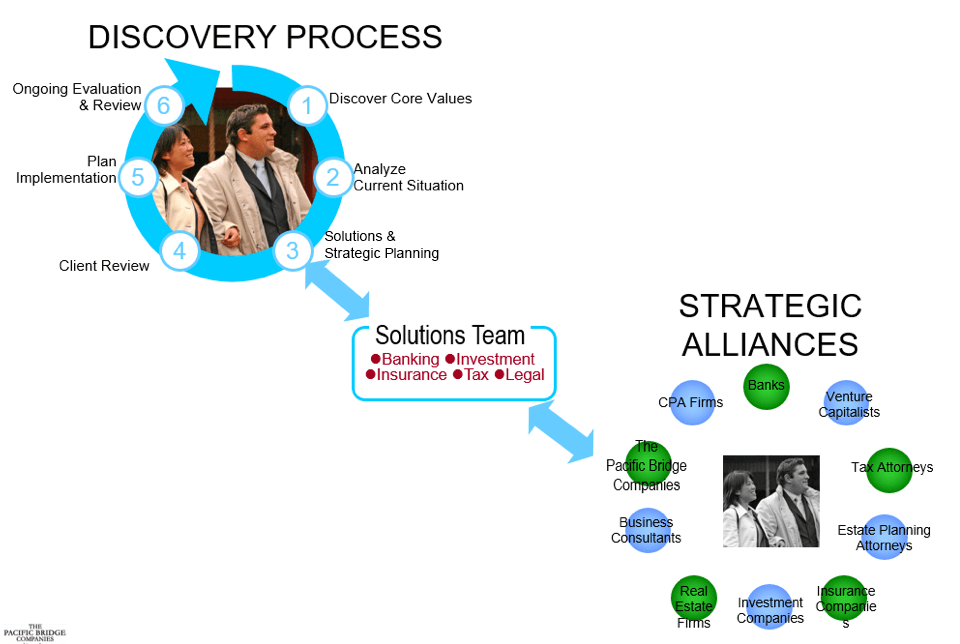 I refer to the section entitled "Discovery Process" and point to circle 1."To do this, we focus on you and what's important about your assets, how you build them, and what you do with them. This includes what they do for you, those who depend on you, or whom you might care most about. Those items of most importance to you serve as our guide. So, you can imagine how this represents a vital part of the overall planning process. We call it 'discovery,' or doing the disco—a process that involves asking you a whole lot of questions to learn what's most important to you, what you sincerely value at the core of your being. We'll seek to discover all that is important about your assets to you, especially as it relates to accumulating, preserving, and transferring them."
I point to circle 2. "Once we know your hopes for the future, we'll take a look at where you are relative to it. That's simply reviewing all that you have and placing the facts of your situation into software that can help us evaluate where you are relative to where you're headed."
I point to circle 3. "Once that information is analyzed and plans are considered, we may then reach out to financial specialists from our cache of advisors for additional assistance."
I point to "Strategic Alliances." "I work with many financial specialists who often provide products and services outside of my immediate area of expertise when needed. They are independent and focus on doing the best for those they serve, too. Our network spans the Pacific Rim.
I point to circle 4. "Then, I'll come back to you with a few alternative paths of action, and we'll take a look at how they compare to your current plans. Together, we'll implement as we deem most appropriate and acceptable. Of course, and as you know, our financial hopes and challenges constantly evolve, and the importance of strategically planning to make the most of what we have is never ending. Understanding this to be the case, we'll continue this process to ensure its viability and effectiveness throughout our relationship together. Does this make sense to you, Jill?"
Then, I ask the question, the answer to which indicates whether this prospect is ready to take the journey that may lead to the seeking of my advice and counsel. It's time for Jill to become my client. I pause and ask, "Jill, shall we get started?"
Jill's positive response is my cue to begin earning trust on purpose and with purpose and to begin moving our relationship to a different, more helpful place. That's accomplished by understanding her and what's important to her, which means ensuring that she knows that I understand what's important to her. This assures her that her best interests are front and center to me. It's time to begin the discovery process, to do the disco.
No matter the person and circumstance, to this point, my presentation remains the same. It's fairly static. It doesn't matter if the clients are schoolteachers or billionaires. It doesn't matter if they're in Los Angeles or Asia. These steps are my fundamentals. It's all the same.
Of course, the worst response Jill can give me is no. Truth be told, it's happened. The good news? Think about it for a moment. How much time have we spent with Jill to this point? Neither of us has invested much time in each other to this point. Interestingly, pushback sometimes occurs when a person comes to me for a specific answer or product that he or she immediately wants. I believe that's good, too!
If Jill's answer is yes, then it's time to naturally deepen our connection as well as build a foundation of trust between one another. It's time for the discovery process.
Discovery
As I shared a little earlier, I represent the third generation of Kagawa financial services professionals. My father was a successful insurance and investment GAMA Master Agency leader himself. I remember him bringing together his top-performing advisors in hopes of capturing their secret sauce, the main ingredients that contributed to their success. He thought he might find the source of that magic, bottle it, and sprinkle it onto other aspiring, top-performing financial advisors.
So, he brought four of us together for several days to discuss our practices. In the end, he concluded that the magic couldn't be duplicated. He deduced that it simply came down to committed people of integrity, along with a few intangibles in personalities that were simply more engaging than others.
For many years, I bought into his conclusions. Years later, after opening my own agency in Los Angeles, I met Bill Bachrach, attended his trainings, and was moved by his book Values-Based Selling, a treasured resource on how to interact with clients and earn their trust. It's from his teachings that I developed much of this part of my consultative methodology. At the risk of oversimplifying, Bill contends that trust between people can be built on purpose by focusing on a person's emotions.
As I look back, that indeed was the common bond that the top performers at my father's agency seemed to share. Bachrach contended that to do so takes simple and well-structured questions, boiling down to what he calls his "high T-E-Q" approach. TEQ is spelled out as T, E, and Q.
Trust: Building trust with the proper emotions creates the foundation for lifetime relationships.
Emotion: People buy more on emotion than logic. Bringing out the appropriate positive emotions leads to positive results.
Questions: Asking the right questions can create a predictable emotional response and build trust on purpose.
In addition to Bill's contention that one could build trust on purpose through his strategic questioning, I found that it provided me with a path of support to my own contentions against what I was learning through industry trainings. Do you remember or rely on methods that focus on needs analysis? Yes, Tom Wolfe's system was revolutionary. It led us away from product selling and honed us in on a person's actual situation. This was a very good thing.
I believe that needs analysis has its place. At the same time, I don't believe that needs analysis is where we should begin with a prospect. I am also one who doesn't believe that advisors are solutions providers, solving the problems of our clients.
Frankly speaking, I don't believe that I'm a problem solver. That would inappropriately suggest that my clients have problems. Over the years, I've found that very few of my clients had real financial problems. In fact, often the problem was getting them to be my clients. That's certainly the case when it comes to each and every one of my billionaire clients. So, I don't tell prospects that they have problems that I'm here to uncover and solve. And I certainly don't tell them that they need to do or buy anything, unless it's firmly rooted behind something they sincerely want to make happen. If anything, they face the challenges of life's realities, and the problem was that they hadn't found better plans of action to deal with them. I find that for most of those seeking guidance, the problem is that they haven't yet identified what they'd like to see as their outcomes. So for me, a needs analysis becomes important once they decide that they have something in their life that they sincerely want and are committed toward achieving. Only then do we know that it is worthwhile to do so. Without these identified and desired outcomes, the chances of our prospects doing what we recommend them to do become much slimmer.
I'm a perfect example. I stand before you a large man. I used to be even bigger, about 100 pounds heavier than I am today. I knew that I was overweight. For goodness sakes, I still am. For years, my friends and family made comments to encourage me to lose weight. I didn't do it.
Eventually, I agreed that I should at least exercise to keep up my stamina. So, I joined a club that had a pool and decided to begin my road back to athleticism by swimming. I suited up and dove into the pool. As I entered the water, a shock rippled down my spine. This was not the normal shock of a warm body slapped by the cool waters of the pool. It was altogether weird, a feeling I'd never experienced before. So, I did what any dummy like me wondering what's going on would do. I jumped out of the pool and dove right back into it. Once again, I felt my nerves fire up and a lightning bolt of energy shoot down my spine. Crazy me kept diving in. A friend advised that I see a doctor. I met with several neurologists and neurosurgeons who told me I needed to open my spinal cavity or potentially live my life in a wheelchair or even worse. Surgery was needed. I agreed. The catch was that the surgeon whom I wanted refused to work on me unless I lost weight. I immediately changed my diet and quickly lost my first 25 pounds.
You see, I needed to lose weight and never did anything about it. Then came this sobering diagnosis that I may never walk again. I really wanted to avoid that. I really wanted the surgery that would help me to do so. And if I really wanted that surgery to happen with the surgeon I really wanted, I needed to lose weight. So, I did.
It was my desire for that surgery that got me to do what I needed to do. My want drove me to do what I needed to do to get it. Our desires always trump our needs.
I see it much the same when influencing prospects to become clients. And it all begins with the discovery process to discover the desired outcomes that will drive our prospects to do what they need to do to achieve them. That discovery process, mastering the methodical and purposeful questioning, will lead you to the answers that are key to successful planning and plan implementation.
You may choose to ask questions in your own way, testing what fits best with your personality and your clients. Most do. For me, though, it's Bill's structured questions that are of most value. They immediately focus the conversation on my prospects and how they look at life and living. These questions help to keep me away from burdening others with my personal opinion and judgment, forcing me to keep my attention laser focused on the person in front of me and his or her own.
I do my best to stay true to the technique without swaying from it. For me, doing so has proven its value a thousand times over. Fortunately, it is basically only one structured sentence that serves as the foundation of all that follow. Here's the structure of the question: "What's important about ____________________ to you?"
The basic point here is that if we want to truly connect with our prospects, it makes sense to focus on what's of most importance to them. We want to know what they want most of all and what's of most importance to them. And to know what's important to our prospects, we need to ask them what's of most importance to them. Remember John Savage's remark about the right words at the right time for the right reason? It's less effective to ask the question in a random way. Instead, we benefit more when we ask in a way that purposefully inspires them to share their deepest thoughts, personal reflections, and personal hopes. It's crazy simple in concept and incredibly powerful too!
When it comes to financial planning, Bill recommends that we begin by filling in the blank with a general word, such as money or assets. I've adopted that idea, and now my opening question in my discovery process is "So tell me, what's important about money to you?"
I used to open my discovery with that question alone. Frankly, it was always met by awkward silence or followed by "What do you mean?" So these days, I set the stage before beginning the discovery questions.
"Jill, I told you I'll be asking you several questions to sincerely understand what's important to you in all that you wish to accomplish. This is so important, as all of this is about you and what you sincerely want. It's certainly not about me or the products and services I represent. So to ensure that we're focused on you and what's important to you as well as about what happens to you and those who depend on you, tell me, what is important about money to you?"
Once the stage is set and you begin this journey of discovery, your next question might be, "Tell me, when it comes to your family, what's important about money to you?"
As the prospect elaborates, you'll find broader and deeper thoughts and information. As you continue to ask questions structured in this way, you're peeling away the leaves of the artichoke as you make your way to its heart.
You can encourage the prospects to share more by saying something like "I see. And when it comes to your children, what's important about money to you?" Listen. "And many people feel the same way about providing for higher education for their children, though they may look at what that means differently. From your perspective, what's important to you about the kind of higher education you'd like to provide for your children?" Listen. Do not comment further than making connecting and deepening comments like "OK. And, as for things like tuition, books, room and board, the actual institutions, what's important to you about what you prepare in funding for your children's education?"
The broader and deeper on each matter you go, the clearer their intentions become to both you and them. The clearer they state their intentions, the easier it becomes for you to direct them toward plans that can meet their goals. You'll also find opportunities to place life insurance or disability coverage and reposition investments.
Continue to prompt them to fuller and more complete answers throughout the conversation, which may go like this: "And when it comes to funding for education, is it important to you to prepare this funding whether you're alive to see your children through their education?"
The methodology works in and around each chosen subject matter. Of course, it's important to constantly drive your questions to touch on all that's important when it comes to accumulating, preserving, or transferring their assets. Fortunately, it's really about those three general subjects that relate to their assets and their lives. The specifics usually delve into children's education funding thoughts, income replacement considerations, retirement funding, and ultimate income hopes, inheritance, and business succession concerns. This is all about your prospect, and it's wise to spend as much time as it takes to inspire deeper connecting. You'll know when to transition back to the planning process when your prospect says things like "And achieving that would make me very happy."
It's simple, but not that easy. Once you've got the fundamentals down, the most difficult exercise is usually cuing your questions for best positioning.
As you listen and learn about your prospects, you should take notes and actively listen. To ensure that prospects know that you're listening and understanding them, verbally confirm your understanding. Repeating what they've stated is of importance to them. Finalize it with "And achieving this would make you very happy."
Actually, I tend to confirm my understanding several times over and in bits and pieces all the while during the questions and answers exchange. I find it never hurts to consistently confirm understandings. Doing so gives your prospects the confidence that you understand them. This is the basis on which they can begin to trust that you have their best interests in mind and trust you altogether.
Once you thoroughly review the issues important to your prospects, I turn to gathering their facts and circumstances. I talk about this a little more casually and nonchalantly. I ask them to gather certain documents and consider placing their financial assets "under my watch," transferring them to me as their servicing rep or to my broker-dealer or Registered Investment Advisor in kind so that I can easily effect changes for them. I personally use fact finders and financial planning software and a team of specialists who help me with plan recommendations.
This part of the conversation may go something like this: "Jill, now that I understand what's important for you to achieve, all I really need to know is where you are relative to those goals that you just shared with me. To understand that, I'll ask for your statements of financial products and reports, tax returns, and whatever financial information you have that may give us a clearer picture of where you stand. My staff will help us put as much of this under my watch to help guide you smoothly through this process. My team will review and analyze everything to discover alternative ways to address your goals, which we'll review together. We'll make adjustments to your holdings as we see fit together."
The Interview Process and Fine Wine
Some of you know that I love wine. Those who do, know that my favorite wine is the one in the glass in front of me. Don't get me wrong; I have my preferences. Yes, when it comes to fermented grape juice, I can be a bit of a snob. Still, I'm not much of a connoisseur. I'm really more of a consumer. So, please forgive me as I share my parallel between fine wine and my method of interviewing.
You see, my understanding is that much of great wine comes from grapes that are high in sugar. This may be best reflected in grapes grown in extreme temperatures of hot days and cold nights, but not so hot or cold as to kill the grapes. This kind of environment makes the West Coast of North America—Napa Valley and the Central Coast of California, the Willamette Valley in Oregon, and the Yakima Valley and Columbia River Valley of Washington—such wonderfully hopeful regions to plant proper fruit.
I believe it's similar when it comes to financial planning. The best interviews involve the extremes of hot and cold, but not so hot or cold as to kill the discussion or cripple your relationship. In the financial planning interview, I believe the heat is lit during the emotion-based, discovery process. The cold comes with the logical delivery of facts, circumstances, and plans for your client's consideration and potential action. The combination is like enjoying the finest wine.
And I now realize it goes even further than that. During a visit to a winery that delivers fantastic zinfandels, I was taught a fascinating lesson. I was asked, "Which type of soil produces the best grapes, rich or poor soil?" I quickly answered, "Rich soil, of course!" I was wrong. In a nutshell, I learned that over the long term, poor soil tends to produce better grapes leading to better wines in these otherwise great climatic environments. Apparently, rich topsoil makes it easy for grapevines to find nutrients near the surface. The roots don't need to dig and fight for their food. Well, I also learned that, over time, the sturdiest vines tend to produce the best-tasting grapes. Amazingly, the sturdier vines that produce the best grapes are represented by vines with roots that are well entrenched deep below the surface. Apparently, the fewer nutrients found at the top, the deeper the roots dig to find the source of nutrition needed. They dig and dig until they find that nutrition, its life source, that feeds the juicy grapes that hang above it all.
Much the same is true when it comes to discovering our prospects' core values within the interview process—the things they really care about, find of most importance, what they sincerely want to make reality. Your objective is to go far beyond the surface and dive deep toward their life source. And when you do that, you will:
Discover what the prospects sincerely value and find of value
Help them articulate their values to you and themselves
Earn trust on purpose and with purpose
Ask discovery questions as part of a conversation
Confirm what you discovered
Begin the fact-finding process
Provide alternative plans of action
Other Client-First Positioning Philosophies
While I don't have the time to go through the strategic planning process, let me share with you a few more philosophical stances that I carry into my consultative practice.
First of all, the discovery process must be sincerely focused on your prospects. We must always fight to keep our personal opinions out of this professional counsel. I always say: Keep an open heart and a quiet mind. A quiet mind is imperative because it keeps you from being judgmental. Remember, it's our clients' hopes and dreams, not ours, that matter here. An open heart means—other than the bare facts—let whatever your prospects believe to be the truth, let it be their truth in the interview and as it relates to their plans. Your personal thoughts don't matter.
I don't believe in objections. I'm really bad with rejection, and objections just seem so similar. Believing in objections is like admitting that your prospects might be rejecting you and what you're saying; at least that's how it is for me. Instead, I view objections as merely questions, questions that can be answered. Just find the proper question in your prospects' comment, and you can help them productively address it. For example, the objection "The policy costs too much" may translate to "What's so important about this policy that I should redirect my cash flow to this instead of to something else?" That's so much easier to deal with, especially if you've already successfully worked through a great discovery. We're there to help them navigate through this financial jungle. We should be prepared to hear their questions and to answer them so that they implement what's necessary to get to their goals.
Another viewpoint I have in working with clients, which some may find different, is that I don't believe we're solutions providers. Telling my prospects that I'm a solution provider is offensive to me. It implies that they have problems. These days, many of my clients have more money than I'll ever have. From my perspective, and as shared earlier, the problem for me usually is that they're not my clients. Other advisors say that we deal with life's travesties. Well, I lost my wife less than three years ago to cancer. Without a doubt, it was disappointing, difficult, and sad. Whether I liked it or not, I know that it was also her time. I believe these are life's realities, and the travesty is that we leave so many people financially unprepared to deal with them when they happen.
Considering what I just said, my next step after completing Jill's discovery and fact finder is to have my team look for new methods, products, and structures to assist her better. I do not consider these ideas as "solutions" to her situation. I consider these ideas alternative ways to address the goals she has for herself and for those who depend on her. By looking at my team's recommendations as alternatives to her current way, I'm free to share many different paths with Jill. Because she sees options, she can feel assured of my flexibility to find paths that bring comfort and security to her.
When I deliver these alternatives to her, I'll say, "Jill, the last time we met, you told me that it was important for you to make sure that your retirement savings were fully funded by the time you're 65, and that the income you're providing to the family continues whether you're able to work or not. Furthermore, you're frustrated with the complications of the many accounts you've created over the years. You want to simplify your life. In addition, you said it was important to continue to invest in your niece's education, and you want to ensure that the dollars are there for her to go to any school possible. This is your gift to your sister.
"You also told me that you want to make sure that the business you own continues and that plans are in place to easily transition it to your siblings at your passing. Has anything changed, or are these still what's most important to you? Anything else?
"Great! We took these hopes and your financial holdings as our guide and prepared a few alternative paths that, I believe, may prove better than what your current situation promises. Of course, there are many ways to address situations. So if this fails to work for you, we'll simply go back to the drawing board. Does this make sense to you?"
Of course it does. Jill is now our client.
Request for Referrals
Dr. Robert Cialdini, a psychoanalytical guru, author, and speaker, who shared from the MDRT Platform years ago, teaches us to take advantage of moments of influential power. That moment comes during every successful financial planning interview. Can you think of when that incredible moment happens? It comes when your prospect becomes your client and turns to you to thank you. What do we usually do in these vital moments? What do you say? I used to say things like, "No worries" or "No problem. It was my pleasure." Instead, use this moment as a stepping-stone to build your business. Use this moment to ask your favorite clients to introduce people like them to you. Use this moment to ask for referrals.
But don't just ask for any kind of referral. I learned that my clients find it difficult to think of someone who could benefit from my services. Now I ask for people who are of like mind or those whom I might enjoy working with. I want my ideal prospects to become my ideal clients who then become ideal advocates who introduce me to ideal referrals. I'm a dreamer. I'm an idealist. I want my prospecting pool to both invigorate and sustain me.
When I ask my clients for referrals, and I'll ask people who aren't my clients as well, I ask them to introduce me to the kind of prospect I really want. That's people who are disciplined, with integrity, caring, believe in planning and sticking to their plans of action, and any and all traits that make for my ideal client. The person would be someone they look up to and respect. You know, someone like them! It's a different kind of ask.
My new client thanks me for my efforts, and I'll say, "You're welcome, and I want you to know how much I enjoy working with you and people like you. You know, people who care about themselves and those who depend on them. Those who plan and then carry out those plans. People of integrity who do the things the way they say they will and exactly the way they say they'll do them, people like you. Whom do you know who's like that, Jill?"
The coolest thing about this method is that I regularly find my clients introducing me to people who've accomplished much more than themselves, and I get the chance to meet them. Not only am I now looking forward to meeting a person of seemingly great character, but this manner of asking for the referral also positions me perfectly for a great first interview with that referral too. I use renditions of this technique as I enter new markets, look for professionals as guides and partners, and work on new structures and opportunities.
When it comes to the request for referral, how I asked for the referral from the client who made the introduction to this newly introduced prospect carries over to the first words I choose to share with the introduced prospect. I may say something along the lines of, "I've really been anxious to meet you, Jill. The reason is simple. When I last met with your colleague, John, our conversation led to people he knows who truly love their families and whom he admires for what they do for their families and those who depend on them. We talked about the people he knows who believe in planning and sticking to their plans, those with the most integrity, doing the things they say they're going to do, exactly the way they say they're going to do it. I asked him whom he respects most along those lines. The first person John mentioned was you."
How do you think that makes them feel? Hey, I'm telling them the truth, and they know it. They also really like it.
Imagine your incredibly successful practice. You open your interview with a valued introduction to a potentially perfect referral who wants to plan and is of the highest integrity. You quickly identify the potential of your prospect becoming your client in a matter of minutes, which positions you perfectly to earn trust on purpose. This allows you to learn what's most important to your prospect and then to successfully deliver alternative plans of action for this person who becomes your client. While your new client thanks you for your care, you're able to gain new referrals for continuing success. Your client is now your advocate, promoting you and what you do. This is the ultimate value of putting our clients first and creating a practice that seeks to always do so.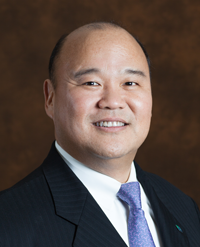 Stephen Kagawa, FSS, LUTCF, is a 24-year MDRT member with two Court of the Table and 16 Top of the Table qualifications. He is founder and CEO of The Pacific Bridge Companies, a comprehensive wealth management organization of companies in the United States, Japan and Hong Kong. The operation identifies and connects financial services professionals from the different disciplines of the financial planning world to help companies and individuals effectively navigate between Asia and the United States.