Always remain green
Julian H. Good Jr., CLU, ChFC
Everyone experiences adversity; how we react to those challenges speaks volumes for our character and our lives moving forward. Good shares five lessons he has learned in times of adversity, with quotes to remember and live by when times are tough.


---
Click here to find more from the 2018 Annual Meeting
---
"When you're green, you're growing. When you're ripe, you rot." (Ray Kroc)
We have all heard this advice in one form or another.
From the time we begin to learn until the end of our days, it's important to keep growing, to stay green.
And nowhere is this more important than the times in our lives when we must struggle with adversity.
We have all had our share of personal struggles. I've had my share:
"You're not smart enough."
"You're too small to play a particular sport."
"Everyone else is better than you are."
"You will never be successful in sales."
And we have all had our share of professional struggles. I'll quickly share three stories of adversity, which were extremely difficult to overcome.
Here's the cold, hard fact: I would not be on this stage, or in our profession, if I had not become a member of MDRT. And I imagine this may be true for many of our members here.
The first lesson in adversity began when I entered the life insurance business in April 1982. I was 25 years old. I had 250 names of people I could call on. I had virtually no training because that person disappeared after a few weeks (alcohol and drug binge). The economic climate was terrible, since we were in the middle of the oil bust in the early 1980s. I was afraid to cold call.
I did have older colleagues, most of whom were MDRT members, whom I could talk to from time to time. They all told me, "If you don't qualify for MDRT, you'll be mediocre." I wanted to be counted among the best.
I was frustrated because I had no idea what I was supposed to do. However, I read a lot; I found a great fact-finding system; and I developed a script about how to ask other people for referrals.
I qualified for MDRT in my first full year in 1983 and attended my first of 33 meetings in 1984 (so far). I qualified because I worked long hours, made a lot of mistakes, and made enough sales.
Failure was never an option because I loved the business from the very beginning. I learned so much at that first Annual Meeting. I met others like me who wanted to become successful professionals and businesspeople.
The second lesson occurred in 1991 when my primary company failed financially. I was a career tied agent, and after nine years of building a client base, working to build trust and visibility in my community, I was suddenly a pariah.
The fear of failure was now very real again, and I had a family to support now. My colleagues and I developed a strategic plan of action to identify a new company to affiliate with. But I developed my own plan of how to survive.
Because I was an MDRT member, I had been exposed to stories from others who inspired me to get through a very tough time (five months). I had built great habits: 10–15 appointments per week, a "do whatever it takes to be successful" attitude, work long hours, and create relationships of trust with clients (I've never had customers).
The third lesson was related to a natural disaster: Hurricane Katrina in August 2005. Many members here have had to deal with natural disasters. And many here have had the feeling: How can I possibly deal with this?
No one had a road map since a disaster of this magnitude had never happened before in our city. Eighty percent of New Orleans was underwater. My home had five feet of water in it for over three weeks.
We spent four months living in another city until we could find an apartment to live in. My office building was closed for almost three months before I could retrieve my laptop computer, business checkbook, and vital records. It would not reopen until January 2006.
I didn't know if I had a business to go back to or not. My staff had disappeared. I had no idea how to contact clients because all of the cell towers had been damaged. I could go on, but I think you understand the significance here. We survived and began to thrive once more.
What's important about these examples of struggles in times of adversity?
Develop a plan of action, implement it, and finish it. But be flexible enough to change it along the way. There is no straight line in life.
The fear of failure gives us the courage to think differently when times are tough, enabling us to overcome seemingly impossible circumstances.
Use all your experiences, your successes, and your failures to your advantage. If you have made it through difficult circumstances once, you can do it again and again and again. Human beings are amazingly resilient.
Use the power of positive thinking: If you think you can, you can.
Acknowledge the changes coming to your profession now. Prepare and make the changes in your practice before others do. How do you know what change is coming?

Keep up and read what regulators are doing in each of your respective countries and in other countries throughout the world.
Attend professional meetings, such as the MDRT Annual Meeting.
If you're not already doing so, form or become a member of a study group.
Think like a businessperson, not a salesperson. Sit down and think through your business at least once a month.
We are MDRT members. We can do anything we put our minds to. We have all faced adversity, and we will face adversity again in the future. And every time we do, we will figure out a way to overcome it. Why? Because we are the best of the best.
"When you're green, you're growing. When you're ripe, you rot."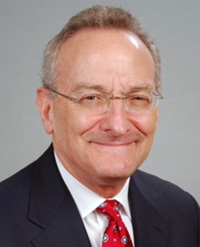 Julian H. Good Jr., CLU, ChFC, of Metairie, Louisiana, is a 35-year MDRT member with nine Court of the Table and four Top of the Table honors who served as MDRT President in 2011. He is the founder and principal of Good Financial Group, where he assists clients with individual and business planning needs. He is a member and past president of NAIFA–Greater New Orleans, a member of the Society of Financial Service Professionals and past president of the Greater New Orleans Estate Planning Council.