Aloha connection
Adelia C. Chung, CLU, ChFC
Paying attention to details. Asking open-ended questions. Creating an office that is welcoming for clients and staff. Chung explains how her practice embraces a warm, friendly approach that leads to meaningful relationships.


---
Click here to find more from the 2018 Annual Meeting
---
For those of us who live in Hawaii, aloha is more than a word of greeting or farewell; it is an integral part of our island community. Aloha is a way of living and treating each other with love and respect. It is a spirit that is felt and seen.
Every interaction is an opportunity to gain trust and develop meaningful relationships. It happens when one is intentional and pays attention to every detail, especially those often thought to be minor.
Our office building was designed to be welcoming and warm. Fresh flowers are placed throughout. The wall colors, carpet, and paintings are meant to create a calming and intimate environment. Clients' spaces are tidy and uncluttered.
We aim to create positive experiences.
Clients are greeted by name.
A record is made of their drink of choice so on their next visit we can ask if an espresso with sugar is what they desire today or is it a Diet Coke day?
Paul Bloom is a Canadian-American psychologist and professor at Yale University. His research has explored how children and adults understand the physical and social world. He has said, "The key to the happy life, it seems, is the good life: a life with sustained relationships, challenging work, and connections to community."
That is what we desire for ourselves and more so for our clients. We want them to have good lives. Sustained relationships, challenging work, and connections make for a good life. We want to form sustained relationships with those we serve.
We believe each individual has a fascinating history and a remarkable future. We want to learn about what gives an individual purpose; how is he living his life? By connecting and being transparent with each other, we develop meaningful relationships.
We ask open-ended questions so individuals can tell us about themselves. A recent prospect runs an electrical company. I asked, "How did this business start?" Two hours later, I discovered it is a third-generation company, and keeping the business running is important to him. I ask questions, and I hear stories, and I learn about people and their history. It's wonderful!
Prospects respond in overwhelming ways when we listen with open ears and an honest heart. We distinguish ourselves as individuals whose interests are aligned with those we serve. Ask about needs. Listen to what they need and tailor a response to address their specific life concerns.
We have found that individuals and businesses have different priorities and concerns. Some individuals are not opposed to care in a long-term care facility, while others will do everything possible to obtain care at home.
Finding out what drives and excites an individual is important to us.
Similarly, some businesses are driven by profit, while others are driven by a mission to improve the quality of life for others.
I see those I work with not just as clients who are fulfilling my need for a sale; rather I see them as people I am doing my best to help.
I have delivered carrot juice to individuals to help nourish their bodies.
I have shared meals and outings with those who haven't ventured out of their homes in years.
I've been at the bedside of the dying because they want to be assured their loved ones will be cared for.
These individuals know I care about them because the time I spend with them is not measured against my bottom line but rather driven by a sincere passion to comfort and to provide assistance.
It is going to the car to say hello to an elderly parent waiting in the car.
It is sharing bananas from our yard with prospects and clients.
It is coming together to build a better community by doing laundry for those who are homeless.
It is working to empower and encourage individuals to be the best they can be.
Client engagement is rich with face-to-face intercommunication. It is compassionate caring. It is genuine and authentic.
Social media has changed the formality of personal interaction. It is easy to succumb to the trend of sending out short texts and emails. Yet I submit that much is lost in the less elaborate and immediate response. Interaction is what creates the beauty of relationships.
Have you noticed you are greeted at the door as you drive up to a Four Seasons Hotel property? Luxury brands have not wavered from the formality of the greeting as you enter the boutique to the assistance with the selection of a purchase to the handwritten thank-you note.
I have a passion for the experiences that are rich with face-to-face intercommunication, conversation, and social interaction. Personal engagement is worth the investment of time.
Engage with those you meet, and you will be enriched.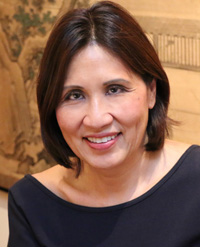 Adelia C. Chung, CLU, ChFC, of Honolulu, Hawaii, is a 36-year MDRT member with eight Court of the Table and 14 Top of the Table honors. She was the first female MDRT President, serving in 2005, and has been a Chair or member of more than 20 MDRT committees. She is an Excalibur Knight of the MDRT Foundation and served as its President in 1999.