3 ways to stand out
Priti Ajit Kucheria, LUTCF, CFP
With so many financial advisors out there, why should clients be committed to you? What can you do differently that makes them want to work with you? Kucheria shares three techniques she utilizes to stand out from the crowd.


---
Click here to find more from the 2018 Annual Meeting
---
What is common among all of us? Well, as MDRTians, we all stand out! Compared to our peers, we stand out in our presentations, in the way we service our clients, and even in the way we engage with them at different time points.
Allow me to share three unique ways in which I wow my clients on their birthdays—and stand out!
Now, if you were my client, this is what you would receive in your mail on your birthday. [video]
So I have embedded this flute video in the PowerPoint file that I mail to my clients. And it always brings on a smile. First, because they are pleasantly surprised to see me in this avatar. Second, they can almost tell that this is the only song I play, because that didn't sound like a professional. Yet, they appreciate the fact that I made an effort to wish them happy birthday personally.
It's never too late to learn an instrument. Or anything in life for that matter. But some of you may not have the time or the inclination. And obviously I too can't send the same video every year. So here's the second way [video].
You can find many freelance instrumentalists online. For a very nominal charge, they will deliver a bouquet of flowers, or a cake, to your clients' doorstep and play the "Happy Birthday" song. It only takes five minutes of their time, but they are simply blown away!
Finally, let me share one more unique way in which I wish my clients' child a happy birthday. [visual]
Almost always, I recommend that my clients start investing in their child's future the day he or she is born. In India, we provide for our children's entire education and their marriage and even support them in buying a house at times. Accumulating funds for one's child's marriage is, in fact, a legitimate goal in our financial planning worksheets.
In this example [visual], imagine my client has a daughter named Regina who's turning two, and my client had not entered a plan when I had recommended him to do so at Regina's birth.
The concept that I try to convey is the cost of waiting. He will realize that waiting for just two years has cost him a whopping $68,000! I've added some fun elements, and this is what he'll see when he opens the attachment. [visual]
Now, as far as procuring a baby's photo goes, trust me, you can put any pictures in. They all look alike. I mean, except for their caps, can you really tell which one doesn't resemble the other? [visual]
You can get very creative with this graphic representation to meet different client goals and come up with humorous suggestions on how the extra amount could be used. [visual] I've listed a few, such as "Send wife off to Timbuktu for a week with her friends" and "Have a larger space for a rose garden." But on a serious note, you would have stressed the urgency to start investing now and not wait.
Thank you for allowing me to share how you too can make your clients' special day extra special and at the same time plant seeds for further business.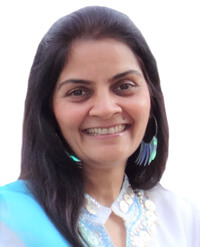 Priti Kucheria, LUTCF, CFP, is a 17-year MDRT member with two Court of the Table and 14 Top of the Table honors. She is a managing partner for Wealth Guardian Services, LLP, and a member of the elite International Star Club, and has garnered several CEO Awards for her work. She has served in various leadership roles on several committees and task forces for MDRT.