Your lasting gift
Sherry Lee Ong
Ong recommends taking a picture of clients when they sign the application for a policy to emphasize the importance of their decision and remind them of that if later on they no longer want to pay. Presented at the 2017 Annual Meeting.
What will you feel when you travel to a specific place and the people there welcome you with a band? When you watch a movie and you are given free popcorn? When you dine in a restaurant and you are given free dessert? When you go to a resort and are given a free massage? We call this "value-added service."
As an insurance agent, what's that extra that you leave to your clients to make their customer experience more pleasant? What else do you do that makes them want to transact with you and only you? What is your lasting gift to your clients?
Let me share with you a simple and quick idea on how I add value to my clients. This is so easy that you can apply it immediately when you get back to your office. When your client is signing his application form, quickly take a photo of the client. Have it printed and attach it to his policy. Include with the photo a note: "Today, September 15, 2015, I have made an important decision to take care of the future of my wife and kids. I trust my agent, Sherry Ong, and her company that they will fulfill their promise." In this way, you set your policy contract apart from all other contracts because it has a deeper, visual reminder of what life insurance is all about. By printing the photo and putting that note in the file, that day your client signed the forms and paid the premium (don't forget to collect after taking the photo, by the way) becomes more than just a business transaction. It becomes a family memory. It becomes a life event. And when your clients do not want to pay anymore, just show them a copy of the photo and say, "Remember, you promised!"
They say a picture paints a thousand words. This particular picture pays a million dollars because one day that photo will transform into a check. It reminds the client of his love for his family, and it reminds you, the agent, to do your best for your clients. So go ahead, take that picture today, and every single day.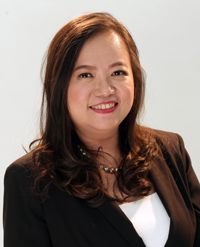 Sherry Lee Ong is a six-year MDRT member from Manila, Philippines. She has been in the life insurance industry for nine years and is the current national president of the Life Underwriters Association of the Philippines.