While you may not care what information is out there shaping your public identity, it's giving the public a perception of your business, and perceptions mean everything. Even your lack of presence speaks volumes. Brown discusses how branding can help you control and manage your public identity and provide constant reinforcement of what you stand for and what your clients and referral partners can expect. If you get branding right, you can get your reputation right and become a trusted partner to your clients.
Marketing and branding are about your public identity—what others think of you and your business. While some may not care what is out there about them, it's all giving the public a perception of you and your business. Even your lack of presence speaks volumes. It's all about how you market your brand. Are you living your brand?
In today's session, I want to show you the following:
How branding helps control and manage your public identity
How consistency in branding shows constant reinforcement of what you stand for and believe in and what your clients and referral partners can expect
How, if you get the branding right, you can get the reputation right and become a trusted advisor to your clients and partner to your referral sources
All this can cement your clients as lifelong clients as well as make them advocates for your business. After all, we all want to ensure that our clients become raving fans of what we do.
It also means that referral partners are compelled to refer to you as they are in line with your views and can trust that you will provide an exceptional level of service to their clients.
Branding is about your public identity, the public perception of you and your business. How many of you would look up a review or get a recommendation before buying something or traveling somewhere new?
Taking that into consideration, let's look at a small Italian restaurant called Alpino Restaurant in Melbourne, Australia.
After googling Alpino Restaurant, I found that it has a Zomato rating of 2 out of 5, which is the first thing that appears on Google, and a TripAdvisor rating of 2.5 out of 5 with 33 reviews. Then, it has its own very basic website, a That's Melbourne page, which has a sentence pretty much saying that it is a restaurant and giving its business address. Then, I found a True Local page that is blank with the words "Oops we couldn't find the page you were looking for"—all review-type pages with nothing much to talk about.
But the fifth Google result was actually a blog post on I eat therefore I am titled "How to Lose Patrons in One Meal." As the title suggests, the blog piece isn't favorable and details the many ways that the individuals didn't enjoy their experience dining there. This is one company that is not in control of its social image, its brand, and its business. Its lack of online presence speaks volumes about its business.
So how do you avoid becoming that business?
You take control of your image, your brand, and your public perception. One thing that social media has done is make it easier for a reputation to be tarnished rather than allow it to flourish. More people will complain about a negative experience than write a positive review, especially if you haven't provided anything exceptional for them to write about. So you have to be on top of it and driving it yourself.
Who has googled themselves and their business? Were you happy with what you found?
Here's what Google says about Jenny Brown. You can see that of the top 10 searches, five are me, and that includes the top three—my LinkedIn profile, plus two articles that I've written and posted on Google+. [visual]
We'll talk about LinkedIn a little later, but one thing you need to know is that it's a very powerful tool for ensuring that you rank well on Google. So my tip to you is to ensure that you build a good LinkedIn profile, with a picture, to create the first step toward creating your own personal brand.
This is what Google says about JBS Financial Strategists. [visual] You can see that the top ranking is our website, followed by Facebook, a Google+ article, my personal LinkedIn, and three directory pages, one with me. This shows that the cross-referencing is very high between my personal profile and JBS.
So let's shorten our name and see what Google says about JBS. [visual] Now, this is a bit different as it shows that JBS is a very large Brazilian company, the world's largest processor of beef and pork. This search brings up our company five times on the top 10, including our website, JBS Team, our salary packaging arm, and a Google+ blog.
What all this shows is that you need to be active. You can control your public identity by having a hand in the traits that the public sees.
The best way to start the process is to determine your image or brand. What do you want to represent? What traits do you want people to think about when they think of you and your business?
While you, as a business owner, may want to have a particular image, it may actually be different from those in your business. For business branding to work, all team members need to be on board, so you need to include them. Start with a brainstorming session where you collectively formulate an image or identity that you want your business to be known for.
We did this by having a white board and calling up every word we felt JBS reflected, from professional to fun, educated to reliable, and passionate to empathetic. I'm sure you get the picture.
We then grouped the words that were similar to come up with this:
Create | Protect | Enjoy—to create long-term wealth, to protect yourself, your family and your investments, and to position you to be able to enjoy your success
Everything we do encompasses these words, and not only for our clients but internally within the JBS team. It's what we stand for; it's our brand, our motto, and what we believe in.
Whenever new team members start, we introduce them to our logo and motto and what JBS stands for. We need them to understand from the initial employment interview right through to their interaction with clients exactly who we are and why we do what we do.
At JBS, we aim to be seen as being well educated and skilled, hardworking and fun! Everyone's go-to image is professional, but if you are working in a profession that is professional, like financial advising or accounting, then there should already be an expectation of that.
Ask yourself, What sets me apart from the next financial advisor?
While our image is simple in nature and could be considered similar to the next company, we live and breathe it, and our clients know this.
Consistency and reinforcement of the message and brand is crucial. We use the same profile pictures and include all our educational qualifications on our bios on our website, LinkedIn, Adviser Ratings, and anywhere else our clients would look.
We also celebrate when a team member completes a new study, obtains a new accreditation, or wins an award through our social media networks. We prove every day that we are hardworking by having very clear and set service standards that everyone on the team is aware of.
We always reply or acknowledge our clients' inquiries within 24 hours, jump onto clients' questions, and meet with our clients regularly to update them. And we definitely show our fun side. This is probably the main theme to JBS as, again, we understand that our clients would expect us to be highly educated and hardworking. At JBS, we love to have fun!
At this point, we often face two questions or concerns. The first one is usually, "What if I don't like what I see?" Well, human nature shows that not everyone is going to like everyone, so if you're not in tune with our philosophy, if you don't like that we show the fun side, then you're probably not going to enjoy or be happy with the service we provide. So we'd rather you see our image and make the determination if we are right for you. This eliminates any time wasting.
The second is those who are concerned that we are losing the professional level of interaction with our clients. However, we have found that our clients trust us and rely on us further because we come across as normal, relatable people rather than stiff money people. We make sure that all our office antics are included on our social media, ranging from celebrating office birthdays with cake and a present, to playing foosball on our office foosball table, to playing one of the 1,500 games in our office (and JBS branded, mind you) arcade machine.
However, we have already set the expectation of what clients will get when they come in to see a JBS advisor. Here's part of our corporate video. [video]
Every business card, email, letterhead—all material with your details—puts out an image. It all should show your business identity so that it's easier for a potential client or referrer to understand your business and how you operate.
Colors, for example, can play heavily into the feel of your business and the emotional response a person has to it. There are heaps of studies on the psychology of colors, and many conclude that there are some standard responses to colors.
Red is more associated with things such as being bold or energizing or having extreme emotions like love or rage; blues are more associated with being cold or with dependability and trust; yellows are calming and warm and emit joy and happiness; and black can be seen as sophisticated or serious and in control.
These color studies have helped a number of major brands to convey their image. Coke is red, showing boldness in its brand. Fanta shows that it is confident and cheerful.
The Logo Company has put together a rainbow of major brands and their logos to show what color they fit into and therefore the image they are aiming to convey.
But you should also understand that color will also have its own personal slant for everyone due to their experiences with the color, even if subliminal. As much as yellow is meant to be uplifting and cheerful, if your house was painted a predominant yellow (which could have easily been the case if you, like me, grew up in the 1970s), and, say, you had a bad childhood or had a parent die young in the house, then yellow might not be as cheery as it might be to others.
This means that you should aim for a color that reflects your image, but be prepared that some people will not have the same emotional response as desired.
From your business card alone, can people see what your business colors are? What is your branding? From that, do they get a feel for the image you want to put out? Color isn't everything, but it certainly adds to your image, along with the logo, amount of content, quality of card, whether there is writing on both sides, and if you include a photo of yourself. The list goes on. But what is your business card saying about you?
Everyone's opinion is important as it is perception of others that counts. You might think that you are showing that you are "professional" or "a point of knowledge" or "fun," but if that's not what other people see, then it's not working.
Sometimes, we're too close to our own business, and what we think others see in us is very different from what others actually think. We need to take a step back and ask the question "What do you think of when you think/see our business?" This is a good thing. Be prepared for the negatives as well as the positives. Perception is that person's reality.
Here are examples of JBS branding marketing on our business cards and stationery. [visual] What do you think of when you see our branding? Our colors? Our concept? Hopefully, you got our purple meaning of creative, imaginative, and wise, and the orange characteristics of friendly, cheerful, and confident.
You bring through your image your brand and colors together in your marketing plan. A marketing plan is the manner in which you present yourself to the outside world. It doesn't have to be TV commercials, banner ads on Google, or cold calling clients. When you think of it as the manner in which you get your image out there, then you understand that we all do marketing in some way.
The biggest key to presenting and keeping a business image or brand is consistency. Whatever you're doing, make sure it's in line with your image, your brand, and your colors—everything that makes up your public identity.
Every time that you interact with clients, potential clients, referrers, or business partners—anyone outside your business, really—you need to ask if the interaction reflects on your image. Every interaction counts. For instance, if clients email you, the time it takes for you to respond adds to the image that they have of your business.
Reply instantly with a templated email, and they might think they've become a number in your business and aren't important. Reply in an hour or so, and it might seem like you're not busy and don't have too many other clients, which could be concerning to them. Reply days later, and they might feel like you're too busy for them and that they don't matter to you. Every interaction adds to your image.
Things that could all contribute to your branding and your public image might include the following:
Writing in conversational English rather than proper Oxford Dictionary English
Keeping the colors of all your materials the same
Including your branding in your social media profiles
Using photos of yourself or your team in email footers and websites
Posting on social media and keeping your posts in line with your image
Sending birthday or anniversary videos to clients
Sending personalized videos to clients after your meetings
Providing welcome packs or happy business anniversary gifts to clients
There are many things that you could do, but more than anything, you must think about the interactions you have with clients and make sure that they do convey your image. Keep it consistent.
When you do get into social media territory, it can get tricky. Each platform has its own purpose and use.
Facebook is more of a social place, and many people don't want to be professional or sold to here.
LinkedIn is more of your professional market, where viewers want to be informed and enlightened. LinkedIn has enormous benefits, and as we mentioned earlier Google loves LinkedIn, an up-to-date profile will help ensure that you are more easily found in searches.
Twitter can be used for business, but I find it's more of a conversation- and relationship-building platform.
YouTube is a great platform and the second largest search engine to Google.
Google+ also ranks really well in searches, and if you are posting articles/blogs that are on Google+, it will help raise your profile.
Don't forget your website. Whenever you write a post or blog, you can repurpose it so that it can be used in a number of ways. For example, we have videoed a number of clients for their stories to show our prospects and referral sources the type of clients that we want to work with. While we were doing the video, we also asked for a testimonial.
What we have also done off the back of the videos is to write their story and blog it out on our website and a number of social media platforms.
Each item posted to each platform should be tailored to the environment where it's posted. So it might mean that if you want to portray a professional image, then you should limit posts on Facebook and focus on LinkedIn, or if you want to be a more friendly organization and include personal pictures, then connecting with your clients on Facebook might be better for you.
Social media is one of the easiest ways to get your image out. You can upload photos and caption them in a way that is appropriate for your clients and your image and include a video such as a message to clients, an update on changes in the industry, or a discussion about something important for your clients, and it can be sent via different media.
So all of this—building your image, your brand, and your public identity—doesn't have to take up all your time, it doesn't have to consume your daily operations, and it doesn't have to be overwhelming.
Photos are fantastic. They are quick and easy and can be captioned to reflect whatever image you wish to project.
Below are the main takeaways:
Get other opinions on the image that you are projecting, and be prepared to take feedback, positive and negative.
Brainstorm the image and brand you want to convey to the world. This might take a while to do. Use a whiteboard, and go back to it a week later.
Be consistent with your image. Make sure that everything matches your image—how team members dress, how they answer the phone, colors, social media posts, and interactions with clients.
Create and build a great LinkedIn profile for yourself, with a quality professional photo, well completed, and with some good recommendations.
Put in place a marketing calendar so that you know what you are doing and when you are posting it.
It doesn't have to take over your life, but it has to part of your everyday life until it becomes the norm. Think about your interactions with others to ensure that they're in line with your desired brand.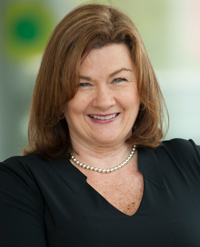 Jenny Brown, CFP, FChFP, is a nine-year MDRT member with two Court of the Table and three Top of the Table honors from Melbourne, Victoria, Australia. She is the founder and CEO of JBS Financial Strategists and was named the 2013 Association of Financial Advisers (AFA) Financial Adviser of the Year.