Walking the tight rope
William J. Rossi, CFP, ChFC
Rossi addresses the importance of working efficiently and putting family first. Presented at the 2017 Annual Meeting.
I am not going to give you another idea to make a sale. You know how to do that; you are here. Congrats! I plan to share a concept to give you a life. I learned this at my second Annual Meeting, and it has been reinforced at each meeting since. If you have been a part of MDRT for a while, you have heard of the work-life balance MDRT promotes. Let me express the value and importance of this. If your personal or family life is out of order, it will absolutely impact your business life negatively. This is titled "Walking the Tightrope" because life is a balancing act. Think of a circus where someone is walking the tightrope. They are never perfectly in balance, rather they lean ever so slightly to the left or to the right. I believe if you do the same, you will have more energy, be more productive, and lead a more fulfilling life.
At my second MDRT meeting, I heard a speaker state that you should work hard, but never get fired from your number one job. If you are married and/or have children, they are your first responsibility. You have to work to provide, but they also need your time and energy. If they fire you, why are you working so hard in the first place? We all spend more time working and in the office than at home. So when we are home, our families deserve all our attention, all our energy. If you come home every night and crash on the couch to unwind and ignore your family, eventually they will fire you—just like when you do not give enough attention to clients, they will fire you. Bring home the energy. Give them the same fire that you carry at work, which made you successful enough to qualify for MDRT.
I said family is first, and I do believe that. However, we do need to produce results. After all, families are expensive. How do we strike this balance? I will share a few tools that have helped me.
First, at the office. When I am there, I want to be as efficient and productive as possible. Most people coast through each day the same whether it is good or bad. If you take the time to learn from each day's experiences, you will get faster and better at what you do. A simple tool we use in our office is an experience transformer. Most people try to forget bad experiences and sometimes will celebrate good ones. Take it a step further. If something occurs with a poor outcome, ask why. List what happened, what worked, and what did not work. And knowing what you know now, what would you do differently? Maybe then you will not make that same mistake again. Similarly, when you have a success, list what happened, and why. And knowing what you now know, how can you replicate the desired result so you have more "wins"?
Next, take some time to sharpen your saw. There is a parable about how two tree harvesters who were friends had very different outcomes over time. The first one worked all the time, without breaks. His friend said, "When do you sharpen your saw? When it becomes dull, it is more difficult to cut down trees and requires more energy and time to do the same work." The first harvester stated that he never had enough time to sharpen his saw. The second person stopped cutting trees every Friday to sharpen his saw. Soon enough, he was cutting twice as many trees as his friend. The moral is to take time to learn and grow to sharpen your saw, to keep your edge. Coming to meetings like this certainly keeps your saw sharp.
Another technique we use in our office is our time management system. We typically do not see clients on Monday or Friday. This is time for projects, research, case prep, or simply following up on doing what we promised we would do for our clients during all the meetings on Tuesday through Thursday. It allows for time to meet with our team and delegate as much as we can.
We also plan vacations backwards to most people. Typically, I hear colleagues and friends state, "As soon as I … fill in the blank, I will take a vacation." That blank may be a project, closing a large case or sale, or achieving some milestone. The point is that they reward themselves after the hard work. We approach it differently. If there is a large project or milestone up ahead, we take a break to recharge and relax. When you disconnect for a few days, you come back refocused and ready to conquer anything. Try it, and I imagine you will find the results surprising. You will come back with more energy and more excitement to accomplish your goal. This has an additional effect on your personal life. If you are taking occasional breaks to get away from work, it allows you to "lean a little left or right" and reconnect with those you love, so you too can walk the tightrope!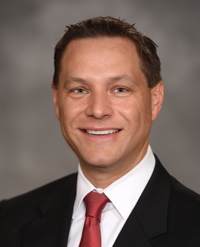 William J. Rossi, CFP, ChFC, of Gainesville, Florida, is a 14-year MDRT member with 11 Top of the Table honors and the Immediate Past President of Top of the Table. His areas of expertise are investment management, estate planning, 401(k)s and creating income distribution strategies during retirement.