Triple your MDRT results
David Batchelor, Dip PFS, CFP
Batchelor shares strategies to increase your focus and recognize how to achieve short- and long-term goals. Presented at the 2017 Annual Meeting.
Earlier this year, I had a very strange thing happen. In this particular week, I had three client meeting days, and on each of these days, I ended up talking about cars with the clients. It's not that strange, I hear you say, until I tell you that three clients in succession own and were raving about their new Tesla, which is the fasted production car on the road. It does 0‒60 mph in just 2.5 seconds! The first client urged me to try one, the second ordered me to try one, and the third pleaded with me to try one, and so, finally, I gave in and took one for a test drive. As I sped out of the car showroom, with the salesman pinned to the passenger seat, my clients' words rang in my ears:
"Of course, if you test drive it, you'll want to buy it."
And guess what? They were right. After just 40 minutes, I had purchased my beautiful red P110D Tesla.
Now, I have never been a car person, so this was quite unusual for me. In fact, I don't think I had seen a Tesla on the road before at all! I was quite pleased with myself as I drove home and reflected on the point that I had never seen one on the road. As I did this, what should drive past me? You've got it—a shining, white Tesla! A coincidence, I thought, I'm just near the dealership, until the following day, when I was driving with my son to see my parents. As we meandered along the motorway, what should I see passing me at what seemed like 1,000 mph? Another Tesla.
Have you ever noticed how you don't notice cars until you own one?
Now, there's a reason for this. It's because of a part of our brain called the reticular activator. The reticular activator is designed to search out and find those things that we are either consciously or unconsciously looking for. This is why that all of a sudden I was surrounded by Teslas.
It's this part of our brain that we can use when we attend the Annual Meeting, or indeed any conference or meeting, to massively increase the results that we get from that meeting. All we need to do is to program our reticular activator to find the stuff that we need to make our practices better. How do we do this? How do we program our reticular activator?
Here's what I do to make sure that my reticular activator is working and up to speed when I come to the Annual Meeting.
First, I start by writing down the purpose of attending the meeting. I must write it down; I can't just think about it.
Second, I write down why this is important to me. It doesn't need to be a long note, just a paragraph or two.
Third, I write the ideal outcome from the meeting. And this is broken down into success criteria. The success criteria are a list of objectives that, if achieved, will allow me to define my attendance at the Annual Meeting as successful. This year the list includes the following:
Find one idea to improve my objection-handling techniques.
Find one idea that will, after 12 months, have generated a minimum of £20,000 in gross sales.
Make one contact who can be a source of economic data on the United States for our investment committee.
Sometimes I will have one success criteria, and sometimes five or six.
By setting the purpose, importance, and ideal outcome, I'm programming my reticular activator to find what I need to meet my success criteria.
Now, this is a fine strategy, but we've all come back from meetings with a ton of ideas, but don't get around to implementing them, and so the second strategy is vital to organize my ideas.
In my meeting notes, I set out three sections: "Today," "Tomorrow," and "Sometime." I have a separate page in my notes for each. During the sessions, I will be taking many notes, and, as I do, I often come up with an idea that I can implement in the practice. I drop the ideas either in the "Today" box, the "Tomorrow" box, or the "Sometime" box. The "Today" box means that we can implement it within seven days of returning from the meeting, the "Tomorrow" box means that we can implement it within 90 days of the meeting, and the "Sometime" box means that we'll implement it when we get around to it. By doing this, I first capture all the ideas, but, more importantly, I prioritize their implementation, which makes them very easy to delegate.
And, finally, I have my third strategy, and that's about money. When I started coming to the Annual Meeting, to spend the money and time to travel halfway around the world was a big deal. So I needed to convince myself (and my wife, in all honesty!) that there was a reasonable payback. Therefore, in every one of my meetings I have made a record of the income generated, or costs saved, from ideas I have obtained in the meetings. And my rule is, I must generate each year enough to cover the cost of attendance. And to give you an idea of how valuable these meeting are, the amount of income generated from ideas I've received from MDRT is $7,336,969.
And so, thank you all, and thank you, MDRT.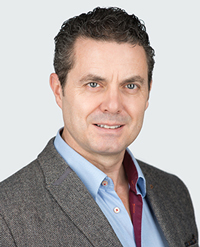 David Batchelor, Dip PFS, CFP, is a 20-year MDRT member with two Court of the Table and 18 Top of the Table honors from Thame, England. He was a founding director of the Personal Finance Society in the United Kingdom (UK) and currently serves as UK coach for The Strategic Coach program.