The power of hope
Pamela Landwirth
Landwirth, the president and CEO of MDRT Foundation charity Partner Give Kids the World Village, shares how since 1986 the organization has served more than 152,000 families from 76 countries around the world. Thanks to the Village, children battling a life-threatening illness and their families can spend a fantastic, unforgettable week eating ice cream for breakfast and spending time with their favorite characters, free of charge and filled with the feeling that anything is possible. Presented at the 2017 Annual Meeting.
It is an honor to be with you this morning to share our Give Kids The World story, a story about the most powerful gift you can give another human being — the gift of hope.
To help you understand our mission, I'd like you to imagine that you are a "normal" family going through life, experiencing all of its ups and downs: worrying about making ends meet; nagging the kids to get their homework done or clean their rooms; trying to find that proverbial work-life balance.
Then, one day, during a routine trip to the doctor's office, your world comes crashing down as you hear the words: "I'm sorry, your daughter has leukemia" or "Your son has an inoperable brain tumor." All of a sudden, your world is turned upside down, and those things you used to worry about now seem so insignificant.
As one wish mom wrote, your new norm becomes:
Surgical procedures, transplants, x-rays, transfusions, and hospital stays. You watch the children of new friends die, and you hate yourself for the sense of relief and gratitude that the angel of death pointed at them and not your angel. Then you go home, make dinner, try to pay bills, make grocery lists, discipline your children for not brushing their teeth — as if you really cared any more—and make it all seem like an inconvenient, but manageable bit of a tangle you have to work through. You do your crying in bathrooms, your screaming in the car parked behind a gas station, and your begging on your knees. And no matter how strong your faith and love of God, you wonder if you will ever have 5 minutes when someone isn't staring at the bald, skinny, little girl with translucent skin in her princess dress, and you pray that God will take away the anger and give you joy in something besides a decent hemoglobin count.
Such a powerful description.
After our families have lived this nightmare for weeks, months, or sometimes even years, they dream of a few precious hours or days when they can just feel "normal" again. They want someone to put their arms around them and make them feel like everything is going to be all right.
That's the gift that Give Kids The World gives to our precious guests — families that are much like yours or mine, but that share a common bond—a child between the ages of 3 and 18 battling a life-threatening illness, whose one wish is to visit all the magic Central Florida has to offer, whether that is meeting Mickey Mouse, swimming with the dolphins, or experiencing the Wizarding World of Harry Potter. This simple wish is shared by nearly half of all children diagnosed with a life-threatening illness.
Since 1986, we have served more than 152,000 families from 76 countries around the world. And while that is a staggering number, there are conservatively 27,000 children in the United States alone diagnosed with a life-threatening illness each year, so our work is really just beginning.
Before Give Kids The World, many children were unable to experience their wish. Henri Landwirth, our founder, owned a Holiday Inn near Disney, so when a wish-granting organization identified a child with a Disney wish, it would often call to see if Henri would host the family for free. Of course, he would always say yes. Then, one day, his general manager told him that a reservation was canceled because for Amy, a little girl from Virginia, time had simply run out; she had lost her battle with leukemia. Henri found that it was taking more than two months to coordinate the wish process, time many children simply don't have.
So at the age of 60, when most folks who have enjoyed his level of success look to retire, Henri made a promise that every child would be able to have his or her wish fulfilled. And rather than sail off into the sunset, Henri created Give Kids The World in a storeroom of his hotel.
He streamlined the process to be able to bring children to Central Florida in less than 24 hours if need be.
We now work with more than 200 wish-granting organizations around the world and have grown from that little storeroom to a 79-acre, whimsical Village, complete with 168 villas, the Gingerbread House Restaurant for meals, the Ice Cream Palace, the Castle of Miracles, and so much more.
Our mission is to take our families out of their new "norm" of doctor visits, hospital stays, and medical treatments and into a magical world filled with "yes!" These parents have become so used to having to say no — "We can't afford a vacation now, or a big Christmas, or even birthday presents." So imagine coming to a place where you don't have to worry about cost . . . everything is free! Everything from life's simplest pleasures, like ice cream for breakfast, to the stuff dreams are made of! The siblings are included in all of the fun too, because they suffer in many ways as well.
Every day and every evening there is a party:
Sunday—World's largest Candy Land game
Monday—Halloween
Tuesday—Mayor Clayton's Birthday Party
Wednesday—Village Idol
Thursday—Winter Wonderland, complete with snowfall, presents, and, of course, a visit with Santa
Friday—Pirates and Princesses
Saturday—Pool Party
The characters even come to the Village in the mornings so that the families don't have to wait in long lines at the parks for those special photos. We bring horses in for horseback riding. A six-foot-tall bunny tucks the children in at night. What more could you ask for?
All the children have a permanent place in our hearts and in the Village since each child writes his/her name on a gold star that is placed on the ceiling of our Castle of Miracles.
Think about the happiest day in your life — the day you got married, the day you welcomed your first child into the world, the day your team won the national championship. Didn't you feel on top of the world? Didn't you feel like you could conquer anything? That's the feeling we want to create for the kids — that "I can conquer anything" feeling, so that they will return home reenergized, inspired to renew their battle against their illness.
We don't know the fate of every child who visits the Village; it would be wonderful if the children all had the same story as Princess Alyssa. When Alyssa returned home from the Village, she told her doctors, "You don't need to give kids shots to make them well. Send them to Give Kids The World . . . it's magic medicine." And for her it was. She is now a freshman in college and hoping to take my job one day!
Many of the children whose faces have graced the screen lost their courageous battles shortly after their visit to the Village. [visual] These children would not have had their wish were it not for GKTW. We find inspiration in knowing that although the children may be gone, we gave their families cherished memories that will provide a source of strength and comfort for many years to come.
Several weeks ago, a wish mom shared that her daughter passed away on their drive home from the Village. She said that the only thing getting them through the heartbreak was knowing that the last week of their daughter's life was the happiest week of her life.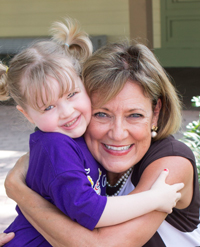 Pamela Landwirth, president and CEO of Give Kids The World Village, has an extensive background in resort operations management, human resource development and project planning from her 16 years with the Walt Disney World Company. She is responsible for the operations of the Village and all strategic advancement initiatives for the organization.