The measure of a person
H. Richard Dobson Jr., CFP
MDRT Foundation President H. Richard Dobson Jr. reflects on the $31 million that the Foundation has distributed in its 58 years, emphasizing how the organization offers members the opportunity to support local charities and help people who are sick, hungry, in need of a path to self-sufficiency and more. This year the Promise Appeal charity Partner is Give Kids the World Village, which provides weeklong vacations for kids with life-threatening illnesses and their families. Presented at the 2017 Annual Meeting.
Fifty-eight years ago, forward thinking MDRT leaders established the MDRT Foundation as a way for members to give back to our communities and help those less fortunate. The Foundation's activities reflect favorably on our industry, MDRT, and those we help. Today, the MDRT Foundation has distributed over $31 million to thousands of worthwhile charities around the globe. Just look at where we have been! And look at the lives we have touched. [visual]
The MDRT Foundation offers our members the opportunity to support local charities through our grant programs, service projects, and servant leadership roles.
There surely is strength in numbers. By combining the generous donations and talents of our members, we become a powerful tool to maximize the global impact of our efforts. From our great diversity emerges a positive force as our members become one voice of hope for many in need.
If you would like to meet executives from local charities, offer to assist them in applying for funding—they will give you an appointment. Through this process, every member has the opportunity to help the sick or the hungry. We may help those who are lost find a path to self-sufficiency or help an injured veteran return to civilian life. Whatever the worthy cause, our members can seek the help of the MDRT Foundation.
And what an honor for you, as the member who sponsored a successful grant, to present the grant check to that charity. In that action, you represent all of us—and the caring and sharing spirit of our MDRT family.
At the 1985 MDRT Annual Meeting in San Francisco, California, we were shown a video entitled "Stephanie in the Snow . . . A Wish Fulfilled" where a terminally ill, 4-year-old girl, Stephanie Puntervold, received her dying wish, to play in the snow with her family. You see, Stephanie grew up in sunny Florida and had never had the experience of playing in the snow. Although Stephanie succumbed to her illness just two months later, her courage and determination in the face of her illness inspired us all. That year at the Annual Meeting, due to our members' generosity and support, we were able to award a $50,000 grant to the Make-A-Wish Foundation.
Since that meeting, your MDRT Foundation has awarded nearly $600,000 to wish-granting organizations worldwide.
After hearing Stephanie's story, over 200 MDRT members went home from that meeting and got involved or started wish-granting organizations in their home countries and communities. These members have given not only their treasure, but also their time and energy.
When our members give more than their money, their experience with the Foundation changes. It's deeper, it's richer, and it's more rewarding.
To paraphrase a quote from the great, second-century Roman emperor, Marcus Aurelius, who lived his life devoted to service and duty: The measure of a person is the worth of the things they care about. We believe each one of our members embodies this philosophy when we join together at each year's Annual Meeting and focus our efforts on a worthy cause. We call this our Promise Appeal partnership.
This year our Promise Appeal charity partner is Give Kids The World Village located in the Orlando area, in Kissimmee, Florida, where children with life-threatening illnesses and their families can enjoy a week together without any financial burden. In fact, Give Kids The World Village partners with wish-granting charities around the world to create magical vacations for thousands of families each year who have been through so much fear and sadness.
As we join together to support these kids and their families with special wishes of their own, half of the donations we raise this week will go to support Give Kids The World Village and the important work they do allowing families to enjoy precious time and special moments together.
The spirit of Stephanie lives on at MDRT!
Here to tell us more about the important work they do is the president and CEO of Give Kids The World Village, Ms. Pamela Landwirth. [Pam speaks]
Pam, thank you for sharing the story of Give Kids The World Village and the magic that is shared with children and their families who need it most.
My fellow MDRT members, let's show Pam the sharing and caring spirit of MDRT. Stop by the Foundation booth this week and join your fellow members in making a donation. The booth is just upstairs in the south lobby concourse.
Half of the dollars we raise this week will go to Give Kids The World Village to help create extraordinary vacations for children like Alyssa whom you saw earlier in the video. Half will support our Foundation's grant program. Together, our generosity will impact countless children and families across the globe.
So please make your donation and wear your star to show your support. [visual] Join us in lighting up this room to help Give Kids The World Village light up the faces of the children they serve.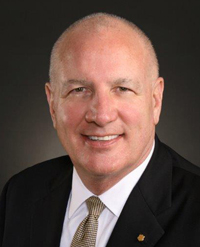 H. Richard Dobson Jr., CFP, of Cedar Falls, Iowa, is President of the MDRT Foundation and a 15-year MDRT member with one Court of the Table qualification. He is a Platinum Knight-level donor of the MDRT Foundation and a member of the Inner Circle Society, a group of distinguished donors.