The great transition to fees
Angus Donald McQueen, Dip FS, Dip CD
When regulations force you to change your business, how do you react? Changing your income model to fees may seem daunting, but, if done correctly, you can actually focus on your ideal clients: those who love you, are prepared to pay you and help you thrive. Finding ideal clients is a balance between great service and great relationships. A wealth management specialist, McQueen describes the regulations that forced many advisors to change their income model to fees. With some of the tips he learned through his own transition, he shows you how you too can build a more precise offer and attract the right people. He takes you on your own thought-provoking discovery of what to do to grow and improve quite easily.
Alan Wilson
Alan Wilson is an Australian plumbing company owner who is worth $2 billion. We play golf together. I asked him what his toughest moment in business was. Alan replied it was when he grew the company from one store to two stores, and from two stores to three. He now has 450 stores in Australia and New Zealand. From the outside looking in, that didn't appear to be a toughest moment. But it was for him—the toughest in 40 years. He has the plumbers come to his stores with their clients who are building new houses and doing renovations. He can show them the finished product, buy on accounts with trade discounts, and have the stock ordered and delivered when needed. The plumbers love it, and their clients love it. Seemingly easy from the outside looking in—one store to two stores, and from two stores to three.
I discovered I was not receiving enough client referrals from clients. Client referrals from ideal clients. Referrals from clients who love you. Some clients really love you, and others sometimes don't. Working with ideal clients who love you is easier for you and the client for referrals. Seemingly easy from the outside looking in.
Ideal clients who love you and who have referred a client are the place to commence. If they have done it once, they can do it again. Some clients just don't have it in them to refer. The ones who have and do become exceptionally important to you.
Define the ideal client. Who are you looking for? In my case, it's generally employed households earning $1 million of income per annum, working in the city of Melbourne or Sydney.
Here are examples of two ideal clients who refer.
The client is married and very busy job earning over $1 million per annum. He has referred four clients in the last 12 months. I speak to him weekly.
The client is married and earning over $1 million per annum. The client is very wealthy. He has referred the two largest referrals I have been given. I speak to him every week.
Who are two ideal clients who love you and refer you to clients?
The MDRT great, Bruce Etherington, said, "Marlin swim with marlin." Your ideal clients hang out with other ideal clients. Marlin are out in the deep sea and are hard to catch. They like the company of other marlin. Who is out there swimming with your ideal clients and how do we meet them?
What very special marketing can you do with your ideal clients who refer clients to you? What would they like? Think about it and write down your own special marketing ideas and some examples.
Oak's Day Boat
What very special marketing can you do with your ideal clients who introduce clients to you? What would they like to do? I had one such very special client relationship that was a proven referrer. I sat down with him and asked, "What would work well with people you know to get them to know me?"
Because they are clients who love you, they will try and work with you and help you. So they said, "What we think would be good for us is that a lot of our friends and clients are into horse racing—not that they are big gamblers, but they really like horse racing. Perhaps we could do something with horse racing." I then remembered a club that organizes race-day events, and one of them is a boat cruise from the city of Melbourne, down the Yarra River, and up to the Flemington racetrack via the Maribyrnong River. Once you arrive at the racetrack, the boat becomes your home base. For each race, you get off the boat and go into the course and have drinks, food, and it is wonderful. They thought that would be fantastic, and they invited seven couples to come. We had a fantastic day. I got to speak to all of the guests throughout the day, and we had a betting syndicate together. It was just marvelous.
That is what they thought would be some special marketing to help them introduce some more clients to me. That worked so well. Every one of the seven couples have become clients. Not instantly, but by keeping in touch and working on them and breaking the ice with them that way.
String Quartet
A client who refers clients to us said to me several times over the years that when they got married, they were quite poor, and they really wanted to have a string quartet at their wedding, but unfortunately, they couldn't afford it. The wife mentioned this several times to me over the years. She then had her 60th birthday party coming up, and I asked her husband if he thought it would be appropriate if I organized a string quartet to play at the predinner drinks at her 60th birthday. He thought it was an unbelievable idea! We agreed to keep it a secret; I would arrange it and give her the surprise of her life. When she arrived at her party, the string quartet was playing, guests were having drinks, and she just burst into tears as she couldn't believe that finally she had a string quartet. The husband confessed that I had arranged it and paid for it for her. Well, smart marketing has a great impact—unique, smart marketing. That night at her 60th, she proceeded to introduce me to basically every single person there. And she was so touched by the string quartet that she encouraged all of them to catch up with me.
I'm trying to get you thinking. What smart marketing can you do for your very highly valued clients who introduce you to other clients? What are some ways you can work with them to introduce you to people in their network, so it is easy for them and easy for you?
General Insurance Broker—His Style
We have another major introducer of new clients who is a general insurance broker. His style is very different again. When I'm speaking to him, I say, "Are there any people we should be catching up with?" He always says yes. "What should we do?" He will then think about what would be good for those people. The other day we had a lunch at the Mount Eliza Club, which is where he likes doing business. We went down there with three potential clients. He spoke a bit about me, and then he did a high level as to why they should catch up with me and share each of their personal situations without going into anything too personal. Throughout the course of the lunch, we were able to grab a few minutes together to show that we could help them have some common ground. Then I followed them all up afterward. That is his style of what works well for him to introduce more clients to us. What style or what would work for people who are clients who love you, clients who refer clients, people with client bases and networks of people—what would work for each of them? It's not necessarily the same thing. Target some specific marketing around them and how they could help introduce more clients to you.
Discovery Relationship and Value
Napoleon Hill once said, "Our brains become magnetized by the dominating thoughts which we hold in our minds, and these magnets attract to us the forces, the people, the circumstances of life, which harmonize with the nature of our dominant thoughts." What does that mean? With clients who refer clients, become clear about whom you are looking for, definite about what you are looking for, and change the landscape. Go find them!
Office Location
Having defined what sort of clients you are looking for is very useful as it helps you understand whom you are not looking for. I'm looking for people who are earning over a million dollars a year (household income) and generally employed (meaning their hands are pretty full time-wise). And they refer that financial work to someone because they can afford this, and for the ideal clients, they don't have the time or inclination to want to do this themselves.
So, refine what you are looking for. It is easier to find what you are looking for if you know what you are looking for. When you hop in your car do you say, "Just take me somewhere, take me anywhere, I don't care"? Or do you actually have to put in where you are going? To find more ideal clients, you need to define and tell yourself what you are actually looking for, or you might just find more of the same clients who may not have the same economic capacity and economic future for you. You may have already outgrown them before they start. So in defining my ideal client, I worked out that I would want to be in an area that has the most likelihood of those people being there as well. In keeping with this, we moved our office to one of the best parts of Melbourne, if the not the best, to an amazing, high-rise, state-of-the-art, 21st-floor fit-out. It was very expensive, but it looks fantastic, and when people walk in the door of our office, they are blown away by the view and how nicely the office is presented for them. These are little things that are happening before we have even given them any advice. We are preparing them for the advice and helping them enjoy the experience. And we are showing them that we are investing in our business by having a first-class place for them to come, a first-class environment for our staff to enjoy, and by creating a brand that fits into the market we are after.
Urologist
A client of ours is a urologist, and you know the whole thing about specializing. This is why I'm trying to encourage you to define your ideal client. At least know what the characteristics are that you are looking for so that you know when to go, you know when to switch on, you know when to talk, and you know when to chase. A urologist client of ours was telling us that he can do a vasectomy operation in 15 minutes, he can probably do it blindfolded, and he has done so many of them that if the operating rooms are all set up correctly, he could perform four surgeries an hour, all day long. He is a specialist surgeon. When you are thinking about operating in a market, you find it easier to doing the repeat things. What I mean is that the urologist can do vasectomy after vasectomy, prostate surgery, prostate surgery and vasectomy because he is doing it all the time. When you are generalizing in your client base, I certainly find that when you go to research a social security matter or a nursing home matter or an insurance matter or a lending matter, you are not really specializing. I know that in my target market, they have very similar issues, here we go again, very common things for me to fix, so I am becoming more of a "surgeon" to these clients. I'm becoming more of a surgeon rather than being so general that I am not a real expert in any particular area.
John Lockwood
Many years ago, I attended a seminar that was a summary of studies done on the very best sales professionals across all spheres of selling—cars, insurance, real estate, and stockbroking, to name a few.
The secret of the very best salesman in all those industries was keeping in touch with people on a regular basis. Having a contact point every four to six weeks. Now, that doesn't sound too hard, does it? Generally, we find that clients rarely leave you, and if they do leave you, it is normally because you have been out of contact. "I never hear from my advisor. I haven't heard from my advisor for ages. So, I will protest and leave." Now, when you are in contact every four to six weeks, you are never going to fall foul of that. So every year, my wonderful assistants and I put together a calendar of events where we plan the activities we want to do for the year in addition to our normal client communication contact and client appointments. We create a calendar of events including wine tastings, golf days, thank-you lunches, and birthday lunches because I want clients to feel like "Oh, they are contacting us again. They are in touch and never drop the ball with us." So, what things can you put in your calendar of events? What communications and meetings are you going to have with your clients, and what things can you put into the calendar to add more contact, communication, and connection with your clients?
Client #1
This particular client has become one of my biggest clients. What special marketing can I do with him to help him introduce me to more people? This client really likes going to Bali, and he really likes food and wine. So I invited him to come into the office for a review meeting followed by lunch. We arranged to go to a place that you cannot get into as it is invitation only, which is a very exclusive restaurant only open to a very particular clientele of Melbourne's Crown Casino. The reason I thought this would work well with this client is that I know the guys who run it (who are clients of mine and were able to get us in there). I thought this would be impressive as no one else would have taken him there, and I thought he would like the food because it is a very Eastern menu.
So, we are sitting down at our review meeting. He doesn't know where we are going for lunch yet, and he said, "I have been given an offer on my business, and if that deal completes, I will be very happy to let you handle that." This would mean he would become one of our biggest clients, if not our biggest client. At lunch, he enjoyed the exclusivity of where we had taken him because we had prepared and thought about what would work for this client. At lunch, the usual conversation of "who could you perhaps introduce us to" arose, and he was thinking about who he could introduce us to.
Client #2
This is a client who is very happy with the work we have done for him on his life insurance as we have increased it significantly due to his involvement in a very large financing arrangement with a development he is doing. The client invited me to speak to his daughter's school class about financial well-being, which I did. The school organized a Parent Night for parents of all the students in year 10 (15 and 16 year olds) at the school about financial health and well-being. They asked me to speak to this group of parents, and I thought, Absolutely, that is right in my target zone! So for 15 minutes at the financial health and well-being night, I was there as the expert on financial well-being. It was absolutely wonderful. I handed out a lot of business cards because the client thought I would be the perfect candidate to do that talk at the school. This is just through having good relationships with your clients.
What two referral strategies can you implement with groups of clients? What would work for you in your market? If it feels like a good idea, repeat it. What calendar of events can you add to what you are doing already to have those touch points every four to six weeks?
Wine Tasting
We have a really good client who sells and distributes wine to some of the best brands in Australia and in the world. He came up with this idea of having a wine tasting for our clients. We would run them through some of the nicest wines that there are, and they would have the option to buy them on that day at a special price. I thought, Wow, what could be better? We did our first event and had about 80 clients attend, and most people bought wine to go, so our client was very happy. It also got a room full of people at our office. In chatting with people, there is always new sales activity that drops out of events like that. That is what you are hoping for, and that is what happens because you are connecting and bringing people together. You are putting on a nice afternoon for them, and you are connecting really good brands with your brand. We then held another wine tasting six months later, which was equally as popular, and a lot of people in our network enjoyed coming to the office and trying the wines. They don't have to think about anything; they can fill out a form and get the wine delivered to their home or office if they wish. So that worked very well for us in a calendar of other things we can do to keep communicating with clients.
Golf Day
We have run a golf day for many years. It really is different from the wine tasting. The wine tasting is generally favored by people who work in the city and who enjoy a nice glass of wine. The golf day is obviously for people who play golf. A lot of people we deal with play golf, and we meet lots of people paying golf. At the golf day, we usually invite people who have introduced us to other people and who have the capacity to introduce us to more, and a few very good clients.
What activities can you do in a calendar of events to keep communicating with clients? Clients often ask if they can bring a friend or somebody with them, which we always encourage. Some of our golf days have been Bring a Friend golf days. With the wine tasting, we invite people who have not become clients yet, who have started the journey, or whom we have started to romance, and these events show these prospective clients, "Oh, this isn't too bad. Here is a room full of people who are clients and friends of this company, some whom I know, and some whom I recognize." That helps build their confidence and trust that this is a good place to do business.
Thank You Lunch
Every six weeks, I invite every client who has referred me to a client to come in to the boardroom for lunch at our office. Usually 14 people is the limit. I arrange good food and wine to be brought in from the local Italian restaurant—big bowls of pasta, cheese and biscuits, and nice wine. It hardly costs anything to do it this way. I have a guest speaker who speaks for about 20 minutes, usually a famous sportsperson, to associate them with my brand to these special client referrers.
But this is where the magic happens. When we all sit down for lunch, I say a few words of thanks for their support to me and for the introductions they have recently made. Then I announce, "I would now like each of you to introduce yourself, what you do, and describe your relationship with me." So, the first person proudly says whom he works for, that he has known me for 15 years, and that we play golf together. Each person generally endorses me and what we have done for each of them, almost to the point of tears—one by one around the room. They don't know the others in the room, so the focus is always on myself and the client referrer.
This part of unexpected magic is for them all to hear. Building more and more faith in the group that already has a lot of faith. Galvanizing their beliefs that we are the place to introduce family and friends. You cannot get that power from a brochure.
Lunch then arrives, and the guest speaker says more nice things about me. I have found that in every referrers' lunch, several new referrals flow off the back of it. The record is six new referrals the week after a referrers' lunch from my clients who attended. They all love this lunch and want to come to the next one. What do they need to do to get invited to the next one?
Football Sponsorship
In our local communities, there are plenty of amateur clubs that struggle to raise money. Have you noticed that? There are plenty of amateur clubs struggling to raise money to pay for things to keep their doors open, to keep the club running. Lots of volunteers, lots of great community people, and they are always doing activities to raise money. In your local community, there are lots of these clubs, but what do you like doing? What is close to your heart?
We have just arranged a sponsorship with my old school's football team. As you may know, in Australia, you play cricket during the warmer weather, and you play football during the cooler weather, Australian rules football. This is an Australian rules football team normally made up of people who have finished at my old school, so a lot of these people I know. I am considered very caring and am well known in that circle, and a lot of people who graduated from my school who have either got children at the school or are married, there are quite a lot who are in my target market. So in sponsoring the football club and donating money to an amateur organization, they all think that is pretty fantastic. Like-minded people. The president asked me if I would do that, and I agreed. I said, "But we need to actually make this more than just a love job; we really need your help to introduce us to people in and around the club that can become clients of ours." They took the time to understand more about what we do and put us in front of people whom they thought would be very worth our while catching up with. There are people we know like that anyway, but it doesn't hurt having a bit of extra encouragement. As part of our sponsorship, we hold two boardroom lunches at our office with very key supporters who can potentially become clients. The club is so happy with this arrangement that they have put our name on the team jumper and also named the football oval after us. What are the local things you can potentially get involved with? It's not going to cost you a lot of money, and it will lead you to more and more business because you are putting money back into the community, and all the people attached to that club are very grateful. Into that, they will try to support you however possible. What are some referral strategies you can use with the two ideal clients who love you and refer to you ?
Conclusion
What are some of the referral strategies you can use? You know, when Alan Wilson opened that second and third store, from the outside looking in, that was seemingly easy. To expand from one plumbing supply shop to two, from two to three, and now it is 450 stores. From the outside looking in, a lot of these referral introduction opportunities for people to network with you further and be more comfortable with you, and you with them, from the outside looking in seem so easy. And a lot of them are particularly easy to do. But the two words are to do. Who are the ideal clients who introduce you to clients whom you can create a whole new pipeline of referral introductions from? What are some of the activities you can do with groups of clients and prospects? From the outside looking in, there are opportunities galore. Those two people who are ideal clients who can refer clients to you—don't wait until you are back in your office. Before your head hits the pillow tonight, send them a message, say hello, tell them what you are up to, tell them you are thinking about them, give them a phone call, send them an email, and say, "We have got to catch up when we get back because I think we can do something together that would be a lot of fun, and I'm already starting to think about what that is."
From the outside looking in, it is so much easier to encourage people and thank them, and the rewards you get from that are so much bigger than not doing it. From the outside looking in, some very easy steps can help your business become a lot bigger.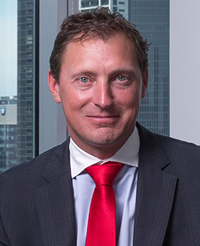 Angus Donald McQueen, Dip FS, Dip CD, is a 19-year MDRT member with one Court of the Table and 16 Top of the Table qualifications from Melbourne, Victoria, Australia. He has built a wealth management business from the ground up for 22 years, growing his practice from just him to a staff of more than 30.