The best thing
Ian Green, Dip PFS
Green, the Executive Committee Nominee, reflects on his unlikely path to the financial services industry and how volunteering with MDRT set him on a course for continued involvement and leadership within the organization. He appreciates how success is achieved one step at a time and how the Whole Person concept has helped him lead a balanced life. Presented at the 2017 Annual Meeting.
What's the best thing that's ever happened to you? Although I didn't realize it at the time, the best thing that ever happened to me was breaking my arm and losing my job.
It was the 1990s. In my spare time, I loved playing soccer, and in a game, someone on the opposing team deliberately fouled me and gave me an injury that put an end to my chosen career in computer graphics.
I'm not the kind of person who sits round feeling sorry for myself, so I applied for a financial job I saw in the newspaper. I thought I was going to be a trader in the city of London. I found myself selling life insurance.
As I stand here now, I am grateful that I have a business back home in the United Kingdom that has a wonderful staff and fantastic clients and is still running even though I am here. But back then, in the 1990s, my fledgling life insurance business, if you could call it a business, only worked when I was working.
So I worked hard—25 hours a day, 8 days a week. At least, that's what it felt like. I had no one to sell life insurance to. I had to generate all my prospects myself. I had no option but to cold call.
From my very first days in this profession, I have tracked my activity figures, and I still do. So I'm able to tell you that I made 997 cold calls before anyone came in for an appointment. This tells you two things about me:
I'm determined to succeed.
I'm rubbish at cold calling.
I thought there must be another way. Even though I was penniless, I paid for myself to attend a conference in the United Kingdom, and it was there that I first learned of MDRT. I met the president at the time—the president! Me, meeting the president of MDRT, I couldn't believe it! I vowed there and then to qualify for MDRT myself.
It took me three years, but in 1999, I made it. Even though I was still penniless, I paid for myself to attend the MDRT Annual Meeting in New Orleans. Wow! I took every opportunity to learn from those around me, in the sessions and in the hallways.
There were people with white ribbons—Top of the Table members, and they shared their best ideas with me if I asked them. Wow!
A few years later, I was asked to present a Focus Session and share my ideas. What a thrill and honor. That was the year I qualified for Court of the Table. Ever since, my business production has increased year by year.
It's not just business; it's personal too. I've embraced the Whole Person concept, and it has helped me enjoy the rewards of this profession and share it fully with others in my life, which is just as well because at one point, it looked like I'd swallowed a whole person.
More seriously, the MDRT Whole Person concept has been key to attaining and retaining my Top of the Table status over the years by enabling me to have the energy to focus on business when needed yet ensure time is also set aside for family, causes close to my heart, and yes, even a little "me" time.
And speaking of family, in many speeches such as these, there comes a time when the person on stage acknowledges and thanks their significant other, and the camera shows them in the audience. Well, I am doubly grateful as the only reason I can stand here today is because Melissa, my wife, is not here. She is doing a job even more demanding and valuable than the one we all do selling life insurance and protecting other families. Melissa is in the United Kingdom running our family business and at home being a parent and protecting our family.
For many years, I attended the Annual Meeting on my own, and while I learned from the sessions, truth be told, it was a lonely experience outside of the presentations. It was only when I volunteered for PGA at the Annual Meeting that I discovered another dimension to MDRT and another level of learning, knowledge, and wisdom, available to everyone but only visible once you raised your hand and volunteered.
And most unexpectedly, alongside the learning came friendship and fun. It's not why I joined, but it became a great reason to come back.
Why do I renew my membership and attend the Annual Meeting every year? Because connecting with other members and accessing MDRT resources all year is the constant motivation I need to operate at the highest level.
Looking back, it's incredible how volunteering for a few hours was the start of a path that lead directly to this place on the main stage. I may have started to stray off the path sometimes, but even if I didn't know it, there was an MDRT member ready to guide me gently back on track.
There is no doubt about it. I am just an ordinary person who has achieved the extraordinary honor of standing here as nominee to the Executive Committee because of other MDRT members sharing their ideas, passing on their experiences, and guiding me on the way.
It's traditional to close a speech such as this with a thank you to those who helped you get here. Well, I'd like to thank the person who deliberately fouled me in that soccer game. That meant I broke my arm and lost my job. It also meant I became an insurance salesperson and professional financial planner. It meant I met my wife and had my children. And it meant I joined MDRT and became a better business owner, a Whole Person, and an enthusiastic volunteer.
As so often happens in our lives, what appears disastrous at the time can be the catalyst for the best thing to ever happen to us.
Professionally, this moment, right now, is the best thing to happen to me. So it is with honor, humility, and pride that I accept your nomination.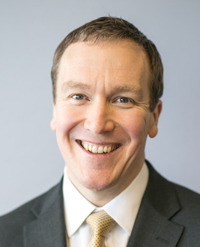 Ian Green, Dip PFS, of London, England, is the 2017 Nominee to the MDRT Executive Committee and a 19-year MDRT member with five Court of the Table and 11 Top of the Table qualifications. He is founder of Green Financial Advice, and his extensive MDRT volunteerism includes leadership within several divisions: Top of the Table, Member Communications and Annual Meeting Program Development.