Standing on the edge of the future
Mark J. Hanna, CLU, ChFC
MDRT President Hanna looks back on the organization's history and how the focus on embracing new initiatives has led to enormous growth. He addresses a variety of upcoming expansions that are just part of MDRT's exciting future as a global resource. Presented at the 2017 Annual Meeting.
I am the luckiest guy in this room right now. I have enjoyed the wonderful duty of guiding, along with my Executive Committee colleagues, this spectacular association since last September — a year in which our global membership reached and exceeded 62,000 for the very first time in our history. This membership increase represents a 22 percent increase over just last year and confirms that excellence in both results and execution never goes out of style. Plus, we are showing no signs of slowing down.
I think it's an interesting fact that we, as an association, do not target membership growth. We seek instead to deliver tangible brand value. Beyond the Annual Meeting, the MDRT brand carries prestige, with customized and accessible content, specific to each member segment, and access to solutions, inspiration, motivation, and a community with shared purpose. We always seek to facilitate members learning from other members and to represent absolute excellence worldwide. Members join and companies adopt an MDRT alignment strategy because of what we represent. MDRT is the global standard of excellence, the benchmark of success in the life insurance and financial services profession. Ethics, integrity, productivity, and professionalism are the hallmark of the MDRT brand. And so we continue to grow, and I am proud to carry the MDRT banner in my own community and around the world representing all of us.
MDRT has entered the last decade of our first 100 years. The Round Table of today is radically different from that of 1927, because MDRT is a mirror, reflecting the changing landscape around us. I think it's safe to say that the MDRT of 2027 will be different from the MDRT of today. In just 10 years, geo-political, regulatory, economic, and fiscal forces, outside of our direct control, will shape the environment in which our members practice and our companies operate. Because we are a member first association, we will first and always seek to support and guide our members through change. MDRT must and will evolve, as it has in the past, to respond and remain relevant to all the member segments of tomorrow.
To be perfectly candid, this is the hardest part for your leadership. We are held together by tradition and familiarity. Members notice everything we do, and they let us know how they feel about it. Five years ago, the then-sitting Executive Committee took a very brave step and decided to refresh MDRT's Strategic Plan. It would have been easy just to stay the course and stick with the familiar, but to do so would imperil the long-term integrity of our mission. I would like to thank, publicly, Julian Good, Jennifer Borislow, Scott Brennan, Micki Hoesly, and Caroline Banks for their courageous decision to plot a fresh course for MDRT.
The planning process wasn't quick or easy, and it's continuing. Because we are no longer a homogeneous group, the constituencies we represent are diverse and demand and expect unique deliverables. A vast percentage of our members still sell primarily risk-based life insurance products, but there are among us a growing number who practice as investment and portfolio managers, holistic financial planners, pension fiduciaries, and a myriad of subspecialties.
Alongside our traditional membership, we are welcoming a rapidly growing number of members from around the world. This growth has been fueled by the global expansion of the life insurance and financial services industry. These professionals join us in celebration of achievement and to participate fully in the collective contribution made by all members. Rapid membership growth brings new and exciting opportunities to MDRT. The energy and enthusiasm from our newest members are contagious and remind me that this infusion of new and interesting perspectives will only strengthen the global community of MDRT.
Each of us has something to offer, regardless of where we live and how we practice. Our diverse membership is our greatest strength. Innovative ideas from our newest members open up pathways to growth for all of us. New thoughts, exciting experiences, and a burning desire to join this growing community of excellence, represented here at MDRT, prove to me that MDRT is the association for the future. Because of this awesome diversity, we often must wrestle with substantive issues, including the rapid rise in regulatory incursion on our businesses. Adapting to governmental and regulatory change is necessary to remain in business, but how? Interestingly, it is our members' depth of experience that will guide us through change.
In planning for our growth, everything has been put on the table for discussion. Well, that's not entirely true. Almost everything was on the table. What we stand for organizationally remains steadfast. Our five guiding principles act as a guardrail, outside of which we will not veer. We are a member association dedicated to ethical practice and the highest standards of excellence. We strive to build community by connecting members globally, and we recognize the value and self-worth of each member in helping members to grow professionally and personally. And, finally, we are steadfast in our organizational independence. Though we may enter into strategic relationships with other associations and companies, MDRT will remain an association by and for our members. Our brand is strong, and we must always strive to keep it that way.
Which begs the question: Are we an association, or are we a brand? I believe we are both. While some members and companies may choose to interact with MDRT solely for the brand cachet, I am here to tell you, I have traveled the world this year, and I can attest that the passion for MDRT has never been stronger, the demand for MDRT's value proposition never greater, and the opportunity before us never more enticing.
For MDRT to serve our diverse member needs, we began by identifying the ways our members engage with MDRT. Brand attachment is, of course, the greatest common denominator. Sixty-two thousand members will claim membership this year. That's brand attachment. But there is more. Member resources and content—the ability of a member to access mind share, captured digitally from our meetings, publications, committee work, and podcasts—create huge value for members, and the demand here is growing with ease of access and technology improvement. Meetings globally, not just this meeting or the Top of the Table meeting, but our MDRT Experience and MDRT Days around the world, provide a third avenue for engagement. Coupled with this, our volunteer opportunities and the MDRT Foundation and leadership are all ways that our members benefit from their Round Table affiliation.
Building on these engagement levers, MDRT is and will customize and deploy unique deliverables for each member segment. Serving the diverse needs of our membership in the future will account for not only geographic reality, but also career stage and market segmentation demands. Imagine a customized member experience plus resources for all members unique to their business practice, career stage, and geographic location. It's a tall order, but eminently possible.
We stand today, poised on the edge of the future. Let me attempt to paint the picture for you. Collectively, your leadership and MDRT's professional staff have, in parallel to our strategic thinking, been simultaneously investing in the resources necessary to make the future possible. Investing in MDRT's infrastructure, technology, systems, and human resources gives our mission wings. We have positioned MDRT to take advantage of the emerging global opportunity that exists around the world. And we have accomplished this without increasing dues, and have continued to build adequate strategic reserves to buttress against unforeseen risks.
The future of MDRT rests heavily on our emerging technology investment. In the very near future, web and mobile technology will replace paper and ink. Printed and mailed material will be virtually eliminated. Members will interact with MDRT primarily through a mobile interface. As we deploy new, mobile technologies, members will have the ability to build their own, robust MDRT profile so that MDRT can deliver timely and relevant content to meet individual needs.
Already, 80 percent of our global membership goes online for both membership and meeting registration. As we improve our efficiency and technological engagement, we will learn more than ever before what our members want and how MDRT can accelerate their career success.
At this very meeting, as last year, in addition to 80 translated Focus Sessions, we have 48 Focus Sessions devoted exclusively to our major, non-English-speaking members and more than 100 non-English sessions in the ConneXion Zone, plus 150 sessions in English. The MDRT Annual Meeting is truly an international conference devoted to deep dives and learning opportunities. Almost all meeting content is captured for inclusion in MDRT's Resource Zone. The greatest untapped resource in MDRT are the techniques and practice tips of our members around the world. Available right now, the Resource Zone offers a wide array of language-specific topics and meeting history in print, audio, and video.
Speaking of meetings, the MDRT Experience Meeting has been extremely successful as a tool to build the MDRT brand in Asia over the last 20 years. It has been so successful that the time has come for the MDRT Experience Meeting to sunset after 2020. In its place, and to facilitate the growing demand for MDRT meeting opportunities, I am excited to announce two new offerings rolling out in 2019.
Our purpose, over time, is to create opportunities for all members. We are building communities within MDRT, both global and local. Our objective is to allow members to choose the most convenient way to participate and engage with MDRT. And so, alongside our Annual Meeting, MDRT will introduce the first ever MDRT Asia Global Conference and the North American Member Summit in 2019.
Both meetings will be open to MDRT members and mentoring aspirants that qualify and will augment the North American Annual Meeting in Miami, Florida. As anticipated demand grows for both the MDRT Asia Global Conference and the North American Member Summit, we are committed to comparable production value, speaker quality, Focus Session, and ConneXion Zone content.
I've saved the best for last. MDRT was founded 90 years ago as a study group composed of 32 very successful life insurance producers. Building on the work we have accomplished and our deep experience with study groups, we have added mentoring resources and coaching and leadership development to the mix. These four significant resources comprise MDRT's Guided Development platform and will be MDRT's major growth platform for the future. The formula for success and the tools for a sustained, productive career are found within the Guided Development platform. By synthesizing these four powerful tools—mentoring, coaching, study groups, and leadership—members and aspiring members will have access to a clearly defined pathway to MDRT and beyond.
No longer will MDRT be viewed as just a production club. Rather, we will be the global resource for career growth and achievement. As any good organization must do, managing our pipeline is paramount. We will build a pathway for current members to improve and aspiring members to achieve MDRT status. Stay tuned for more.
Now, before I close, I wish to send a sincere thank you to some special people. I have been a member of this profession for 39 years. Each of us in this room came into the field in a unique and different way. I started as a pup, barely 21 years old and still in school. Most agencies never, ever grow a future President of the Million Dollar Round Table, and I can only think of a couple that grew more than one MDRT President. Past President Guy Baker and I share a career legacy. He and I both started as college agents and were recruited and trained at the same Pacific Mutual Life Agency in Southern California.
For me, I was blessed to have two men who mentored me, coached me, and occasionally kicked me in the back side, but always with kindness and humor. I don't believe I have ever said thank you to them, certainly not publicly, for those early days, and I'd like to ask you to help me say thanks and acknowledge them today. Ralph Brown, CLU, was the manager of the Newport Center Agency who hired, trained and supervised me as a college agent, and helped me survive long enough to make a career decision once I was out of school. His door was always open, and no matter how I was feeling when I went in to see him, I always left feeling better.
Fletcher Larson, CLU, as the associate manager in the Newport Center Agency, trained me in the classic Al Granum system. Fletch was promoted to run the San Francisco, California, agency. I moved to San Francisco not long after Fletcher, and actually lived with him and his wife, Julaina, and their sons for a short time while we were waiting for our home to be ready. It was there that he coached me as I rebuilt my career in a new city. Fletcher and I studied together for our CLU designations, and he was a wonderful early mentor and taught me a disciplined approach to building a practice.
I feel fortunate to have Ralph and his wife, Ann, and Fletcher here with us today. I would appreciate it if you would help me acknowledge them both, and help me say thank you, on behalf of all of MDRT, for their dedication to our profession and for their leadership in building MDRT caliber agencies.
Finally, I must send my love and my gratitude to my beloved wife, Barbara, who has supported and loved me every day along my journey this year and for the past three years on the Executive Committee. I really hit the jackpot when you said yes, sweetheart. Thank you!
To serve MDRT during the last 20 years has been a tremendous honor. Every volunteer and leadership position offered to me was gladly received. To tell you the truth, I would have been perfectly happy to serve, indefinitely, in a volunteer role, for the remainder of my MDRT career.
The opportunity to work shoulder to shoulder with many in this room has been an enriching and generative benefit of my membership experience. The friendship, education, career guidance, and, to put it bluntly, maturity, which comes with the accountability of leadership here, will stay with me and color all of my relationships in the future.
I hope I have represented us well and made you proud to have selected me to serve as your 91st President, and I trust I have served as a role model for those who aspire to leadership within our beloved MDRT.
I thank you most sincerely!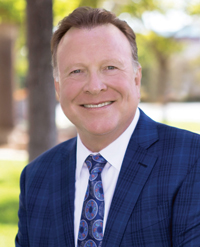 Mark J. Hanna, CLU, ChFC, of Concord, California, is the President of MDRT. He is a 29-year MDRT member with three Court of the Table and 18 Top of the Table honors, serving in 2007 as Chair of Top of the Table. He is also a Royal Order Excalibur Knight of the MDRT Foundation and a member of its Inner Circle Society.