Questions to opportunity
Matthew Charles Collins
Collins addresses the questions he asks and the communication approaches he utilizes to make him connect with clients and comply with regulations. Presented at the 2017 Annual Meeting.
We live in a time of ever-increasing regulation. Our need to comply has created a whole new industry in itself and given the lawyers and public servants a new source of income.
We create processes to ensure compliance and, as a result, our ability to differentiate ourselves and to create meaningful relationships with our clients diminishes.
Over the last 17 years, MDRT has taught me to ask penetrating questions that require clients to think about their answers. Questions that require more than a robotic yes or no response.
Peter Graham taught me to open every meeting, whether a first meeting or an existing client review with, "Do you have any questions you would like to ask me?" Often clients will ask obscure questions, sometimes completely unrelated to my current service offering to them. If they do, that's great. We want to be their financial gatekeeper and their point of reference when they want to bounce an idea on any subject. This question ensures I deal with their agenda and their issues. I am still in control of the meeting because I ask the questions.
If a client comes to your office and has an issue that is bothering him, he is not likely to focus 100 percent on you and your agenda until you address the problem. So get it out of the way, and he will feel understood and be able to focus on your process.
When I meet a client for the first time, I ask, "How do you feel I could best help you? What would need to happen for you to feel this process has been worthwhile?" Again the clients feel you are interested in them and, frankly, they will tell you what they want. So the first sale you make is, in effect, made by them. Give them what they want. As the late John Savage said, "Make them a client first, and educate them later." You can always introduce other services and products in time.
At the beginning of every first meeting, I ask potential clients, "How did you get to where you are today? Please tell me the story behind your success to date." Everyone has a story. Most people never get a chance to tell it. Give your prospective clients an opportunity to brag about what they have overcome and how they achieved success. You will discover a great deal about their character and the type of person they are. The insights you get at this time will help you relate to the client forever.
So we have opened the meetings talking about them. Letting them take center stage. Hopefully, the barriers are down. You can then segue into your fact-finding process with someone who is at ease with you and who probably already feels some connection to you.
Let's assume I am talking to a business owner. I will ask the following, "One day, because of death, disability, or retirement, you will exit your business. Do you have a business exit strategy? How, specifically, do you plan to get the capital out of your business in the event of your death or disability?"
Firstly, let's ask about the clients' plan. Usually they don't have one, or they have a broad, poorly constructed plan with no realistic funding mechanism. "Is the continuity of your business important?"
Many business owners want to create a legacy. They would not like to see a lifetime of effort evaporated. "Could your business continue in the event of your death or TPD, or would your spouse or estate sell it as a going concern? Who would manage the sale process?" Or "Who would manage the business? Would you like some or all of your children to one day take it over?"
If they have a successor in mind, we need to determine if that is a family member or someone external. The transition strategy will obviously be different depending on how they reply. As will the funding mechanism. For example, through insurance.
"Would you expect to draw an income from the business in retirement while the children ran it?" I have found that it's unusual for a business to maintain and increase its profitability when the owner exits. So the children may be under pressure to make a living themselves while funding their parents' lifestyle.
Inevitably, the children will want to get 100 percent benefit for their efforts. At some point in time, they will likely not be satisfied splitting the equity with siblings not involved in the business at their parents' death.
Again, we can introduce insurance as a method of funding. "What would you do to equalize the estate for any children not involved in the business?" This will help us to introduce the insurance subject. "Would you leave the business to the children equally or only to those who were involved in it?"
At MDRT, I have learned concepts that I have taken home and made my own by putting my own personality and style on them.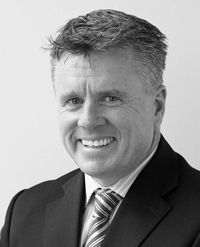 Matthew Charles Collins of Mona Vale, New South Wales, Australia, is a 14-year MDRT member with two Top of the Table honors. He spoke at the 2009 Annual Meeting and the 2016 MDRT Experience and Global Conference in Hong Kong. As an MDRT volunteer, he has served on several MDRT committees.