Make millions working just 50 days a year
Donald P. Speakman, MSFS, CFP
During the past 38 years, Speakman has built his practice using variable annuities so that he only works a small percentage of the year — and still earns $3 million. He explains how he accomplished this by building recurring revenue, delegating and building staff, retaining clients he loves working with, seminar selling and more. He also talks about how MDRT and Top of the Table have helped in his success.
I can still vividly remember my very first Annual Meeting in New York City in 1981. The messages I got from some of those great speakers literally reshaped my attitude about both my life and my business. I received numerous reminders about how much I had to be thankful for and how blessed I was to be in this fantastic business. Little did I know that that meeting was only the tip of the iceberg. Since that day, I have attended over 35 MDRT and Top of the Table meetings.
My favorite question that I have learned to ask to help me get the most out of all these meetings has been, "If you could pass along to me one important principle that has helped you be successful, more than any other principle, what would it be?" I love asking this question to the most successful people I can find whose practices most resemble mine. I have never been afraid to approach anyone at any meeting, and I have received fantastic answers from some of the legends in our business. Guy Baker's response was, "The law of compound interest as it pertains to people. Hire the very best people you can find, compensate them well, show them you appreciate them, and keep them forever. You will only be as successful as the team you build." I now have eight full-time people on my team, including both of my brothers, with an average of about fifteen years of experience with me. Our Past MDRT President, Jim Rodgers told me many years ago, "Whatever everyone else is doing, don't do it. Be different." His response was the reason I moved my seminars to country clubs from Holiday Inns. That suggestion has helped me attract a higher caliber of prospects to my seminars for the last 30 years.
My point is that these meetings present an unbelievable opportunity to ask the very best minds in our business how they do what they do. Don't be shy. We all love to give back and share the principles we have used to build our successful practices. It's lots of fun to talk about, which is why I am here. I am going to share my story and give you some valuable information you can take back home and immediately use to help you help more people and make more money.
I will now provide a brief description of my practice, so you can see what I have built by using the principles I have learned through MDRT. I have about 350 active clients that I service and about 400 smaller clients that my team primarily handles. I have a fully licensed team leader with about 30 years of experience. My average client has $500,000 with me, and the average age is 73. Almost all of my clients' assets are in variable annuities. About 10 percent of our assets are in variable life, mutual funds, managed advisory accounts, and 529 plans. I have a total of about $250 million under management, and almost all of it is in a 1 percent trail program.
I do a very small amount of fee business that is gradually increasing. I heard Michael Gerber, the "E-Myth" author, speak at a Top of the Table meeting about 20 years ago. He stressed that you are not really a business owner unless your business makes money when you are not there. He said most of us were glorified employees of our own business. That struck a chord with me, and I have since done everything I can to take the minimum up-front compensation and the maximum trail on all of my business. That is now paying off very nicely.
I do 100 percent of my marketing through public seminars, attended by my clients and their guests, through what we call our Friends Helping Friends program. We encourage our clients to come to our evening seminars and bring friends who they feel may have an interest in our services. At the seminar, we ask all attendees to complete our Friends Helping Friends form, listing people they know who would like to be added to our mailing list. We offer a small gift, such as a T-shirt, pen, book, or golf shirt, depending on how many valid names they put on their form. It is amazing how many additional names we started getting when we offered small incentives. Over the years, we have built up a database of about 12,000 names that we use to invite prospects to our seminars. We use the seminar to give our prospects a chance to get to know us and see if they like us and the principles we have built our practice on. When Charlene, my partner, introduces me, she talks about my involvement with my church, the mission trips that my wife and I have taken to Haiti, and my involvement as a board member of a Christian-based organization. I don't think my seminar attendees can have any doubt about what the priorities and principles are in my life. When they come to the office, they will see it surrounded with pictures of our various Haiti mission trips.
A suggestion for any of you using seminar selling: Treat every single attendee like they are worth $10,000, because they are. I have talked to many advisors over the years that give up way too early on their seminar attendees. Years ago, we did an analysis that showed we generated an equal amount of business from seminar attendees in the first, second, and third year after the seminar. Some attendees simply are not yet ready to do business at the time of the seminar, but that does not mean they have no interest in a relationship with you. Ask them if it is OK for you to put them on your mailing list and continue to keep in touch with them. This approach can pay big dividends.
What else has helped our practice grow? We have all heard that it is impossible to overcommunicate with our clients. Many advisors are guilty of undercommunicating, and I believe that is why we lose clients. How we have solved that problem is by offering regular daytime workshops to stay in touch with clients as their financial and tax worlds constantly change. A good example is Y2K. Many investors were very nervous about what was going to happen to the market after December 31, 1999. We offered our clients Y2K seminars to discuss what was really happening, to get rid of all the media hype, and to help keep them calm. They loved the seminars. We also used workshops to explain how Roth Conversion IRAs worked when they were introduced in 1998. We received great feedback from both our clients and their guests. We had professional videos produced for our out-of-town clients. We currently have clients in 36 states. Some of our local clients were too busy and didn't want to come to a seminar, but they were willing to sit in the privacy of their own home and watch it. Obviously, your compliance people must approve any seminars or videos before they're used.
We also offer teleconferences for clients when new issues or questions arise that could affect or concern a significant number of them. We group together about 25 clients at a time on one teleconference and let them all ask their questions, which are often very similar. We received very positive feedback on this. Think of how time effective this whole process is when 50 to 75 clients show up at each seminar and get all their questions and concerns addressed. While I am conducting the seminar, a professional video firm is taping it, so we can mail it out to our clients. Only about 90 minutes of my time is involved, and we have reached hundreds of clients. If they have any major additional concerns, we provide either a group teleconference or an individual appointment to address questions. Another benefit of this process is that we are not stuck answering the same questions over and over again for each individual client, which would be very boring. We used this approach when the market struggled from 2000 through 2002 and again in the 2007 to 2009 market downturn. It was a lifesaver after 9/11. These seminars and videos help to keep our clients calm. We used it when we moved offices as an excuse to keep in touch with clients and let them know about some of the new developments in the financial and tax planning fields. At least once every year, we come up with a new theme or excuse to hold daytime client workshops to keep in touch with our clients and to keep them in that magical comfort zone we always refer to. When in doubt, overcommunicate.
Now for the good part: What do we sell our clients and why? Please keep in mind that my clients' average age is 73 because we have marketed ourselves as retirement financial planners for over 30 years. This age group, in my opinion, has the most transferable money and is primarily relationship oriented. I love working with them. My first few years in the business, when I was working with younger clients, who I feel are mostly transaction oriented, I received one thank-you card. Today, hardly a day goes by that we do not get a nice thank-you card from one of our clients. We have about 50 cards on display at any one time in my office to remind our clients and prospects how nice we are. When prospects come in for their first appointment with me, I always excuse myself after I walk them into my office and return about three minutes later. When I return, they are usually reading the thank-you cards or looking at the table I have with about 25 family pictures on it. About 5 percent of our clients are under age 60, so we don't refuse prospects due to age. I announce at my seminars that we have no age, income, or net worth requirement. Our only requirement is that you must be nice and easy to work with. I also say, "I'm sure some of you have met people in your lives who are difficult. Do me a favor, don't put them on your sheet. Send them elsewhere, and send the nice people to us." They always get a chuckle out of that.
Our mission statement is to have a positive effect on as many people's lives as possible.
My favorite all-time Top of the Table speaker is Dan Sullivan. I'm sure many of you have heard of him, maybe used his material, or are possibly in his coaching program. Dan is probably the most successful coach in the history of financial planning, and his basic message is, "Do what you are uniquely gifted at and delegate everything else." This is the single, most important principle I have used to build my practice and is why I need eight team members to keep up with my business.
I can guarantee my unique gift is not doing asset allocation and fund research. As a matter of fact, I hate that kind of work. I enjoy being face-to-face with clients and prospects and helping them with their financial planning. I love making a difference in their lives. It's a wonderful feeling to know you have helped their retirement dreams come true. By delegating every other imaginable part of my practice, I manage to average about eight appointments a day and therefore only need to work about 10 weeks a year, which is about what I have averaged for the past five years. But the real bonus is that I get to do what I love every day, all day long, and I have a blast doing it. I could not imagine doing research into asset allocation models or mutual fund analysis—boring! Put me with nice people of retirement age and let me help them map out their financial lives, and I am in heaven.
I have preached to my clients since day one that it's all about comfort level. All clients must be comfortable with their investments and their advisor. I spend significant time at my seminars stressing how the extremely negative media has had such a profound effect on investor behavior. I believe the most important function we have as trusted advisors to our clients is to help them make intelligent, rational, and logical investment decisions regarding their money. It has become increasingly obvious that most investors are making decisions based on emotion, not logic. Look at this 20-year study showing the market return compared to the average investors return. [visual] Doesn't it blow your mind that investors were making so little, 3 percent in a time they should have been making so much, 10 percent? We can stop this and change these numbers dramatically if we can guide our clients to make logical decisions with their money. I believe this is the single most important challenge facing our industry today.
Why are investors behaving so badly? The problem is not the market, but rather how investors behave in the market. One of my favorite people to quote is Warren Buffet. His Berkshire Hathaway Corporation has averaged almost 20 percent for almost 50 years. That is huge and buys a lot of creditability with me. How many people could get over 21,000 shareholders to travel to Nebraska to hear what they have to say at their annual shareholders meeting? He auctions off a lunch with himself for the benefit of charity and has raised about $3 million annually. I tease my seminar attendees and let them know that I am available for much less. The fact that he is the second wealthiest person in the universe at about $60 billion doesn't hurt either. I wonder how that compares to the goofballs who change their predictions daily on CNBC.
Buffet recently said, "The stock market is a place where impatient investors gradually transfer their wealth to more patient investors." He also said, "Our favorite holding period is forever." He then explained that if we keep our money in growth until we die, then our kids inherit it and keep it in growth, and their kids do the same. What difference does our age and life expectancy make? A major reason for many investors' miserable results is that the average holding period for a mutual fund is now down to less than three years. What many investors do is look at the results of all the funds in their retirement accounts, check to see which one did the best last year, and then flip all of their money over to a fund that is already at its all-time high and sell a fund that is at or close to its low.
The fact is that asset classes take turns leading the pack each year. It is rare for the same asset class to even lead the pack two years in a row, so investors are committing financial suicide by doing what seems logical to them. The media has helped American investors develop a daily, weekly, and monthly change mentality with their investments, and it is killing their performance. It was Nick Murray who called CNBC "financial pornography," and joked about tuning in for the next "Chicken Little, the sky is falling" segment describing the crisis of the week. He reminded us that the S&P 500, 60 years ago, was about 20. Today, it is approximately 2,100. So the market has gone up 100 times in 70 years. How can we possibly complain about that? The media has pounded us so hard with negative information that it has made investors perspective much worse than reality. Negative media sensationalism is affecting our clients' ability to appreciate how good things are. I believe this fear factor, which is a very powerful emotion, is a major reason why studies show we tend to invest the most money when the market is at all-time highs because we are so euphoric when we read our statements, and we pull the most money out of the market when it's at its all-time lows, after steep declines. That is exactly what we did in the first quarter of 2000 with record-breaking deposits and in the first quarter of 2003 with record-breaking withdrawals. These are very expensive mistakes, and we must stop our clients from making them. My answer is to use these sound logical systems and have my clients be comfortable letting us focus on the financial planning. It removes a lot of potential stress from the relationship because they know I am not personally making the fund and asset allocation decisions.
The final component is my use of guarantees to back up these models. I stated earlier that almost all my business is in variable annuities. That is what I am most comfortable with. As most of you are aware, there is a wide range of different guarantees offered in the industry today. Do you currently use any form of these guarantees with your clients? I believe my clients' utilization of these guarantees is absolutely critical to them staying the course during challenging times. It provides what I refer to as "the sleep at night" factor. Showing clients my personal statement, verifying that I am putting my money where my mouth is, and explaining how I use the guarantee on my own retirement account has been very effective. I know that even if the markets would collapse, I have peace of mind knowing that I have a significant guaranteed income for the rest of my life. I assure you, this helps even me sleep at night when the markets are unusually volatile.
Here is what I show prospects at my seminars, and yes, we have the approval from compliance to show my personal statement. [visual] When meeting in my office, I use my statement to show how the guaranteed income benefit works and what it costs. I use this opportunity to get my clients more familiar with what the statements are going to look like, and I point out what my initial investment was and the value today. Clients like how clear and easy they are to read. It does get the attention of clients and prospects when they see the size of my account, but it also reinforces how strongly I believe in the product. These guarantees are a cornerstone we can build our businesses on.
People are living longer. A recent article by Nick Murray reminded us that a 62-year-old, nonsmoking couple now has a combined life expectancy of 30 years, to age 92. This is the biggest crisis facing retirees today, and it is up to us to get this message out.
Our clients need to prepare for a 30-year retirement. For most of my clients, the only chance they have of not running out of money, if they live that long, is to keep their retirement funds in a very growth-oriented mode and hope that the market over the next 20 or 30 years produces returns comparable to what it has produced historically. Investing in guaranteed CDs, money markets, and bond funds is almost a surefire way to outlive their assets.
I recently heard a speaker state, "The greatest gift we can ever hope to give our children is to always be financially independent of them." My clients love these guarantees. Almost 95 percent have some form of guarantee in their contract. I like the analogy to homeowners insurance. Do you own your own home? Do you have homeowners insurance? Why do we all carry homeowners insurance? It is because we want to protect the asset we have worked our entire life to build up. How is this any different from your retirement plan? I do this at my seminars, and it makes people think. If you insure your home for a premium, why not insure your retirement funds? Many very technical white papers have recently been published proving the benefit of using a higher-than-normal risk factor in retirees' asset allocation, but backing up the asset with some form of guarantee gives the retirees the lowest possible probability of running out of money if they live to their full life expectancy.
Client Appreciation—Guideposts
One of the common messages I have heard at numerous conferences recently has been that we all need to "touch" our clients more often. The more often they think of us, the more likely they are to add money to their accounts, tell other friends about our services, or just continue doing business with us. About 15 years ago, my pastor gave me a gift subscription to a little monthly magazine called Guideposts. It is completely filled with positive, uplifting, inspirational stories each month. I loved it—no negative media sensationalism. After a few months, I thought, I'll bet my clients would enjoy reading something positive like this. I got a subscription for my 350 largest clients and was pleasantly surprised that the total cost, including postage, was only about $8 per year per client. So, for a small price, they get a nice reminder of me every month. We have received fantastic feedback from our clients indicating that they are enjoying the subscriptions.
Other client appreciation ideas include Thanksgiving cards with a donation insert, books (Bruce Etherington), DVDs, flowers for anniversaries and get-well wishes, birthday cards, pocket calendars, money clips, golf clinics, individual golf, Pirate baseball games, Monte Carlo night fundraisers, and Christian film festivals.
Staff appreciation ideas include a shopping spree, Don days, Top 25 Achievements, retirement plans, health insurance (I pay deductibles), short Fridays, and time-sharing.
In summarizing my beliefs and practices, I believe my unique abilities are communicating complex financial concepts to clients in a simple, easy-to-understand fashion. I am able to build a client's trust by using the investment principles I believe in and by utilizing experts to do the things I would not be good at. By offering a variety of guarantees, we are able to provide clients a "sleep at night" factor that their past plan could not. The administration of these plans is much easier than most other investment systems. Most of the work is on autopilot, and the clients are not depending on me to pick funds and design models. The system does not fit every investor's comfort level, and I am OK with that. I don't want every investor as a client. I want to work exclusively with clients who believe in what I believe in. This makes for a very comfortable long-term relationship. Many of my clients have been with me for 10 years or longer, so obviously the system is working for them and for me.
We have a client newsletter that we publish about three times a year. We recently had a professional firm conduct an extensive 10-page survey by mail, which over 400 of our clients responded to. Ninety-eight percent said they loved the newsletter and suggested we do it more often.
We also got similar ratings for our workshops, and (I love this) 99 percent of our clients said the Speakman Financial Group was easy to do business with. I don't think you can get 99 percent of any group to agree on anything these days. I believe our ratings are so high because we do not try to be all things to all people. We show prospects what we believe is best, and if they buy in, great, if not, I like to say, "Everyone gets the financial planner they deserve!" Contrary to what most people think, our newsletter is not just filled with business information and charts and graphs. It also contains personal stories about my family and nonbusiness info. Most clients like to know what is going on in our extended families' personal lives, and this helps bond our relationship. The majority of our clients had personally met my parents, before they passed away, at one or more of our client appreciation events. Because I talk about my family at the seminar, our nice clients often ask about what is going on in my family's lives.
An additional communication tool we developed by necessity was a creative use of our voicemail message system. My team burst into my office about 1:00 p.m. on September 11, 2001, in a panic. Almost a hundred clients had already called in and, naturally, they all wanted to speak personally with me. I don't know how I thought of it, but I asked our switchboard operator, "How long of a message can we leave on our voicemail system when our clients call in?" She said, "I have no idea, but I'll check right away." Ten minutes later, to all our amazement, we had discovered that the system when you normally say, "I'm not here right now. Please leave a message," had the capacity to extend my message to the incoming callers to 10 full minutes. I promise you can communicate a lot of information, especially if you talk fast, with a 10-minute message. So, as soon as compliance approved it, I set up the 10-minute "Here's why you should not panic" message. When our clients called in, my team directed them to listen to my message and then to call back if they felt they still needed to talk to me live. Over 90 percent did not call back after they listened to my message.
What a blessing that has become. We continue to use it today for what our clients now call the "State of the Market" message," which we update every month. Many love to call in and just check and see what my opinion is on the current state of the market. It takes me just 5 to 10 minutes to record, and then clients feel better after they listen to it each month. Necessity is the mother of invention.
Weekly Email Blast and Teleconference
Recent national surveys have shown investors' biggest complaints are that we are putting our interests ahead of theirs. One of the ways we have tried to help our new prospective clients with this challenge is to provide them a client reference list at their first appointment. Naturally, we have gotten OKs from our clients to include their names on this list. We have hundreds of names on the list, which I believe impresses the prospects immediately. We let them randomly pick two or three names to call if they want to check us out. Just the fact that we offer the list establishes creditability with many prospective clients even though many don't actually end up calling. I joke in my seminar introduction that one of the most frequently called people on our lists is my pastor because people feel he is very unlikely to lie about me. This is something different that I am almost certain that other advisors they check out are not doing. We have been using this successfully for almost 30 years.
Finally, I have enjoyed sharing my ideas and stories with you, and I hope you are able to use some of them to help you be a better advisor for your clients. Keep it simple. Delegate everything you are not good at. Hire and keep good people to help you succeed. Stop anyone you like at this meeting and ask them the magic question, "What is that one principle or strategy most responsible for your success?" Then shut up and take notes! God bless and make it a great day.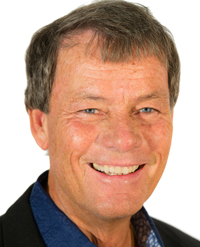 Donald P. Speakman, MSFS, CFP, is a 39-year MDRT member with 33 Top of the Table qualifications from Pittsburgh, Pennsylvania. Working with a team of eight, Speakman primarily focuses his business on older clients with an average age of 73.