Lessons learned
James D. Pittman, CLU, CFP
Increase your production by attending Annual Meetings, seeing more people, having a system, specializing and partnering up, said James Pittman, MDRT First Vice President, at the 2017 Annual Meeting.
The famous American philosopher Yogi Berra said, "You can observe a lot by just watching." If you are in the financial services industry, there is no better place to do that than at the Annual Meeting. Whether it's at a Focus Session, Main Platform, or ConneXion Zone, or just talking to another member, we have been sharing our best advice with each other for 90 years.
My advice is to keep attending this meeting, see more people, have a system, specialize, and partner up.
My first observation is pretty simple: If you want to increase your production, continue to attend the Annual Meeting.
Whether this is your first meeting or your fiftieth, we know that there is a direct correlation between increased production and the number of meetings you attend.
Let me ask you a question: If you were put on trial for being an insurance agent, would a jury of your peers be able to find enough evidence to convict you? What I am really asking is if you are engaging in enough of the right activities to be as productive as possible.
I see way too many young agents spending all of their time in front of their computer working on the perfect proposal versus spending time in front of prospects and referral sources.
Don't get me wrong—a good proposal is important, but what we really get paid for is seeing people. That is why a knowledgeable advisor will never be replaced by the Internet or a 1-800 number.
Prospecting, marketing, getting to know our clients' dreams and fears, and helping them purchase the very best products to transfer that risk, is what we get paid for.
If you want to increase your sales, see more people, because when you increase the number of people you see, you will inevitably find people who are in the market for your products.
During my first year in the business, I met an older minister, Charlie. He had to be at least 35 years old, and he had just moved to town with his wife and two young daughters. When you are 22, a 35-year-old with two children seems old!
Years later, during an annual review, I asked Charlie why he bought life insurance from such a young and inexperienced agent. He told me that I seemed like a nice young man, that I listened well, and when I didn't know the answer to a question, I did my homework and got back to him.
But the real reason he did business with me was that he knew he was underinsured, and he wanted to buy life insurance to protect his young family. I think he would have worked with almost anyone who could help accomplish that goal, but I was the one who called on him.
My next observation is to adopt a system that tracks activities that lead to sales. Over the years, I have tracked my activities, and, as a result, I know that I have to have three face-to-face appointments every day if I am going to reach my goals.
Let me give you an example of how knowing your numbers allows me to know that three appointments a day is the correct number.
Suppose my goal is to write $30,000 a month of first-year commissions and my average size case is $3,000. This means that I need to close 10 cases a month. If my average closing ratio is 50 percent for both prospects and clients, I will need to ask 20 people to buy. I know that it takes 30 fact finders for me to open 20 cases and that I need to see 60 people to get 30 fact finders. I know that if I see three people per day, I will reach my goal, and now life gets pretty simple.
Without a system to measure and analyze your business activities, you are flying blind and can't work the formula backward to know that it just takes three appointments a day.
The best system ever devised for measuring and analyzing your business activities is the one developed by Al Granum. [visual] He created a point system that tracked sales activity on a daily basis, providing the data he needed to ensure that an agent was having enough of the right kind of activity to be successful. He also knew that measurement improves performance.
"Anything you measure will impel a person to optimize his score on that metric. What you measure is what you'll get. Period," said Daniel Ariely, PhD, in his article "You Are What You Measure," which appeared in the June 2010 issue of Harvard Business Review.
Advisors who measure their progress will improve. But advisors who measure their progress and report it to others will improve exponentially.
Al Granum's system is now a web-based system that gives points for the following activities:
Client meal = 1 point
Prospect = 1/2 point
Fact-finding interview = 1 point
Case open = 1 point
Closing attempt = 1 point
Al Granum tracked his agents' activities for more than 25 years, and from that research he determined that an agent would be successful if he or she obtained 5 points per day, 25 a week, and 100 each month.
For many agents, especially new ones, their goals feel so far out of reach that they struggle and quit. This happens because those agents can't see the path right in front of them, so, of course, it feels like a struggle.
But with a system, we learn how to see the trail ahead. We gain the confidence to take the process one step at a time. And when we track our progress and find a system that works, we stick to it.
I was in a study group with an agent who had led Northwestern Mutual as a first- and then a second-year agent using the Granum point system to monitor his progress. But he quit keeping score his third year and fell behind his goal to lead his third-year class. Once he recommitted to getting five points a day, he was able to lead the third-year class in production and become the only agent in the history of his company to be number one in all three years.
The system works—use it!
Here is another tool that works: MDRT's monthly production chart for MDRT, Court of the Table, and Top of the Table. [visual]
For me, setting a goal to reach Top of the Table seemed almost unmanageable. But I went back to basics using a technique that helped me qualify for MDRT. I broke down the production into a monthly goal and subtracted each case I wrote. Simply subtracting the amount of business you write each day from your goal keeps you focused, on track, and stepping in the right direction.
Another observation: Specialists are more successful than general practitioners.
My career began to take off when I decided to specialize in the use of disability insurance for lawyers. I realized that, while I might have created the perfect life insurance program for my client, if the heart attack just disabled him instead of killed him, he and his family might lose everything, and he would be there to see it happen.
I also think that as a young agent I could more easily identify with becoming sick or hurt than with dying. Like a lot of my clients, I knew I was going to die someday, just not now!
I also liked the fact that I could deliver the disability claim check directly to my client versus the life insurance proceeds to a widow or widower.
It still amazes me that most people don't realize that their biggest asset is their future income, and they are four times more likely to have a long-term disability than to die before age 65.
It's really our fault, because the insurance industry exited the disability market in the 1930s, and didn't begin issuing products again until the early 1960s.
Today, people still routinely insure the products of their income: their house and its contents and their automobiles, but not the one thing that pays for them all—their income.
There are a number of advantages when you specialize. One is that you can become well known in that market, allowing your reputation to precede you. After a few years, I became known in the legal community as "The Guy" when it came to disability insurance.
Prospecting also became a lot easier. Once I had sold a few lawyers in a law firm, I would bring a list of partners to our next meeting and say to my clients, "Sometime when my workload lets up, I am going to call on your partners." I would ask, "Who should I call on first?" And then I would go on to get as much qualifying information as possible. I would ask if it would be OK to mention that they were my client. If they said yes, I would ask if they were willing to introduce me, and so on.
Once you have become an expert in the use of a product in a particular market, you have two easy ways to expand your business. One is to stay in your current market and add additional products, for example, long-term care, critical illness, investments, or financial planning. [visual]
Or you can decide to expand your business by taking your product knowledge of disability insurance to other markets: MDs, dentists, or self-employed professionals.
Specialization has another advantage as well. Clients assume that because you are an expert in disability coverage, you must be knowledgeable about other products as well. Psychologists call this the halo effect.
Because of this, I was referred to George, who was a partner in a large law firm, but George didn't want to talk about disability insurance; he wanted to buy life insurance.
George shared with me that just after graduating from law school, he had taken a great deal of time analyzing various life insurance proposals, wanting to make the perfect decision, only to be diagnosed with cancer before he could put the coverage in force.
A number of years later, with his cancer in remission, he and his wife had just adopted a young child and he wanted additional coverage. I was able to get him permanent coverage, but it came with a large rating because of his cancer history. But the insurance company promised to reduce to a standard rate over five years.
When George balked at the price, I reminded him that this was the best offer we could get and how he had waited too long the last time.
He purchased the policy, and shortly thereafter his cancer returned, but this time he would not survive. Toward the end of his life, George was in hospice and clearly terminal.
I felt awkward and uncomfortable, but I asked his wife if he was feeling up for a visit and went to see him. I offered to review his other life insurance policies and asked if he had a will. He had a draft, but it wasn't completed.
I contacted his partner, and he was able to get the will and trust for his son completed. In reviewing his existing life insurance, I found one policy that still listed his parents as beneficiaries.
After we helped George get his affairs in order, he thanked me and let me know that a huge load had been taken off his mind. He told me that he could now turn his full attention to spending the time he had left with the people he loved most.
It occurred to me that if helping put the affairs in order for a terminal client took the stress out of his life, the same should be true for all of our clients.
What we do makes a difference, but many times it takes years to see the effects of our work.
Sometimes I think we are like pharmaceutical reps who are selling the cure for cancer, but who get caught up in their monthly sales quota and forget what the product does.
If you haven't had the opportunity to pay a death claim or deliver a check to a disabled client, ask other agents if you can accompany them when they do. There is nothing like delivering a claim check to drive home the benefit of what we do.
Partner up because joint work is another way to bring value to clients and increase your production.
I wrote a lot of lives early in my career, so when I was referred into a more complicated fact pattern, I found that I typically didn't have the expertise and didn't take the time to adequately prepare.
Working with another agent who was an expert was a win-win for both of us. I had the prospect and he had the knowledge. My closing ratio went way up, as did my average-size case. Frequently, my half of the case was larger than if I had tried to write the case on my own.
If you are going to do joint work, make sure that you have an agreement in place. It should spell out how you will handle commission splits, subsequent business, referrals, servicing requirements, and if, and when, the agreement will terminate.
Another technique that I learned at an Annual Meeting was to create a policy delivery binder. [visual]
The binder does a number of things: It has a list of all of my products and services; it's a prospecting tool; and it serves as a convenient place for the client's other important documents, such as wills and trusts. The binder has tab sections for each of the products I sell: life insurance, disability, and long-term care. It has a one-page policy audit listing all of the client's policies with spaces for products the client has not yet purchased.
Asking for referrals has always been difficult for me. When I used to ask people if they knew anyone who needed insurance, they could never think of anyone. But if I say to them, "I am expanding my business, and I need your help. Whom do you know who owns a business, is the most successful person you know, is 10 years from retirement, is a key person, or has a key person in the business?," a name will pop into their heads.
To help me with this, I have a "Who do you know who . . .?" page included in the binder, which helps me not to forget this important step while also giving me a much easier way to connect with referrals, because, in the end, we need help to grow and to get it, and we need to know how to ask for it.
A number of years ago, my partner and I flew to New Mexico for a team-building experience that included a ropes course, trust falls, zip lining, and rock climbing.
The biggest lesson I learned in order to be successful was that I have to do it myself, but I can't do it alone. We all have people in our lives who have helped us get to where we are today.
I would like to take a moment to introduce you to some of the people who have helped me along the way:
My mom—she is 95 and still works two days a week, pushing wheelchairs at the airport for old people. She says it's a better workout than going to the gym. She is the most optimistic person I have ever met, and I am sure she helped me develop the philosophy that most people are good at heart and given a chance will do the right thing.
Karon, my wife—we have been married for 47 years, and she has become my best friend. She is someone who believed in me, even when I didn't believe in myself. I love you!
My children—all of you have made your mother and me incredibly proud of the adults that you have become.
My staff, Abby and Joy. My colleagues on ExCom. Our MDRT staff in Park Ridge. And, of course, all of you, my fellow MDRT members, because, without you, I would never have become the person I am today.
As I stand here, I promise you that, as the 91st President of the Million Dollar Round Table, I will give you my very best, because I know that I have to do it myself, but with your help I won't be doing it alone.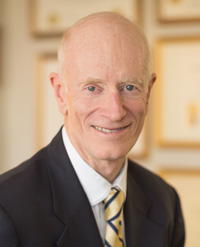 James D. Pittman, CLU, CFP, of Portland, Oregon, is First Vice President of MDRT. He is a 43-year MDRT member with 16 Court of the Table and five Top of the Table qualifications. He is also a Diamond Knight of the MDRT Foundation and has served on its Board of Trustees.